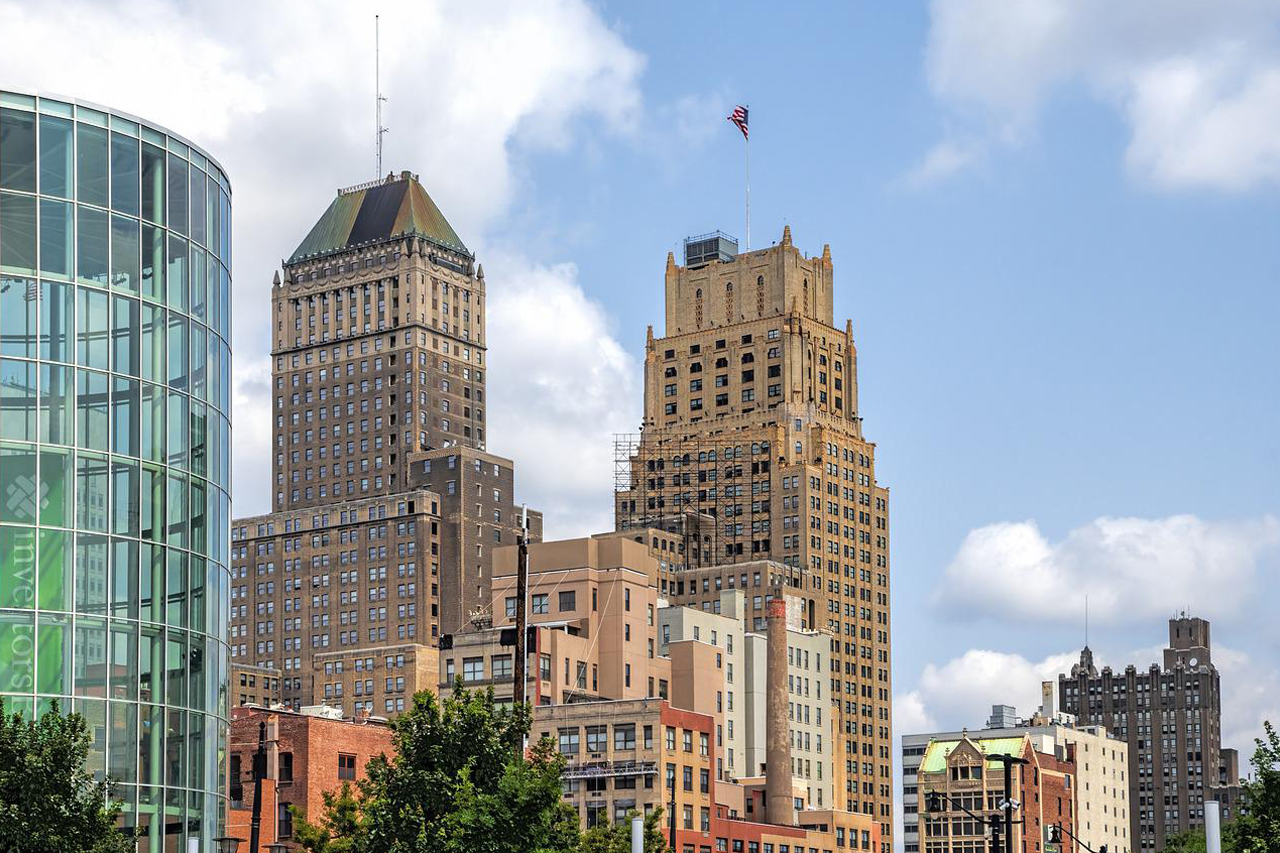 The city is full of great museums, scenic parks, and a horde of excellent restaurants.
There are sports, theater, and live music scenes that make up the city of Newark in New Jersey.
There will always be many things to see and do when in Newark.
Newark has the largest museum in New Jersey. You can also take a walk along the river in Newark Riverfront Park.
Or you can explore and discover more of history in the Ironbound neighborhood.
And who could ever forget the symphony performance that Newark is famous for?
Newark is a city of great restaurants and cafes. These establishments serve the most delicious breakfast, lunch, or dinner.
The flavors have influences from around the world.
There are burgers and sushi served on one street. There will be steaks and stir-fried noodles across the street.
No matter your preferences, Newark will always give you a reason to visit.
Trust me because I know.
I have been to Newark before and can never get over how beautiful the city is.
Here are 12 of my favorite spots in Newark.
1. Ironbound
With an area of four square miles, this neighborhood in Newark borders the Passaic River to the North, Chapel Street to the East, and Route 1 to the southwest.
Ironbound is a neighborhood of multi-ethnic and close-knit working-class communities. It is where you will find many shops and restaurants.
In total, there are more than 170 restaurants in the neighborhood.
That is a lot of restaurants to try!
The neighborhood is close to the central business district. And with the many sights in the business district and beyond, your visit here will never be boring.
What is great about this neighborhood is its accessibility.
Ironbound is accessible via public transportation. Penn Station, the gateway to the neighborhood, is accessible.
Ironbound is also home to many festivals all year round.
Be sure always to check their schedules to maximize your visit.
2. City Without Walls
Sharing space in Crawford Street is the City Without Walls.
For short, locals refer to the area as cWOW.
The City Without Walls revolutionized the cutting-edge art and creative scene in Newark.
Its main goal was to have a space for contemporary artists in Newark.
This entails a culture of a truly eclectic range of exhibitions all year round.
Visitors will find everything from avant-garde sculpture pieces to installation works decorating the room,
Aside from this, the cWOW gallery also runs the City Murals project of Newark. Its goal is to adorn downtown Newark with murals.
And these are not just murals. These are always the thought-provoking ones that encourage conversations.
These murals are by international and local artists. There is street art, murals, and many more.
3. Newark Public Library
If you love books as much as I do, paying a visit to the Newark Public Library is a must.
The library has four floors and is home to thousands and thousands of books. The collection varies – some are common and contemporary, while others are rare finds.
However, if you are not a fan of books, there is another reason to visit. The reason is the building's architecture.
Constructed in the 1800s, it has a main branch that is one of the oldest libraries in New Jersey. And because it is old, its building is beautiful.
Aside from the books and the architecture, the library also hosts several small events per year.
Some of these events include book readings, educational programs, and historical displays.
4. Nasto's Newark
For many years now, Nasto's Newark never fails to tantalize the taste buds of Newark residents.
The restaurant opened in 1939 when its owner, Frank, started an ice cream store.
The store was on Jefferson Street, a building that used to be a brewery.
These days, locals and tourists alike come here to taste Tortoni, Spumoni, Tiramisu, and Tartufo. There are also different kinds of ice cream to devour.
Nasto's recipes were from Frank's hometown in Nocera in Italy. The ingredients are from local farmers. And they are all guaranteed fresh.
5. The Priory
Adjacent to a section of Newark's Saint Joseph's Church is The Priory.
The Priory is a legend when it comes to jazz. It is nothing short of a row of jazz bars in The Brick City.
Popular for its swinging, bluesy backing track, the musical artists who play here come equipped with a Caribbean, Creole, or a New Orleans edge.
These artists can field some of the best Gospel this side of town.
Friday nights are usually busy nights. Crowds of both locals and tourists alike come here to relax, dance, and let loose.
On Sundays, lunch is a busy time.
Brunches are also popular as the restaurants whip up some popular Creole cuisine.
6. Newark Symphony Hall
The Newark Symphony Hall is another tourist destination in Newark that you need to see.
It is a beautiful concert hall that puts on amazing shows and performances.
Over the years, numerous artists and groups of artists performed here – both local and international.
The New Jersey Symphony Orchestra, for example, has already performed here in the past.
Aside from concerts and shows, you can also use the symphony hall for private gatherings. You can rent the place for meetings, weddings, and other special occasions.
However, the Newark Symphony Hall goes beyond being a venue for special events.
It also provides locals and tourists alike with educational programs. For instance, the Production Assistant Training Program is a useful initiative for those who want to work the nitty-gritty of production.
Such an initiative can help prepare young adults to work on television and movies.
Before you visit, make sure to check their website. The website is complete with information, including upcoming events.
7. Manu's Sushi Lounge
In a beautiful old building amidst the historical and primarily Spanish and Portuguese community of Ironbound is a Japanese joint.
Manu's Sushi Lounge is a breath of fresh air as it brings to the fore something new.
First of all, the area Manu's Sushi Lounge is in is predominantly tapas and pasta. And here you are, introducing sushi and sashimi to everyone.
This step is risky.
But everyone seems to adore the sushi lounge,
The two-level dining room is elegant and beautiful. A crowd is already inside most of the time, savoring the authentic Japanese dishes served here. If you come in on nights with live music, come in early.
It is good that the restaurant recently put up a few sidewalk tables.
What I found interesting here is Mediterranean-sushi fusion.
You might want to try this out. This dish is Portuguese chorizo, the chef soaked in sake. The chef then serves the soaked chorizo with grilled char.
For the fusion, pair this dish with sushi or sashimi.
Or you can get a serving of sushi or sashimi and pair it with something the Mediterranean like a plate of tapas.
8. Military Park
Right smack in the middle of downtown Newark is three significant attractions.
The New Jersey Performing Arts Center, the New Jersey Historical Society, and the Military Park.
These three are the oldest urban green spaces in Newark.
During the American Civil War, the space used to be the training grounds for Union Soldiers. It, later on, became the focal commons of the town.
Recently, there were renovations and refurbishments. The recent years saw the addition of restaurants and a new pathway. All these were recent additions while retaining the enormous Wars of America symbol designed by Gutzon Borglum.
The one thing you should not miss when visiting is the regal busts of John F. Kenney.
Please swing by when you get the chance.
9. Newark Penn Station
More and more people often refer to the Newark Penn Station as a tool that could get them somewhere. People always look at the station as a place that brings them from Point A to Point B.
However, the Newark Penn Station is also a tourist attraction in itself.
The station is beautiful, with a building made of limestone and pink granite detailing.
It is also a hub of transportation that houses many buses and trains. It can help you get around the city and can even bring you to New York City for a day should you wish.
But more than being a hub, I hope people look at the station as a beautiful building worthy of architectural praise.
10. Casa d'Paco
If you want to hang out in a hip, Spanish-style establishment in Newark, come to Casa d'Paco.
The restaurant serves authentic hot and cold tapas. They have been doing so since 2015.
The restaurant prepares its menus every week. Such a practice gives its diners and regulars a new dining experience every time.
The highlight of the dishes usually revolves around the Galician-style favorites. There are also a few contemporary selections from different culinary scenes around Spain.
My favorites here are menus that feature chipirones, pulpo a galega, and zamburillas rellenas.
The Spanish charcuterie platters and cold selections like salmon rollitos are always pleasing to the eye (and to the taste buds).
When you come in with a group, there are also larger entrees available. These entrees focus on salmon a la plancha, paella and chuleton.
There is also an extensive collection of Spanish wines, a menu of award-winning cocktails, and some cask-aged varieties.
11. Jewish Museum of New Jersey
The Jewish Museum of New Jersey is a site that supports, represents, and chronicles the past of the more than 500,000 Jews that live in New Jersey.
The museum is responsible for organizing activities. There are cultural workshops. Sometimes, there will be integration programs, interfaith dialogues, and some artistic representations of Judaism.
In recent years, the museum showed exhibits that included programs related to the Jews of Assisi between 1943 and 1944. There were also exhibits of photo collections from Jewish-American photographers and artists.
At times, you would find the museum hosting forums that discuss agricultural communities of the early Jews of New Jersey.
The museum is a perfect destination to learn more about the Jewish community, religion, and culture of New Jersey.
12. Weequahic Park
The beautiful and expansive park is one of the best places to visit when in Newark.
Weequahic Park has a walking trail that leads you around the entire area. During the walk, you will see and get to experience the peace and serenity of the Weequahic Lake.
The lake teems with wildlife.
There are geese, swans, and many more. However, I would have to remind you never to get too close to them.
The swans often nest and can be aggressive if they feel that you are in their territory.
Aside from the trail, the park is also a playground for the kids.
It is the perfect place to visit on a lovely spring day. Summers are also excellent times to come here. Make sure that the summer weather is not too hot.
—
Newar might look small next to its neighbors. But if there is anything that I can assure you, the city will never run out of activities for its visitors, young and old.
No matter your gender, preferences, or age, there will always be something to do and visit in Newark.
Visitors who come over can have a wide array of activities. There is history to learn, dining places to try, museums to visit, and walking trails to take.
Newark has all the characteristics of a perfect tourist destination.
And so, when you get the chance, you should never miss out on visiting the city.
How about you?
Have you already been to Newark in the past?
Let me know of your favorite tourist site.
We may include that on our list.