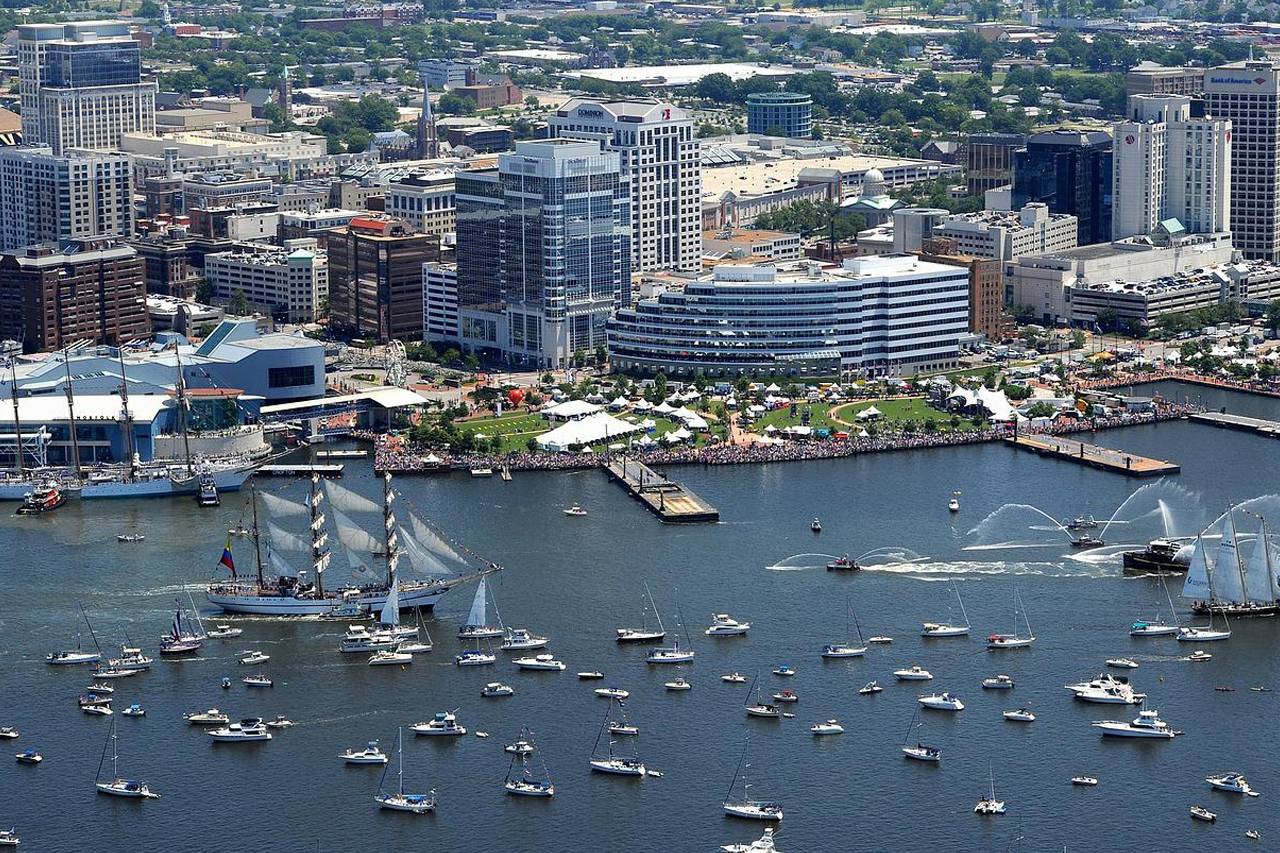 The Naval Town of Norfolk is one of the most beautiful cities in Southern Virginia.
The metropolis is proud of its rich naval history, including famous museums, naval warships, and other significant factors contributing to the maritime industry. However, you will be amazed at how this 96.40 square mile city can enclose other notable sites and attractions that you should not miss.
Because it is a small and self-contained metroplex, you can get around without a car. All you must do is make a list of the best things to do and visit them using other modes of public transportation.
So, to help you make your bucket list, we have compiled the top things to do in the most promising naval city. It encloses other hotspots that make Norfolk an excellent place for a weekend getaway and puts itself on the tourist map in America.
1. Hermitage Museum and Gardens
We must first visit the Hermitage Museum and Gardens to begin the thread. This museum is a well-known Norfolk landmark that houses artworks dating back 5,000 years.
The public art showroom also includes a Visual Arts Studio and twelve acres of land to view art and culture. The rotating exhibition from inside to outside the space is also something to anticipate.
The Hermitage Museum and Gardens occasionally host events. The edge of this place is close to the Norfolk Naval Base, so you can get to another location after roaming here.
The East, Rose, and Sunken Gardens are beautiful outdoor attractions that I enjoy seeing when I visit here. Everything is clean and well-kept for the public to see. It is a self-guided tour, allowing you to make the most of your visit and appreciate the lovely zone rich in history and culture.
2. Nauticus
Norfolk's naval history is also evident in the Nauticus, a Waterfront maritime museum with science exhibits, an aquarium, and a historic battleship located in the downtown area.
The Nauticus National Maritime Center opened its doors in the 1980s and was made available to the public in 1994. This center is for all things nautical, so envision a range of immersive exhibits for guests to get an interactive show, dining space, and a theater.
The Hampton Roads Naval Museum is a portion of the center and is known for allowing visitors to get up close and personal with the displays, including a shark lab and a horseshoe crab touch tank.
The location is a self-guided tour, and you can spend more than two hours exploring everything. I most love the big battleship game, which provides entertainment for people of all ages. Everything about this place is lovely, attractive, affordable, and highly recommended.
3. Town Point Park
Town Point Park is another free and enjoyable open space in the heart of Norfolk overlooking the waters. The area that is a 7-acre grassland is also close to tourist attractions such as museums, fine dining establishments, and event venues.
The park includes a beautiful riverside landscaped green space with fountains and recreation areas ideal for families. Seasonal performances and festivals, such as award-winning festivals and dedicated events such as Norfolk Harborfest, Bayou Boogaloo, and 4th of July Celebrations, attract residents and tourists.
I like how Two Point Park can be a great place to watch the sunset and then jog around or get something to eat at one of the nearby restaurants or food trucks.
You can also visit the Armed Forces Memorial at the end of the walk. Overall, Town Point Park is a fantastic space worth your time.
4. Circuit Social
The Circuit Social on Granby Street is a famous local favorite entertainment zone in Norfolk.
The space is an all-around venue with more than eighty games ranging from arcade games to basketball, skeeball, and mini bowling. Drinks are also served here, with forty-eight self-serve taps on their state-of-the-art beer, wine, cider wall, and delicious eats.
Circuit Social is a bar and arcade in one location, like the ones found at Dave & Buster's but an upgraded version at the Norfolk location. It is one of the best finds for you if you are looking for an affordable yet quality play from any enjoyable game.
You can indulge in their delicious Rip n Dip Pretzel after playing or before heading to the games, or if you are with a group, you can get the party platter for everyone to share. The Circuit is a uniquely entertaining spot that guests should visit.
5. Old Virginia Ham Shop
One of the best things you might not know is that Norfolk serves one of the best country hams in America that you can taste and purchase at the Old Virginia Ham Shop. The ham store found on 22nd Street is where you can enjoy the traditional and authentic flavor of hams that is hand-carved, smoked, salt-cured, and always delicious.
The Old Virginia Ham Shop takes pride in its homemade hams that are not mass-produced or mechanically divided. This unique process is why I always come here to buy their best-selling items like Country Ham, Honey Ham, and Sweet Potato Biscuits.
Not only that, but they also specialize in sausage, bacon, BBQ, and a variety of other dishes that you will enjoy so much. So, if you want to bring something delightful home, the products in Old Virginia are available to you.
6. MacArthur Memorial Museum
MacArthur Memorial Museum is another must-see for history and museum buffs or if you are looking for a fun day out.
The location serves as both a showroom and a research center dedicated to preserving and presenting the story of General of the Army Douglas MacArthur's life. Entrance here is free of charge.
MacArthur Memorial Museum is in Downtown Norfolk and is also easily accessible. The first floor contains rooms filled with war memorabilia. Other amenities include a theater, a welcome center, and a gift shop.
The second building with the giant statue of the general is my favorite. It is also notable that this is the resting place of General MacArthur and his wife. The self-guided stint takes more than an hour to complete.
A trip to the Memorial will enable you to dive deep into the life of one of America's most illustrious and complex leaders.
7. Handsome Biscuit
The Handsome Biscuit, which opened in 2013, is another Norfolk staple dining option, a favorite go-to place for locals and tourists alike.
You may be familiar with the popular biscuit and gravy as an American breakfast staple, but you will love the food even more at Handsome Biscuit. It focuses on biscuit recipes, fried chicken formulae, and even the lemon bar.
I enjoy eating here when I visit Norfolk because of the cozy atmosphere. The portions are generous, and you would love to have Hella Fitzgerald, Hot Betty, Stevie, or Bleu Blazer as your go-to meal of the day.
It is also a popular location for breakfast, brunch, and lunch. You can get monthly sodas here, which are in-house sodas with flavors like peach, strawberry, and pumpkin. If you want to boast about the best biscuits in town, dining here will do the trick, so see for yourself.
8. Freemason Abbey Restaurant
If biscuits do not appeal to you, American cuisine and seafood will fill you up this time. The Freemason Abbey Restaurant suits an alternative dining option in the heart of downtown Norfolk.
The dining room serves a delectable all-American menu that they elevate to suit everyone's palate during lunch and dinner. The addition of fresh seafood cooked to perfection adds to the brilliant menu board.
Freemason Abbey Restaurant is well-known for its award-winning She-Crab Soup, which you should try when dining here. You can also pair the soup with delectable Riverside Salmon with Asian Barbecue Glaze, Fried Calamari, and gluten-free Freemason Caesar Salad.
This spot is technically one of the best restaurants you should visit. They also serve cocktails and beers and have a happy hour. Because the place can fill up quickly, it is best to make a reservation online ahead of time.
Along with Norfolk's great historical significance as a naval base city, the Hampton Roads Naval Museum is a good catch for a showroom that speaks about its extensive history and culture.
It is also a must-see tourist attraction in the Waterside District and is on the second floor of the Nauticus complex. Everything, from the model planes to the displays to the photos on the wall, is meticulously organized. The Hampton Roads Naval Museum is the official museum of the United States Navy. It is distinct from the enormous Nauticus Museum, where it currently resides.
Because of the battleship's structure, from its racks to its rooms, what you will see inside will completely awe you. I highly advise that you spend 60 to 90 minutes exploring its interior.
Visiting Hampton Roads is one of the beautiful things to do near downtown and other tourist attractions surrounding it.
10. The Grilled Cheese Bistro
In search of the best-grilled cheese in town?
Then, go straight to The Grilled Cheese Bistro on Granby Street in the downtown area. The restaurant serves hand-crafted, chef-grilled cheese sandwiches with the finest cheese and fresh-baked artisan slices of bread.
The Grilled Cheese Bistro is also known for changing its menu seasonally, giving you unique options now and then. If you are visiting from outside Virginia, this is a must-see.
I ordered and highly recommend their Chimichurri Fries, Mac n Cheese Grilled Cheese, and Johnny Appleseed, which you can pair with Sangria and draft root beer. You will never be sorry for dining in because they serve generous portions.
However, the area can become crowded, especially during peak hours, so arrive early to secure a good seat. The filling sandwiches will entice you to return to The Grilled Cheese Bistro.
11. USS Wisconsin Bb-64
The USS Wisconsin BB-64 is a popular tourist attraction and a historical landmark in Norfolk. This battleship is the second in the United States Navy, named after the state of Wisconsin.
This large warship is an asset to the Nauticus Discovery Center, which has a unique feature worth seeing. We joined a guided tour in the area to fully understand the historical significance of the USS Wisconsin BB-64.
You get to see parts of the ship that are not open to the public, so the private tour is worthwhile. If you get hungry after 90-minute time, there is a cafeteria inside to grab lite snacks.
This massive ship illuminates on special occasions, such as Christmas, and it is one of the most impressive sights to see in the area. So, if you are planning a trip to Norfolk, include this tour on your schedule.
12. Hummingbird Macarons & Desserts
Hummingbird Macarons & Desserts is the place to go if you want the sweetest and most delicious desserts to take home or munch on while visiting Norfolk.
They specialize in macarons and various lovely treats to satisfy your sweet tooth. They have the best desserts, but this tiny space also has a great interior that is photogenic. Their coaches are brightly colored, and there is a large hummingbird mural on the opposite side—a perfect match for the Neon District.
If you are wondering what to order, I highly recommend the strawberry marshmallow bar, made with their homemade marshmallow and fruit tarts. The filling in each dessert is creamy and delicious, and each taste is unique and delectable.
Hummingbird Macarons & Desserts is ultimately a stop on Granby Street, where you should stop and purchase some of their best treats.
Norfolk's naval history is evident in its tourist attractions and hotspots. But it is also an addition to its vibrant town to include other best things to do here that are not related to its status as a waterfront city.
All the most fabulous finds that we curated are readily available from one location to the next, and you do not need a car to enjoy each set. This accessibility is also why this metroplex is a good tourist destination in Virginia that deserves recognition.
We hope you appreciate us authoring this article about your fantastic finds in Norfolk. We also want to hear about your own experiences and the things you want to share. You can communicate your views with us by leaving a comment below.
Thank you so much!