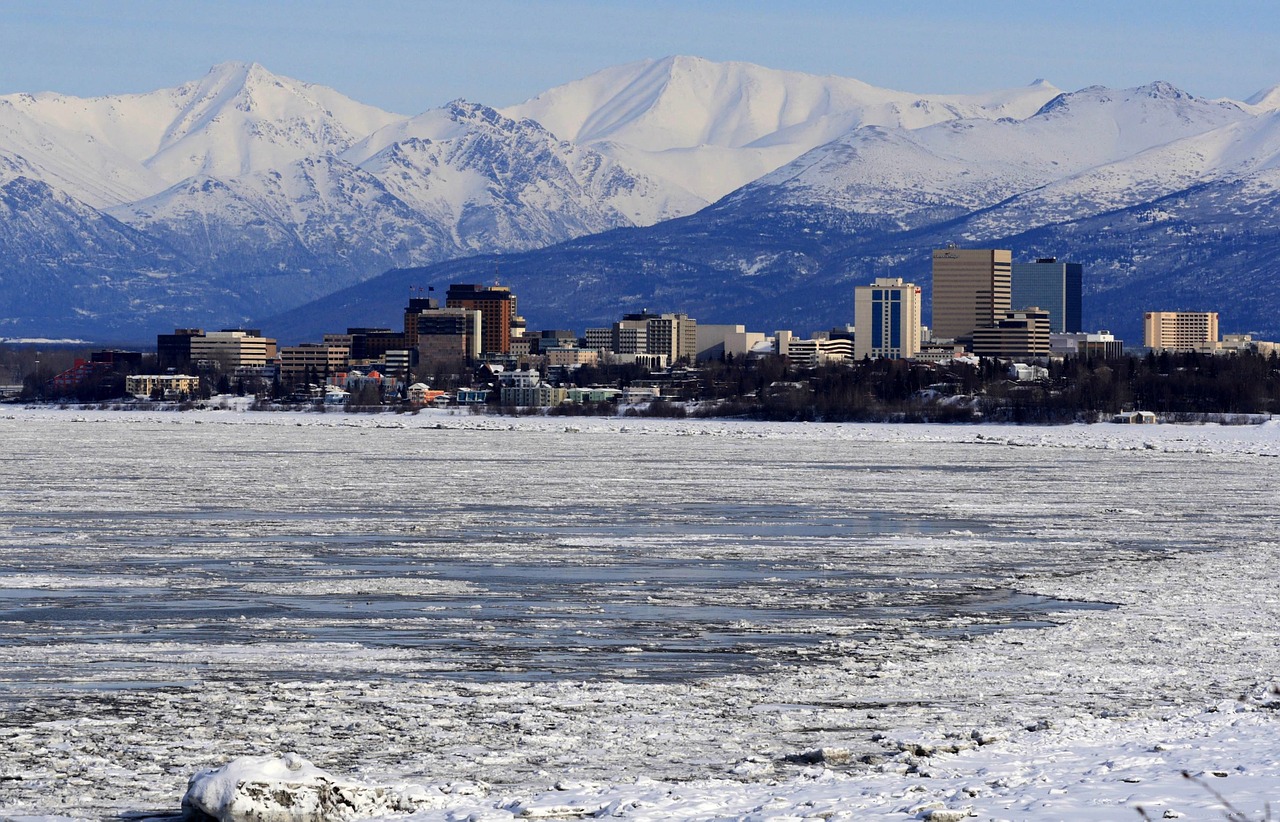 Anchorage is a better city than Albuquerque. It has no sales or state income tax, has a lower crime rate, and has more employment opportunities. In comparison, Albuquerque has a higher level of poverty and unemployment rate.
The city of Anchorage is Alaska's most populous city.
It is a cultural melting pot with more than 100 languages being spoken. Anchorage has a small-town vibe offering plenty of outdoor activities.
In comparison, Albuquerque is a beautiful city in New Mexico. It is home to more than 5% of the Native American population. ABQ is also culturally vibrant full of celebrations and festivals all year round.
What are the Pros and Cons of Anchorage vs. Albuquerque?
Albuquerque offers plenty of cultural attractions and affordable neighborhoods. Meanwhile, Anchorage has a diverse economy, a thriving job market, and is tax-friendly. Both cities have a crime rate higher than the US median rate.
Living in Anchorage
Pros
Job market

There is a growing job market for residents of Anchorage. With Alaska's most significant industries (oil, natural gas, and commercial fishing), you can easily find a job. Besides these sectors, the economy of Anchorage is slowly diversifying.

Industries like the military, healthcare, transportation, and construction offer employment. You can also find jobs in the tourism sector in the city. With this level of diversity, Anchorage's unemployment rate is significantly decreasing.

Here are the top employers of the city:
Ted Stevens International Airport
Teleco Telephone
Providence Alaska Medical Center and Hospital System
Alyeska Pipeline Service
US Fish and Wildlife Service
Wal-Mart and Sam's Club
NANA Management Services
Conoco Philips
Trident Seafood
Tax-friendly city
You will find Anchorage to be a tax-friendly city. It is one of the least taxed cities in the United States, and you will start enjoying these benefits when you start living in Alaska.
Anchorage has a lower property tax rate of about 1.35%, and people here do not pay sales tax. Also, the city does not collect income tax from its residents. You can enjoy these taxation perks when you move to Anchorage, Alaska.
Low poverty rate
Anchorage has more than 300,000 residents. With this number, it qualifies as a major city in Alaska. Given that it is a major city, the poverty rate here is lower than in other big cities in the United States.
Excellent education system
Anchorage offers high-quality education to its residents. It has a top-rated public and private school system, including the following:
University of Alaska
Alaska Pacific University
Charter College
Food, entertainment, and recreation
You will always be entertained in Anchorage.
It is blessed with mountain ranges, open spaces, and skiing spots.
You can powder hounds, camp, bike, and hike on weekends.
The city has museums, a performing arts center, and art galleries for those who prefer other activities. There is also a sports center where sports enthusiasts can watch events.
For those who love recreation activities, here are the best places we recommend:
Tony Knowles Coastal Trail
Anchorage Museum at Rasmuson Center
Alaska Native Heritage Center
Alaska Railroad
Kenai Fjords National Park
Chugach State Park
You will not go hungry when you move to Anchorage. The city's food culture is impressive, with world-class seafood restaurants, pubs, and eateries. Here are our top recommendations:
Kinley's Restaurant and Bar
Ginger
Spenard Roadhouse
The Rustic Goat
Fat Ptarmigan
Orso
Snow City Café
Cons
Crime

ABQ has a higher crime rate than the US median rate. The rate of murder is double the US median rate. Assault is four times the average, too. Other crimes like theft, burglary, and property crime exist in the city.

Declining population growth

There is a population decline in Anchorage. According to the municipality records, there is a decrease in residents living in the city. This trend can lessen the demand for essential services and businesses that fuel the city's economy.
Living in Albuquerque
Food and craft breweries

Albuquerque has a fantastic food scene you would appreciate. The city offers the perfect mix of Native American, New Mexican, and Hispanic flavors to its dishes. Here, you will taste New Mexican cuisine's herbs, spices, and distinct flavors.

When you attend the National Fiery Foods & Barbeque, you will have a full taste of ABQ's best dishes. Locals serve spicy barbeques, marinades, salsas, and hot sauces.

For your restaurant guide, here are the best eateries ABQ in store for you:
Frontier Restaurant
Monroe's
66 Diner
Range Café
For well-crafted beers, we recommend you try these names out:
La Cumbre Brewing Co
Tractor Brewing Company
Marble Brewery
Nexus Brewery & Restaurant
Celebrations and festivities
ABQ is a culturally rich city with tons of celebrations and festivals. You will find yourself enjoying fiestas and colorful events in the city. ABQ hosts some of the most significant events are the International Balloon Fiesta Festival and Flamenco Festival.
These two have the biggest crowd coming from different parts of the world. More than that, you can also participate in the Mariachi Spectacular de Albuquerque or Harvest Wine Festival.
Leisure and recreation
You will enjoy living in Albuquerque because of its environment. For art lovers, the city has galleries and museums you can visit. It is home to 516 Arts Gallery, Richard Levy Gallery, and the National Hispanic Cultural Center.
Then there are recreational sites for young ones. You can visit the Explora, ABQ BioPark, Botanic Gardens, or the National Museum of Nuclear Science and History. These are the perfect places to bond with your family and children.
Affordable neighborhoods
The city offers one of the lowest real estate prices in the United States. It is easy to become a property owner when moving to ABQ. Several neighborhoods offer affordable homes and properties. You can find houses with prices below the national average. Here are ABQ's affordable areas you should consider:
Bear Canyon
Hunting Castle
Nob Hill
Taylor Ranch
Ventana Ranch
Budding start-up and tech industry
The city may not have a robust economy compared to other cities in America, but there is a booming start-up and tech industry here. ABQ receives funding from Technology Research Collaborative funding programs. As a result, tech companies like RiskSense, Sennheiser, and Trilumina have stations here.
Cons
Weather

Albuquerque is a warm city with a long period of the summer season. hIt receives more than 300 sunny days every year. If you are the type who feels uncomfortable during summers, the weather can be a significant drawback for you.

Poverty

The city is experiencing poverty because of its struggling economy. It has limited economic opportunities for the residents resulting in a higher level of the unemployment rate. If you are moving to Albuquerque, ensure that you have already secured employment.
Anchorage or Albuquerque – Which is cheaper?
Albuquerque is way cheaper than Anchorage. The cost of living in ABQ is 26.2% less expensive than in Anchorage. Housing costs and health expenses heavily impact the price difference.
| | | |
| --- | --- | --- |
| Living expenses | Anchorage | Albuquerque |
| Housing | 144.6% | 88% |
| Food & Groceries | 122.3% | 96% |
| Health | 125.4% | 81.1% |
| Utilities | 108.1% | 97.2% |
| Transportation | 104.6% | 89.4% |
Data is based on 100 = US National Average
> 100 means more expensive than the national average
< 100 means cheaper than the national average
Housing cost
Real estate is costly in Anchorage. You need to allot $334,300 to own a property in this city. The housing expenses are way above the national average.
Meanwhile, ABQ offers the cheapest real estate in the United States. The rate is below the median rate. With $203,500, you can buy a house in Albuquerque.
Utility cost
The cost of utilities is also cheaper in Albuquerque. Paying for electricity, water, internet, and the phone would cost you 9% more in Anchorage than ABQ.
Food & groceries cost
Essential commodities like food and groceries are higher in Anchorage than in Albuquerque. The Anchorage rate is above the national average, too. You will be paying 22% more in food and groceries in Alaska than in other cities in the United States.
Transportation cost
Transportation is also more expensive in Anchorage.
The rate is even higher than the national average.
The People Mover bus system provides mobility and commutes to locals.
Health care cost
Health care services are lower in Albuquerque. It offers health care costs below the median rate. On the other side, Anchorage has health care costs above the average.
Is Albuquerque bigger than Anchorage?
Anchorage is way bigger than Albuquerque in terms of territory. The city has 1,961.1 square miles of land covered, while ABQ only has 189.5 square miles. However, ABQ is larger by population.
Boroughs and census areas surround the city of Anchorage in Alaska. It has Matanuska-Susitna Borough to the north, while Kenai Peninsula Borough in the south. The town is in Southcentral Alaska and enjoys a flourishing wildlife population. The number of people here exhibits a tremendous decline.
ABQ is the largest city by population in New Mexico. Its population already exceeds half a million. Compared to the declining population of Anchorage, ABQ displays a steady population growth.
Is Anchorage safer than Albuquerque?
Violent and property crimes in Anchorage and Albuquerque are above the national average. By comparison, Anchorage is slightly a safer city than ABQ. Its violent crime index is 50, while ABQ has 51.
Burglary, theft, assault, and murder are some of the recorded crimes in Anchorage. The municipality is trying to address these issues through law enforcement and ordinances.
Meanwhile, crime is an ongoing challenge in Albuquerque. The city consistently records high rates even in the past. Most of the crimes recorded here are drug-related.
Is Albuquerque warmer than Anchorage?
Albuquerque is warmer than Anchorage. It enjoys long and hot summers, while Anchorage suffers from extreme cold weather. The highest temperature recorded in ABQ is 92 degrees, while Anchorage only has 67 degrees.
If you compare Anchorage to other cities in Alaska, the town still enjoys milder winters. Snowfall in Anchorage can be as thick as 78 inches. Locals also experience longer summers than any other big city in the state.
Meanwhile, ABQ typically has longer summers. It experiences more than 300 sunny days with temperatures above 90 degrees. You can spend more time outdoors because of this weather condition.
Is Anchorage better than Albuquerque?
Anchorage is better than Albuquerque. Its economy is more diverse and can provide more employment opportunities to its residents. However, ABQ is still an excellent place to live, given how affordable its cost of living is.
ABQ and Anchorage have similarities. Both of them enjoy a beautiful environment where people can enjoy life outdoors. They also both exhibit crime rates bigger than the US median rate.
Depending on your preferences, you will find Anchorage better than ABQ and vice versa. You can still build a high quality of life in both cities no matter your reasons.
Anchorage versus Albuquerque – Where do you consider moving? Let me know your thoughts below.