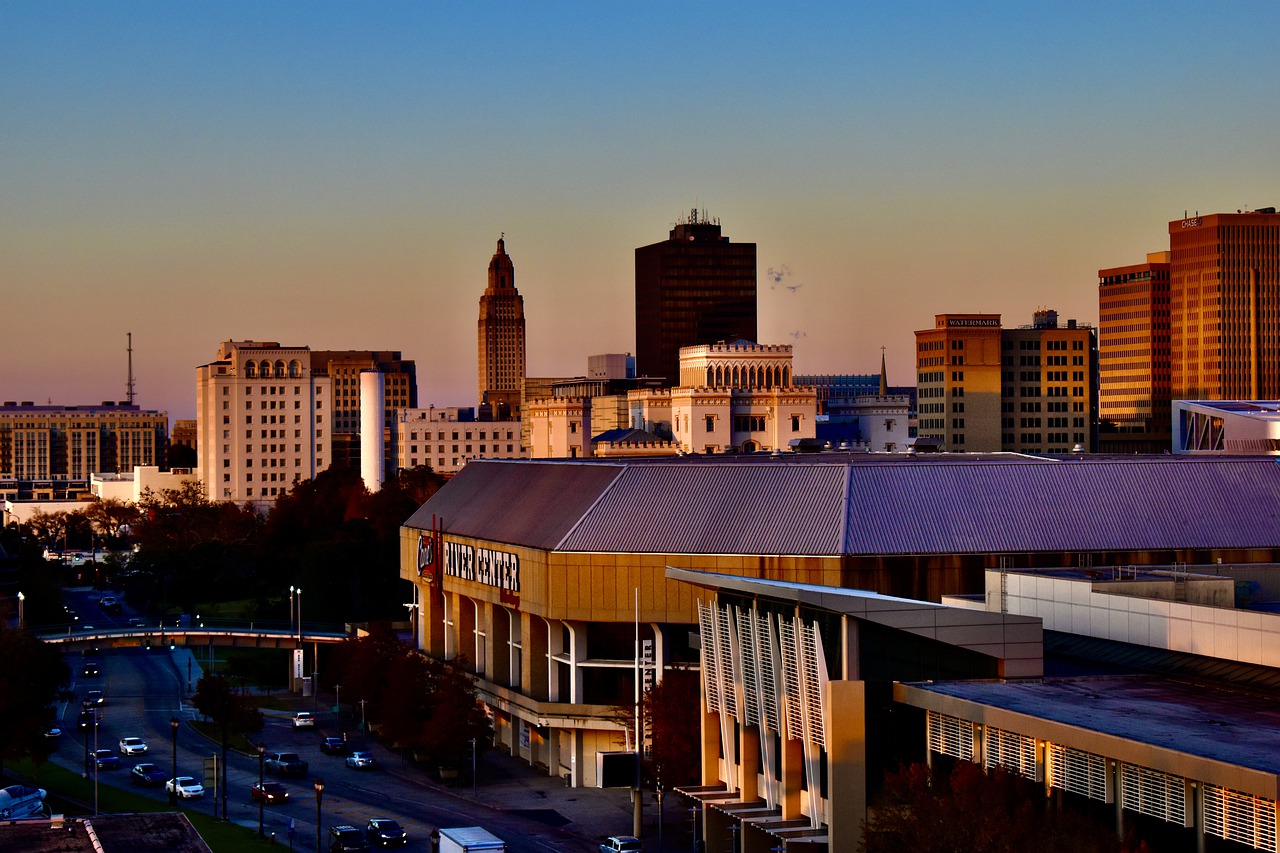 Albuquerque and Baton Rouge are both affordable cities in the United States. Baton Rouge is a better city than ABQ in terms of quality of life. Its economy is flourishing, it has an impressive education system, and it provides a peaceful environment to raise a family.
Baton Rouge is the capital of Louisiana near the Mississippi River.
The city is warm all year round and has a competitive engineering and health care industry. Rampant construction around the city makes it an exciting prospect for newcomers.
On the other side, ABQ is a beautiful city in New Mexico.
It is a retirement haven for most people because of its tranquil scenery.
The Sandia Mountains are northwest, while the Rio Grande River runs.
These cities have similarities and differences. To get to know them better, here is a detailed city comparison.
What are the Pros and Cons of Albuquerque vs. Baton Rouge?
Baton Rouge has a booming economy with an affordable cost of living but has the highest crime rate in the US. In comparison, Albuquerque is full of natural and cultural landmarks and is also confronted by drug-related crimes.
Living in Baton Rouge
Pros
Great public spaces

When moving to a new city, the number one factor you need to consider is its public space. Does it provide open spaces for people to get together and enjoy the city? Does it have parks? Stadiums? Or commercial centers?

Well, Baton Rouge has all of these and more. It has the Tiger Stadium, where locals watch their LSU football team. It also has commercial spaces for shopping and strolling, such as the Perkins Rowe.

Art and leisure spaces are also abundant in the area. You can visit the Capitol Park Museum, Nautical Center, or the Baton Rouge Zoo. Golf courses, children's playgrounds, and dog parks are also available.

Cheap cost of living

If you compare the cost of living in Baton Rouge against the national average, you will find the city cheap. The median home price is way below the national average.

Plus, you will pay less state and local income tax when you live here.

The State of Louisiana is tax-friendly and only imposes a relative tax rate.

Booming economy

The economy is flourishing in this part of Louisiana. The city has a diverse economy that accommodates several competitive industries. The top sectors are construction, energy, industrial services, and health care.

You will find Exxon, Turner Industries, Dow Chemical Company in this city. The insurance sector also thrives with names like Blue Cross and Blue Shield.

Good education system

If you move with family and kids, you will not have difficulty finding schools in the city. Baton Rouge has 45 elementary, middle, and senior high schools. It also has universities and colleges listed in the US News & World Report school rankings.

Cultural diversity

Another great thing about Baton Rouge is its openness. It is culturally diverse with an exciting mix of races, languages, and cultures. The city is home to an estimated 12 thousand international students.

Meaning you will find the community accommodating and comfortable. It welcomes people from all walks of life, given the city's diversity.
Cons
Crime rate is one of the highest in America

When you compare Baton Rouge to other cities in the US in terms of safety, you can assume that it is one of the most dangerous. Baton Rouge has a crime rate of 64 per one thousand residents.

Meaning you have a bigger chance of being a victim of crime when you choose to live here. Theft, car theft, and burglary are some of the most common crimes in the city.

Terrible traffic

The city has a reputation for having heavy traffic. It is also the 2nd most dangerous city for drivers in the US. The number of fatal accidents that occur yearly in Baton Rouge is significant, too.
Living in Albuquerque
Pros
Affordability

The number one factor that will attract you to Albuquerque is its affordability. The cost of living is 5% lower than the national average. You can enjoy a comfortable life without spending too much.

Housing and properties are also reasonably priced. With your $230,000, you will be able to buy a house. Rent also comes cheap can range from $800 and up. The New Mexico state income is also 24% lower than the median rate.

Proud of its indigenous heritage

ABQ is one of the cities with a good percentage of the Native American populace. The city is home to 23 Native American tribes, including Apache, Jicarilla, and Mescalero Apache. You will see their unique culture and art when you visit the Indian Pueblo Cultural Center.

The city also celebrates festivals dedicated to its Native American residents. You can attend the Gathering of Nations Pow Wow. It is full of festivities like dancing, singing, parade, and cultural demonstrations.

Exceptional landscaped and the great outdoors

Many retirees choose to settle in ABQ because of its incomparable beauty. The city has so many stunning landscapes and views to offer. You can visit the Cibola National Forest, Sandia Peak Aerial Tramway, or the Rio Grande River.

You can completely immerse yourself in nature. It is a great place to hike, bike, and run, given its vast open spaces.

Original New Mexican cuisines and the chiles

If you want a place to taste authentic Southwest cuisine, you should come to ABQ. The city has a signature food, and its distinct flavor is spices. Its signature ingredient is chiles.

For the best culinary experience, you can attend the Bosque Chile Festival. It is a one-day event filled with food tasting. There are plenty of food trucks, chef demonstrations, and overflowing food and drinks.

Growing film industry

Albuquerque is becoming the favorite location for film and TV series. It is a growing hub for filmmakers. Works like The Avengers, Whiskey Tango Foxtrot, and Break Bad are all shoot in ABQ.
Cons
Unimpressive education system

The state of education in ABQ is not as competitive as in other major cities in the US. Its K-12 system is one of the worst in America. A significant number of students score poorly in math proficient tests.

It means that the city does not deliver quality education to its students. Plus, the graduation rate is also among the lowest in the county.

Weather can be a struggle

It is always warm and sunny in Albuquerque. For some people, this can be challenging, especially if you are coming from a cold city.

You can experience more than 300 sunny days, and the temperature stays in the 80s most of the time. Nevertheless, you can still experience snow in ABQ for around eight days.
Baton Rouge or Albuquerque – Which is cheaper?
Baton Rouge and Albuquerque are affordable cities in the United States. They both have a living cost below the national average. Nevertheless, Baton Rouge is 0.5% less expensive than ABQ.
| | | |
| --- | --- | --- |
| Living expenses | Baton Rouge | Albuquerque |
| Housing | 71% | 88% |
| Food & Groceries | 95.3% | 96% |
| Health | 97.1% | 81.1% |
| Utilities | 88.8% | 97.2% |
| Transportation | 111.4% | 89.4% |
Data is based on 100 = US National Average
> 100 means more expensive than the national average
< 100 means cheaper than the national average
Housing cost
Albuquerque already offers low housing prices and properties. But in Baton Rouge, the prices get lower. A single-family home in ABQ can cost around $203,500, while you can get similar property in Baton Rouge for $164,200. The housing cost in Baton Rouge is 19.3% cheaper than ABQ.
Utility Cost
Utility cost for both cities is below the national average. But when you compare these cities, you will find that Baton Rouge is still a cheaper option. Utilities in Baton Rouge like electricity, water, phone, and internet are 9% lower than ABQ.
Food & groceries cost
The price of food and groceries in ABQ and Baton Rouge are comparable. You can buy essential items like rice, milk, and egg at the same price or amount.
Transportation cost
When it comes to transportation, you will pay more in Baton Rouge. The cost of transportation in the city is 11% above the national average. In contrast, ABQ has transit costs below the average. You also have the choice to use a bicycle in ABQ, given that it is a bike-friendly area with miles of bike lanes around.
Health care cost
Health care is also more expensive in Baton Rouge than in Albuquerque. When you visit a physician for a consultation or need a standard laboratory, you must pay 12% more in Baton Rouge.
Is Albuquerque bigger than Baton Rouge?
Albuquerque is way bigger than Baton Rouge in terms of territory. ABQ has 187.7 square miles, while the latter has only 79.15 square miles. Based on the figures, ABQ is more than 100 square miles larger than Baton Rouge.
Baton Rouge is the 99th heavily populated city in the US and the second-largest in Louisiana. It is a flourishing city in the north of the Mississippi River with many cultural attractions. Based on its recent developments, the city is becoming the cultural and economic center of the Greater Baton Rouge metro area.
Meanwhile, Albuquerque is the most populous city in New Mexico. It lies within the Albuquerque Basin ecoregion. As a result, the city is in the heart of the Rio Grande River, the Sandia-Manzano Mountains, and the West Mesa.
Is Baton Rouge safer than Albuquerque?
Baton Rouge is safer than ABQ based on recorded property crime and violent crime. Albuquerque has a 51% crime rate index while Baton Rouge has 47.2. Nevertheless, the crime rates in both cities are still above the national average of 22.7%.
Generally, Baton Rouge is a safe city with a good police presence every day. The crimes recorded in the city are concentrated in places like downtown, south of the 10, and east of 110. You can also find safe neighborhoods in the town if you decide to live here:
Brightside
Garden District
Oak Hills
Spanish Town Historic District
Goodwood
Contrary, Albuquerque is consistently suffering from a high crime rate. The poverty level and unemployment are reasons why crime happens in the city. Most of the crimes recorded are drug-related.
Is Albuquerque warmer than Baton Rouge?
Albuquerque and Baton Rouge are both warm cities. They both have 92 degrees as the highest temperature recorded in a given year. ABQ has a cold semi-arid climate, while Baton Rouge has a humid subtropical.
These types of climates exhibit extreme hot weather during summers. But you will find Baton Rouge more uncomfortable due to the humidity of the weather.
Baton Rouge is also prone to natural disasters, unlike ABQ. Storms and strong winds regularly hit it during the rainy season. Its proximity to the Gulf of Mexico enables the city to be vulnerable to hurricanes and tornadoes.
Is Baton Rouge better than Albuquerque?
Baton Rouge and Albuquerque are pretty similar. They are affordable cities, have a warm climate, and suffer persistent crime. However, in terms of economic development in the past years, you will find Baton Rouge better than ABQ.
Industrial construction and development are everywhere in Baton Rouge. You will see the ongoing building of commercial spaces and business establishments in the city center. The city displays a higher potential to create more jobs for its residents.
ABQ, on the other side, is turning into a retirement haven. The city is home to several casinos like Route 66, Sandia Casino, and Isleta Casino. It is groomed to be an entertainment hub for retirees and veterans.
Are you moving to Baton Rouge? Or is it Albuquerque? Share your thoughts below.