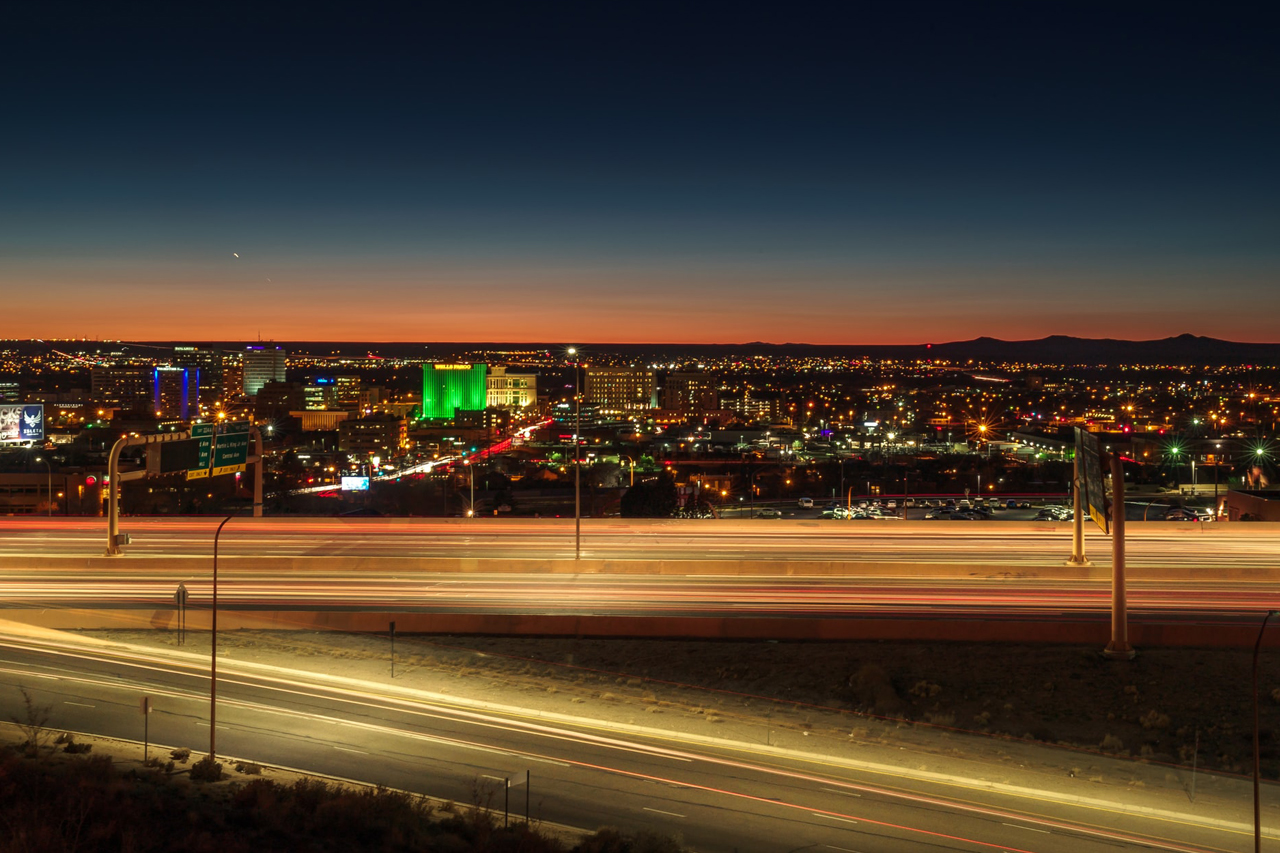 Albuquerque, New Mexico, and Fort Worth, Texas, have many good things to offer. To name a few, Albuquerque has excellent traffic management and friendly people, while Fort Worth is known for its high employment opportunities and quality education. However, Albuquerque is suitable for you if you are looking for low living expenses.
Albuquerque, situated in north-central New Mexico, is the county seat of Bernalillo County. The Sandia Heights and Glenwood Hills, nearly 6,700 feet above sea level, make it one of the highest-altitude cities in the United States.
Albuquerque, often known as ABQ or Duke City, is the most populous city in New Mexico and is about an hour's drive southwest of Santa Fe. Albuquerque's economy revolves around research, technology, medicine, business, entertainment, education, and culture.
On the other hand, Fort Worth began as an army garrison on a cliff overlooking the Trinity River in 1849. The Texas Longhorn cattle trade has always been centered on Fort Worth. It is still proud of its Western roots and classic architecture and design.
Fort Worth features an attractive city center and a dynamic downtown district. It is known as one of the most significant locations to live in Texas for its culture, job market, and southern hospitality. Many young professionals and families are coming to the region.
Are you thinking of relocating to one of these cities? Which one is ideal for you? We've done an extensive research to compile data for you to examine and determine which has more to offer, is more cost-effective, and is a place called your home.
What Are the Pros and Cons of Albuquerque vs. Fort Worth?
You will be thrilled living in Albuquerque because of its culture, fantastic road network, and friendly people; however, the minimum salary and unemployment rate are disappointing. Meanwhile, in Fort Worth, you'll have more employment opportunities and excellent education quality, but the natural catastrophes and accompanying health concerns are worrisome.
Living in Albuquerque
Pros
Owning a car is simple

In New Mexico, there are no state car inspections, which is unlike the case in other southwest states. There are no safety checks here, and only Bernalillo County monitors for pollutants at present. You can renew your tags online, which means you won't have to go about attempting to remain in legal compliance. They'll even send you the stickers in the mail, making the whole procedure very simple.

Fun Activities and Culture

Albuquerque, New Mexico, is a beautiful area to live for individuals who like the outdoors and want to be surrounded by culture, history, and delicious cuisine. In the southwest, it provides a bright blend that is appealing and dynamic. When you move to Albuquerque, you'll discover Middle Eastern, Asian, Native American, and an array of other cultures all rolled into one.

You can also visit Roswell to look for aliens, Carlsbad Caverns, or Chaco Culture National Historical Park. There are national landmarks, cultural wonders, and delightful stores to discover. If you're not from the region, you may need to adjust to the culture, but it can be a lot of fun. You shouldn't miss the spectacular hot air balloon festival as well!

Road network

Albuquerque can come as a shock if you're used to living in a small town where traffic difficulties are rare. Due to the city's size, you'll notice considerable sluggishness on the city's major arterial roadways. It can get a bit congested, but it usually moves pretty well, which is fantastic. Compared to places like Dallas, Denver, or Las Vegas, you have nothing to worry about the traffic management here.

Friendly folks

Most people here really care about your well-being. If someone has an issue with you, you don't get the passive-aggressive bullshit that you may get elsewhere. They'll speak, you'll talk, and you'll both be able to drink and laugh later that day.
Cons
Jobless market

Moving to New Mexico without work puts you at a disadvantage. The rate of being unemployed is pretty higher than in most cities of the state. The unemployment rate typically hovers around 6%, and it rises when the national economy suffers a recession.

You'll feel less of an effect in Albuquerque. However, the state ranks 43rd for job creation in economic potential. When you look for a job here, ensure that you are the most competent to increase your hiring percentage.

Minimum salary

Albuquerque's minimum wage has been $7.50 per hour since 2009. If you come to the city to work, you'll find it challenging to make ends meet. The minimum wage was at $9 per hour in 2020. It's a problem that you can find all around the state. However, Governor Michelle Lujan Grisham signed a new increase into law that by 2023, hourly wages will rise to $12.

Graduation rates

Unemployment and generational poverty are unexpected effects of high-quality education in Albuquerque. On average, the city's high school graduation rate is around 70%, and it's much lower outside of town.

Graduation rates at colleges and universities are similar. So it is highly advisable to look for a job that fulfills your financial needs before relocating here.

Strong Winds

The "canyon" is in Albuquerque, where the wind likes to funnel through at incredible speeds. It occurs during storms and starts when I-40 comes from the east, bringing cold and noise.

During the dry season, strong winds with dust can irritate you. So if you are one of the seasonal allergy sufferers, you should prepare for this.
Living in Fort Worth
Pros
Employment opportunities

Like Dallas, Fort Worth has several firms that hire locals. So, if you intend to change jobs after you get to Fort Worth, it may be simpler than you think. Fort Worth has over 500 corporations, making it simpler to obtain work and earn a livelihood. American Airlines, Bank of America, and Lockheed Martin are just a few of the significant industries in Fort Worth.

Excellent taste in art and culture

The city has a tremendous appreciation for all forms of art and culture and is now more dynamic than ever. Residents can enjoy superb music, museums, eating, and festivals held across the city.

Surprisingly, Fort Worth's Cultural District runs for a few miles and has immaculate museums, galleries, and landmarks. The Adobe Western Art Gallery, the Airlines CR Smith Museum, the Texas Civil War Museum, and the ACM (Amon Carter Museum) of American Art are just a few examples.

Quality education

Overall, the area's education is vital, and it rates high nationally and statewide compared to other cities. The data and results are based on a weighted average of the schools in the city. These rankings consider public school graduation rates, enrolment rates, teacher-to-student ratios, and student-parent feedback.

Outdoor activities

Fort Worth may be the ideal place for you if you like spending time outdoors in the fresh air. There are many places to explore outside of the pace and bustle of city life, whether you like hiking, kayaking on the river, enjoying animals, or just having a picnic in the park.

If you choose to spend your day riding, hiking, fishing, jogging, or picnicking, the Trinity Park along the Trinity River will amaze you. It has the Fort Worth Water Gardens, a 4.3-acre urban park with waterfalls, ponds, and fountains. It is a famous tourist destination and a fantastic free hangout spot in the city.
Cons
Tornados

Tornados are not uncommon in Fort Worth, Texas. And it's usually in the spring that these windy events show up.

Tornadoes are far more common in this area than in the rest of the country. The frequency of tornadoes in Fort Worth is greater than the state average.

Allergies

Seasonal allergies are much scarier than tornado season. The tornado season isn't the only one to be concerned about. There's another season to be aware of in Fort Worth.

Fort Worth has been recognized as the nation's 17th worst metropolitan region for allergies. That means you'll need a pandemic supply of tissues to deal with the runny noses.

Other natural catastrophes

Before you relocate to Fort Worth, Texas, you should learn about house and auto insurance details here since hurricanes and accompanying floods can cause significant damage to your home, delaying your plans for at least six months. If you do not have insurance for your home, it might cost you much money. All of Texas' main cities are affected by these natural catastrophes.

Traffic Issues

Many residents of Fort Worth consider traffic to be insane. Commute issues exist in any big metropolis, including Boston, New York City, Chicago, and San Francisco. The essential point is that crashes are pretty common in Fort Worth. Every day, around ten individuals die in this place, which is higher than any other in the United States of America.
Albuquerque or Fort Worth – Which Is More Expensive?
Fort Worth, Texas, is 10.4% more expensive than Albuquerque, New Mexico, based on the overall index excluding taxes. The most significant component in the cost of living difference is transportation.
The table below shows the cost-of-living indices written in percentage:
| | | |
| --- | --- | --- |
| Living expenses | Albuquerque | Fort Worth |
| Housing | 88% | 85.5% |
| Food & Groceries | 96.0% | 97.7% |
| Health | 81.1% | 99.4% |
| Utilities | 97.2% | 100.5% |
| Transportation | 89.4% | 113.9 % |
Data is 100 = US National Average
> 100 means more expensive than the national average
< 100 means cheaper than the national average
Housing Cost
Fort Worth's cost of housing is 2.8% less expensive than in Albuquerque. Albuquerque's median home cost is now $203,500, while Fort Worth has only $197,700.
Utility Cost
Fort Worth's cost of utilities is 3.4% higher than in Albuquerque. The primary electricity, water, cooling, heating, and garbage utilities for an 85 square meter apartment in Albuquerque cost $140.94 per month compared to $193.75 of Fort Worth, which is much lower.
Food and Groceries Cost
The cost of food and groceries in Fort Worth is 1.8% higher than in Albuquerque. For example, the 1-kg rice costs $ $5.44 in Fort Worth, whereas Albuquerque has only $3.06.
Transportation Cost
Fort Worth's transportation cost is 27.4% higher than in Albuquerque. For example, the local transportation for a one-way ticket in Albuquerque is only $1.00 compared to $2.50 in Fort Worth.
Healthcare Cost
Fort Worth's healthcare cost is 22.6% higher than in Albuquerque. In Fort Worth, you will spend an average of $108.33 for visiting a dentist, while in Albuquerque, that is only around $93.49. Healthcare in Albuquerque is 2% less expensive than the national average.
Is Albuquerque Bigger Than Fort Worth?
Based on the 2020 metropolitan population census, Fort Worth is 1.2% more extensive than Albuquerque. Fort Worth has a 927,720 population compared to 916,528 of Albuquerque.
Albuquerque city, which covers 189.5 square miles, had 564,559 residents in 2020, making it the 32nd most populous city in the United States and the 4th largest in the southwest. It is the largest city in the Albuquerque metropolitan region, with a 916,528 population as of July 2020.
Albuquerque also boasts one of the most remarkable elevations of any US metropolis, ranging from 1,500 meters above sea level along the Rio Grande to almost 2,000 meters in the Sandia Heights and Glenwood Hills foothill regions.
Fort Worth is the 5th more extensive city in Texas and the 13th largest city in the USA, with 355.56 square miles of total area.
Fort Worth recorded a population of 927,720 residents in 2020. Fort Worth is the second-largest city of the Dallas–Fort Worth–Arlington metropolitan region, the United States' 4th largest metro area.
Is Albuquerque Safer Than Fort Worth?
Fort Worth's crime index is 11 compared to 1 of Albuquerque (100 = safest), with annual crime numbers of 30,470 and 35,723, respectively. Therefore, Fort Worth is safer than Albuquerque.
Based on statistics alone, Albuquerque is not a safe place to visit. It routinely features on lists of America's most dangerous cities; in 2020, it ranked 9th place. Albuquerque recorded a higher crime rate than 99% of the other cities in New Mexico.
Meanwhile, Fort Worth's crime rate is 37.37 per 1,000 people during a typical year. The southwest area of Fort Worth is considered the safest among residents.
In the Fort Worth central areas, your chances of being a crime victim are as high as 1 in 18, while 1 in 43 low in the southwest.
Is Albuquerque Warmer Than Fort Worth?
The average temperature in Albuquerque ranges from 27°F to 93°F throughout the year, whereas Fort Worth has 37°F to 97°F. Thus, Fort Worth is warmer than Albuquerque.
Summers in Albuquerque are hot and dry, and the winters are brief, frigid, and snowy. While in Fort Worth, summers are hot and humid, and the winters are chilly and windy. The weather temperatures in Albuquerque are seldom falling below 18°F or rising over 99°F compared to 25°F and 102°F in Fort Worth.
According to the tourist score, the perfect time to visit Albuquerque for warm-weather activities is from late May through late September, whereas Fort Worth is from late May to mid-September.
Is Albuquerque Better Than Fort Worth?
Based on the most recent data, Fort Worth has more international visitors having 9.4 million visitors each year compared to 6.2 million of Albuquerque. Thus, Fort Worth is better at attracting more people.
Tourism is one of Albuquerque's most essential industries. The city welcomes 6.2 million visitors each year, generating $69 million in local taxes. Leisure and hospitality are two of Albuquerque's most critical private sectors, with an annual income of nearly $2 billion and a workforce of about 44,000 workers.
On the other hand, the Fort Worth Convention & Visitors Bureau (FWCVB) ensures that the city will have more visitors yearly by having strategic planning exercises to boost tourism and hospitality. The place attracts larger gatherings and more guests from across the globe. Today, approximately 9 million tourists travel yearly for employment and leisure, taking advantage of the city's many offerings.
That concludes the discussion. It's now up to you to decide between these two beautiful cities. Both cities have their beauties and drawbacks, but it's on you how you'll deal with them.
Have you made your decision already? Where do you consider moving to? Let us know your thoughts below.