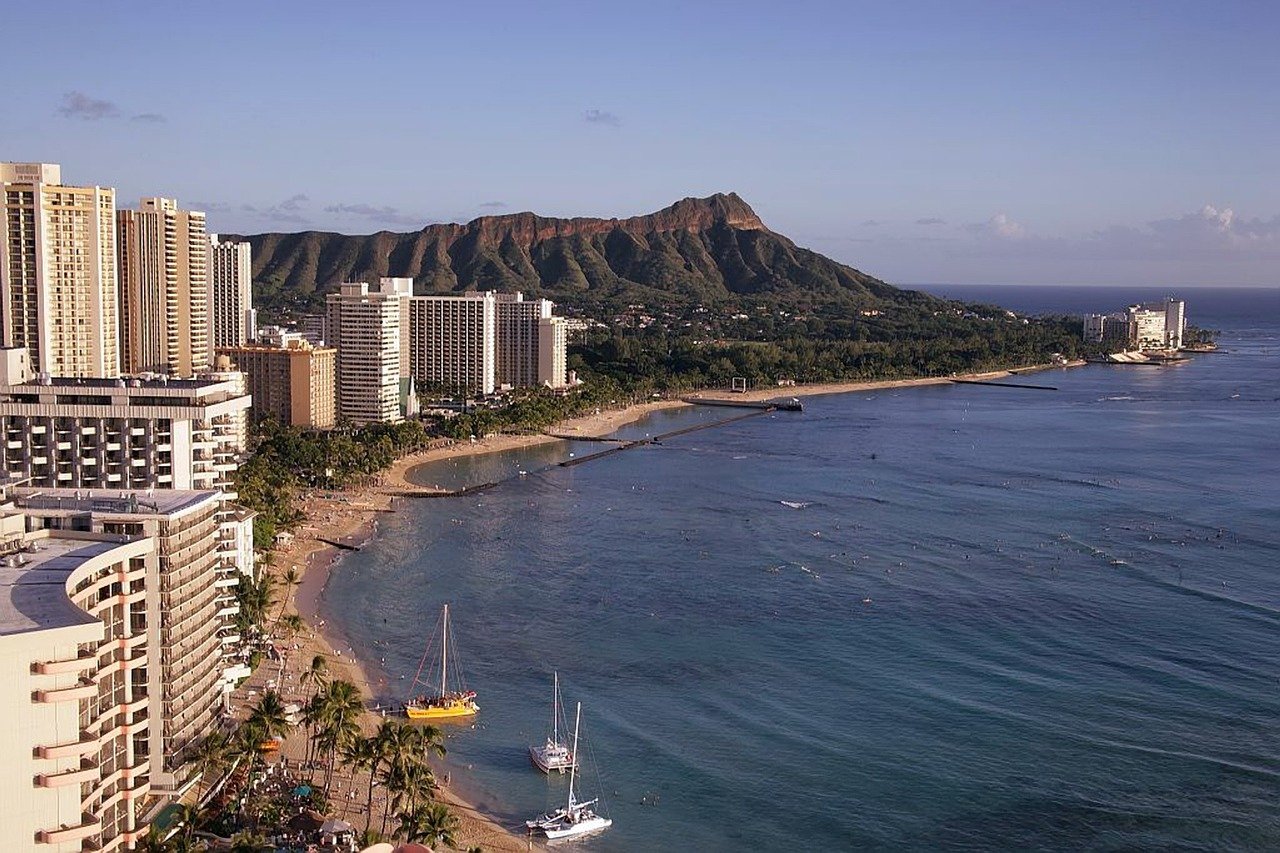 Honolulu is the best place to live in when compared to Albuquerque because this county is known best for its tropical environment, fantastic surfing tourist attractions, lush scenic views, and pristine beaches. The place is more likely to be a paradise to many.
Honolulu is the capital of Hawaii and its gateway to the rest of the world. The county sits on Oahu Island, where there are beautiful beaches, and the economy is rapidly rising. Not only are the shores beautiful, but so are the healthcare system, education, and historical scene.
Honolulu is among the best places to live in America, but the cost of living there is outrageously high. No one will forget the footprints of the famous Pearl Harbor on the site. Also, living here will provide you with the best weather all year.
On the other hand, Albuquerque is a suitable place to live with low living expenses and a decent standard of living. Both cities have a good reputation, but Honolulu edges more.
What Are the Pros and Cons of Albuquerque Versus Honolulu?
Albuquerque is best known for its beautiful landscape, multicultural community, and excellent education but limited job opportunities. Despite its rising cost of living, Honolulu has a great job market, attracts millions of tourists, and creates a higher quality of life for its inhabitants, but traffic seems worst here.
Here is the best comparison of living in Albuquerque versus residing in Honolulu. Both cities have good things to offer. Just like their advantages, we get to see some drawbacks also.
Living in Albuquerque
Pros
Beautiful Landscape and Scenic View

Albuquerque is located at the crossroads of two of New Mexico's major highways and is a popular destination for residents looking for a good landscape view.

Most residents also take advantage of the area's outdoor recreation opportunities, including trekking, mountain climbing, and snowboarding in the nearby Sandia Mountains. People experience kayaking in the Rio Grande River and walking and cycling along its forested banks.

The famous mountain offers a good 360 degrees view of the whole of ABQ. On top of the site comes various places to eat and souvenir stores to shop. You can enjoy having a good munch of your favorite foods while looking into the beauty of ABQ.

The Famous Old Town

The famous Old Town in Albuquerque is the home of the city's original civilization. The place offers the perfect replica of what it was like to live in Albuquerque during their golden age.

The neighborhood was established in 1706 and is home to the city's oldest structure, the San Felipe de Neri Church. There are also many stores, restaurants, museums, and lovely historic adobe buildings in the area.

Summerfest Series in Albuquerque

The famous ABQ's Summerfest Series location is mostly in their Downtown District. However, as the festival expands, the site becomes more significant. Some favorite spots for the event are in the North Domingo Baca Park, Nob Hill, and Ventana Ranch Community Park.

There are lots of attractions and fun in this vibrant celebration. All through the summer season, the city hosts a variety of musical competitions, dance activities, food service offerings, and family activities.

The New Mexican Cuisine

Albuquerque is best known to be the new Mexican cuisine. The mix of flavors of the foods comes from different ethnicities living in the area. Some of these nationalities contribute to bringing delectable cuisines in the whole of Albuquerque.

Albuquerque cuisine is remarkably similar to Latin Cuisine, emphasizing Mexican seasonings and flavor profiles, red or green New Mexico chilies, or a combination of the two. In this place, you will almost always have the option of red or green peppers. If you are not a big fan of spicy foods, other sites serve mild but delicious New Mexican foods.
Cons
Crime is a Big Issue

Crime persists regardless of where you live in the city, even in the downtown neighborhood. Albuquerque still struggles with a high rate of crime. There is a risk of property and violent crime in ABQ.

The crime rate increases because of poor education quality, high unemployment, and rampant drug abuse. The city is ranked 5th for violent crime, abruptly growing numbers periodically.

The shortage of police power in ABQ is only getting worse. Despite the city's efforts to recruit new law enforcement, cadet enrollment remains low.

School Can Improve

Although education in Albuquerque seems okay, public schools still have more room for improvement. A higher proportion of schools in this district got below-average school quality.

Being in the State of New Mexico, the ABQ education system consistently ranked last in the country. A court ruling found that education falls well short of based on the constitution standards for about 80% of its schoolchildren.

Schools in ABQ rank low in the national chart in terms of quality. Two-thirds of its students, particularly in the third grade, are not trained in reading, and a comparable tiny percentage is behind in math rank. The state still struggles to elevate its education system and hopes for better results in the coming years.
Living in Honolulu
Pros
A Strong Economy

Honolulu, Hawaii, has been consistent in making its economy strong. Millions of tourists flew to the island to experience a great vacation and enjoy what the city offers.

For the county to accommodate such a high volume of visitors, the tourism industry is flourishing and accounts for most job opportunities in Honolulu. It's also a big reason why the city's unemployment rate is one of the lowest in the country, hovering around 2.6 %.

Tourism is the most fundamental reason why employment opportunities in Honolulu have grown over time. While the economy is rising, salary is way favorable also with an average of $66,000 annually.

Best Beaches in Hawaii

If you ever ask where is the best beach to dive in Honolulu, then the answer will be the famous Waikiki Beach. Its pristine waters and fine white sands can take any stress away. Not only is the beach fantastic, but also Waikiki offers a good surfing area.

Another must-see is Hanauma Beach, a local favorite for snorkeling formed by a crumbled volcano crater, where you can see a variety of fish in clear waters. There are still lots of beautiful beaches around the coastal area of Honolulu.

You will discover great resorts in Kailua Beach, Magic Island, Waialae Beach, and Kahanamoku Beach.

Diverse Outdoor Activities and Cultural Sites

If you love to have fun under the sun or through the waters, living in Honolulu is a must for you. The place has a wide variety of outdoor activities that everyone will surely love. Divers, snorkelers, surfers, and swimmers can all partake in tourism experiences on the islands.

There are many sites where canoeing, kayaking, or parasailing. Hiking, biking, and snowboarding are also options if you get tired of doing some water activities.

Cultural Sites

The county of Honolulu preserves its cultural scene with its famous hula dance. You will also never forget the history of Pearl Harbor. The chaotic scene of the battleship bombing is one of the world's epic world war stories to tell.

There are still more art galleries and museums in the heart of Honolulu. Do not miss some of the county's rich culture.

Low Crime Rate

Honolulu's location is an island, so committing crimes and planning to escape from it will get you not too far except the ocean. Robberies and homicides are uncommon all through the state.

Communities also have robust community police programs, which is a must for the many tourists who count in the area. Larger communities have had some level of police departments presence that is tight and not overwhelming.
Cons:
Living in Honolulu is Quite Expensive

Honolulu has a high rate of cost of living. The rate is approximately 82% higher than the national average. Furthermore, with a median home value of $601,500 and a mean average monthly rent of $1,357, Honolulu's housing costs are almost 171 % greater than the average.

The high prices are comparable to those found in major metropolitan areas like New York City. After all, a high price is still a reasonable price because of Honolulu's living perks.

Awful Traffic in the City

Honolulu experiences awful traffic, especially during rush hours. The place has developing roads and streets that might not be too friendly if you hurry.

According to the Honolulu traffic report, motorists have spent an average of 92 hours in traffic, costing approximately $1,282 in heavy traffic dollars per driver. While the average commute in Honolulu is about 6.6 miles, stuck in traffic can make those kilometers seem much longer.
Albuquerque Or Honolulu – Which Is More Expensive?
The cost of living in Honolulu is significantly higher than that of Albuquerque. The city is 93.7% higher than ABQ, surpassing the national average. The housing price alone in Honolulu is 224.5% higher than in Albuquerque.
Statistical data and information show that the rate of living expenses that you will possibly pay in Honolulu is higher than in many other cities in the United States. Because of the country's economic growth, their percentages are skyrocketing up to date.
Comparison Table of Living in Albuquerque, New Mexico vs. Honolulu, Hawaii
| | | |
| --- | --- | --- |
| Living Expenses | Albuquerque, New Mexico | Honolulu, Hawaii |
| Housing and Rent | 88% | 285.6% |
| Utilities | 97.2% | 176.3% |
|  Food And Groceries | 96% | 138.9% |
| Transportation | 89.4% | 124.4% |
| Health | 81.1% | 95.5% |
| Miscellaneous | 97.1% | 122.9% |
Based on the Data of which 100 = US National Average
>100 means more expensive
<100 means cheaper than the US average
Housing and Rent Costs
Honolulu's housing and rent costs surge higher than the median of national statistical reports. The place has a booming percentage of almost 285.6%, triple Albuquerque's 88%.
The median price of a residence in Honolulu, Hawaii, is $660,300. This price is comparable to that of large cities in even the most developed areas of the United States. At the same time, a better place to stay in Albuquerque can go for as little as $203,500.
The cost of living in Honolulu has more than doubled, making it preferable to rent rather than buy a decent home. The average rent in that city is $3,057, whereas, in Albuquerque, you can lease a space for as little as $1,339.
Utility Costs
Honolulu will make you pay more in their utility expenses than in Albuquerque. Their percentage goes as high as 176.3%. Honolulu's residents spend an average of $587.79 per month. In comparison, Albuquerque has the lowest average price for utilities at $344.55.
Paying for necessities in Honolulu is unquestionably expensive; for example, the average energy bill is nearly $168.13, which is $50 more than the national average of $117.65.
Food and Groceries Costs
Honolulu is one of the priciest locations to buy your essential foods and groceries. This place surges to 138.9%, mainly because the county shipped their essential commodities from the mainland.
A gallon of fresh milk in Honolulu can cost $8.99 compared to Albuquerque's $5.50. A full meal is also quite expensive. Breakfast in the city costs $8 up to $13 on average, lunch costs $8 to $20, and dinner costs $15 to $50 or more.
However, because there is such a wide price range, many people will opt for a plate lunch to save. ABQ can provide you with a full day's worth of food for as little as $33. The significant difference says a lot.
Transportation Costs
Public or private transportation in Honolulu will make you pay more than in Albuquerque. When in ABQ, a gallon of gas only costs $2.00, the average price in Honolulu is up to $3.16. Even if you opt to have your private car with you, transportation expenses will still be high.
TheBus, at $2.75 per ticket, maybe a more affordable mode of transport, but it may not be an enticing daily commute option. On the other hand, ABQ provides free parking and a zero-fare policy on public buses.
If you opt to work in the busy streets of downtown Honolulu or Waikiki, you will almost certainly need to rent a parking spot if your employer does not provide one. Parking usually costs between $100 and $200. That is costly enough.
Health Care Costs
Health care cost in Honolulu does not exceed much compared to Albuquerque. The additional expenses in their system are lofty because they outsource professionals such as Physicians, dentists, and more medical personnel from the mainland.
Honolulu, Hawaii, received high marks for healthcare access, reliability, and public health. The town also has cutting-edge medical facilities for everyone, and most of its people got health insurance.
Low obesity and smoking rates can be attributed to low levels of air pollution, decreased amounts of mental stress, and a sufficient amount of primary care doctors (264 per 100,000 people in Honolulu).
Taxes
The sales tax in Honolulu is 4.5%. This tax jurisdiction consists of a 4.00 % Hawaii state sales tax and 0.50% Honolulu County sales tax. This combined sales tax is lower than Albuquerque's, almost 7.8750%.
The estimated average property tax rate in Albuquerque is 1.05 %, the second-highest in New Mexico, while Honolulu County has a rate of 3.5% per $1000 taxable property.
Is Albuquerque Safer Than Honolulu?
Honolulu, Hawaii, is safer to explore when compared to Albuquerque. The place recorded little crime rate for the past years and even ranked as one of the securest areas in the United States. It has only 17.5% violent crime based on FBI data which is way lower than 22%.
Honolulu is one of the most secure cities in the United States. Even though property crime rates can be pretty high, particularly in the Waikiki area, the comprehensive police department keeps crime levels minimal.
The crime rate in Honolulu is lower compared to Albuquerque. Their annual number of violent crimes is 702, where there are only 2% committed to every 1,000 residents, unlike in ABQ, where is an increasing crime rate, either property or violent committed.
Is Albuquerque Bigger Than Honolulu?
Albuquerque is much more extensive when compared to Honolulu in terms of its land area and even population. The city is two times bigger as it has 188.87 square miles measurement with almost 564,559 people.
Albuquerque is bigger than Honolulu. It is quite understandable because the county of Honolulu belongs to an Island wherein ABQ is on the mainland of the United States. Honolulu has a population of 343,302. The density of Honolulu is 5,791 per square mile, while ABQ only has 3,015.97/per square mile.
The mountain ranges cover a large portion of ABQ. The Sandia Mountains serve as the area's foundation, and sections of the foothill's communities are significantly higher in elevation than the city proper.
Is Albuquerque Colder Than Honolulu?
Albuquerque is a colder place than Honolulu. The average snow drop in ABQ is 10.6 inches annually. The coldest temperature the county can get during winter is 23.5 degrees Fahrenheit while Honolulu earned 65.3 degrees.
Because Albuquerque is highly elevated compared to Honolulu, it experiences colder seasons. September, May, and October are the most pleasant in Albuquerque. Average temperature divergences vary due to the city and surrounding sections' varied terrain and altitudes. In December and January, the coldest months, the daily mean temperature is above freezing.
The limited annual rainfall makes Honolulu's climate tropical, with high temperatures and humidity all year. The place is warmer in this situation, after all.
Is Albuquerque Better Than Honolulu?
Honolulu is a better place when compared to Albuquerque. The area offers a high quality of living, more job opportunities, plus the fact that the city is home to the world's most beautiful beaches. You will surely fall in love with the paradise that Honolulu has to offer.
Honolulu, Hawaii will take your breath away. The pristine and gorgeous places will make you stay there for good. Not only that it has a good view because of its beaches, but the fact that it has a booming economy that equates to more job opportunities is a must to know.
Honolulu, Hawaii, is one of the safest places in the United States. Even though it is evident that the county has a hefty tag price, the salaries and perks of the place make the high cost all worth it. If you are looking for a place where you can enjoy every bit of your life and work balance, this place is your number one go-to.
Albuquerque versus Honolulu – Where are you moving to? Let me know your thoughts.