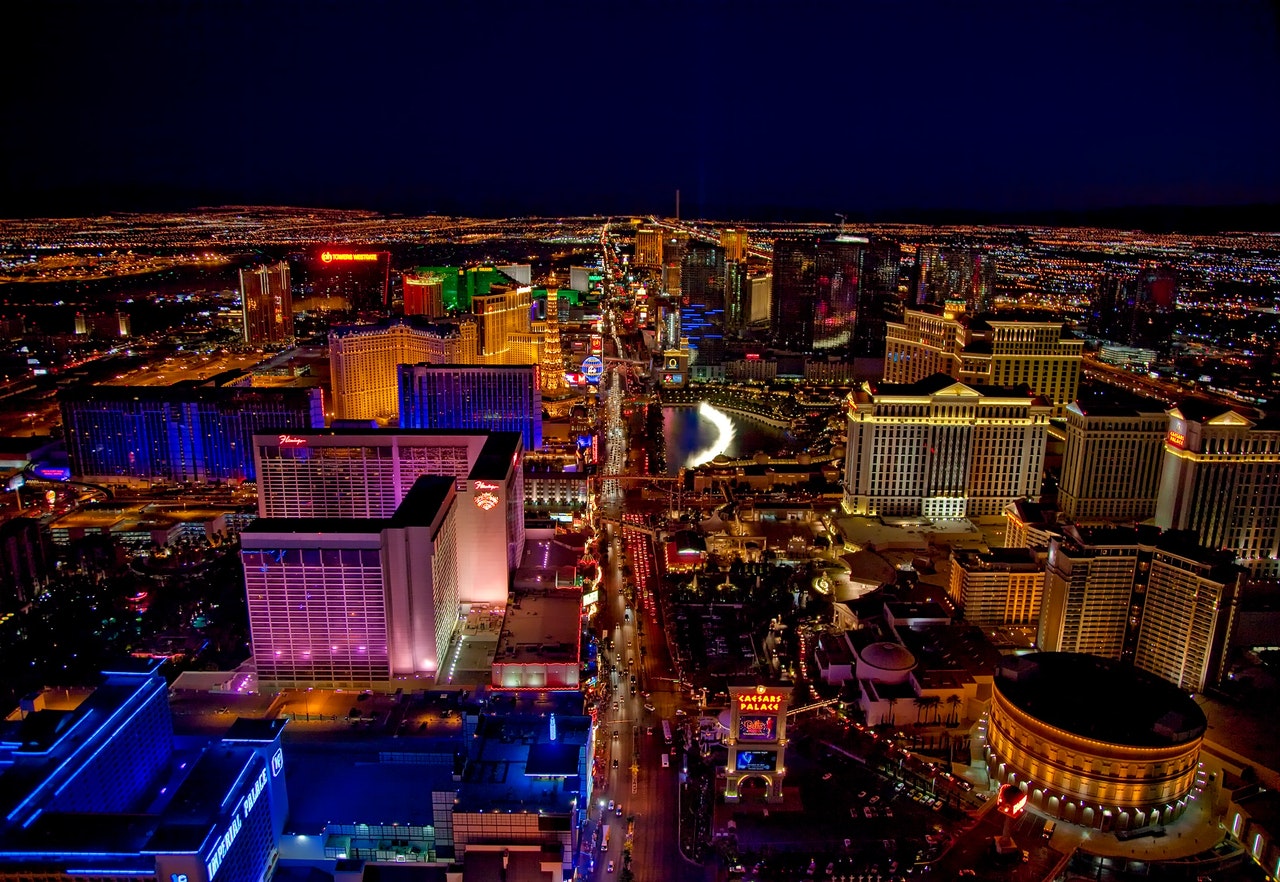 Las Vegas is for those who want to live in an entertainment-filled city with a safe environment and zero state income tax. In contrast, Albuquerque boasts a cooler climate, affordable prices, and lower unemployment. Hence, for comparison, Albuquerque is the best place to live.
Las Vegas, Nevada, has a reputation for constant partying and gambling—a reason it's dubbed Sin City. But there's a lot more to the area than meets the eye, including a slew of milder, family-friendly cities in the adjacent Las Vegas Valley.
Albuquerque's location at the intersection of two main highways in New Mexico makes it a desirable relocation destination.
The city lures prospective inhabitants to the region because of the abundant outdoor leisure opportunities, rich culture, artist lifestyle, ever-growing economy, and lower-than-national-average cost of living.
Las Vegas and Albuquerque are pretty different from each other. However, the other is better considering the job openings, taxes, and quality of life.
What are the Pros and Cons of Las Vegas vs. Albuquerque?
Albuquerque is a laid-back city with high air quality and affordable prices, but it is less safe than Las Vegas. Las Vegas boasts plenty of entertainment, a safer environment, and a zero state income tax, but it has a higher unemployment rate.
Living in Las Vegas
Pros
Golf haven

In Las Vegas, over 50 golf courses range from beginner to expert, championship-level courses. If you opt to relocate to Las Vegas, you will be able to play golf all year and will always have a spot to visit the links and practice your favorite sport.

Summerlin, a master-planned town on the western outskirts of Las Vegas, has ten excellent golf courses. Three are secret, but the other seven are public. PGA tournaments happen on several of these courses.

The golf scene in Las Vegas isn't only for players. Some people relocate to Las Vegas only to purchase a property on a golf course with spectacular views of the lush green fairways cutting through the desert.

The entertainment capital of the world

There is never a dull moment while in Las Vegas. Many believe Las Vegas to be the entertainment center of the world, which means you'll never be bored if you live here.

We're not just talking about gambling here, though that can be a lot of fun as well. We're talking about Vegas' burgeoning pro sports culture and world-famous performances, which take place every weekend.

David Copperfield, Absinthe, Cirque Du Soleil, and Penn & Teller are just a few of the acts performed at any one moment.

The entertainment sector in Las Vegas is thriving, with everything from world-class venues to legendary performances and neighborhood bars.

Las Vegas currently has professional sports teams, including the Raiders of the NFL and the Golden Knights of the NHL. Just off the Strip is the brand-new, state-of-the-art NFL Raiders stadium.

It's not just for football games; important concerts and performances happen here, adding to the list of Las Vegas' prestigious arenas and venues.

No state income tax

Because there is no state income tax, Las Vegas is the place to go if you want to save money. Fortunately, gambling income aids Las Vegas residents in this aspect. You'll be able to contemplate buying a home with the money you save on taxes.

The lack of a state income tax is the most significant tax benefit of residing in Las Vegas, Nevada. Furthermore, there is no state estate or inheritance tax, and property taxes are generally low.

Outdoor recreations

Along with a diverse choice of activities accessible within the city, Las Vegas offers its residents the delights of various outdoor activities. The Red Rock Canyon is an excellent venue for locals and visitors during the climbing season.

With its collection of national parks, the state of Nevada offers residents an endless array of recreational opportunities, most of which are within a three-hour drive of the city.

Gambler's Paradise

The Las Vegas region is a gambling enthusiast's dream! Seriously, even casual or recreational gamblers may find their casino mood in Las Vegas.

It's simple to locate your favorite locations to play with so many options; from the glamor of the Strip casinos to small video poker joints, there's something for everyone who enjoys pulling the slot machine lever or dropping their chips on the table.
Cons
Higher housing prices than ABQ

The average cost of a house in this area is roughly $400,000. The potential to stretch your cash even farther when buying real estate in Las Vegas is undoubtedly an advantage for anyone looking to relocate from far more costly places such as California or New York.

However, compared to ABQ, housing prices in Las Vegas are more costly.

Limited routes

The absence of public transit is one of the primary drawbacks of living in Las Vegas. While Las Vegas has public transportation, the limited number of routes, particularly in neighboring areas, makes connecting from one suburb to the next challenging.

Fortunately, the road structure of Las Vegas makes it quite simple to traverse, and traffic is typically not awful.
Living in Albuquerque
Pros
Albuquerque Museum

The Albuquerque Museum is one of the outstanding features of Old Albuquerque.

The finest site to learn everything there is to know about the region and how it has evolved.

There's also an excellent emphasis on the incredible art of the Southwest.

Albuquerque and New Mexico have a long history that predates their formal incorporation into the United States.

The Albuquerque Museum displays centuries of growth. Vintage photographs, iconic fashion pieces, and gorgeous artworks are among the objects on show.

Cheap taxes

Albuquerque's tax rates are modest, and if you relocate from another city, you'll likely save money.

The following are some of Albuquerque's taxes:
ABQ's property tax rate is only is 0.96%, lower than the national average of 1.211%.
Albuquerque's sales tax rate is 7.875%, which is somewhat higher than the national average of 7.3%.
Albuquerque's state income tax rate varies from 1.7% to 4.9%, depending on your tax bracket. 4.6% is the national average for state income taxes in the USA; thus, this rate is towards the bottom of the spectrum.
Better cost of living than Las Vegas
Las Vegas may be cheaper than other big metropolitan in New York and California. However, Albuquerque's cost of living is way more affordable than Las Vegas.
ABQ's cost of living is only 5.% lower than the national average. If you plan to move to Albuquerque, you'll be able to save more than living in Las Vegas.
High air quality
Albuquerque is among the cities with clean air quality in the USA. Indeed, Albuquerque has better air than most other American cities. It is one of the factors that the city boasts.
IIn Albuquerque, there is no need to worry about dirty particles or air pollution when you take a deep breath because the city has one of the country's lowest rates of air pollution.
Winery
The city doesn't only offer fantastic craft beer. ABQ has wineries to provide to its residents and visitors.
If you are very fond of wine, Albuquerque is home to one of the best wineries in the country. Casa Rondena Winery is one of the finest travel hacks for wine enthusiasts in Albuquerque.
It's no surprise that events like the Festival de Musica Rondeau, a renowned musical event, occur here.
Whether you prefer white or red wine, you'll be in good hands at this establishment.
There are a variety of wines to pick from and chocolates and cheeses in the shop.
Fine wine is one of the most valuable commodities globally, and Casa Rondena Winery is Albuquerque's most valuable asset.
Cons
A dangerous city

Unfortunately, Albuquerque has a persistent crime issue. From the wealthy slopes to the historic center, violence is consistent no matter where you live in town.

ABQ has been among the most dangerous city in America for the past few years.

Property crime increased in New Mexico, attributable primarily to the circumstances in Albuquerque.

The city's high crime rate is attributable to several socioeconomic challenges, including low educational levels, a high unemployment rate, and a high frequency of drug abuse.

Distant city

Significant cities need seven hours of driving to reach Denver, six and a half hours to get to Phoenix, and over 10 hours to arrive at any of Texas' more prominent cities.

Albuquerque is somewhat isolated while sharing a border with Colorado, Arizona, Utah, Oklahoma, and Texas. Weekend visits to other cities may not be possible due to New Mexico's enormous size and rural nature.
Albuquerque or Las Vegas – Which is more expensive?
Living in Las Vegas is 22.5% more expensive than in Albuquerque. Housing prices in Las Vegas are 34.3% higher, while health expenses are 13.8% more pricey than ABQ.
| | | |
| --- | --- | --- |
| Living expenses | Albuquerque | Las Vegas |
| Housing | 88.0% | 118.2% |
| Food & Groceries | 96.0% | 102.3% |
| Health | 81.1% | 92.3% |
| Utilities | 97.2% | 102.6% |
| Transportation | 89.4% | 128.5% |
The data uses the US National Average of 100.
> 100 means more expensive than the national average
< 100 means cheaper than the national average
Housing
Housing costs in Las Vegas are 34.3% higher than in ABQ. The median home price in Albuquerque is only $332,426, while Las Vegas' median home price is $376,148.
Moreover, the median rent in Las Vegas can cost you $1,178, whereas the median rent in ABQ can only cost $1,041.
Food & Groceries
Food and grocery prices in Las Vegas are much more pricey than in ABQ. One example is a loaf of bread in Albuquerque, which is only 3.16, compared to $3.46 in Las Vegas.
Health
Healthcare costs in Las Vegas are 13.8% more costly than in Albuquerque. In Las Vegas, a dentist visit may cost $97.68, whereas it only costs $93.49 in Albuquerque.
Utilities
Utility expenses are higher in Las Vegas compared to ABQ. In Las Vegas, the monthly phone bill's price is $161.21. Compared to ABQ, a monthly internet bill price is $152.27.
Transportation
Transportation prices in ABQ are lesser than in Las Vegas. In Las Vegas, a gallon of gas costs $2.96, while in Albuquerque, it is only $2.58. A gallon of gas in Las Vegas costs more than in ABQ.
Is Albuquerque bigger than Las Vegas?
Albuquerque has a more extensive size and a lower unemployment rate. Therefore, in terms of land area and economy, Albuquerque is more prominent than Las Vegas. However, Las Vegas has a denser population than ABQ.
Las Vegas has a 135.9 mi² area with a denser population of 2,839,000. On the other hand, Albuquerque's area size is 188.9 mi², with a population of 942,000 as of 2022.
Besides land area and population, Albuquerque has a lower unemployment rate than Las Vegas. The latter has an unemployment rate of 6.3% in November 2021, whereas ABQ has a 5.5% unemployment rate.
Although neither cities are among the most prosperous economy in the USA, for comparison, it is safe to say that Albuquerque provides more work opportunities than Las Vegas.
Is Las Vegas safer than Albuquerque?
Las Vegas has a lower crime score of 55.12, whereas Albuquerque's crime score is 70.56. Therefore, Las Vegas is safer than Albuquerque.
Albuquerque has a crime rating of 70.76, whereas Las Vegas has a crime score of 55.12.
Las Vegas has a safety scale of 44.88, larger than Albuquerque's safety scale of only 29.34.
Unlike ABQ, Las Vegas is not among the most dangerous cities in the United States.
The chances of becoming a victim of violent crime in Las Vegas is only one-in-187. In contrast, it is one-in-75 in ABQ.
For property crime, the chance of becoming a victim of property crime in Albuquerque is one-in-20. Meanwhile, it is only one-in-44 in Las Vegas.
Therefore, Las Vegas is safer than Albuquerque.
Is Albuquerque hotter than Las Vegas?
Las Vegas has an annual average maximum temperature of 105°F with 310 sunny days. Albuquerque has shorter sunny days of 280 with an average yearly high temperature of 93°F. Las Vegas is, thus, undeniably hotter than Albuquerque.
Summers in Las Vegas are hot, winters are frigid, and the weather is dry and clear all year. The temperature ranges typically from 38°F to 105°F throughout the year, with temperatures seldom falling below 30°F or rising over 111°F.
The year-round temperature range of ABQ is 27°F to 93°F, with temperatures seldom dropping below 18°F or surpassing 99°F.
In Las Vegas, there are 310 sunny days a year on average. On the other hand, ABQ has shorter sunny days of 280.
Hence, Las Vegas is hotter than Albuquerque. Las Vegas is a desert city which makes it undeniably hot, especially during the summer season.
Is Albuquerque better than Las Vegas?
Albuquerque provides cheaper living and housing, a lower unemployment rate, and low taxes than Las Vegas. Las Vegas has higher costs, soaring unemployment, and a hotter climate. Therefore, Albuquerque is better than Las Vegas, considering these factors.
Las Vegas offers a lot of entertainment to its residents. Compared to other large cities, Las Vegas is quite affordable. The town also has no state income tax, which is very appealing. The crime rate in Las Vegas is also lesser than in Albuquerque.
There's also the issue of the hot, dry weather in Las Vegas. While the summer heat isn't for everyone, many who live in colder climes may like the prospect of swapping below-freezing weather for 300+ days of sunshine every year.
However, Albuquerque is better than Las Vegas considering the jobs and prices. Albuquerque provides a better quality of life and job prospects to its residents. The air quality in the city is also better than most cities in America. ABQ has manageable traffic and better transit than Las Vegas.
In terms of crime, Albuquerque is less safe than Las Vegas. However, living in Las Vegas has more cons than pros.
Las Vegas versus Albuquerque – Where do you consider moving? Let me know your thoughts below.