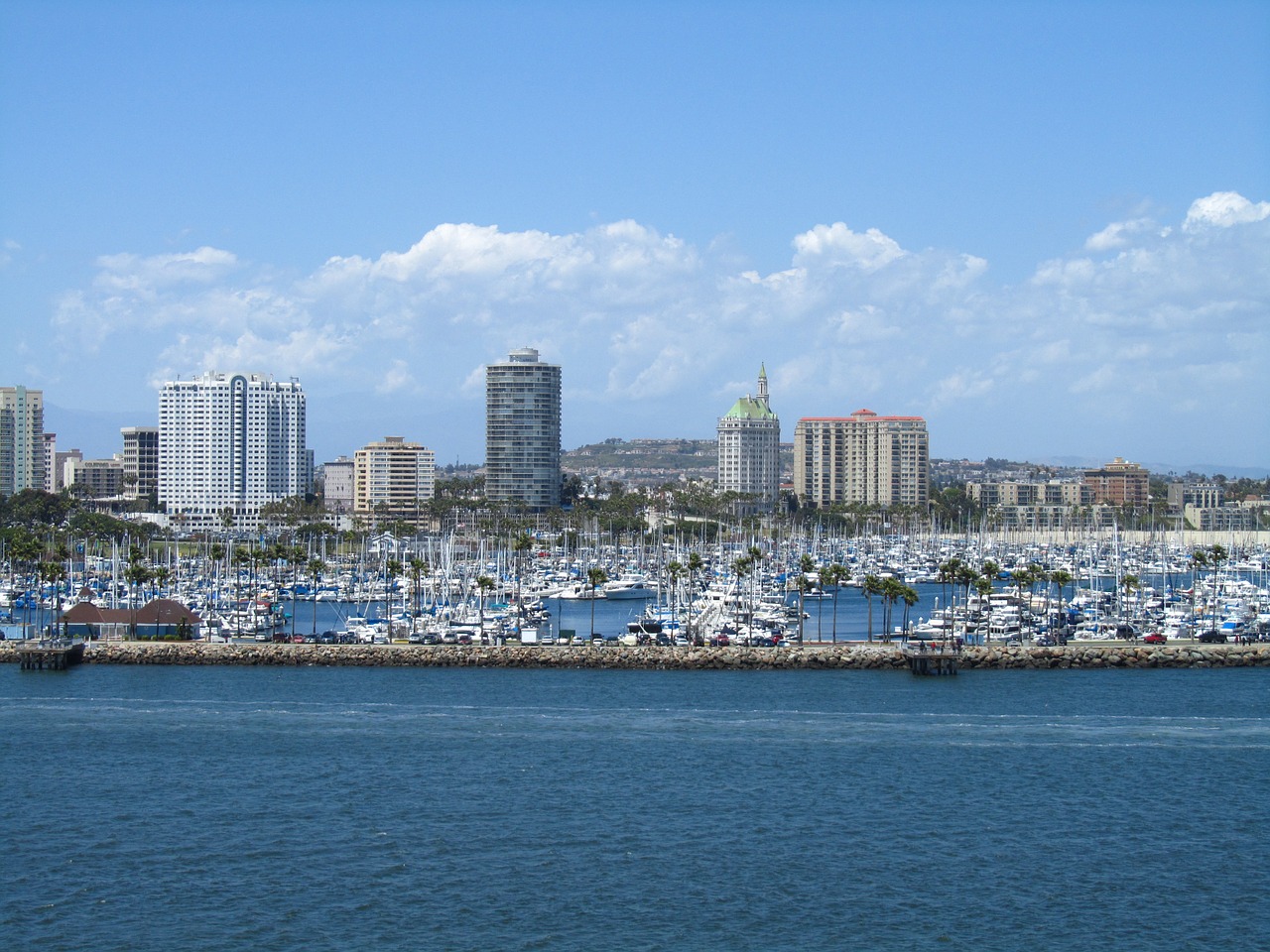 Albuquerque is a better place to live because the city offers clean air, a better quality of life, and more job market than Long Beach. Meanwhile, Long Beach provides excellent schools and a cooler climate, but the high prices and unemployment are a letdown.
Long Beach is a well-known maritime port in southern California, located roughly 20 miles south of Los Angeles. Long Beach, California's sixth-largest city, is known for its several popular attractions along the shore.
The city provides an urban yet small-town atmosphere to its citizens, with friendly neighbors and rich culture.
Albuquerque is the biggest metropolis in New Mexico and is in the high desert. Despite the increased crime and urban development, ABQ draws new residents who want a reduced cost of living and a good environment.
Long Beach and Albuquerque are both cities that offer different pros and cons to their residents. However, moving to a town with a weak job market and high fees can be challenging.
What are the Pros and Cons of Long Beach vs. Albuquerque?
Albuquerque is a pet-friendly city with modest prices and offers a high air quality, but the crime count is a huge disappointment. In comparison, Long Beach's cost of living is high but has outstanding schools and astonishing beaches.
Living in Long Beach
Pros
Great schools

The Long Beach Unified School District's schools have above-average overall ratings. They have a total of 77,812 pupils in grades K-12.

Families that want private education can enroll their children in one of the city's many private schools. Long Beach City College and the renowned Cal State Long Beach 4 year public institution are available for secondary education.

California State University, Long Beach (CSULB) is also in Long Beach.

In subjects including legal studies, education, engineering, the arts, and health and human services, this public institution is among the top ten finest colleges for undergraduate instruction in the United States.

Astonishing beaches

This California coastal community, named after its seven-mile length of beautiful beaches, provides many beach activities. Swimming, sand volleyball, and sunbathing are available at Belmont Shore Beach.

Mother's Beach in Long Beach features a safe swimming area, toys, green areas, and refreshments perfect for kids.

During a jog at Junipero Beach, catch your breath. Alternatively, after kitesurfing at Long Beach City Beach on Ocean Boulevard, gather a few pals and watch the sunset.

Kid-friendly

Long Beach offers a plethora of kid-friendly activities. Explore the Aquarium of the Pacific to see approximately 12,000 species ranging from sharks to seals.

At El Dorado Natural Center, marvel at the gorgeous birds and scenic nature oasis. Throughout the Naples Canals, rent a kayak or try paddleboarding with the whole family.

You can introduce the youngsters to waterfront activities such as boating at the Long Beach Shoreline.

Lively vibes

Long Beach is a one-of-a-kind city in Southern California. It's the perfect blend of Orange County vibes and Los Angeles vigor.

A parade, festival, and fair always draw the community together. It's the type of place you'll want to call home.

Unique neighborhoods

Long Beach's many neighborhoods each have something unique to offer. Downtown is bustling and dynamic, while Naples and Belmont Shore offer a beachy vibe.

Belmont Heights, Rose Park, and Bluff Heights are historic neighborhoods with excellent walkability.

Bixby Knolls, Lakewood Village, Alamitos Heights, Park Estates, Los Altos, and El Dorado Park Estates are some other fantastic Long Beach communities to consider.

Proximity to LA

Long Beach is California's seventh-largest city. It is, nonetheless, relatively near to Los Angeles, despite its small size. Driving from the city to downtown Los Angeles takes only 25 minutes.

Because of the proximity, you may use the advantages of both cities. You can easily reach the unequaled entertainment scene of Los Angeles, find a job there, visit its finest restaurants, etc., from Long Beach.

Long Beach, of course, has its own set of eateries and shops. However, if you become tired of the city, Los Angeles is only a short drive away.
Cons
High prices

If you've always desired to live the California way, you'll have to first learn about the high expense of living. Long Beach, for instance, has a cost of living that is 43% more than the national average.

Long Beach isn't the most expensive city in California, but it's certainly not the least costly.

Long Beach's housing costs are 127% more than the national average. Meanwhile, utility costs have increased by 8%, transportation costs have increased by 31%, and grocery prices have increased by 12% over the national average.

To live comfortably in Long Beach, a single adult must earn about $20 per hour. If a person has three children and is raising a family, they need to make over $70 per hour to cover daily costs.

Long Beach's average annual income for a household of four is roughly $130,000.

Traffic

The 405, a major freeway that runs across the city, is infamous for its gridlock. If you don't work in town and have to commute to locations like Los Angeles, you'll be in traffic for a long time.

There is a bus and Metro light rail system to get to Greater Los Angeles. You can ride the Blue Lines from Downtown Long Beach to Downtown Los Angeles. You may also take public transportation to Los Angeles, although this will take longer than driving.
Living in Albuquerque
Pros
ABQ's Open Space program

The City of Albuquerque's Open Space program protects seven unique Sanda foothills. You can park your car and access hiking and mountain bike routes with expansive views of the mountains' azure folds within 20 minutes of practically everywhere in the city.

The Bear Canyon paths provide enough spurs across the high-desert scenery to allow you to prolong your hike from one mile to many miles.

Markets

The markets in Albuquerque brims with fresh vegetables from local farmers on Saturday downtown and Sunday at the Rail Yards. Attendees meander among pop-up art exhibits, t-shirt screen-printing shops, and a children's craft area in the Rail Yards.

Pet-friendly city

Albuquerque is the ideal place to bring your four-legged buddy, with its outdoor trails, walkable streets, and pet businesses and daycares. Albuquerque was named one of the top five dog-friendly cities in the United States.

Albuquerque maintains an animal welfare webpage with advice for dog and cat owners. It also runs the Lucky Paws municipal pet adoption program.

Albuquerque has 14 dog parks spread out around the city. Also, some of the city's hotels provide pet-friendly packages.

Modest prices

Albuquerque's cost of living is 5% lower than the national average, allowing residents to enjoy a good standard of living.

Not to mention that, in addition to cheap property taxes, Albuquerque's state income tax is 24% lower than the national average. Albuquerque's low prices and taxes make it a cost-effective place to live, work, and retire.

In addition, the average rent in this neighborhood is frequently lower than the national average.

Residents in Albuquerque also spend less on food, electricity, and transportation than the average American. In addition, Phoenix expects to pay 14% more in Albuquerque for healthcare.

Fresh, clean air

Albuquerque has a high air quality index of 5. Most of the year, the city boasts of fresh and clean air.

If you plan on moving to ABQ, you'll experience good air quality all year long.
Cons
Limited flights

Albuquerque has an airport. However, flights to and from the city are restricted. ABQ may not be the ideal spot to call home if you're a frequent flyer.

If you want to go to Dallas or Denver, you're in luck, but flights to larger metropolises like NYC or Washington DC are few, so you'll almost certainly have to make a connection.

Despite the airport's name being Albuquerque Foreign Sunport, no international flights are available from ABQ.

Crime

Frequent crimes in ABQ are due to many socioeconomic issues in the city, including poor educational levels, a high unemployment rate, and a high prevalence of drug misuse among the populace.

Albuquerque accounted for 47% of all property crimes reported in New Mexico in 2016.
Albuquerque or Long Beach – Which is cheaper?
The overall cost of living in ABQ is 43.2% cheaper than in Long Beach. House prices are 66.3% less in Albuquerque. Furthermore, the health expenses in Albuquerque are 9.3% less than in Long Beach.
| | | |
| --- | --- | --- |
| Living expenses | Albuquerque | Long Beach |
| Housing | 88.0% | 261.1% |
| Food & Groceries | 96.0% | 101.9% |
| Health | 81.1% | 89.4% |
| Utilities | 97.2% | 97.1% |
| Transportation | 89.4% | 157.9% |
Data is 100 = US National Average
> 100 means more expensive than the national average
< 100 means cheaper than the national average
Housing
Housing expenses in ABQ are 66.3% lesser than in Long Beach. The latter's median monthly rent is now $2,470, with a median home price of $788,384 compared to Albuquerque's median house price of $332,426 and median monthly rent of only $1,041.
Food & Groceries
Long Beach's food and grocery prices are more pricey than ABQ's. One example is the price of 1 carton of eggs in Albuquerque, which is only $1.72, compared to $2.03 in Long Beach.
Health
Healthcare costs are 9.3% less costly in Albuquerque than in Long Beach. In Long Beach, an RX drug may cost $484.66, while it can only cost $433.50 in ABQ.
Utilities
The difference between the utility costs in Long Beach and Albuquerque is less than 1%. The utility fees in ABQ are slightly higher than in Long Beach.
In ABQ, a minute of prepaid mobile local tariff costs $0.16, while it is only $0.06 in Long Beach.
Transportation
When riding a taxi, the standard tariff cost is lesser in ABQ. It only costs $2.50 in ABQ compared to Long Beach's $2.85. Thus, transportation fees in Long Beach are higher than in Albuquerque.
Is Albuquerque bigger than Long Beach?
Long Beach has a higher unemployment rate, less dense population, and a land area less than twice Albuquerque's. Therefore, Albuquerque is more extensive than Long Beach in land area, people, and economy.
In terms of geographical area, Albuquerque is 188.9 mi² with a 942,000 population. In comparison, Long Beach has a land area of 80.35 mi², less than twice Albuquerque's. Moreover, Long Beach has a less dense population of 468,982.
Both cities have a higher than the national average unemployment rate. As of November 2021, Albuquerque has an unemployment rate of 5.5%. At the same time, Long Beach's unemployment rate is higher than Albuquerque's, 6.2%.
Albuquerque is more prominent than Long Beach in the economy, population, and area size.
Is Long Beach safer than Albuquerque?
Long Beach has a lower crime index of 57.66, whereas Albuquerque's crime index is 70.56. Additionally, Albuquerque has a safety scale of only 29.24. At the same time, Long Beach has a higher safety scale of 42.34. Therefore, Long Beach is safer than Albuquerque.
Long Beach has a safety scale of 42.34, larger than Albuquerque's safety scale of only 29.24.
Moreover, Albuquerque's crime index is 70.76 compared to Long Beach's 57.66.
Long Beach city ranks 36th among the most dangerous cities in the United States and the 13th most dangerous city in California. However, the town is still safer than 18% of American cities, and crime rates have declined in recent years.
The chances of becoming a victim of violent crime in Long Beach is only one-in-198. In contrast, it is one-in-75 in ABQ.
For property crime, the chance of becoming a victim of property crime in Albuquerque is one-in-20. Meanwhile, it is only one-in-36 in Long Beach.
The risks of becoming a victim of either crime in Albuquerque are higher than in Long Beach.
Therefore, Long Beach is safer than Albuquerque.
Is Albuquerque hotter than Long Beach?
Long Beach has an annual average high temperature of 82°F. Albuquerque has an average yearly maximum temperature of 93°F. Long Beach is, thus, undeniably hotter than Albuquerque.
Summers are short, warm, arid, and clear in Long Beach, while winters are long, chilly, and partly overcast. The temperature ranges typically from 48°F to 82°F throughout the year, with temperatures seldom falling below 42°F or rising over 91°F.
The year-round temperature range of ABQ is 27°F to 93°F, with temperatures seldom dropping below 18°F or surpassing 99°F.
In Long Beach, there are 287 sunny days a year on average. On the other hand, ABQ has shorter sunny days of 280.
Long Beach and Albuquerque have longer sunny days per year than the country's average sunny days, 205.
Even though ABQ has shorter sunny days than Long Beach, the city's maximum temperature is higher. It can get hotter in Albuquerque than Long Beach, especially from June to August.
Hence, Albuquerque is hotter than Long Beach.
Is Albuquerque better than Long Beach?
Albuquerque boasts cheaper living and housing, doable traffic, and a lower unemployment rate than Long Beach. In contrast, Long Beach has soaring unemployment and higher prices. In light of these considerations, Albuquerque outperforms Long Beach.
If you're considering relocating to Long Beach, you'll be pleased to learn that it is a gorgeous city. Long Beach offers a varied culture, beaches, and closeness to Los Angeles. However, it has high living costs, heavy traffic, and natural catastrophe threats.
On the other hand, Albuquerque can be hotter and has a higher crime frequency. However, the city has a cheaper cost of living which makes it easily livable.
Albuquerque is less safe than Long Beach in terms of crime. However, if you are still looking for work, Long Beach's high prices and unemployment rate make it difficult to relocate to the area.
Long Beach versus Albuquerque – Where do you consider moving? Let me know your thoughts below.