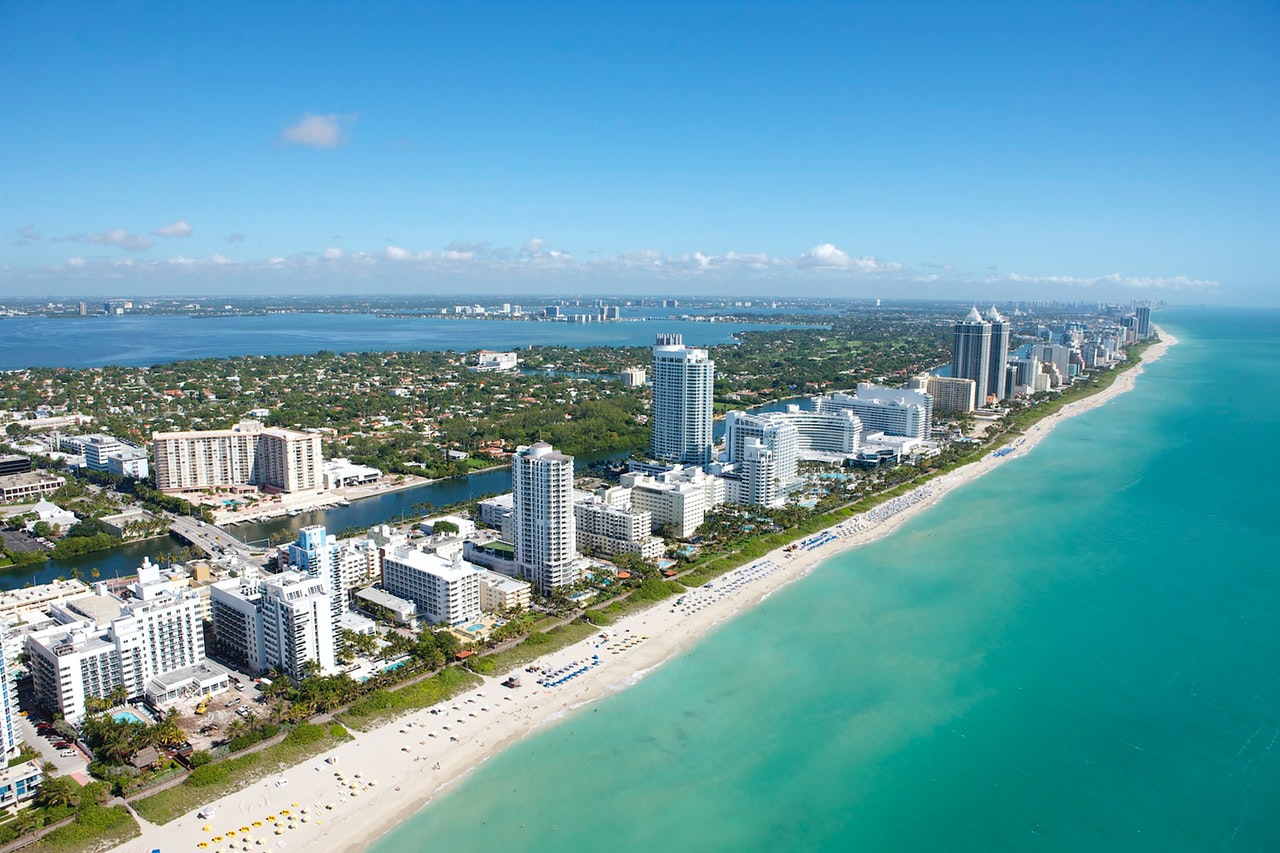 Miami or the Magic City is better than Albuquerque. It is a vibrant metro and considered one of the largest international business hubs in the US. In contrast, Albuquerque exhibits dynamic traditions, diverse cultures, and laid-back city living.
The Magic City has diverse districts that cater to various groups of people. Miami Beach has the party-hard atmosphere, while Miami proper is more of a trade and banking career district. Its suburbs like Key Biscayne and Doral are great locations for families, too.
On the one hand, Albuquerque offers a more straightforward and affordable lifestyle. It has areas ideal for families like the BioPark with a zoo, gardens, and aquarium. The city also hosts museums and dine-in places where you can spend downtime.
Both cities cater to different types of people. But when we talk about living opportunities, Miami offers more. Thus, here is a city comparison, and see why Miami is better than ABQ.
What are the Pros and Cons of Miami vs. Albuquerque?
Miami is a costly city with a thriving job market and exciting lifestyle. On the one hand, Albuquerque is an affordable city with a poor crime rating and low employment rate.
Miami Living
Pros
Lifestyle

Miami is a vibrant and dynamic city known for its nightlife scene. It has stunning white-sand beaches like the South Beach and Cape Florida State Park. While the town loves to party all night, there are plenty of things to explore in the daytime.

There are 150 parks, playgrounds, and recreational areas to enjoy life outdoors. It is also a perfect destination to play golf and deep-sea fishing. With these offerings, Miami became America's playground.

Lowest unemployment rate in Florida

The city can also boast about its thriving job market. It enjoys the lowest unemployment rate in Florida State. The 1.8% rate is also way below the national average of 3.6%.

It draws young professionals because of the job opportunities it offers. The tourism industry, for instance, already accounts for thousands of jobs in Miami. Millions of tourists visit the town each year, boosting its tourism sector.

Then, manufacturing, finance, banking, and trade sectors come with many jobs. The city transitions to be one of the largest international business hubs globally. The growth in its job market continuously exhibits an upward trend.

4th largest school district in the US

Miami has the 4th largest school district in the county. The Miami-Dade County Public Schools caters to 350,000 students under 392 schools. The section is well-funded by the state, given its vast student population.

The district has seven high schools that rank top in the country, while four in Florida. Most of them are in the Coral Gables, Coconut Grove, and Pinecrest communities.

10 Healthiest Cities in the United States

Aside from the education sector, health is also a priority in Miami. Many of the residents are health-conscious and take time to exercise regularly. The obesity rate of 23% in Miami is below the national average of 39.6%

Health and medical experts are among the top in the country. Hospitals, clinics, and doctors maintain the top ranking in the United States.

Fewer taxes

Another perk of living in Miami is fewer taxes. You will only need to pay for property taxes in your real estate. You are free from paying income tax, unlike in other states. You can keep your earnings without having to worry about tax deductions.
Cons
2nd most expensive places to live

You will spend more than the national average when you choose to live in Miami. The cost can be twice the average if you live in beach communities and resort areas. It can be challenging to buy a house or property because the prices are skyrocketing.

High crime statistics

It would be a massive letdown for you to live in Miami if you factor in its crime rate. The city has also exhibited a high crime rate over the past years. Even so, neighborhoods like The Islands, North Coconut Grove, and Downtown are safe with a 60% lower crime rate.
Albuquerque Living
Pros
Totally within everyone's price range

If there's something to love about ABQ, it's the city's affordability. ABQ's living cost is very reasonable, with a percentage scale 5% lower than the national average. Everything falls below the average from housing cost, utilities, transit, and health care.

Best place to be outside

ABQ has everything nature has to offer. It offers excellent outdoors that you cannot resist going outside. The city is conducive to hiking, biking, and running. You can go to the Copper Trailhead in the Sandia Mountains and do physical stretching.

On the one hand, the Cibola National Forest is a perfect place for hunting and fishing. Then, there's the Sandia Peak Aerial Tramway offering a beautiful view of the city.

Cultural Center of New Mexico

The city is greatly influenced by its indigenous roots.

ABQ puts high regard on its Native American population living in the city's pueblos.

You can see it in their architecture, clothing, and cuisine.

It is the city where a high number of Native Americans live. Around 5% of its demography comes from this group. The Indian Pueblo Cultural Center is a dedicated area that preserves indigenous art.

Best place to ride on a hot air balloon

ABQ has a lot of sunshine with a significant chance of wind. It has a unique climate that creates a perfect condition to fly a hot air balloon. ABQ's International Hot Air Balloon Festival is the largest across the globe. It has 500 hot air balloons flying up the sky.

The Sandia Mountains and the Rio Grande

Natural landmarks like the Sandia Mt. and the Rio Grande are the city's major attractions. ABQ offers the ideal place to appreciate nature with a panoramic view of the mountains. The sky's changing color from purple, yellow, pink, and orange is a stunning sight to see.
Cons
Sweltering summers

The city experiences around 300 sunny days each year. More than that, summers can be scorching with a temperature that goes as high as 90 degrees. Some people would not want this massive amount of sunshine every year.

Poor crime index

Albuquerque scores one on the crime index, with 100 being the best. Meaning crime is rampant in the city, and safety can be a significant concern. Both the violent and property crime rate is above the national average.
Miami or Albuquerque- Which is more expensive?
| | | |
| --- | --- | --- |
| Living expenses | Miami | Albuquerque |
| Housing | 142.7% | 88% |
| Food & Groceries | 107.3% | 96% |
| Health | 104% | 81.1% |
| Utilities | 95.5% | 97.2% |
| Transportation | 144.5% | 89.4% |
Data is based on 100 = US National Average
> 100 means more expensive than the national average
< 100 means cheaper than the national average
Miami is undoubtedly more expensive than Albuquerque. It is the second most expensive place to live, with a cost of living twice the national average.
Housing cost

There is a huge price variance between the housing cost of ABQ and Miami. Buying a property in Miami will cost you 62.2% more than getting a house in Albuquerque.

Suppose you live near the beach and other luxury resorts, the standard cost doubles. The cheapest area in Miami, Little Haiti, has a housing cost of $330,000, compared to ABQ's median home price of $203,500.

Utility cost

Utility cost is cheaper in Miami compared to ABQ. You will pay 0.3 percent less than the national average for utilities when you live in Miami. ABQ, also have utility cost below the average. It is one of the areas where you can save a tiny amount of money in Magic City.

Food & groceries cost

Grocery items are costlier in Miami, even compared to the national average. You will pay more in cooking food or eating out in Miami. Comparatively, ABQ is cheaper by 3%.

Some food items like frozen corn, steak, and oil are twice the average price. Thus, if you are a family of more than four, food can take up a considerable percentage of your monthly budget.

Transportation cost

Commuting in ABQ is way cheaper than going around in Miami. The transportations cost is 38% higher in the Magic City. Even if it has a comprehensive transit system like Metrorail and Metromover, it did not make the price cheaper.

Health care cost

You will spend more on health care when you choose Miami over ABQ. A regular doctor visit is already around $120, while a dental visit is $110. In comparison, the cost is 18% more in Miami.
Is Miami bigger than Albuquerque?
Albuquerque is more extensive than Miami by land area. Miami is one of the smallest cities in the US, with 56.06 square miles, while ABQ has 189.5 square miles.
In terms of population, Miami is significantly larger given its limited space. It is home to almost one-thirteenth residents of South Flordia. Miami is also the 44th populous city in the United States.
Meanwhile, ABQ is the most populous area in New Mexico. It is the principal city of the Albuquerque metro area, with more than a million residents. Almost half of the population in the metropolitan live in ABQ proper.
Is Albuquerque safer than Miami?
Albuquerque and Miami have crime rates higher than the national average. By comparison, ABQ has more recorded violent and property crimes than Miami.
The violent crimes recorded in ABQ are primarily drug-related. The low unemployment rate, poverty, and financial instability affect the number of crimes. Unfortunately, the rate exhibits an upward trend given that there's less police presence.
On one side, Miami has had problems with gangs, drugs, and violence over the past years. There are areas in the city with higher crime rates, while some with relatively low. Pine Crest, Kendall, and Pine Grove are some of the safest neighborhoods in the city.
Is Miami warmer than Albuquerque?
Miami has a tropical monsoon climate, while Albuquerque has a cold semi-arid one. Both experience sweltering summers with 89 degrees in Miami and 92 degrees in ABQ. By comparison, Albuquerque is still warmer than Miami.
Even though the temperature is not as high as ABQ, summers in Miami can be sweltering. Since it has a tropical monsoon climate, there's also a high humidity level and high temp.
The city's high humidity ended people sweating and uncomfortable during the summers. Factors like sea-level elevation, closeness to the Gulf Stream, and coastal location contribute to the temp.
Is Miami better than Albuquerque?
Miami is better than Albuquerque in so many ways. Aside from having a stable economy, it offers an exciting lifestyle, career growth, and safer neighborhoods.
All are essential to build a quality and happier life. With the city's offerings, the cost of living became a secondary consideration. Plus, given its diverse economy, you can find a high-paying job that compensates expenses.
If you have wanted to move to a vibrant city, there's no better choice than Miami. The Magic City has a lot of things in store for you, from beaches down to parks and recreation.
Are you convinced that Miami is better than Albuquerque? If not, let me know your thought below.