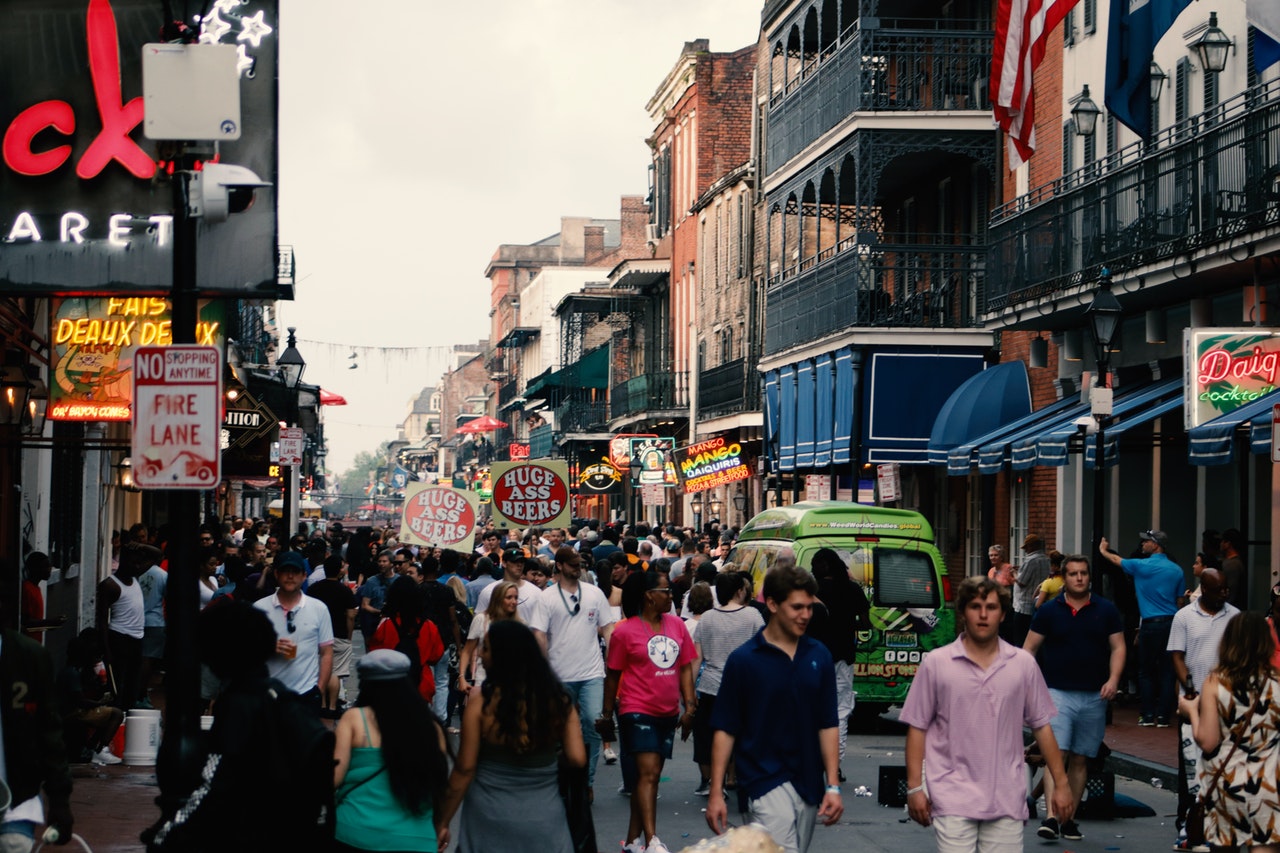 Albuquerque is a city that provides people a good quality of life because of its cheap living cost and growing economy. These perks make it the best place to live compared to New Orleans. New Orleans has an excellent festive vibe in the metropolis, but the social-economic problem is evident.
Albuquerque has a small-town vibe, but the quality of life is ideal with a low cost of living and agreeable economic growth. The place is rich in cultural diversity, apparent in its town, people, foods, and natural tourist spots.
New Orleans brings a festival vibe through its Mardi Gras and carnivals. Life happens at a slower pace in town, making you enjoy good food and the beautiful city; however, the socio-economic difficulty in the town makes it unappealing.
Both cities can compete to have an extraordinary place to live, but Albuquerque edges more in terms of having a reasonable living cost with a good economy. It is good thinking to make a comparison to answer the question of which is which.
What Are the Pros and Cons of Albuquerque Versus New Orleans?
Albuquerque is a livable place with lots of outdoor recreation, healthier people, and a green city but be vigilant because the crime percentage in the city is relatively high. In contrast, New Orleans is home to an international festival, food is delectable, and the town has a long inclined-free road, but the socio-economic struggle is a headache.
Living in Albuquerque versus New Orleans has many benefits and downsides, and a good comparison will explain the variance.
Living in Albuquerque
Pros
Outdoor Recreation is a Pro

Albuquerque makes good use of its vast land area to have a better and open space for different outdoor activities for locals and tourists. The Sandia Mountains, one of ABQ's famous tourist attractions, have trails and hiking routes.
The place also offers a relaxing view on its tramway, where there are restaurants nearby to have a munch and appreciate the view. National Parks and ABQ's BioPark are also a must-see as it not only contains historical figures, and you can learn different diversities there.

ABQ Has Healthier People

Albuquerque has a vast space and even parks where people can do many exercises like cycling, hiking, running, and jogging. It is enticing to see a lot of open spaces where everyone can perform their physical fitness exercise along with the others.

ABQ is one of the healthiest cities in the whole of America and not to mention that the metropolis has a better location for wineries and beers which also gives a health benefit when taken in moderation. The excellent ambiance of the city will encourage you to work out more.

ABQ is a Green City

With almost 27 parks in the neighborhood, you can consider Albuquerque a green city. Most places have many growing trees covering the scorching sun's pathways during hot days.
The sun is central to Albuquerque's sustainable and environmental public image: the city is home to more than ten solar panel companies. The solar panels courtesy of these companies lights up to almost 100,000 people in the neighborhood.

Commodity Prices is Conveniently Reasonable

Acquiring your home in the metropolis is seemingly not hard to reach. The city has a low living expense and low median housing and rentals. Albuquerque offers better deals regarding reasonable pricing as it is one of the most affordable cities in New Mexico.
Utility expenses are also inexpensive here. If you have a regular job, you can have ends meet.

Economic Growth is Thriving

Amidst the difficulty of having a high unemployment rate, the economy of Albuquerque is blossoming. There is a future job growth forecast of 34.5%. Albuquerque is experiencing growth at 0.16%.
Although the city currently has a limited number of industries, future goals will strive to continue providing expansion plans of larger companies in the area.
Cons
Criminality is Rampant

All cities have a fair share of criminal records, but Albuquerque seems to increase its yearly records. The place recorded about 111 crimes in the first quarter of 2021. In Albuquerque, your chances of becoming a victim of violence are 1 in 75, and your probability of becoming a target of property crime is 1 in 20.
You need to be mindful of your surroundings every time to avoid assaults and car theft, which are the top offenses in the neighborhood.

The City is Quite Far from Other Towns

Albuquerque does not have a pretty close neighboring town. The nearest big city is Farmington, but it is about 270 kilometers away or about 5 hours with 50 kilometers per hour. If you want to go to the nearest place outside ABQ, you must drive about 8.7 kilometers to South Valley.
Living In New Orleans
Pros
International Festivals

Carnivals and Mardi Gras are internationally-acclaimed festivals in New Orleans. There's an exceptional oyster celebration to enjoy, as well as a bourbon and beer festival, and don't ignore the great French Market Creole Tomato Festival.

The festive vibes and good foods will fill your stomach, eyes, and ears. There are still lots of fantastic events throughout the year. The fact that NOLA will allow you to drink in public is one of the reasons to celebrate festivities.

Delectable Foods

New Orleans gives you the best foods that the place has to offer. You will immediately discover that the beignets are among the most remarkable things you will ever eat. Creole cuisine is one-of-a-kind, available in various dives, and among the best in the world that you can have here.
NOLA fried chicken is one of the nation's best and something you do not want to skip. A good beer with chicken is one of the best food combinations readily available in their restaurants.

Inclined-free Roads

New Orleans has long routes with inclined-free roads for people who do not want a challenging course. Cyclists and runners at times opt to have a flat surface to have an efficient and effective exercise result.
It's the ideal place for a lovely walk, remarkably since the metropolitan area anticipates parades every month.

In New Orleans, Life Moves at A Reasonable Tempo

New Orleans is ideal if you want a city to stay slow in life. The city's life moves at a sluggish tempo that brings physical and emotional effects. Deceleration allows you to take deep breaths. When a person isn't rushing from one task to the next, there is usually less stress in their life.

The city is not your typical dynamic urban district with people buzzing around like bees. People around downtown loves to have small talks while savoring a good beer or coffee, which brings them relaxation.
Cons
New Orleans Has a Socio-Economic Struggle

When Typhoon Katrina hits New Orleans, most residents flee to seek better opportunities in neighboring cities and towns. The city's economy is still under rebuilding.

Living in New Orleans exposes you to a multitude of complex problems. Poverty rates are pretty high here. Higher insurance costs impact the manufacturing market, too, and up to 40% of motorists in the metropolitan area do not have a policy.

Extreme Weather in The City

You will get to experience two seasons when you live in New Orleans: dry and wet. The dry season gets to have a hot temperature that can exceed up to 90 degrees Fahrenheit. You need to have an air conditioning unit to beat the heat.

During the wet season, a simple downpour can flood an entire place of New Orleans in a matter of days. Intense weather circumstances, such as hurricanes, will also pass through occasionally.
Albuquerque Or New Orleans – Which Is Cheaper?
Albuquerque is 5.7 % less expensive than New Orleans when comparing living expenses. On the other hand, New Orleans has a good home value.
It is a fantastic find if you live in Albuquerque because its living expenses are more affordable than other cities like New Orleans, although house prices are not lower when compared to NOLA.
Comparison Table of Living in Albuquerque, New Mexico vs. New Orleans, Louisiana
| | | |
| --- | --- | --- |
| Living Expenses | Albuquerque, New Mexico | New Orleans, Louisiana |
| Housing and Rent | 88% | 77.2% |
| Utilities | 97.2% | 87.3% |
| Food And Groceries | 96% | 99.2% |
| Transportation | 89.4% | 132.5% |
| Health | 81.1% | 85.2% |
| Miscellaneous | 97.1% | 97.8% |
Based on the Data of which 100 = U.S. National Average
>100 means more expensive
<100 means cheaper than the U.S. average
Housing and Rent Costs
Studio apartment rentals in both cities do not differ much. You can lease an apartment in ABQ for $630 while the same thing costs $768 in NOLA. Purchasing a home in New Orleans will cost you $178,500, while it takes $203,500 to have a good place in Albuquerque.
Utility Costs
Living in New Orleans will charge you fewer utility bills than in Albuquerque. The essential bills for energy, heating, gas, and garbage collection will cost you $193 in NOLA, while the same package is around $232 in ABQ.
Food and Groceries Costs
Meals and other basic groceries are cheaper in Albuquerque. The average meal in ABQ costs around $15 and $20 in NOLA. The difference of 3.2% between ABQ and NOLA is because of the taxes imposed in each city.
Average mid-range restaurant food for two people costs about $47.50 in ABQ, and the same menu will cost you around $67.50 in NOLA.
Transportation Costs
Albuquerque charges lesser fees in its public transportation. The city will make you pay $1 for a bus ride and a monthly pass of $30. In contrast, New Orleans is costly, with a single bus fare for $1.75, while a monthly bus pass will charge you around $52.
Taxi fare in ABQ for 5 miles is $15.95, while you will reimburse $18 in NOLA for the exact transit.
Health Care Costs
Albuquerque's medical system costs slightly less than New Orleans', although both percentages, 81.1 % in ABQ and 85.2% in NOLA, are lower than the median rate.
The subtle difference is due to changes in hospital costs, such as doctor's appointments, dental visits, and other pertinent consultations.
Taxes
The sales tax percentage in New Orleans is 9.45 %, where 4.45 % comes from the Louisiana state sales tax. On the other hand, Albuquerque has a 7.88 % sales tax rate. Both urban areas do not obtain any special taxes or levy unusual fees.
Is Albuquerque Safer Than New Orleans?
New Orleans is safer than Albuquerque because it has a lower crime index in violent and property offenses. ABQ belongs to the top cities in the whole of America that are unsafe and dangerous.
Although both cities do not have a massive gap in terms of criminal offenses, ABQ still leads in the risky place ranking than NOLA. Many criminal felonies occur in some notorious areas around ABQ, which lead to almost 3,000 cases in a year.
When deciding where to live in the city, it is best to choose a good neighborhood. It is far better to buy a home near the metro area.
Is Albuquerque Bigger Than New Orleans?
Albuquerque has a population of 562,540 around the 187.2 square miles landmass, making it larger than New Orleans. NOLA only has 169.4 square miles of total land area with 389,476 inhabitants.
Albuquerque is significantly more comprehensive in terms of the total land where the city resides. The population is also greater in ABQ than NOLA, appropriate for its small metropolitan site. Population Density in ABQ is 3,004.7 per square mile, while NOLA has 2,298.8 per square mile.
Is Albuquerque Warmer Than New Orleans?
Since 1939, Albuquerque observed 100 degrees Fahrenheit temperatures about 96 times during 12 days, making it warmer than New Orleans. ABQ has more sunny days, with nearly 280 days in a year compared to NOLA's 216.
During the scalding summer season, the heat in Albuquerque typically ranges from 80 to 100 degrees Fahrenheit. The environment is becoming increasingly hot, and the heating rate rises.
Throughout the year, the climate in New Orleans typically ranges from 47°F to 92°F, with average temperatures falling below 35°F or rising above 97°F. Their hot days are not as intense as those in ABQ.
Is Albuquerque Better Than New Orleans?
Albuquerque is for people who choose to live a low-cost, high-quality life in a beautiful setting where they can balance work and leisure. ABQ's perks make it better than New Orleans. In contrast, NOLA offers a joyful district and a tranquil urban area even though their economy is recovering.
Albuquerque, New Mexico, is an ideal location for an affordable life with the hopes of having economic progress in the future. The place is engaging because of the different activities, natural wonders, and vibrant events that make everyone happy.
New Orleans does not exempt itself from the festivity scene and relaxing urban area. The place takes a moderate tempo where people can appreciate their peace while appreciating the city life. However, the metropolitan has a significant economic problem that needs proper attention.
Both cities share some common ground in providing affordable living, but ABQ stands out in giving people a better lifestyle.
Are you considering moving to Albuquerque, New Mexico, or New Orleans, Louisiana? Let me know your thoughts and concerns below.