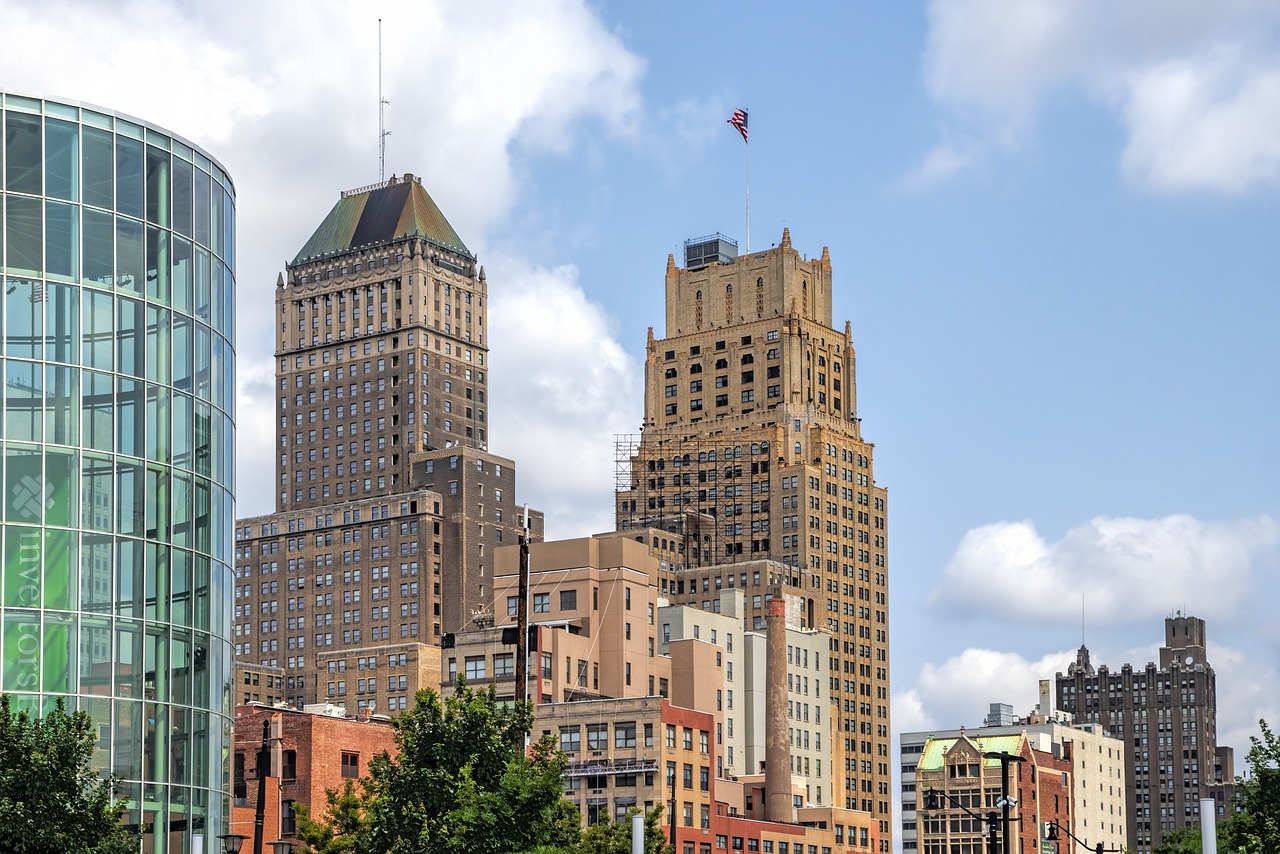 Newark is an ideal location because it is close to ports and other big cities, creating many opportunities for a better quality of life. This trait makes the town the best place to live than Albuquerque. ABQ is a good spot if you want to savor a real suburban life.
Newark is a port city that is a sanctuary to Port Newark, the Northeast's biggest global container hub. Because many businesses offer better employment opportunities, the area provides good engagement prosperity for everyone even when living costs are slightly high.
Meanwhile, Albuquerque takes you to live a serene suburban life, which is very good for retirees. The small-town vibes of the city will give you an excellent chance to explore the beauty of the city limits. However, the metropolis still finds its way to building a stable economic run even if you pay less for your living expenses.
Both cities provide attractive choices for where we can live, but Newark outperforms ABQ in terms of its economic prestige. A distinction between the two is a straightforward way of breaking the fine line that would be better for your lifestyle.
What Are the Pros and Cons of Albuquerque Versus Newark?
Newark has a busy port facility, a significant financial establishment, academic institutions, and cultural venues, but be cautious of the town's constant threat of violence. In contrast, Albuquerque is a good retirement location with huge outdoor spaces, historical grounds, and cheap living costs, but the area is not near any big city.
Living in Albuquerque versus Newark has a range of benefits and limitations, and a comparison between the two is a smart option.
Living in Newark
Pros
Newark Is a Seaport City

Newark is home to the Northeast's most prominent and busiest container hub, the Port Newark–Elizabeth Marine Terminal. The town provides a good location for goods entering and leaving the Northeast quadrant of America.

The fast-paced harbor generates trade relationships, making it perfect for business dealings to grow and foster career opportunities for its inhabitants and expatriates.

A Strong Economy

Many Newark residents live close to career opportunities. Some of the town's biggest employers are financial services, legal firms, medical facilities, and academic institutions. Prudential Financial and Audible, as well as the AeroFarms, are all headquartered in this city.

Newark Venture Partners, for example, is assisting Newark in becoming a preferred destination for electronics startups and small business innovators. Big companies in the city, including Verizon Communications, Meridian Health, Johnson & Johnson, and Bank of America, offer good salaries.

Traveling is Pretty Convenient

It is not a problem in Newark to travel from one place to another. There are multiple modes of transit that everyone can use. Flying for any reason is very easy, thanks to Newark Liberty International Airport, one of the busiest airports in the district.

With the PATH high-speed train, you can easily reach Jersey City or Manhattan from Newark Penn Station. New Jersey Transit's software application can also help you prepare your rides, link you to mass transit, and get you from around the city by bus.

There Are Multiple Educational Institutions in Town

Newark has various academic societies where families can avail themselves, especially in the collegiate division. Seton Hall University School of Law draws students to find employment at one of the city's numerous legal firms or big financial corporate entities.

Students interested in computer engineering and technology can find top-rated programs at the New Jersey Institute of Technology. At the same time, Essex County College offers 74 bachelor's and certificate programs and continuing education courses.

Parks Throughout the City

Despite its size, Newark has a multitude of parklands to discover. Mulberry Commons, a portion of the center city's continuous improvement, is the most vibrant recreation area. The park complements the otherwise urban Central Business District with a play area, green space, and a pedestrian bridge.

Military Park is also in the city center, providing a venue for open-air fitness classes and movie screenings.

Cons

High Cost of Living Expenses

The city of Newark has a developed economy which equates to a high living expense in the metropolitan. The overall percentage index of Newark surpasses the national average. Because of the premium costs in the metro area, buying a home seems quite challenging, and most mortgages.

A residence will cost you approximately $250,000, and a housing lease will charge you roughly $1,500. But the annual salary in the town is roughly $72,000, which covers the high fees.

Property Taxes Are Not Cheap

In the case of property tax payments, the town of Newark has a high percentage. This proportion of 3.8% makes people pay extra charges in owning the property. The easiest thing for occupants is not to purchase one and instead lease, saving them money.

Violent Crime Is Common

In Newark, violent crimes are far more common. The violent crime rate in the metropolitan area is nearly 63 % higher than the national median. The odds of becoming prey to brutality in this area is 1 in 45.

Given the increased rate of violent crime in the town, there are several safe neighborhoods that you can relocate to, including Howard Beach, Fresh Kills, Flatbush, and Coney Island.

Living In Albuquerque

Pros

ABQ Is an Excellent Place to Retire

Because of its mild climate, Albuquerque is an excellent choice for a retirement location. The winter weather in the area is calm, so there is no need to dig out of heavy snowfall. There are no major storms or floods here.

Also, real estate taxes aren't too bad, and residential prices are minimal. There are numerous fantastic things to do within the city boundaries, like visiting wineries' cultural heritage sites or relaxing in the green parks.

Cost of Living is Relatively Cheap

Albuquerque is an excellent place to purchase commodities as the prices are relatively low-priced. The city will charge you less for your essential utility bills like energy, water, and gas. This cheap pricing is because of the lower sales taxes levied in the State.

You can cope with the affordable living costs if you have a stable job to compensate for all the fees and bills when you plan to move to the metro.

Historical Grounds

It is remarkable how Albuquerque preserves its historical grounds for locals and tourists to see. Albuquerque's Old Town consists of roughly ten blocks of heritage adobe structures. The San Felipe de Neri Church, situated on the north side of the town center, is the oldest remaining structure.

The area has a lot to promise, such as nature reserves, art exhibitions, and a magnificent cultural center.

ABQ Is Rich in Trails and Open-Air Happenings

You will surely use your spare time enjoying the City of Albuquerque. There are numerous trail tracks and open spaces for different leisure activities of its residents. Aside from the monthly festivities, there are lovely restaurants and pubs in the town center.

There are vibrant international events like the hot air balloon festival and New Mexico State Fair, where people can enjoy delectable foods and events from different town locations.

Cons

ABQ Is Slightly Remote

Even if Albuquerque has a good reputation for having a rich city culture, it is pretty remote from other towns and big cities, making it unattractive to people who love to go from one place to another to explore.

If you live in ABQ, reaching the nearest big metropolitan area will take around 5 hours. Also, public transportation is pretty limited that some residents opt to have their car or walk around the site to get to places.

High Temperature Is Not Inviting

Albuquerque is not a place for you if you cannot tolerate summer with temperatures as high as 100 degrees Fahrenheit. The continuous climate change makes the city hotter. The arid climate in town is one of the reasons why people get skeptical about living in this desert-like place.

It is still best to look for other alternatives to lessen the heat during the warm season.

ABQ Is the Real-Life Breaking Bad

Like how Walter White markets his met lab, there are many drug-related cases in Albuquerque. It is one of the most relevant criminal felonies recorded around ABQ. Scenes in Breaking Bad Series reflect how rampant criminal offenses are in the local area.

Albuquerque Or Newark – Which Is Cheaper?

Albuquerque will charge you less for utility bills, housing purchases, and health-related costs, making it cheaper than Newark. Unlike Newark, the city's average overall index in different fields does not exceed the national average.

One of the significant reasons Newark costs a lot is its high home prices. The value of any accommodation will also increase because of the city's property taxes.

Comparison Table of Living in Albuquerque, New Mexico vs. Newark, New Jersey

| | | |
| --- | --- | --- |
| Living Expenses | Albuquerque, New Mexico | Newark, New Jersey |
| Housing and Rent | 88% | 90.9% |
| Utilities | 97.2% | 114.1% |
| Food And Groceries | 96% | 103.7% |
| Transportation | 89.4% | 156.1% |
| Health | 81.1% | 90.9% |
| Miscellaneous | 97.1% | 115.7% |

Based on the Data of which 100 = U.S. National Average
>100 means more expensive
<100 means cheaper than the U.S. average

Housing and Rent Costs

House price in Albuquerque will only charge you $203,500 compared to Newark's $265,100, making it cheaper. The rental fees in both cities vary for about $300. The rental price in ABQ is 1,339 for a typical home, while the same thing will cost Newark $1,639.

Utility Costs

Living in Albuquerque will cut your considerable utilities costs as the monthly fee is about $232, which is cheaper than Newark's $233.33. A high percentage of utility cost in Newark, 114.7%, exceeds the national average when ABQ only got 97.2%.

If you like to save some dollars in paying essential commodities, then it is likely that you will want to move to ABQ.

Food and Groceries Costs

Meals and other basic groceries are inexpensive in Albuquerque. ABQ only got 96% in this category which does not surpass the national median. In ABQ, ordinary mid-range restaurant food for two people is around $47.50, while the same menu in Newark charges roughly $60.00.

Transportation Costs

Albuquerque's public transport system is cheap than Newark's. The community will charge users $1 for a bus journey and $30 for a monthly pass. On the other hand, Newark is very expensive, with a single express bus fare of $18.

Health Care Costs

Albuquerque's health service is more inexpensive than Newark, although both proportions, 81.1 % in ABQ and 90.9 % in Newark, do not exceed 100%. The slight difference is due to healthcare spending changes, such as medical visits and other noteworthy evaluations.

Taxes

Newark's sales tax rate is 6.63 %, which is smaller than Albuquerque's 7.88 %. Real estate taxes in Newark, on the other hand, are so high that they can reach $0.9120 per $100 of property's value. Both cities do not receive any extra taxes or levy any unordinary fees.

Is Albuquerque Safer Than Newark?

In terms of violent assaults, Albuquerque is marginally safer than Newark. ABQ received 51, while Newark earned 52, both of which are higher than the FBI's average crime index of 22.7 in the United States.

Both cities have a negative reputation for violent attacks and illegal acts. However, violence is common on Newark's grounds. You should detour infrequent places if you don't want to be a target of an assault.

Is Albuquerque Bigger Than Newark?

Albuquerque has a population of almost 562,540 in its 187.2 square miles land area, which makes it significantly more extensive than Newark. The city has vast open space, including big desert neighbors and different landforms. On the other hand, Newark has 282,520 people living in 24.1 square miles.

ABQ is more extensive in its landmass because Newark sits near a river. Therefore, the population density in Newark is reasonably high, which is about 11,701.5 per square mile. That is why it is called a Port City.

Albuquerque is rich in natural land formation, including mountain ranges and parks, which the city converts into a livable community. At the same time, Newark strives to revitalize projects to improve its housing spaces.

Is Albuquerque Warmer Than Newark?

Albuquerque's hot temperature continues to rise, making it warmer than Newark. The city receives less snowfall, and the area's average annual precipitation is indefinitely minimal.

Albuquerque's temperatures continue to go up, owing primarily to global warming. The number of sunny days in ABQ is 280, and the folks get their good proportion of hot weather. The town's average annual precipitation and snowfall are modestly lower than Newark.

Is Albuquerque Better Than Newark?

Newark is for people who desire to alleviate their quality of living by landing a first-rate job in the international trade brought by Port City and other big financial industries, making it a better place to live than Albuquerque. ABQ will entice you to spend your retirement years in the small metropolitan.

Newark, New Jersey, provides a decent deal where you can get a respectable job from one of its many major businesses and even conduct international legal trades in its buzzing harbor. There are countless opportunities to encounter unique cultures and eco-friendly city life within the city boundaries.

Albuquerque is a serene place to spend your golden years. Although the neighborhood is somewhat distant, there are multiple tasks for people of any age to enjoy. The mild winter weather will undoubtedly be appreciated by the elderly.

Newark provides an improved way of life in a small community than Albuquerque. Even though ABQ is a great town, its economic expansion is still striving.

Albuquerque, New Mexico versus Newark, New Jersey – Where do you consider moving? Let me know your thoughts below.