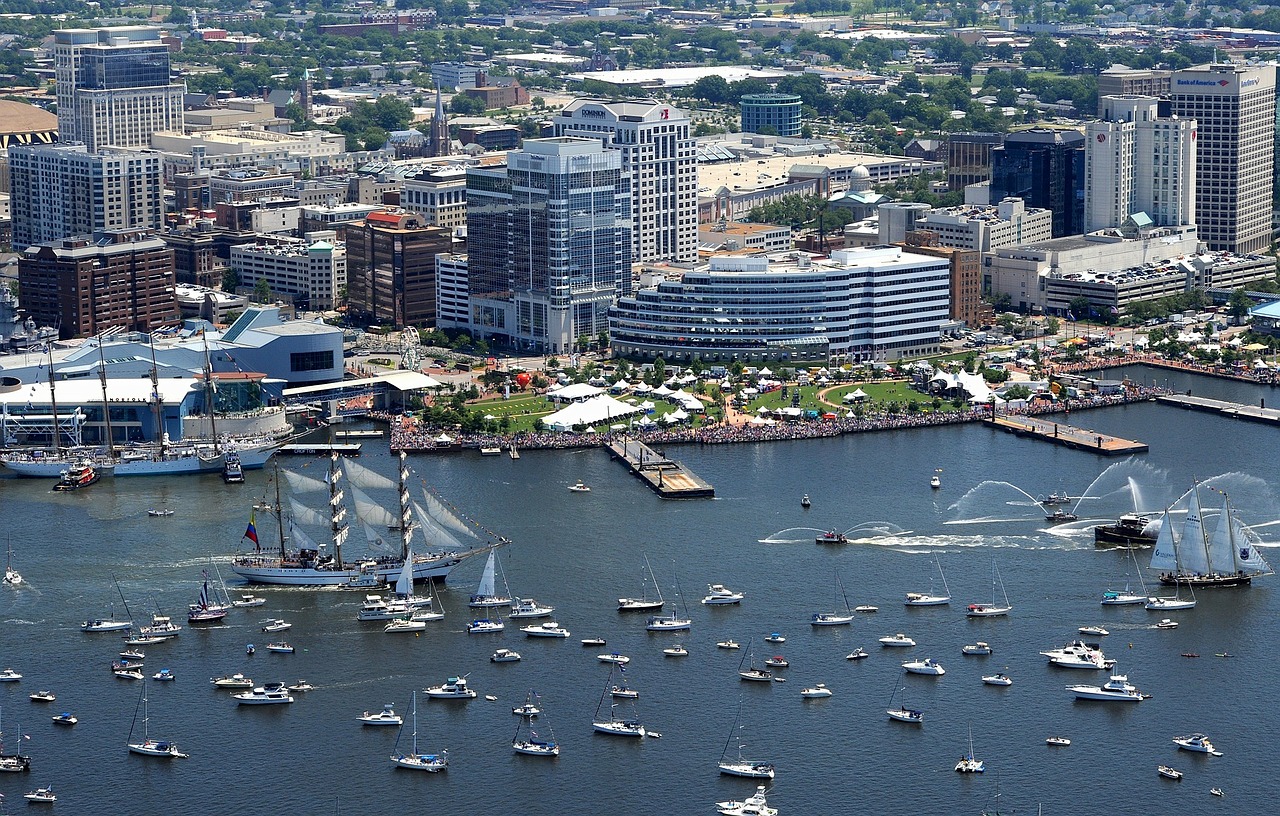 High employment opportunities, a thriving economy, uncostly prices, and stunning beaches make Norfolk a better place to live than Albuquerque. In contrast, ABQ's prices are lower than Norfolk's and are culturally diverse. Nevertheless, the town's crime rates remain unsolved.
Norfolk, Virginia, one of the country's earliest English colonies, has grown into a lively and diversified metropolis. Norfolk is renowned as the financial, urban, historical, and cultural heart of the region, in addition to its military presence.
In contrast, Albuquerque reflects its ethnic tapestry in its architecture, artwork, cultural institutions, and cuisine, making it one of the USA's most culturally diverse cities.
Norfolk and Albuquerque offer low prices than most metropolises in the nation. Despite that, Norfolk has plenty to offer that makes it a more liveable city than Albuquerque.
What are the Pros and Cons of Norfolk vs. Albuquerque?
Norfolk's beautiful beaches, booming industry, and low costs are impressive, but the city is prone to floods. On the other hand, Albuquerque lacks job possibilities, and violence is on the rise while having cheaper pricing than Norfolk.
Living in Norfolk
Pros
Stunning beaches

Virginia Beach is undoubtedly one of the state's most famous beach holiday destinations. However, Virginia's Eastern Shore shoreline near Norfolk features excellent beaches.

On the beaches of Norfolk, you may enjoy various events and live music. Community Beach Park, Sarah Constant Beach Park, and Ocean View Beach Park are the three beach parks in Norfolk. There are many other gorgeous beaches all around the coastline.

For water enthusiasts, Norfolk has more to offer than other cities.

Thriving economy

The economy of Norfolk is thriving. Norfolk has a low unemployment rate of 4.20%.

Military, defense contracting, cargo ports, transportation, government contractors such as shipbuilders, health care, education, and tourism are all businesses that help employ thousands of residents.

The US Department of Defense, the City of Norfolk, Old Dominion University, Maersk, Norfolk Southern Railways, BAE Systems, General Dynamics, and its subsidiary NASSCO are among the major employers in Norfolk.

Apart from this, Manual labor positions continue to be in great demand. Both defense contractor occupations and activities like road, bridge, and commercial construction fall under manual labor.

Healthcare and education jobs are also in high demand. If you have the necessary credentials, education employment is generally simple to come by, and service industry occupations are in more need throughout the summer.

Economical costs

Norfolk's cost of living is lower than those of its posh Hampton Roads peers. It is somewhat lower than the national average. The cost of utilities, groceries, housing, and transportation in Norfolk is lower than the national average.

The affordable housing expenses are one of Norfolk's numerous advantages. About half of Norfolk residents own their houses. Expect a typical property value of $189,100 and a median asking price of $200,000 if you're looking to buy a home.

Activities and attractions

Norfolk is home to historical sites, one-of-a-kind stores, world-class museums, and various delectable eateries. The majority of the attractions are within walking distance, a car journey, or a rail ride.

You may enjoy golfing, sailing, kayaking, or hiking only minutes from the downtown area.

In Norfolk, there are several great family-friendly activities. Apart from water activities, the Norfolk Botanical Garden, Virginia Zoo, and Nauticus, the maritime exploration center, are attractions.

World's largest naval station

Norfolk is relevant transportation and military location since it is home to the world's biggest naval station, Naval Station Norfolk, and the NATO Strategic Command headquarters.

Norfolk is home to an extraordinary assortment of ships, planes, and military units. Businesses everywhere will spread out the red carpet for you if you're in the military or work for a government contractor.
Cons
Floodingsz

Because Norfolk lies at or below sea level in certain places, flooding can occur during high tides or stormy weather.

Tropical storms and hurricanes with heavy rainfall and high winds are most likely to cause floods between mid-August and September.

Because the terrain is gradually receding, several portions of the city are below sea level—some regions regularly flood at high tide. Make sure your flood insurance is current.

Difficult commute

Norfolk has a 45/100 walk and 36/100 transit scores, significantly below average.

This score indicates that driving is better for commuting and most errands; however, inhabitants within the central business area will have a greater chance of commuting or running errands without a car.

Residents in Norfolk should be aware of rush hour. During peak commuting periods, all interstates and main thoroughfares are congested. Prepare to be caught in traffic if there is a game or a significant event.
Living in Albuquerque
Pros
Appealing scenery

Beautiful sunsets, stunning lighting, and appealing scenery are all part of life in this city. The Sandia Crest is the tallest mountain summit to the east of town.

While you're there, get a bite to eat at the mountain's peak or base.

Culturally diverse

Albuquerque distinguishes out for one reason: its culture. While there are other bright, clean, healthy communities in the country, Albuquerque stands out for one reason: its culture.

Albuquerque's melting pot blends Mexican, Hispanic, and Native American cultures into a vibrant tapestry of arts, crafts, music, and, of course, cuisine. New Mexican cuisine is terrific, unlike anything else in the United States.

Trails

The famous La Luz Trail is relatively tricky on the Albuquerque side of the Sandia Mountains. Travel to the east side of the mountains, past Sandia Ski Area, to the Tree Spring Track for a more gentle ascent along an equally popular trail.

The route goes through the woods, providing a comfortable, shaded trek in the summer, and offers spectacular views of the valley on the east side of the mountains, as well as lots of opportunities for bird watching.

It connects to the South Crest Trail, where you may walk as far as you like for panoramic views of the city.

Slightly uncostly than Norfolk

Both Norfolk and ABQ have lower than the national average price costs. However, living in Albuquerque means a slightly lower price than in Norfolk.

ABQ's 5% lower cost of living makes it appealing for those looking for a city where they can save a lot.

Not much traffic jam

You won't be having problems with traffic jams when you are in Albuquerque. On most days, you have little to worry about compared to places like Dallas, Denver, or Las Vegas. Everything can become crowded, but it usually runs well.
Cons
Weak job market

Unlike Norfolk, Albuquerque has a weak job market. The city faces an unemployment rate higher than the national average.

With an unemployment rate of 5.5%, residents find it challenging to look for jobs. If you're planning to relocate to Albuquerque, ensure you found work beforehand.

Poor salaries are a problem that affects people all around the state. If you want to work in the city, you'll find it challenging to make a living.

Frequent crimes

The bulk of crime is related to drugs; thus, you'll have to deal with many property offenses.

If you live in Albuquerque, package thefts, car prowling, and break-ins happen frequently. For a metropolis with over 500,000 people, violent crime is unavoidable.

Property crime rates in Albuquerque are 85.3 on a scale of 1 to 100. In terms of violent crimes, Albuquerque had a score of 51, which is higher than the national average of 22.7.
Albuquerque or Norfolk – Which is cheaper?
Albuquerque's overall cost of living is 0.8% cheaper than in Norfolk. However, housing costs are 9.5% more costly in ABQ.
| | | |
| --- | --- | --- |
| Living expenses | Albuquerque | Norfolk |
| Housing | 88.0% | 80.4% |
| Food & Groceries | 96.0% | 97.8% |
| Health | 81.1% | 109.0% |
| Utilities | 97.2% | 96.7% |
| Transportation | 89.4% | 82.4% |
Data is 100 = US National Average
> 100 means more expensive than the national average
< 100 means cheaper than the national average
Housing
The cost of housing in Albuquerque is 9.5% more than in Norfolk. The median house price in ABQ is $332,426. In comparison, Norfolk only has a median house price range of around $260,165.
Food & Groceries
Norfolk's food and grocery prices are slightly higher than in Albuquerque. 1kg of onion in ABQ is only $1.81, compared to $2.05 in Norfolk.
Health
Healthcare costs are lower in ABQ than in Norfolk. In Norfolk, a doctor's visit may cost $135.00, while it only costs $108.83 in Albuquerque.
Utilities
The utility fees in Albuquerque are somewhat higher than in Norfolk. The internet bill in Norfolk costs $76.83 compared to ABQ's $80.46.
Transportation
The transportation fees in ABQ are more pricey. A liter of gasoline costs $0.70 in ABQ and only $0.63 in Norfolk.
Is Albuquerque bigger than Norfolk?
Albuquerque is 1.95 times more extensive in area and denser than Norfolk. On the other hand, Norfolk has a more prolific economy than Albuquerque.
Norfolk has an area size of 96.4 mi² as of 2022, with a less dense population of 238,410. At the same time, Albuquerque has a 1.95 times more extensive geographical area of 188.9 mi² with a denser population of 942,000.
Although Albuquerque is more prominent and denser, Norfolk boasts a more prolific economy.
With only a 4.20% unemployment rate, Norfolk provides job opportunities to its residents. In addition, there are a lot of industries and enterprises that employ thousands of people every year.
Thus, Albuquerque outweighs Norfolk in size and population. However, Norfolk beats Albuquerque when it comes to the economy.
Is Norfolk safer than Albuquerque?
Norfolk has a safety scale of 42.47, while Albuquerque only has 29.34. Furthermore, Albuquerque has a higher crime count than Norfolk, making Norfolk safer than Albuquerque.
Albuquerque's crime index is 70.76 compared to Norfolk's 57.53. At the same time, Norfolk has a 1.44 times higher safety scale of 42.47 than Albuquerque's safety scale of only 29.34.
In Norfolk, the risk of becoming a victim of violent crime is one-in-151. Moreover, you have one-in-35 chances of becoming a property crime victim.
In Albuquerque, the risk of becoming a victim of property crime is one-in-20. The chances of becoming a violent crime victim are one-in-75.
Therefore, Norfolk is a safer city than Albuquerque. Walking alone any time of the day is safer in Norfolk.
Is Albuquerque hotter than Norfolk?
Albuquerque has a hot and sunny climate with a 93°F average yearly maximum temperature. In contrast, Norfolk has an annual average high temperature of 88°F and shorter sunny days. Albuquerque is, hence, hotter than Norfolk.
Albuquerque has an annual average of 280 sunny days. On the other hand, Norfolk has a lower annual average of just 215 sunny days.
Summers in Norfolk are hot and humid, winters are frigid and windy, and the weather is damp and partially gloomy all year. The temperature ranges typically from 34°F to 88°F throughout the year, with temperatures seldom falling below 22°F or rising over 95°F.
Albuquerque's summers are hot and dry, while the winters are short, icy, and snowy, with clear skies much of the year. Temperatures usually range from 27°F to 93°F throughout the year, with temperatures seldom falling below 18°F or exceeding 99°F.
Hence, Albuquerque is hotter than Norfolk.
Is Albuquerque better than Norfolk?
Albuquerque is for folks looking for a low-cost city with a culturally diverse community and beautiful mountains. However, Norfolk is better than ABQ. Norfolk offers a booming employment market, economic prices, and a safe environment.
Norfolk offers several advantages, including a booming employment market and a low 4.3% sales tax. Property taxes in this state are among the lowest in the country.
The city features 114 miles of beachfront, world-class food, a vibrant culture, and exciting entertainment. However, traffic congestion and flood are some of Norfolk's drawbacks.
ABQ's cost of living is lower than most cities in the United States. In comparison, Albuquerque's prices are lower than Norfolk's. Aside from that, ABQ'S traffic congestion is doable, and the community is culturally diverse.
Nonetheless, the city suffers from frequent yearly crimes and a lack of employment opportunities that lead to poverty and increasing drug use.
Therefore, Norfolk is better than Albuquerque. The quality of living in Norfolk beats Albuquerque.
Norfolk versus Albuquerque – Where do you consider moving? Let me know your thoughts below.