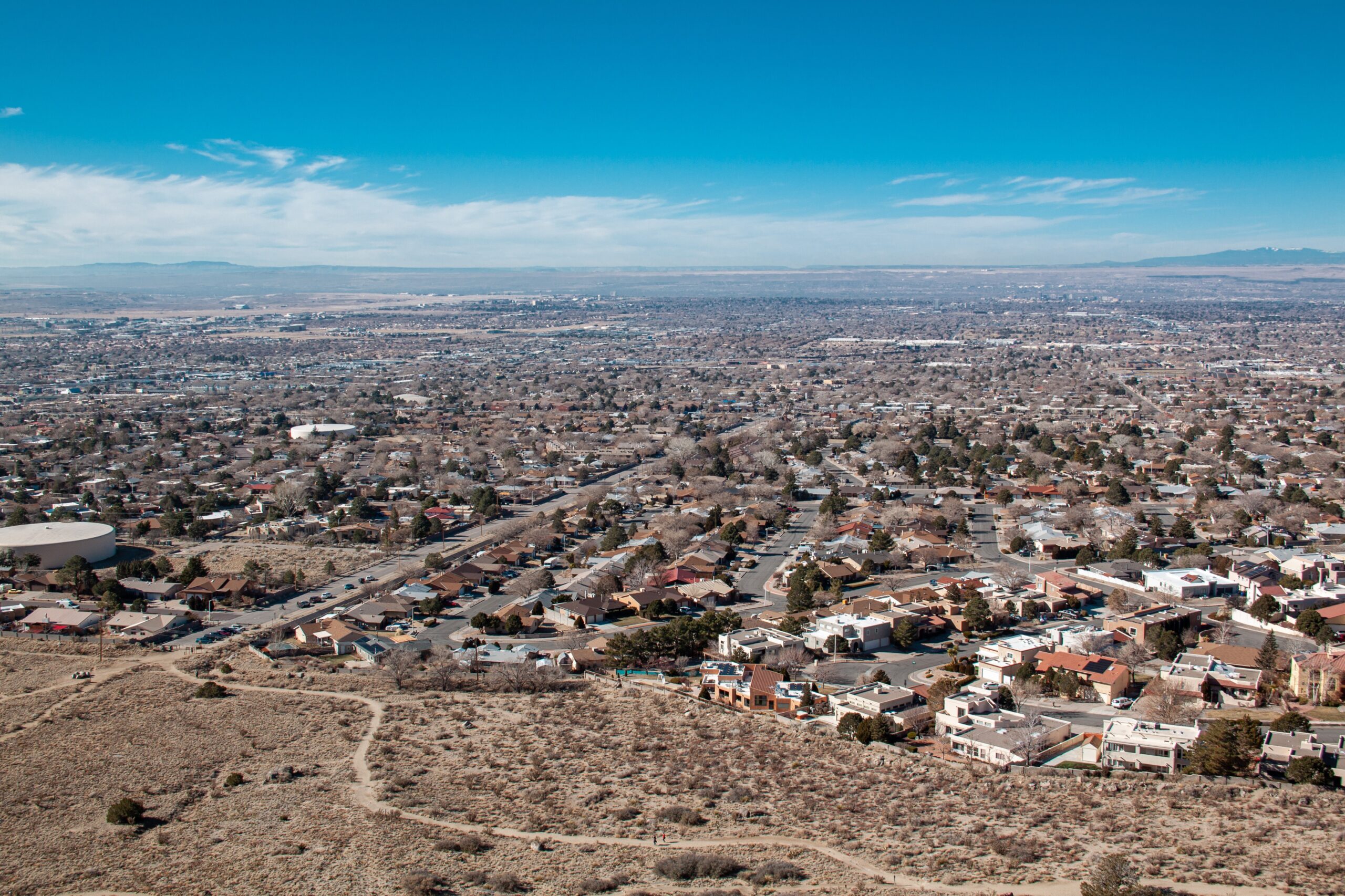 Plano is a great place to relocate given its low taxes, excellent healthcare, and strong economy. Compared to Albuquerque, Plano is a better place to live in. ABQ may offer you stunning landscapes, but the employment rate and the crime rate is a significant letdown.
Located less than 20 miles from Dallas, Plano, Texas, has a unique southern charm.
It offers all the modern amenities of big city life but still retains its classic small-town vibe. It provides easy access to entertainment, shopping, high-rated restaurants, and job openings.
In comparison, Albuquerque is a perfect place to retire. Given its affordable living costs, beautiful landscapes, and modest life. You will find it a peaceful city to relocate to while enjoying a cheaper lifestyle.
Both cities have their distinctive offerings. Thus, it is worthwhile to compare and contrast them in this city comparison.
What are the Pros and Cons of Plano vs. Albuquerque?
Plano and Albuquerque have their ups and downs. On one side, Albuquerque is an inexpensive city constantly confronted by crimes and poor ratings. Plano offers comprehensive transportation, job availability, and extensive neighborhoods at a higher price.
Living in Plano, Texas
Pros
Strong economy and job availability

One of the primary considerations when moving to a new city is employment. Compared to ABQ, it is easy to find a job here in Plano, Texas. Since it is near the DFW area, it has also become a significant business destination.

Big corporations have stations in Plano, including FedEx, Toyota, Liberty Mutual, among others. They are the largest employers in Texas, providing thousands of jobs to residents. More than that, the job market is also expected to grow by 44% in the coming years.

Superb transportation system

Plano is an excellent option if you are looking for a city with a comprehensive transit system. The town has unique air, light rail, road, and mass transit systems. It is also a good reference point for Dallas or Fort Worth.

Extensive neighborhoods

You have several living options when you choose to live in the city. Plano has the best neighborhoods to offer compared to other cities in the United States. It has the most affluent neighborhoods and crime-free communities, too.

One of the great selections is the Willow Bend, Forest Creek Estates, or Avignon. Aside from being crime-free, you can easily access the best school districts in the north of Texas.

Exceptional health care system

Another important consideration when looking for a city to move to is the health care system. Plano puts a premium on its health care system with its state-of-the-art facilities and services. The Plano Presbyterian and Plano Medical Center have the best roster of medical professionals, too.

Lower taxes

One of the benefits of living in Texas is lower taxes. The Lone Star State does not levy personal or corporate income taxes to its residents. You will enjoy these tax exemptions when you start living in Plano, too.

More than that, the city also gives homestead exemption on residential property taxes. You will be paying lesser taxes compared to other cities in the DFW area.
Cons
High cost of living

Plano has a high cost of living compared to other cities in Texas. It is one of the downsides of the city. Nevertheless, Plano is still affordable compared to other major cities in the US like San Francisco and Las Vegas. You will also enjoy a high compensation rate when you choose to live here.

Increasing real estate prices

Plano is attracting more and more migrants each year. Due to the cities high growth potential, many young professionals choose to relocate to the town. As a result, the housing market becomes ultra-competitive, thus, increase of its prices.
Living in Albuquerque
Pros
Nothing speaks New Mexican cuisine than ABQ

If you want a taste of the ultimate New Mexican cuisine, you have come to the right place, ABQ. The city offers a unique taste f authentic southwestern cuisine. It is a fusion of classic Spanish, Native American flavors, and Mexican.

You will notice the distinct blend of spices and flavors in every dish. Chile is also a different taste in ABQ dishes.

Stunning sceneries and incredible landscapes greet you every day

The city is blessed with beautiful surroundings, given that it has the Sandia Mountains and the Rio Grande. If you want to live here, you will enjoy the great environment from morning until evening.

More than that, it offers opportunities to enjoy the outdoors. You can go on a mountain hike, trek, and hunt in some parts of the city. You have plenty of spots to relax and appreciate the beauty of nature.

Culture, celebrations, and festivities

ABQ has a high appreciation for its traditions and long-time culture. You will notice that in how they conduct their festivities and celebrations. The city has festivities like the Harvest Wine Festival, Mariachi Spectacular, and Flamenco Albuquerque.

You will enjoy living in a community that prioritizes bonds and recreation. Plus, it also hosts the biggest hot air balloon fiesta globally. More than 500 hot air balloons fly throughout the city during this event.

Warm and friendly community

Many retirees love to move to ABQ because people are friendly and hospitable. You will feel welcome once you relocate to this city with your family. There are several activities where you can build a healthy relationship with the community.

You can attend the weekly farmer's market, have fun in festivals, and visit communal sites. The city truly displays the so-called southern hospitality in this part of New Mexico.

Ideal place to go on a bike tour

Albuquerque is a bike-friendly city with lots of dedicated lanes for cyclists. During your break, you can engage in a bike tour and see the most critical spots in the city.

You can hit major sites like Tingley Beach, Old Town, and Los Poblanos Inn without using a car. It is the most environmentally friendly way to go around the city and discover its beauty without paying for gas.
Cons
Poor education

If you are moving with your children and want to provide the best education for them, you might reconsider choosing ABQ. The city is not the perfect place to send your kids to school because of its poor rating.

ABQ got poor ratings for mathematics and English proficiency tests based on records. The students only got 25% in mathematics and 31% in English. It is disturbing since these are important subjects to learn at school.

Consistent high crime rate

ABQ has a crime consistently above the national average. The city continuously records a high crime rate over the years. It cannot address or significantly reduce their crime issues even today.

If safety is a top priority and you want to feel secure 24/7, you must look for the safest neighborhoods in the city. In this way, there will be a minor occurrence of crimes.
Plano or Albuquerque – Which is cheaper?
The real estate price is the most significant factor in the difference between ABQ and Plano. Albuquerque is a cheaper place to live in compared to Plano. You will spend 20.2% more on living expenses in Plano, Texas, than ABQ.
| | | |
| --- | --- | --- |
| Living expenses | Plano | Albuquerque |
| Housing | 143.6% | 88% |
| Food & Groceries | 103.0% | 96% |
| Health | 101% | 81.1% |
| Utilities | 97.2% | 97.2% |
| Transportation | 88% | 89.4% |
Data is based on 100 = US National Average
> 100 means more expensive than the national average
< 100 means cheaper than the national average
Housing cost
When you move to a new city, your most significant consideration is housing cost. Whether renting or buying a house, you will pay considerably higher in Plano than ABQ. The real estate prices are 62.3% more in Plano.
Plano has a very competitive housing market, given its proximity to Dallas and Fort Worth. As a result, home prices are skyrocketing. They are even higher when you compare it to the national average.
Utility cost
Utility cost in Plano is comparable to the national average. On the one hand, for ABQ, utility prices are beyond the standard. You can save more on utility when you choose to live in Albuquerque.
Food & groceries cost
Another factor that you should consider before settling in is food and groceries. It is a significant expense that must always be part of your household budget. By comparison, you will pay less on food and groceries when you live in ABQ.
Transportation cost
The cost of transportation is cheaper in Plano, Texas, than in Albuquerque. Even though the price difference is slim, the 1.6% gap can be significant if you commute every day. Good thing ABQ is a bike-friendly city giving you a cheaper option to go around places.
Health care cost
The cost of health care services is higher in Plano than in ABQ. Plano charges patients more than the rate of the national average. Still, given its world-class facilities and exceptional health professionals, Plano can provide you with the best care you need.
Is Albuquerque bigger than Plano?
Albuquerque is way bigger than Plano by land area. Plano is almost thrice the size of ABQ. Also, Plano is a less populous city compared to Albuquerque.
Geographically speaking, ABQ is more extensive than Plano. The Sandia Mountains rise from the city's east, one of its major attractions. It is also filled with the old natural landscape that has been in the town for years.
It makes ABQ an exciting place to visit to witness the stunning beauty of nature. The forested waterfront along the Rio Grande matches the grandeur of the Sandia Mountains.
Meanwhile, Plano is flourishing with high buildings and commercial spaces at the center. Since it is very close to the DFW area, the economic growth from Dallas and Fort Worth benefit Plano.
Is Plano safer than Albuquerque?
Plano ranks 3rd as the safest city in the United States after Columbia and Yonkers. Hence, Plano is safer than Albuquerque, given that ABQ is notoriously famous for its high crime rate.
Since Plano is one of the safest cities in America, people choose to move to Texas, particularly Plano. More migrants are competing for properties and rentals. As a result, the real estate market is on the rise.
Home buying and rental are not cheap in this part of Texas. You need to shell out a good amount of money to secure a property in Plano. Nevertheless, the security you will enjoy from the surrounding is priceless.
Is Albuquerque warmer than Plano?
The climate in Plano and Albuquerque is comparable. But if you consider the highest recorded temperature, Plano is warmer than ABQ. It recorded 94 degrees of high temperature, while ABQ recorded 92 degrees.
More than that, the weather in Plano can be very uncomfortable due to humidity. The city has a humid subtropical climate. You will find summers brutal because of high temperatures coupled with humidity.
Meanwhile, ABQ is also a warm city that experiences more than 300 sunny days. It has a cold-semi arid climate. The wind coming from the Sandia Mountains makes the temperature less extreme.
Is Plano better than Albuquerque?
Plano is a better place to live in compared to Albuquerque. The main reason is the safety level you can enjoy in Plano. Given that ABQ suffers from a high crime rate, you would prefer to live in Plano, being one of the safest cities in the US.
Other factors that can affect your relocation decision are the opportunities Plano has. You will be exempted from taxes like personal income tax. The city also projects significant economic growth over the years.
There are more jobs available across different industries in Texas. Plano's proximity to the DFW area attracts better opportunities for movers like you.
So, where do you plan to relocate? Plano or Albuquerque? Let me know your thoughts below.