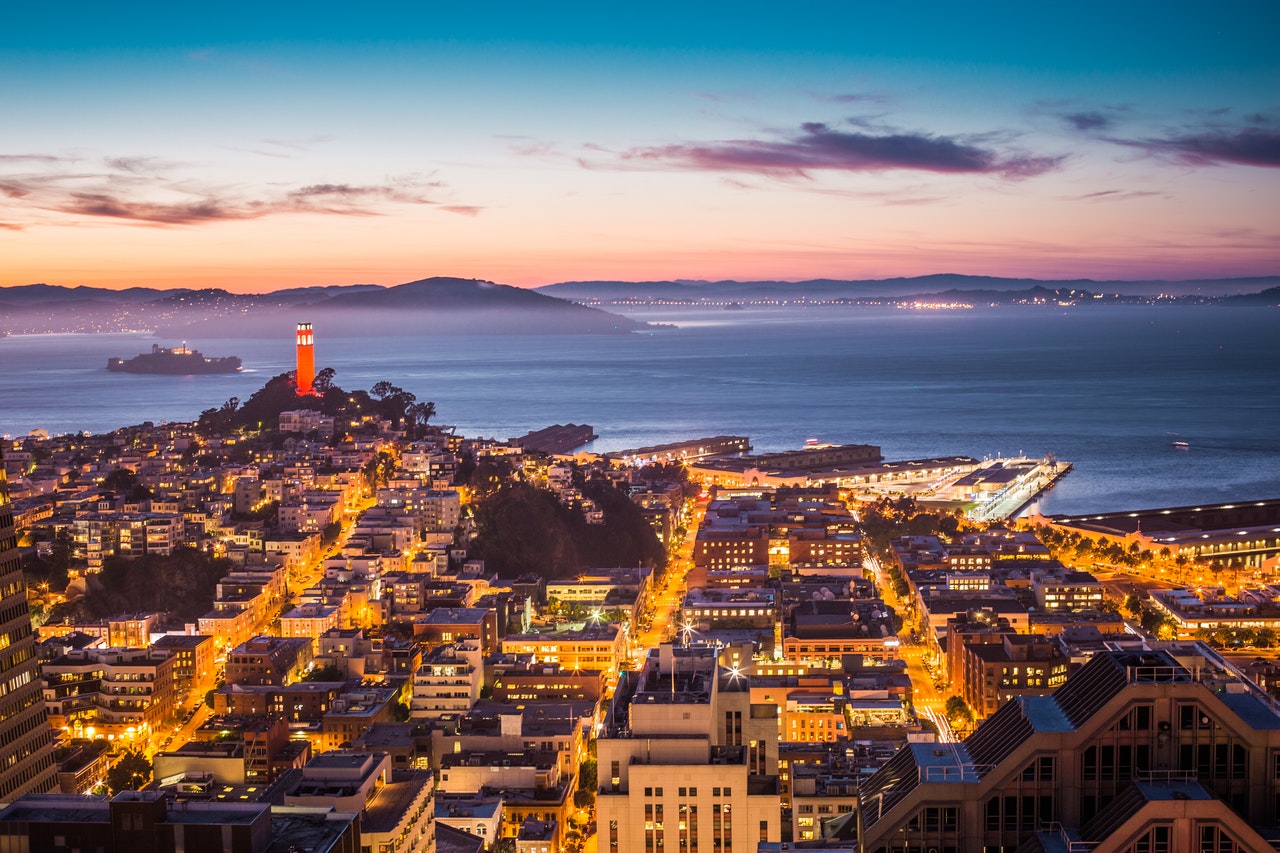 In terms of the cost of living, Albuquerque is the best choice. If you're looking for a rich culture and fun activities and want to be with friendly folks, this is the place for you. Meanwhile, known for its quality schools, advancement opportunities, and developed transportation, San Francisco makes it ideal for family life.
Albuquerque is a city in west-central New Mexico, United States, and the capital of Bernalillo county. It is situated on the Rio Grande and named after the Duke of Alburquerque. Albuquerque is the state's biggest city and economic hub, and it is serviced by a vast network of railways, planes, and highways.
Meanwhile, located in Northern California, the city of San Francisco serves as a significant cultural, economic, and financial hub for the state of California in the United States. Tourism, financial services, and high technology all play essential roles in the city's diverse service economy. San Francisco became a technologically oriented economic development powerhouse today.
We'll discover more about what these cities can offer you as you go through. If you plan to visit or relocate to these places, we've researched for you to compare their top benefits and drawbacks, cost of living, and other aspects you might consider.
What Are the Pros and Cons of Albuquerque vs. San Francisco?
Despite its career options and well-developed transit, San Francisco has a tax structure and air pollution that are guaranteed to disappoint you. You can have a good time in Albuquerque because of the less traffic and significant cultural events. However, you'll be frustrated by the city's low graduation rate, limited employment market, and low earnings.
Living in Albuquerque
Pros
Diverse ethnicities

New Mexico is home to people of nearly 70 distinct nationalities. When you move to Albuquerque, you'll discover that the city is a melting pot of many different cultures, including those from the Middle East, Asia, and North America. It provides a lovely and lively blend in the southwest.

Rich culture and fun activities

Albuquerque, New Mexico, is a beautiful place to call home for anyone who enjoys the outdoors and appreciates art, culture, and delectable food. A vivid, enticing, and dramatic blend is created in the southwest. Albuquerque is a great place to settle with its mix of Asian, Middle Eastern, Native American, and other cultures.

Every year, there's an International Balloon Festival that you can enjoy with your loved ones. Diverse cultural events draw tens of thousands of participants from around the nation, the world, and every continent.

Less traffic

Driving in traffic is the most dreadful feeling a person can have. You can get stuck in the road, but it's still astonishing how quickly it goes. You won't have this difficulty if you reside in Albuquerque or Santa Fe since the population of New Mexico is relatively low. There is much less traffic in this city than in other big cities.

Santa Fe and Albuquerque are readily accessible by car, and the trip will take a little over an hour. You can also ride with trains and shuttles that connect the two cities.

Affordable education

Everyone has a chance to acquire a good education and pursue any job in K–12 schools in this city. With several schools in the cities, you will indeed have an option for an affordable one. At $3,100, the Land of Enchantment's in-state tuition is significantly lower than other states.
Cons
Low earnings

The low earnings contribute to the poverty of the residents. According to the Center for American Progress (CAP) report, poverty in New Mexico ranks 49th in the United States. It has been $7.50 per hour since 2009 and $9 in 2020. If you come to the city to work, you'll have difficulty getting a job at a higher rate.

Unemployment rate

The unemployment rate in New Mexico is higher than the average for the country. It's a highly competitive job market. Typically, the unemployment rate is about 6% but rises these past years, according to a report. If you search for jobs in New Mexico, specifically Albuquerque, you may find it challenging.

It is best to put off migrating to Albuquerque if you are unclear about your work prospects here.

Low graduation rates

Unemployment and generational poverty may have unforeseen effects on individuals even if they have access to a high-quality education system in Albuquerque. High school graduation rates are consistently around 70% in the city and much lower outside. In terms of college and university graduation rates, they're about the same.

Weather

Albuquerque is far above sea level, but its desert environment provides warm average high temperatures throughout the year. Most years, it continues in the 80s from June through September, but it starts to cool down about mid-October. The coldest months are January and December, with average highs just over zero. If you can handle the heat and summer rains, this city might be enjoyable for you.
Living in San Francisco
Pros
Multiple job opportunities

San Francisco's claim to being a global metropolis is a benefit since the city's employment market isn't confined to one location. Jobs are most often found in the service, technology, and tourist industries, although most people are engaged in a variety of other occupations as well.

Accenture, Cooley, Salesforce, Kimpton Hotels & Restaurants, and Workday are the top companies for excellent employment opportunities.

Quality schools

Even though moving to San Francisco with children might be difficult, parents who do so will not be disappointed with the educational advantages available in the city. The San Francisco Unified School District manages public schools and private schools that are very well-liked by students; over 30% of students attend one or the other. The graduation rate is high in this city.

Higher education is also available in the city. As a result, it is home to many educational institutions, including the University of California and San Francisco State University, among others.

Developed transportation

If you're taking a bus or driving to San Francisco, Interstate 80, which starts at the Bay Bridge, is the only accessible route to get there. But a plane arriving at San Francisco International Airport can get you to the city.

Public transit is also quite popular, with 32% of the population using it regularly. The integrated light rail and subway systems and a substantial bus and trolley coach network are all part of it. Old cable cars and ferries are other well-known features.

Lively arts and culture

San Francisco's arts and entertainment scene are rich in beauty and classics. You can visit the city's ballet, symphony, and opera if you appreciate classical music and dancing. You can also visit the world-renowned museums, excellent street art collections, and galleries with magnificent paintings and crafts exhibitions. The San Francisco Zoo has around 250 animal species if you love to see living creatures.
Cons
Issues on family life

Experts advise against migrating to San Francisco with children, a tragedy for large families. At a median age of 38.5, the city has fewer children than comparable metropolitan regions. Parents can also have difficulties transporting their children to and from school since the local Unified School District sometimes assigns students to schools not even in their immediate vicinity.

Air pollution

Those who wish to migrate to San Francisco should be aware of the city's poor air quality as well. If you're sensitive to the effects of fog and smog, as well as an increased number of particles, you should check your lungs before moving.

Unwanted city's tax system

Taxes in San Francisco are costly, but California suffers from the same problem. Taxes on income beyond $572,00 are subject to a 12.3% tax rate, the highest in the nation. There is a 1% surtax for anyone who earns more than $1 million per year.

Then there's the 8.5% state sales tax, so when property prices in the city rise, your property taxes will increase as well.

Earthquake threats

San Francisco experienced a 7.9 – 8.25 magnitude earthquake in 1906, with severe shaking. At that time, 3,000 people had been killed, and 250,000 more were left homeless. As of this time, it remains one of the most devastating earthquakes in American history. Due to its proximity to fault lines, locals are constantly aware of the "Big One" hanging over their heads.

Anyone who resides on the west coast of the United States might suffer from this disadvantage, although San Francisco has more tremors than other cities. A ready-to-use emergency supply pack will be essential if you decide to make this place your permanent home.
Albuquerque or San Francisco – Which Is More Expensive?
The overall cost of living index (taxes excluded) states that San Francisco, California, is 168.7% higher than Albuquerque, New Mexico. The most significant component in the cost of living difference is the median home cost. The median home cost is 471% higher in San Francisco.
The table below presents the cost-of-living indices written in percentage:
| | | |
| --- | --- | --- |
| Living expenses | Albuquerque | San Francisco |
| Housing | 88% | 596.2% |
| Food & Groceries | 96.0% | 116.6% |
| Health | 81.1% | 100.3% |
| Utilities | 97.2% | 97.5% |
| Transportation | 89.4% | 158.2% |
Data is 100 = US National Average
> 100 means more expensive than the national average
< 100 means cheaper than the national average
Housing Cost
San Francisco's cost of housing is 577.5% higher than in Albuquerque. Albuquerque's median home cost is only $203,500 compared to $1,378,300 in San Francisco.
Utility Cost
San Francisco's cost of utilities is 0.3% cheaper than in Albuquerque. The monthly internet connection of 60 Mbps in San Francisco is only $64.52 compared to $80.46 in Albuquerque.
Food and Groceries Cost
The cost of food and groceries in San Francisco is 21.5% higher than in Albuquerque. For example, as of January 2022, the price of regular milk is only $1.28 per liter in San Francisco, whereas Albuquerque has only $0.83.
Transportation Cost
San Francisco's transportation cost is 77.0% higher than in Albuquerque. For example, the gasoline price in San Francisco is $ 1.19 per liter, whereas Albuquerque has only $70.
Healthcare Cost
San Francisco's healthcare cost is 23.7% higher than in Albuquerque. In San Francisco, you will spend an average of $114.23 on visiting a doctor, while in Albuquerque, that is only around $86.3.
Is Albuquerque Bigger Than San Francisco?
Based on the 2020 statistics, San Francisco is 35.4% more populated and 19.1% bigger (land area) than Albuquerque.
With a total area of 187.7 square miles, Albuquerque had 564,559 inhabitants in 2020, ranking it the 32nd most populous city in the United States and the 4th largest in the southwest.
Meanwhile, with a total of 231.89 square miles, an estimated population of 873,965 people makes San Francisco the 17th most populated city in the United States and California's 4th most significant metropolis as of 2020.
Is Albuquerque Safer Than San Francisco?
With 100 as the safest, San Francisco's crime index is three, while Albuquerque has an index of one. In comparison, the annual crime rates in Albuquerque and San Francisco are 63.28 and 50.72 per 1000 residents, respectively. Thus, San Francisco is safer than Albuquerque.
Based on the data, Albuquerque seems to be a risky destination. A report released in 2020 was ranked as the 9th most unsafe city in the United States. It has an annual crime number of 35,723. The average number of crimes per square mile in this city is 88, significantly higher than the 22 of the state.
Meanwhile, San Francisco has 44,325 total crimes each year, but your chance of being a property crime victim here is 1 in 22, lower than Albuquerque. In violent crimes such as assault, rape, robbery, and murder, you have a probability of 1 in 178 to be a victim, which is significantly low compared to Albuquerque.
Is Albuquerque Warmer Than San Francisco?
The average temperature in Albuquerque ranges from 27°F to 93°F throughout the year, whereas San Francisco has 45°F to 72°F. Thus, Albuquerque is warmer than San Francisco.
Summers in Albuquerque are hot and dry, and the winters are brief, frigid, and snowy. While summers in San Francisco are comfortable, long, dry, and mainly transparent, the winters are short, chilly, wet, and partially overcast. The weather temperatures in Albuquerque are seldom falling below 18°F or rising over 99°F, while San Francisco has 39°F or above 83°F.
According to the tourist score, the perfect time to visit Albuquerque for warm-weather activities is from late May through late September, whereas San Francisco is from late June to early October.
Is Albuquerque Better Than San Francisco?
Based on the recent data, there are around 25 million international visitors to San Francisco annually and just 6 million to Albuquerque. Thus, San Francisco has a higher chance of attracting new inhabitants.
One of Albuquerque's most essential businesses is tourism. Albuquerque attracts millions of visitors each year because of its diverse cultures, museums, exciting activities, and the world's hot air balloon capital. Recent tourism reports show that 6.2 million people visit the city annually and are expected to grow in the following years.
On the other hand, San Francisco has published record-breaking results for the tourist business in a decade. The 25.8 million visitors and $10 billion in spending resulted in 82,538 employment and supported services for residents throughout the city and the Bay Area.
A trip or relocation to Albuquerque or San Francisco is a worthwhile experience. In both cities, you can expect year-round comfort, a wide range of engaging activities, and rich culture.
Are you considering moving to Albuquerque or San Francisco? Let me know in the comments below.