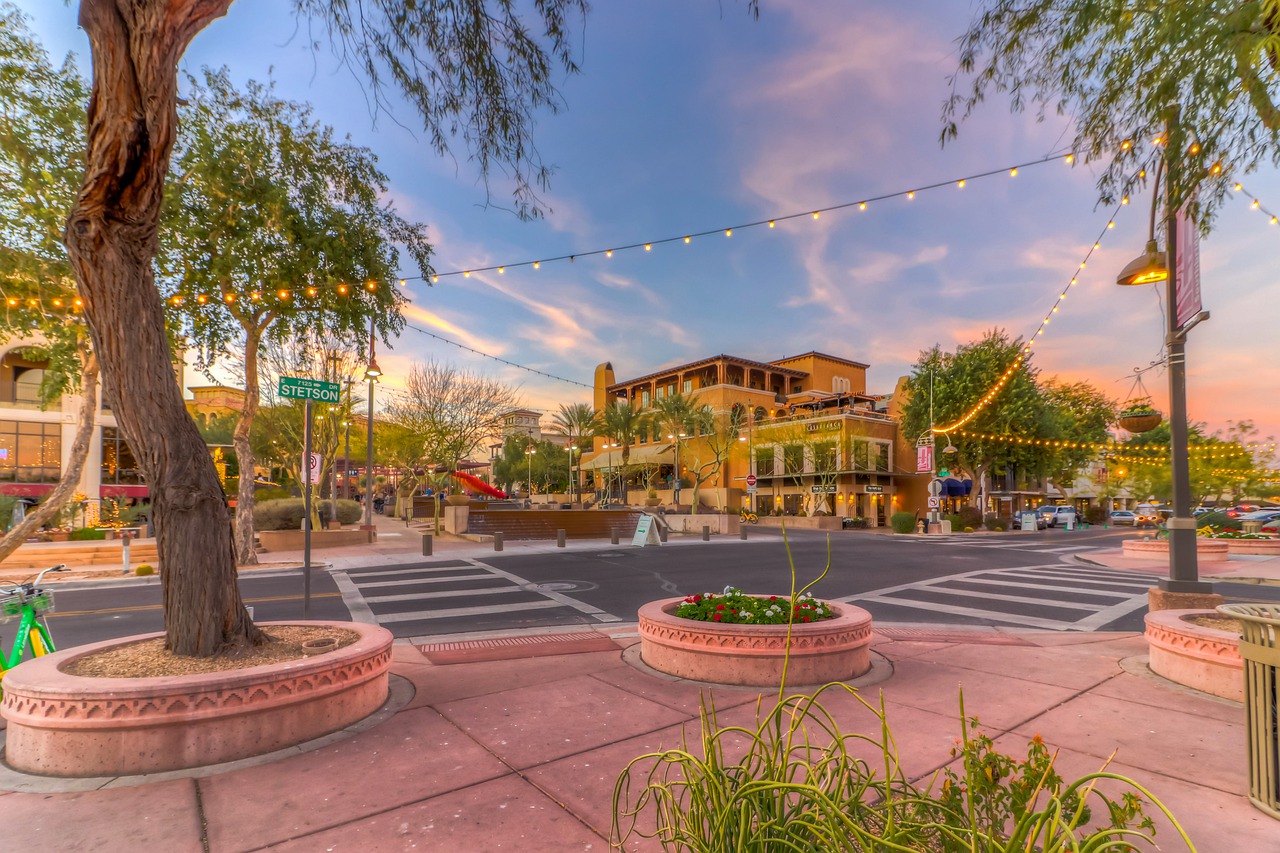 Scottsdale draws people to live there with its economic advantage, safety, and nature-friendly site, making this small-town the best place to live than in Albuquerque. ABQ boasts its affordability and cultural preserves, but a portion of its town is deemed unsafe.
Scottsdale in Arizona is one of the small cities that are best to relocate because of the many perks that it provides to its people, from reasonable property taxes, prime education, and even natural scenery. The town also benefits from various job opportunities produced by big companies and local tourism.
Albuquerque in New Mexico, or Duke City as we know it, is a retiree-friendly neighborhood with a low cost of living and a vast open-air space for outdoor activities for all ages. However, the local government should focus on labor prospects and safety.
Both cities possess their secret about why people should move in their places, but Scottsdale edges Albuquerque to provide better jobs.
If you are still wondering where you should start a new beginning, let me help you dig some relevant information to kill your curiosity.
What Are the Pros and Cons of Albuquerque Versus Scottsdale?
Albuquerque is a beautiful site for people who enjoy a country living in a small-town vibe where you can appreciate low-priced commodities but consider that the town is quite secluded. Scottsdale is an excellent spot for a newcomer or a family searching for a decent work-life balance and good schooling, but the extreme heat is not captivating.
The two city bond similarities and a deep contrast will give you a hint of where you should start moving.
Living in Albuquerque
Great Movie Location

Motion pictures have existed in Albuquerque since the late nineteenth century. Perfect weather, including mild winters, makes the location appealing for filming on the town's grounds.

Breaking Bad TV series paved the way to Albuquerque's popularity as a good location for filmmakers to shoot their creations. There are many internationally-acclaimed films you see that have ABQ settings. Some of the popular motion pictures that set foot in this small town are:
Midnight Texas Season 2
The Goldfinch
Maze Runner: The Scorch Trials
Avengers
The Space Between Us
The Night Shift
The Book of Eli
Independence Day: Resurgence
Logan
Low-Prices Goods and Services
Albuquerque is a place where you can save some money because of its affordable prices, from goods to relevant services. The housing price in the area is relatively low.
The average ABQ's cost of living index is below the national average. There are urban farms and gardens around the city where people can produce their foods, especially chili peppers. A good addition is the vast land spaces for grapes converted into wine.
Natural Land and Water Formation
Albuquerque is quite famous for having the Sandia Mountain and Rio Grande River. Each natural formation has good biodiversity and houses upright cultural and animal preserves.
As much as everyone admires the pink-colored Sandia hills, you can also have delicious food at the foot of the location and try riding its breathtaking tramway.
The Rio Grande in the Albuquerque area offers unlimited possibilities to view wildlife such as Bald Eagles and Great Blue Herons. Enjoy river activities such as rafting, canoeing, and kayaking.
The Old Town Culture
One of the most sought-after places in Albuquerque cultural preserves is the Old Town. The place relives the memories of the yesteryears of Native Americans and comes with a twist where it also houses modern café and restaurants.
Old Town is the town's cultural hub, reflecting New Mexico's unique combination of traditions and cultures, including Native American, Spanish colonial, and Indian. Dive into ABQ's diverse society where the past meets the present.
Cons
Unemployment Rate is Unattractive

Albuquerque's rate of unemployed people is about 5.10%, with almost 21,840 people recorded with no jobs. The approximate labor force in the metro is about 440,319, where 418,479 are currently employed.

The current rate has decreased but is still unattractive to people because of the fewer job prospect in town. There are insufficient prominent companies that open their doors for new hires. It is still tricky to immediately land a job if you want to resettle in ABQ.

Hot Days Are Getting Hotter

Albuquerque is still experiencing tremendous heat. On an ordinary sunny day, the city recorded as high as 107 degrees Fahrenheit. The sun shines for about 280 days, and with that, longer heatwaves are coming over.

It is essential, therefore, to find remedies to beat the heat. If you cannot tolerate long months with hotter days and milder winter, then moving to ABQ is not a good option for you.

You Can Get to The Nearest Town in A While

Albuquerque is a city that does not have easy access to nearby metropolitan areas. Because this location is quite secluded and the nearest large city is approximately five hours away, you will need to drive for approximately five hours to get there. Lee Acres, a nearby small town, will take you about 19 minutes to reach.

For about 45 minutes, you can also travel to nearby South Valley, New Mexico, similar to ABQ.
Living in Scottsdale
Pros
Luxury Lifestyle

Scottsdale attracts visitors with its abundant amenities. The city has the most AAA Five-Diamond hotels, resorts, and restaurants in any town in America. If you are a fanatic of extravagance, then head to Scottsdale, Arizona, for easier access to luxury goods and services.

Scottsdale is one of the top five cities in the United States for luxury home sales. There are over 700 luxury homes for sale at any given time.

Bigger Labor Prospect

Scottsdale has a good job market because of the big hotels and resorts in the area. However, aside from landing a job inside the city limit, the place is also very accessible to the next town. Scottsdale inhabitants are close to all of the jobs available in the Greater Phoenix area.

Over the previous years, the Greater Phoenix area has accounted for over 80 % of jobs created in Arizona. Given gainful employment, a Scottsdale resident's annual income is $51,000, nearly double the national average of $28,000.

Premium Schools

Scottsdale has 31 public schools, and almost all receive high marks on standardized tests. Its students' arithmetic and reading proficiency levels are significantly higher than the national averages. All in all, the city's schools rank in the top 10% of public schools in the United States.

According to census data, Scottsdale's citizens are educated, with 97% having a high school diploma and 83% having some form of a university degree.

One of the Healthiest Cities

Scottsdale is one of the top 10 American cities in terms of health. The tranquil setting attracts visitors who see the metropolitan area as one of the best places to rest and revitalize with clean air. There are also several natural wellness clinics and fun outdoor events in the city.

Scottsdale is the place to go if you've ever wished to do some meditation while viewing the sun come up over the desert.

Reasonable Property Taxes

At 0.60 %, Scottsdale, Arizona, has one of the least property tax rates in the country. People from rising states like New York choose to find better deals in the south for the perks of lower housing costs.
Cons
Luxury Prices

Scottsdale primarily carries high-end brands, stores, boutiques, and vehicles, so residents pay a premium for the superior quality they receive. The average home worth in the city is $469,000 and can go as high as $3,000,000 in their luxury neighborhood.

The cost of living in the area surpasses the national average, wherein the city has a luxury lifestyle with luxurious amenities for its residents and guests.

Desert-Hot Months

Scottsdale experiences at least six months of scorching heat. The place near the Sonoran Desert has its fair share of extreme temperatures where you want to soak in a water full of ice to avoid getting burned.

From May to September, the mean maximum temperature is 101 degrees Fahrenheit. With these intense temperatures, you will most likely spend the entire day in an air-conditioned room to effectively escape the heat.

Public Transportation Is Scarce

Scottsdale does not have a rail system, and bus services have only a few routes. If you like to relocate to the area, you must get your car to get around.
Albuquerque Or Scottsdale – Which Is More Expensive?
Scottsdale will make its people pay extra for their essential commodities and services. The city is 46.2% costly in the overall living expenses, with a whopping 130.7% higher in-home value making it more expensive than Albuquerque.
Scottsdale has luxury living where residents and visitors pay a primer cost for high-quality goods and amenities.
Comparison Table of Living in Albuquerque, New Mexico vs. Scottsdale, Arizona
| | | |
| --- | --- | --- |
| Living Expenses | Albuquerque, New Mexico | Scottsdale, Arizona |
| Housing and Rent | 88% | 203% |
| Utilities | 97.2% | 102.4% |
| Food And Groceries | 96% | 103.3% |
| Transportation | 89.4% | 109.2% |
| Health | 81.1% | 92.2% |
| Miscellaneous | 97.1% | 100.5% |
Based on the Data of which 100 = U.S. National Average
>100 means more expensive
<100 means cheaper than the U.S. average
Housing and Rent Costs
Home value in Scottsdale will make you pay more than $469,400 and even as low as $3,000,000 in its luxury houses. The city's rent will cost you $2,086 compared to Albuquerque's $1,339. There are around 700 luxury homes in the area, increasing their value over time.
Utility Costs
Luxury price includes utility bills payment in Scottsdale. The average percentage of Scottsdale, when compared to ABQ, is above the national average. The energy bill in the metropolitan area is roughly $153.91 per month, whereas the same thing in Albuquerque is $142.85.
Food and Groceries Costs
Food and essential groceries are more highly-priced in Scottsdale than those in Albuquerque. In ABQ, a proper meal will cost you $15, whereas it will cost you nearly $26 in Scottsdale. The high pricing connects to the city's rising cost of living and exclusive pricing.
Transportation Costs
Scottsdale will charge you $2 for a bus fare, while the same ride in Albuquerque is only $1. The transportation costs in both cities are near in their percentages, granted that both have only one primary mode of transit. Gas prices in the luxury city are also costly as to the costs of the resident's cars.
Health Care Costs
Scottsdale has top-graded medical facilities and hospitals, making it more expensive than Albuquerque. The prices vary in ABQ and the luxury city because of the quality of medical attention you will likely receive.
The price differential between Scottsdale and ABQ is 11.1 %, with a doctor's visit costing $114.1 in Scottsdale and $108.83 in ABQ.
Taxes
The centralized sales tax rate in Scottsdale City is 8.05 %, which is considerably higher than the 7.88 % in Albuquerque. Scottsdale's approximate annual property tax rate is 0.60 %, while it is 1.05 % in ABQ.
Is Albuquerque Safer Than Scottsdale?
Compared to Scottsdale, Albuquerque is not as secure since the load of its criminal assaults is twice that of the national average. In ABQ, there have been over 100 lawbreaker assaults where the number is in constant upsurge.
Scottsdale is a destination for people searching for a good place with minimal crime rates. The recorded index of the city falls below the national average, where violent crime is 11 from the country's 22.5 indexes.
Albuquerque still beats its record for a high crime rate, and authorities need a lot of focus to minimize the assaults in the metropolitan.
Is Albuquerque Bigger Than Scottsdale?
Albuquerque's population of 562,540 people lives on a land area of 187.2 square miles, while Scottsdale's community of 262,647 lives on 184 square miles, making ABQ substantially larger.
The West Mesa is Albuquerque's final considerable geological area. The site is known for its "blow sand" soils and the periodic clay, caliche, and basalt near the escarpment.
In terms of land area, Scottsdale does not have a significant disparity. The site is approximately 31 miles long and 11.4 miles wide. Many other municipalities and entities share the city's boundaries.
Is Albuquerque Warmer Than Scottsdale?
Scottsdale has an arid climate with long and sweltering summer days with a higher recorded temperature of 122 degrees Fahrenheit, making it warmer than Albuquerque. The place is near the Sonoran Desert, where the heat is worse.
Scottsdale has an arid climate, whereas Albuquerque has a cold-arid climate. Scottsdale's desert weather during the day is scorching, where desiccating heat prevails. People try to avoid the scorching weather.
Is Albuquerque Better Than Scottsdale?
Scottsdale is an excellent place with a good job market, a quality education, and a safe environment. This economic benefit elevates the city above Albuquerque. On the other hand, Albuquerque is a fantastic place to live with lesser living expenses and a small-town vibe, but the rise in unemployment would be a drawback.
People who look for a place to stay where they can enjoy the perks of luxury living, given that they can land a decent job with a high salary in the area, will love Scottsdale. The neighborhood is best for families that crave premium education and a friendly district.
Albuquerque has this small-town vibe where people will love the low cost of living and incredible outdoor sights. However, if you plan to move here, you need to have a stable job to sustain your needs because the economic aspect of the town is still developing.
Both cities have their reputation where you can live a good life, but Scottsdale will offer you a high-paying job with a chance to experience luxury living.
Albuquerque, New Mexico versus Scottsdale, Arizona – Where do you consider moving? Let me know your thoughts below.