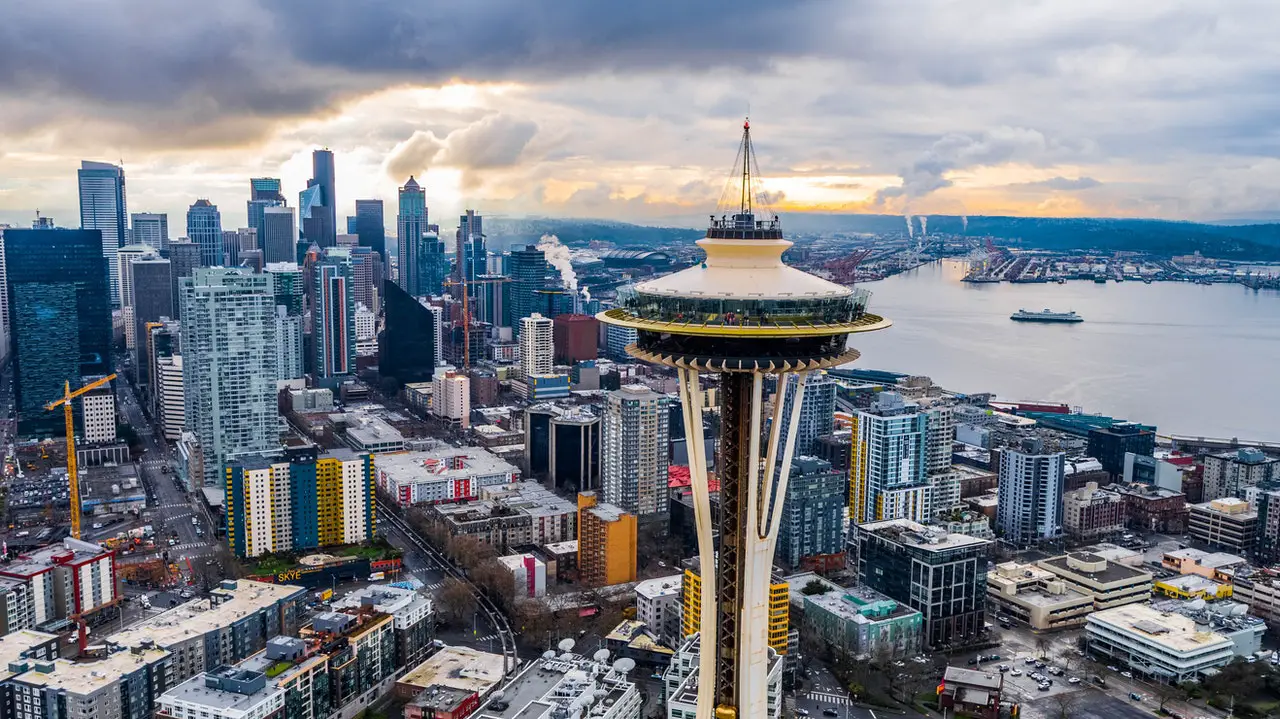 Seattle is the best place to live because it offers high-quality education, increased job openings, and no personal income tax. On the other hand, Albuquerque's higher crime and unemployment rate obscure the city's cheaper costs and diverse culture.
Seattle, a seaport city in the Pacific north of the country, also acts as the state's financial center. Seattle is among the prosperous cities in the country, thanks to its flourishing industry and gorgeous natural surroundings.
Albuquerque, New Mexico's largest city, serves as the state's urban center. ABQ has a low cost of living and easy access to many of the Land of Enchantment's incredible natural marvels, historic sites, and outdoor activities.
Albuquerque and Settle are 1,426.0 mi far from each other. It is no wonder that there are pretty significant differences between cities.
What are the Pros and Cons of Albuquerque vs. Seattle?
Seattle boasts a low unemployment rate, zero personal income tax, top-notch education, but expensive living and housing costs are major issues. Albuquerque, in contrast, has affordable living costs, low taxes, endurable traffic but has a dire crime and unemployment problem.
Living in Seattle
Pros
"Emerald City"

Seattle is called the "Emerald City" for a reason. Seattle consistently ranks among the most beautiful cities in the United States, the finest locations to live if you enjoy the outdoors, and the most environmentally friendly cities in the country.

It is home to almost 500 parks covering 6,400 acres. Hundreds of miles of paths are available for walking or biking. Standing on the beach, you can still take in the spectacular views of the mountains.

High-paying jobs and employment opportunities

Although living in Seattle is way more expensive than in many other cities, the city also has much high-paying employment. Amazon, Starbucks, Weyerhaeuser, and Nordstrom are just a handful of Seattle's Fortune 500 corporations.

Along with the city's continued expansion, we've seen an equal increase in career possibilities in fields such as engineering, technology, and healthcare. When we consider this element, large enterprise headquarters such as Microsoft, Google, and Amazon add to the city's worth.

Over 220,000 private-sector employment happened in Seattle in the previous ten years. The largest employer is the technical, business, scientific, manufacturing, education, food services, and retail commerce.

Also, the unemployment rate in Seattle is less than 3.1%.

Zero personal income tax

Even though the city's sales tax is somewhat more than the state's, the good news is that you should not lose any money. In Seattle, there is zero personal income tax.

Worldwide health hub

Seattle is a worldwide health hub because of the Bill & Melinda Gates Foundation, Fred Hutchinson Cancer Research Center, Providence Health & Services, Institute for Health Metrics and Evaluation, and the Infectious Disease Research Institute.

High-quality education

One of the most solid reasons to relocate to Seattle is the high-quality education available for families with children.

Public and private schools may acquire an outstanding secondary education and numerous universities and institutions to earn a coveted degree.

The area schools have strong graduation rates, and 56.6% of Seattle residents have earned a bachelor's degree or above.

Arts, culture, and coffee

When it comes to entertainment in Seattle, arts and culture are unquestionably at the top of the list. Seattle will not disappoint the art lover in you, as it is home to mesmerizing theatres and museums that take you to a dreamlike world of art, music, and plays.

With coffee shops on every corner, you'll be awake at all hours of the day. The first-ever Starbucks is in Seattle, which will make coffee lovers thrilled.
Cons
Very high cost of living

Seattle has frequently ranked among the top ten most expensive places to live in—it is now ranked fifth—with housing being the highest cost. Over half of the people in the Seattle metropolitan region spend more than 30% of their monthly income on housing.

To live comfortably in Seattle, you need to earn about $72,092 per year. Seattle residents earn an average of $67,000 a year.

Additionally, living in the city costs a four-person family around $3,845 per month (excluding housing), and a single person spends just over $1,000 per month (excluding accommodation).

Apartments typically cost between $2,161 and $2,492 per month to rent, depending on where you wish to reside.

Traffic-jam

Compared to the rest of the globe, Seattle has some of the worst traffic. The city's traffic has risen in tandem with its expanding population. A rush hour might take up to an hour or more, which can be aggravating after a hard day at work.
Living in Albuquerque
Pros
International Balloon Fiesta

The Albuquerque International Balloon Fiesta occurs every year in Albuquerque. It is the world's biggest hot air balloon festival.

Over 800,000 people attend the 10-day festival each year.

Yes, it's just as spectacular for city dwellers as it is for tourists—every morning, you'll witness balloons flying over the sky.

Native American culture

Native Americans are well-represented in Albuquerque. The state is home to nineteen pueblos (tribes), two of which have reserves on the outskirts of Albuquerque.

Both Sandia and Isleta, on the north and south ends of town, have casinos available to the public. The Indian Pueblo Cultural Center in the Old Town is an excellent site to learn about New Mexico's indigenous people.

Lower taxes

Albuquerque's tax rates are low, and you're likely to save money if you move in from out of town.

Some of Albuquerque's taxes are as follows:
Albuquerque's property tax rate is 0.96%, lower than the national average of 1.211%.
Albuquerque's sales tax rate is 7.875%, which is somewhat higher than the national average of 7.3%.
Albuquerque's state income tax rate ranges from 1.7% to 4.9%, depending on your tax level. This rate is towards the bottom of the range for state income taxes; the national average is 4.6%.
A walkable city and endurable traffic
Overall, ABQ has a walk score of 43, ranking it the 27th most walkable city in the United States. So, while you'll almost certainly need a car, you might be able to walk to neighboring facilities depending on where you live in Albuquerque.
If you're used to living in a tiny town where traffic bottlenecks are uncommon, then Albuquerque will shock you. Because of the city's overall size, you should expect considerable sluggishness on the main arterial routes.
Compared to cities like Dallas, Denver, or Las Vegas, you have little to worry about most days. You can get caught in traffic in ABQ, but it usually moves rather quickly.
Bountiful art scene
Art may be seen all across the city, inside and outside buildings. Indeed, simply wandering about Albuquerque is a visual treat.
From the airport through Old Town, the University district, and Route 66, Albuquerque is adorned with murals, monuments, and paintings.
ABQ's Mural Mosey self-guided walking tour is a terrific way to explore some of the city's downtown street art, and our monthly art crawls are a great way to see some of the local artworks.
Cheap cost of living
The total cost of living in Albuquerque and New Mexico is competitive. Albuquerque is one of the few metropolises in the country, with a price of living index 4% lower than the national average. Even if salaries are lower, you will not notice the problem at the shop.
Albuquerque is ranked 120th among the best places to live in the United States by US News & World Report. It's also the only New Mexico city on the list.
Cons
Ascending crime rates

Crime may be a severe concern in the city due to generational poverty, poor incomes, and an overall lack of prospects for many families. Most of it is drug-related, which means you're dealing with many property crimes.

Albuquerque scores 85.3 on a scale of 1 to 100 for property crime. Albuquerque had a score of 51 for violent crimes, which is higher than the national average of 22.7. Albuquerque proper, Pajarito Mesa, and Bernalillo have the highest crime rates.

An unemployment rate of 5.5%

The unemployment rate in Albuquerque peaked at 12.2% in July 2020 and is now 6.7 percentage points lower.

However, when compared to the national average of 4.2%, ABQ's unemployment rate of 5.5% remains high.
Albuquerque or Seattle – Which is more expensive?
The overall cost of living in Albuquerque is 47.1% cheaper than in Seattle. In Seattle, the food, groceries, health, housing, and transportation expenses are much higher. Meanwhile, utility prices are lower in Seattle than in ABQ.
| | | |
| --- | --- | --- |
| Living expenses | Seattle | Albuquerque |
| Housing | 309.0% | 88.0% |
| Food & Groceries | 108.7% | 96.0% |
| Health | 85.2% | 81.1% |
| Utilities | 68.8% | 97.2% |
| Transportation | 137.5% | 89.4% |
Data is 100 = US National Average
> 100 means more expensive than the national average
< 100 means cheaper than the national average
Housing Cost
Housing expenses in Albuquerque are 71.5% less expensive than in Seattle. The median home price in ABQ is only $332,426, while Seattle's median home price is $673,874.
Moreover, the median rent in Seattle can cost you $2,111, whereas the median rent in ABQ can only cost $1,041.
Food & Groceries
Food and grocery prices in Seattle are higher than in Albuquerque. One example is a gallon of milk in Albuquerque, which is only $1.84, compared to $2.46 in Seattle.
Health
Healthcare costs in ABQ are 4.8% less costly than in Seattle. In Seattle, a dentist visit may cost $118.13, whereas it only costs $93.49 in Albuquerque.
Despite the expensive healthcare costs, Seattle is a worldwide health hub, explaining the high prices.
Utilities
Utility expenses are less in Seattle compared to ABQ. In Seattle, the monthly internet bill can only cost $62.20. Compared to Albuquerque, a monthly internet bill can cost you $80.46.
Transportation
A gallon of gas in Seattle costs more than in ABQ. In Seattle, a gallon of gas costs $3.47, while in Albuquerque, it is only $2.58.
Is Albuquerque bigger than Seattle?
In terms of population and economy, Seattle is more prominent than Albuquerque. However, Albuquerque has a land area of 188.9 mi², which is twice Seattle's area of only 83.78 mi².
Albuquerque is twice the size of Seattle in terms of land area.
Albuquerque has a land area of 188.9 mi² with a population of 942,000 as of 2022. In comparison, Seattle only has 83.78 mi² but a denser population of 3,489,000.
In 2022, ABQ has a 1.4% increase in population from 2021. At the same time, Seattle has a 0.81% population increase.
Besides land area and population, Seattle has a prosperous economy that helps residents have jobs and provide higher wages, unlike Albuquerque. Despite the dense population in Seattle, the unemployment in the city is low.
Is Seattle safer than Albuquerque?
Seattle has a safety scale of 49.44, while Albuquerque only has 29.34. In addition, Albuquerque has a higher crime index of 70.66 than Seattle's 50.56. For comparison, Seattle is a safer city than Albuquerque.
Even though Seattle has a lower crime rate than Albuquerque, it is still undeniable that the city faces crime problems.
Unfortunately, the city's crime rate is considered relatively high. With 633 violent crimes and 5,259 property offenses reported last year, the city's crime rate is 115% higher than the national average. The high percentage of poverty (over 11%) and homeless individuals influences the high crime rate.
In contrast, Albuquerque has an annual average of 7,552 violent crimes. Albuquerque is also 9th among the most dangerous cities in the USA. Furthermore, there were 111 violent crimes per 10,000 persons in Albuquerque during the first three quarters of 2021.
Albuquerque's crime index is 70.66 compared to Seattle's 50.56. Additionally, Seattle has a safety scale of 49.44, whereas Albuquerque's safety scale is only 29.34.
Seattles' slightly higher safety scale indicates that it is safer than Albuquerque.
Is Seattle hotter than Albuquerque?
The average annual high temperature in Seattle is 79°F. On the other hand, Albuquerque has a higher average yearly high temperature of 93°F. As a result, Albuquerque is hotter than Seattle.
Summers in Seattle are brief, warm, dry, and partially overcast, whereas winters are freezing, rainy, and generally cloudy. The temperature ranges typically from 37°F to 79°F throughout the year, with temperatures seldom falling below 28°F or rising over 88°F.
Rainfall occurs on an average of 152 days per year. Seattle's winters are bitterly cold because of the frigid wind flowing in from the Pacific coast.
In contrast, Albuquerque's temperatures usually range from 27°F to 93°F throughout the year, with temperatures seldom falling below 18°F or exceeding 99°F. ABQ has an estimated 280 sunny days per year.
Hence, Albuquerque is hotter than Seattle.
Is Albuquerque better than Seattle?
If you prefer to relocate to a city with an inexpensive cost of living and bearable traffic, Albuquerque is the city for you. In comparison, Seattle is for those who seek work opportunities with high wages and high-quality education.
Both cities differ a lot from each other. Albuquerque provides an inexpensive cost of living, bearable traffic, walkable area, and preserved culture. However, Albuquerque has more extensive safety and crime issues compared to Seattle.
On the other hand, Seattle may not be one of the safest cities in the US, but the city has a considerably lesser crime rate than ABQ. In addition, Seattle has much more expensive living and housing costs.
Another factor to consider, looking for a job in Seattle won't be much trouble. Seattle also boasts a high-quality education, a greener environment, and a zero personal income tax.
Albuquerque is the city for you to avoid high living costs and traffic congestion. Furthermore, when compared to the benefits of ABQ, moving to Seattle is a terrific deal.
Are you considering moving to Seattle or Albuquerque? Let me know your thoughts and concerns below.