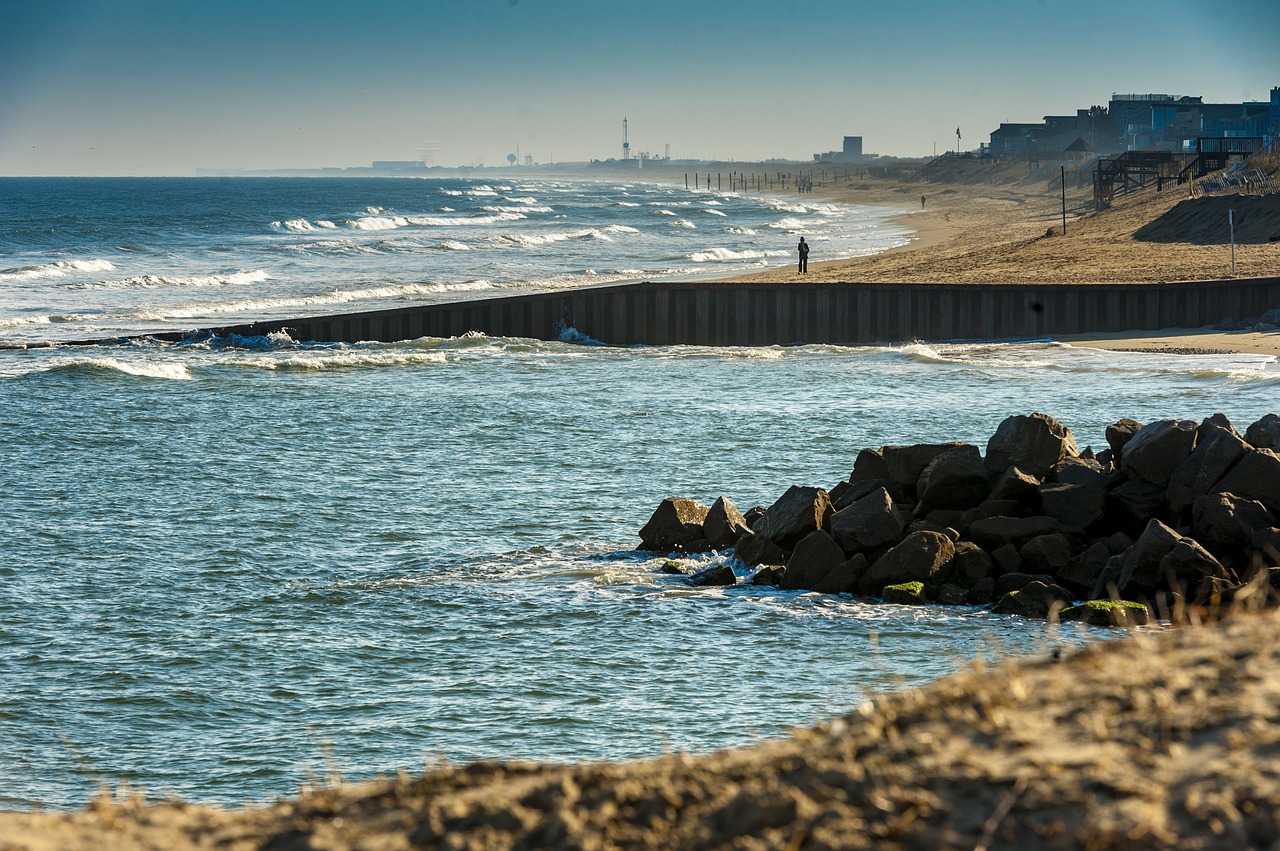 In terms of the cost of living, Albuquerque is the best choice. If you're looking for amazing parks and fun activities for your family, this is the place for you. Meanwhile, known for its quality schools and competitive job market, Virginia Beach makes it a perfect city for career growth.
Albuquerque was established in the provincial kingdom of Santa Fe de Nuevo México in 1706. Albuquerque is a thriving agricultural and herding city on the Camino Real, serving the other Tiquex and Hispano communities in the vicinity, including Barelas, Corrales, Isleta Pueblo, Los Angeles Ranchos, and Sandia Pueblo.
Meanwhile, Virginia Beach is a city in the United States situated on the southeastern coast of the Commonwealth of Virginia. Virginia Beach is a bay resort town with miles of beachfront and hundreds of hotels, motels, and restaurants. The East Coast Surfing Championships and the North American Sand Soccer Championship, a beach soccer competition, are held in the city every year.
We'll learn more about these places and what they have to offer you as you continue reading. We've researched for you to make an informed decision about whether or not these cities are perfect for you.
What Are the Pros and Cons of Albuquerque vs. Virginia Beach?
Despite its low cost of living and cultural richness, Albuquerque has a high crime rate and low salary that will make you skeptical about your relocation plan. But in Virginia Beach, the consistent job market and outstanding schools will make it an ideal city. However, you'll be frustrated by the city's rush hour congested traffic, frequent floods, and the interruption caused by jet noise.
Living in Albuquerque
Pros
International Balloon Festival

The Albuquerque International Balloon Festival takes during the first week of October at Balloon Fiesta Park. It is a significant tourist destination in Albuquerque. Every day, hundreds of hot-air balloons can be seen, as well as live music, arts and crafts, and cuisine. The festival resumed in 2021 after being forced to cancel in 2020 because of the widespread Covid-19.

Parks and recreation

With the family, you will surely enjoy Albuquerque's 291 public parks. Parkland covers 42.9 square miles or over 23% of the city's total area, making it one of the most significant percentages among metropolitan cities in the United States. A park is within walking distance of 82% of the city population.

You will get fascinated by Albuquerque Biological Park, which includes the Rio Grande Botanic Garden, Albuquerque Aquarium, Tingley Beach, and the Rio Grande Zoo, a botanical and zoological complex. Also, Albuquerque now operates four public golf courses and a recreational "golf center" in Balloon Fiesta Park.

Low cost of living

Albuquerque's cost of living is 5% cheaper than the national average, allowing people to enjoy a high quality of life. The area's typical house listing price is roughly $299,000, while the median monthly rent is $816, almost 14% less than the national average. In addition, Albuquerque's state income tax is 24% lower than the national average, making it an inexpensive area to live, work, and retire.

Perfect spot for stargazing

Albuquerque is 5,313 feet above sea level. With its minimal light pollution, Albuquerque is one of the most incredible places in the country for stargazing. The University of New Mexico Campus Observatory offers the most fantastic view of the night sky via its telescope, which is open to the public every Friday night and is one of the most popular Albuquerque activities for kids and adults.

The New Mexico Museum of Natural History and Science conducts "Starry Nights," a monthly series of stargazing programs held around the city and adjacent regions that will give you a different experience.
Cons
Higher crime rates

Albuquerque has higher crime rates than other more populated cities, both statewide and nationwide. The FBI reported 111 violent offenses per 10,000 inhabitants in Albuquerque. Albuquerque is now one of the ten most dangerous cities in the US. It can be a problem if you live in Albuquerque or are contemplating relocating.

Low salary

According to the latest available data from the US Bureau of Labor Statistics (BLS), Albuquerque's average hourly pay was $24.80 in May 2020. The city's average yearly wage was $51,590. According to the statistics, New Mexico's average hourly salary was lower than 35 other states across all sectors.

Unemployment rate

According to the Bureau of Labor Statistics, Albuquerque's unemployment rate declined 0.1% points to 5.5 percent in November 2021. The city's unemployment rate was 0.7 % than New Mexico's in the same month. Albuquerque's unemployment rate peaked at 12.2% in July 2020 and is presently 6.7 % higher than other cities. If you reside here, make sure you have your employment contract first.

High poverty rate

Albuquerque's poverty rate is 18.2 %. In Albuquerque, one out of every 5.5 inhabitants is poor. In the previous year, 100,260 out of 551,756 Albuquerque locals had incomes below the poverty line.

The poverty rate here is 20.6 %, which means that the city has a slightly lower than average percentage of residents living in poverty than the rest of the state.
Living in Virginia Beach
Pros
Consistent job market

Virginia Beach's economy is thriving. It has sustained a lower unemployment rate than the national average for many years. Even the average income has been more significant than the national average in the United States. Job opportunities in the area include military, agricultural and commercial sector positions.

Many fun activities

If you want an active life, Virginia Beach has enough of it! Nature preserves, streams, and extensive lengths of the beach are all found around the city and its borders.

The First Landing State Park (FLSP) is one of the region's most prominent destinations you can explore; the woodland, freshwater ponds, and dunes are fantastic. Many residents use the State Park for recreational activities.

The Back Bay National Wildlife Refuge (BBNWR) is another recreational destination. It's a critical wildlife habitat since it is part of the Atlantic Flyway. In this part of Virginia, you can get food and relax.

Outstanding schools

Virginia Beach offers a diverse range of options for educational institutions. Virginia City Public Schools has nearly 50 elementary schools, 14 middle schools, and 12 high schools. Consequently, numerous areas in Virginia Beach compete for the most excellent place to live.

The Ocean Lakes is a strong challenger in the math and science fields, while Salem High School is an excellent choice for your children interested in art and performing arts.

In the city of Virginia Breach, there are over 20 institutions, trade schools, and colleges that provide high-quality post-secondary education. The College of William and Mary (CWM) is one of the institutions in the region. It is the country's second-oldest college.

Ideal Mix of Small Town and Big City

Virginia Beach is the ideal mix of a small-town and large metropolis with roughly half a million people. You can enjoy all of the top amenities of a larger city without feeling crowded or stressed.
Cons
Rush hour congested traffic

Virginia Beach has a surprising amount of traffic at rush hour. The morning one usually takes place between 6 and 9 a.m. The second rush hour begins at 3 p.m. and ends at 6 p.m. These are the times of day when traffic might be most congested.

Remember that public transportation isn't a solution to traffic congestion. Local buses are inefficient, and they do not serve certain parts of the city and surrounding rural settlements.

Tropical storm hazards

Did you know that storms are a possibility in Virginia Beach? Its people are subjected to several hurricane warnings each year, although most of these storms turn out to be far weaker than forecast or fade before hitting landfall.

When considering relocating to Virginia Beach, you should consider the hurricane hazard. There is always the possibility of a major storm hitting the region. That's why, when word of a tropical storm bearing down on the city arrives, it's essential to take the necessary measures.

Prone to flooding

While the weather patterns in Virginia Beach are pleasant, the yearly rainfall and the number of water bodies pose a flood risk. Rivers, canals, and lakes in the region can cause flooding.

The Virginia Beach residents are aware of these dangers and have adequately prepared for them. The city has even set up an emergency preparation website for those who want to reduce their home's flood risk.

Jet noise

It's important to remember that Virginia Beach is primarily a military community. Throughout the day, intense jet noises will startle you. Fortunately, not every portion of the city is subjected to the same level of interruption.

If you want to buy a house in Virginia Beach, the seller must disclose if the property is located in an area where regular jet noise occurs. Some individuals, for example, may need medical attention if sonic booms affect their general health.
Albuquerque or Virginia Beach – Which Is More Expensive?
The overall cost of living index, excluding taxes, states that Virginia Beach is 13.8% more expensive than Albuquerque. The most significant component in the cost of living difference is the median home cost. The median home cost is 24% higher in Virginia Beach.
The table below presents the cost-of-living indices written in percentage:
| | | |
| --- | --- | --- |
| Living expenses | Albuquerque | Virginia Beach |
| Housing | 88% | 116% |
| Food & Groceries | 96.0% | 100.3% |
| Health | 79.8% | 105.2% |
| Utilities | 97.2% | 97.1% |
| Transportation | 89.4% | 98 % |
Data is 100 = US National Average
> 100 means more expensive than the national average
< 100 means cheaper than the national average
Housing Cost
Virginia Beach's cost of housing is 31.8% higher than in Albuquerque. Albuquerque's average home price is only $257,400 compared to $320,700 in Virginia Beach.
Utility Cost
Albuquerque's cost of utilities is 0.1% cheaper than in Virginia Beach. For example, the monthly cost of water, electricity, cooling, heating, and garbage utilities for an 85 square meter apartment is only $140.94 in Albuquerque compared to $153.79 in Virginia Beach.
Food and Groceries Cost
The cost of food and groceries in Virginia Beach is 4.5% higher than in Albuquerque. For example, as of January 2022, the price of 1-kg rice is only $3.06 in Albuquerque, whereas Virginia Beach has $4.22.
Transportation Cost
Virginia Beach's transportation cost is 9.6% higher than in Albuquerque. The one-way ticket of local transport in Virginia Beach is $2.50, higher than the $1.00 of Albuquerque.
Healthcare Cost
Virginia Beach's healthcare cost is 34.2% higher than in Albuquerque. In Virginia Beach, you will spend an average of $135 on visiting a private doctor for 15 minutes, while in Albuquerque, that is only around $87.
Is Albuquerque Bigger Than Virginia Beach?
The 2020 statistics report that Albuquerque is 18.6% more populated than Virginia Beach. But in terms of total area, Virginia Beach is 62% bigger than Albuquerque.
Albuquerque was the 32nd most populated city in the United States and the 4th biggest in the Southwest in 2020, with 564,559 residents. Albuquerque's total area is 188.87 square miles, where 1.68 is water.
Meanwhile, Virginia Beach has 497.50 square miles, including water bodies. Based on the 2020 census, the city has 459,470 people. It is the most populated city in Virginia, the 5th largest city in the Mid-Atlantic, and the 43rd largest city in the United States, despite its primarily suburban nature.
Is Albuquerque Safer Than Virginia Beach?
The annual crime rates in Albuquerque and Virginia Beach are 63.28 and 15.85 per 1000 residents, respectively. Virginia Beach's crime index is 36, while Albuquerque has one. Virginia Beach is safer than Albuquerque, considering the crime rates and as 100 to be the safest in the crime index.
Albuquerque seems to be an unsafe area based on the data. According to a report published in 2020, it is the 9th most dangerous city in the United States. It has a criminal record of 35,723 per year. You have a 1 in 20 chance of becoming a property victim, while violent crimes have a 1 in 75 events.
Meanwhile, Virginia Beach has 7,282 total crimes each year, but your chance of being a property crime victim here is 1 in 67, lower than Albuquerque. In violent crimes, you have a probability of 1 in 1,014 to be a victim, which is significantly low compared to Albuquerque and the state's 1 in 482.
Is Albuquerque Warmer Than Virginia Beach?
The temperature in Albuquerque ranges from 27°F to 93°F throughout the year, whereas Virginia Beach has 34°F to 87°F. Thus, Albuquerque is warmer than Virginia Beach.
Summers in Albuquerque are hot and dry, and the winters are brief, frigid, and snowy. Meanwhile, the summers in Virginia Beach are warm and humid, the winters are freezing and windy, and the weather is damp and partially cloudy all year. The weather temperatures in Albuquerque are seldom falling below 18°F or rising over 99°F, while Virginia Beach has 23°F or above 93°F.
It's a good idea to visit Albuquerque between late May and late September for warm-weather activities, while Virginia Beach is best from late August to mid-October.
Is Albuquerque Better Than Virginia Beach?
The recent report shows that Virginia Beach gets around 20 million international visitors annually and just 6.2 million to Albuquerque. It implies that Virginia Beach has a better chance of pulling in newcomers.
Tourism is a critical component of the city's economic growth and has propelled ABQ for numerous years. Albuquerque attracts an average of 6 million visitors each year because of its competitive advantage as a home to unmatched natural beauty, one-of-a-kind New Mexican cuisine, and fascinating cultural history.
On the other hand, Virginia Beach's thriving seaside leisure, sports, and business destination that offers guests a variety of activities attracted a total of 20.2 million visitors in 2018. The overnight visitors increased to 10.5 million, while day visitors increased to 9.7 million, according to statistics provided by Longwoods International.
A visit to Albuquerque or Virginia Beach, or even a move, is well worth the effort. Year-round comfort, a wide range of exciting activities, and a rich cultural heritage await visitors to both cities.
Did you find what you were looking for, or is something missing? Let me know in the comments below.