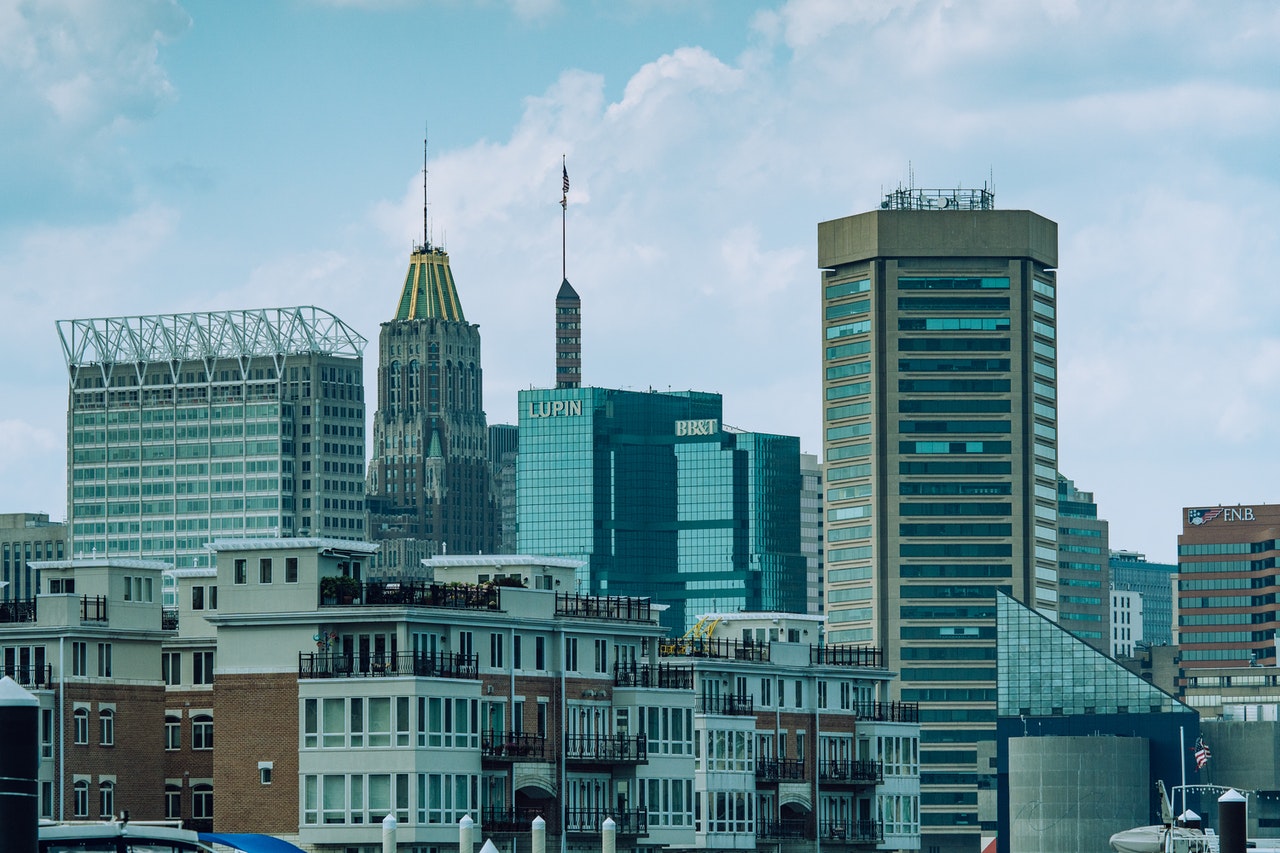 Anaheim is outstanding at many amusement parks and apartments with reasonable prices, but Baltimore has an excellent job market and world-class schools for your career growth. If you prefer a more budget-friendly city, Baltimore is the best option.
Anaheim, California, is near all the amusement parks, including Disneyland and Knott's Berry Farm, and it's just 15 minutes from Huntington Beach and Long Beach. The neighborhoods are great, but there's a little traffic in the city, which is tolerable. Also, the city's crime rate is relatively low, and it does an excellent job of rapidly resolving difficulties.
Meanwhile, Baltimore in Maryland, like other large cities, has its problems, but its rich culinary environment and schools shine brightly. So many beauty, talent, honesty, knowledge, and various other attributes demonstrate the city's and its citizens' resiliency. The people you encounter here will leave an indelible impression, and creativity and innovation continue to thrive in this city.
Are you thinking of relocating to one of these cities? Which one is the best fit for you? We've done an extensive research to compile data for you to examine and determine which has more to offer, is more cost-effective, and has a higher livability score.
What Are the Pros and Cons of Anaheim vs. Baltimore?
The job market and transportation are not exceptional in Anaheim, but the dining scene and the Anaheim Hills experience are a few benefits you can have when you live in this city. In comparison, though Baltimore is rich with seafood, near to Washington, DC, and has a better job market, its hassle traffic and high taxes are the aspects you must reconsider when moving here.
Living in Anaheim
Pros
Many amusement parks

Disneyland Park, formerly known as Disneyland, was the first of two theme parks to open at the Disneyland Resort in Anaheim. The park has various fantastic attractions, including the spectacular "Believe… In Holiday Magic" fireworks show, the thrilling "Magic Happens" parade, Pirates of the Caribbean, Haunted Mansion, and "It's a Small World."

One of California's tiniest theme parks, Adventure City also offers a diverse choice of attractions and activities for visitors of all ages. Rewind Racers, Drop Zone, Rescue 911, Balloon Ride, and Freeway Coaster are just a few of the various attractions available. The Giggle Wheel, Petting Farm, Thomas the Tank Engine, and his companions are attractions children will enjoy.

Another great location you can explore is Knott's Berry Farm. It used to be a modest family farm, but it has grown into a much larger operation. Four themed zones and fast roller coasters, and unlimited fun and thrill are available at the park.

Those are just a few of several amusement parks you can enjoy during weekends or holidays when you move to this city.

Less expensive rentals

In Anaheim, there is a wide range of apartments available for rental. They are far less expensive than big cities worldwide. Anaheim Hills is the city's most affluent neighborhood, while Northwest is the least expensive of the city's more affordable neighborhoods.

Here are some of the estimated rental costs for apartments inside and outside of the city center:
$975+ for an apartment with only one bedroom (inside city center)
$750+ for an apartment with only one bedroom (outside the city center)
$1,750+ for an apartment with three bedrooms (inside city center)
$1,200+ for an apartment with three bedrooms (outside the city center)
Culinary cravings
The dining scene is another of the city's top strengths. Because of Anaheim's various demographics, you can experience excellent cuisine worldwide, including German, Indian, Italian, Vietnamese, Ethiopian, Mexican, and Peruvian restaurants.
Anaheim is well on its way to becoming one of America's top craft beer towns, with more than a dozen breweries in operation, including Bottle Logic Brewing and Anaheim Brewery.
Anaheim Hills
Anaheim Hills is a one-of-a-kind master-planned neighborhood on the city's eastern outskirts. It was established as a portion of the Scenic Corridor Overlay Zone, which preserves its natural beauty and is surrounded by lush greenery and lovely vistas of the mountains and foothills.
It is also known for its tranquil and pleasant ambiance, which provides residents with a suburban lifestyle in an urban setting. While residing in this area may need a vehicle, its proximity to the Riverside Freeway and adjacent facilities allow for a convenient commute.
Most residents here love shopping at one of its many local specialty businesses, eating at a trendy café, or hiking on one of the popular trails.
Cons
Poor transportation

Due to the city's yearly average attendance of around 18 million visitors, it's realistic to expect considerable traffic in Anaheim. The town attracts approximately 63,000 visitors every day, so anticipate congested highways and streets when you drive here.

Furthermore, Anaheim has a limited public transportation system. The Anaheim Regional Transportation Intermodal Center (ARTIC), located near Angel Stadium, is only the primary regional transportation hub that serves Metrolink and Amtrak.

Jobless market

There are just a few sectors where you can find a decent job. Anaheim is heavily reliant on its tourist business, which accounts for most employment. Because there are few job openings, the city's unemployment rate is 7.5 %, higher than other prominent cities in the United States.
Living in Baltimore
Pros
Higher job market than Anaheim

Even though the unemployment rate in Baltimore is at 5.3 % (compared to 3.6 % nationally), it is significantly lower than Anaheim, and there is a strong perception of opportunity in the city. Shipping, car manufacturing, transportation, and steel production are the city's leading businesses.

Also, according to Forbes magazine, it's becoming one of the top locations for digital startups in the United States.

Seafood paradise

If you want seafood on the East Coast, Baltimore is the place to go. Here in the city, you'll discover some of the most fabulous Chesapeake Bay food in the world. At almost any time of day, crab cakes, lobster rolls, and half-shell oysters will satisfy you.

The city's culinary environment is changing in many ways, with a rising cocktail culture complementing the region's famed craft brewers.

When you first move to Baltimore, there are diverse alternatives to try, as well as a few exciting culinary festivals to attend.

World-class schools

Baltimore is home to several world-class public institutions and colleges. In addition, there are a few private institutions in the city.

The University of Baltimore, the University of Maryland, Baltimore, Loyola University Maryland, and Johns Hopkins University are a few public and private institutions and colleges in Baltimore.

The Johns Hopkins Hospital is the teaching hospital and biomedical research institution of Johns Hopkins School of Medicine, and it is one of the best-ranked hospitals in the nation. If you or a member of your family wants to attend medical school, this is one of the locations to consider.

You'll be residing near Washington, DC

Baltimore is near enough to the nation's capital that a 45-minute rail journey will bring you there. That implies you'll arrive in around half the time it would take to drive there.

When you make the city your home, you'll have access to three major airports in the region: Ronald Reagan Washington National, BWI in Hanover, and Dulles International. That makes meeting all of your travel requirements a breeze.

With all of these alternatives, you can discover some very impressive deals if you organize your travels ahead of time.
Cons
Traffic

Surprisingly, traffic is a hassle in this city! Commuters spend an average of 30 minutes going to and from work. Avoid rush hour on the Beltway's outer loop and the influx of county commuters on Interstates 95, 395, and 695 as much as possible.

Higher taxes

Property taxes are one of the most expensive aspects of owning a house, but tax credits help make it more reasonable. Because Baltimore is a "politically autonomous city," its taxes are somewhat higher than other neighboring cities. The county's income tax rate is 2.83%, while the city has 3.2%.
Anaheim or Baltimore – Which Is More Expensive?
The cost of living index states that Anaheim is 68.5% more expensive than Baltimore. The most significant component in the cost of living difference is the median home cost. The median home cost is 334% higher in Anaheim.
The table below presents the cost-of-living indices written in percentage:
| | | |
| --- | --- | --- |
| Living expenses | Anaheim | Baltimore |
| Housing | 257.1% | 49.4% |
| Food & Groceries | 102.5% | 98.0% |
| Health | 93.4% | 84.6% |
| Utilities | 97.4% | 107.3% |
| Transportation | 118% | 124.4% |
Data is 100 = US National Average
> 100 means more expensive than the national average
< 100 means cheaper than the national average
Housing Cost
Anaheim's cost of housing is 420.4% higher than in Baltimore. Anaheim's median home cost is $762,700, whereas Baltimore has only $175,500.
Utility Cost
Anaheim's cost of utilities is 9.2% less expensive than in Baltimore. For example, the monthly internet costs $69.50 only in Anaheim, whereas, in Baltimore, that is $70.28.
Food and Groceries Cost
The cost of food and groceries in Anaheim is 4.6% more costly than in Baltimore. For example, the market price of white rice per kilogram in Baltimore is only $4.18, but it costs $6.06 in Anaheim.
Transportation Cost
Anaheim's transportation cost is 5.1% less expensive than in Baltimore. In Anaheim, you will only spend $69.00 for a monthly pass, compared to $74.00 for Baltimore.
Healthcare Cost
Anaheim's healthcare cost is 7.0% more costly than in Baltimore. If you visit a doctor in Anaheim, that will cost you $108, while in Baltimore, that is only $102.
Is Anaheim Bigger Than Baltimore?
Based on population density, Baltimore had 36.58% more residents than Anaheim last 2020. In addition, Baltimore is 44.57% bigger than Anaheim in terms of land area.
Anaheim is a city in Orange County, California, with a 2020 estimated population of 349,366 in 51 square miles of land, making it California's 10th most populated city and 56th in the United States. The people of Anaheim have grown by 3.90% since the last census, which counted 336,265 people in 2010. However, the city is now losing its people at a pace of -0.10% each year.
Conversely, Baltimore is a city in Maryland that serves as the county seat for Baltimore County. It is the biggest city in Maryland, and the 31st largest city in the United States, with 566,631 people in 92 square miles of land in 2020. Baltimore's population has fallen by -8.75% from the 2010 census, which reported 620,961 residents.
Is Anaheim Safer Than Baltimore?
Crime indices indicate that Anaheim is safer than Baltimore. Referencing 100 to be the safest, Anaheim has a higher crime index (14) than Baltimore (4). Your probability of becoming a property crime victim in Anaheim is only 1 in 39, compared to 1 in 32 in Baltimore.
Anaheim has a modest crime rate of 47.64 per 1000 residents accounting for 10,122 crimes per year, lower than Baltimore. It has a crime number of 199 per square mile, with most of them related to property offenses such as burglary, theft, and motorcycle theft.
Meanwhile, Baltimore has more crimes than Anaheim, with 27,902 offenses at a rate of 47.64 per 1000 residents yearly. It has reported 343 crimes per square mile, primarily property-related.
Is Anaheim Warmer Than Baltimore?
Throughout the year, the average temperature in Anaheim ranges from 46°F to 85°F, whereas Baltimore has 30°F to 89°F. Thus, Baltimore is warmer than Anaheim.
Mid-August to early October is the ideal time of the year to visit Baltimore for warm-weather activities. The summers in Baltimore are hot and humid, winters are freezing, snowy, and windy, and the sky is mainly gloomy all year.
From May 30 to September 15, the hot season in Baltimore lasts 3.5 months, with an average daily high temperature of above 79°F. July is the warmest month in Baltimore, with average highs of 88°F and lows of 73°F.
Meanwhile, from late May to early October is the most significant time to visit Anaheim for comforting activities. Summers in Anaheim are brief, warm, arid, and clear, while winters are lengthy, chilly, and partly overcast.
You can expect temperatures exceeding 82°F from July 4 through September 27 during the hot season. August is the warmest month in Anaheim, with an average temperature ranging from 65°F to 85°F.
Is Anaheim Better Than Baltimore?
Baltimore had a poor (57/100) livability score, whereas Anaheim received a below-average (62/100) rate. Thus, Anaheim has better livability than Baltimore.
Baltimore has a livability rating of 57 out of 100, putting it in the 18th percentile of all American cities. This location has a score that is among the lowest in the country compared to the national average, and it is not regarded as a very livable city. However, Baltimore still receives better than average rankings for the amenities (A+) category.
Meanwhile, Anaheim receives a better livability rating than Baltimore, placing it in the 47th percentile of all United States cities and excelling in the weather (A+) category. Because of the nearly ideal weather, the enormous number of hotel rooms available, and the wide variety of food and retail choices, Anaheim is a popular destination for conference visitors and youth sports tournaments.
Did you find what you were looking for, or is something missing? Let me know in the comments below.