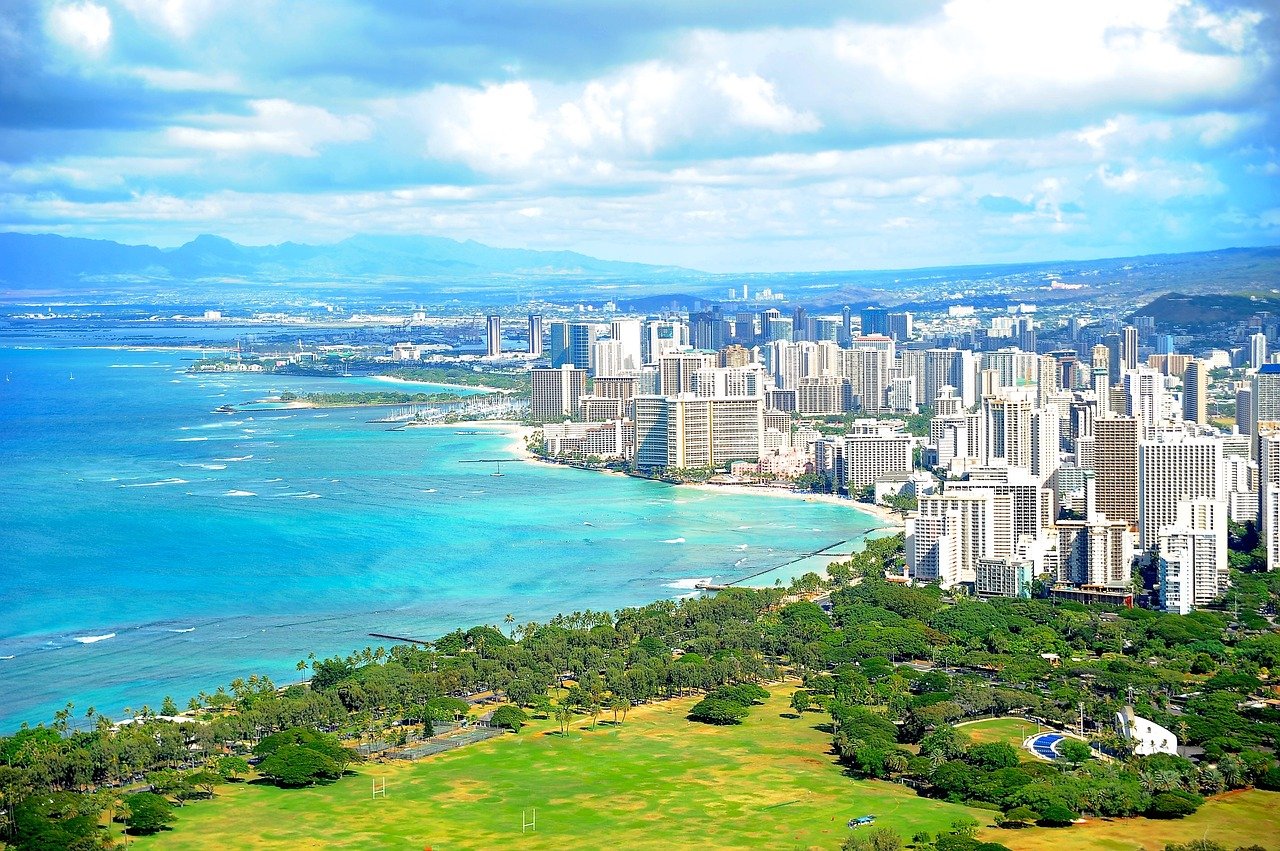 Both Anaheim and Honolulu are famous for their tourist attractions. However, Honolulu's thriving economy paired with a beautiful view and pristine beaches makes it the best place to live than Anaheim. Meanwhile, Anaheim's Disneyland Resorts is something people look forward to in this city.
Honolulu in Hawaii is widely famous for its variety of tourist destinations and fine beaches. The city is scenic, and it has a developed economy paired with top-notch medical institutions, historical remnants, fine weather, and cultural preserves.
Anaheim, California's Disneyland resort, lures millions of tourists every year, creating a good income for the city. The place is also very accessible to its nearby city, Los Angeles. This town is relatively safe, and beautiful weather is a plus.
However, both cities share the exact sentiment of having a very high cost of living because of their tourism industry. Still, Honolulu edges Anaheim in various tourist attractions, resulting in a good labor market.
If you plan to move either to Honolulu or Anaheim, I have comprehensive advantages and drawbacks to make your decision a lot easier.
What Are the Pros and Cons of Anaheim Versus Honolulu?
Honolulu is a paradise city that attracts millions of tourists, has a strong economy, and creates a decent standard of living even though the cost of living here is outrageously high and traffic is terrible. Meanwhile, Anaheim is one of the merriest places on earth because of Disneyland Resort and is one of the safest places. Still, the high living expenses are also a drawback.
Living in Anaheim
Pros
Disneyland Resort: The Merriest Place on Earth

Anaheim homes one of the happiest places on earth, the Disneyland Resort. Millions of tourists flock to the amusement park to experience some best days of their lives because of the different attractions. You can also meet your favorite Disney characters, like Mickey Mouse and Friends, the Disney Princesses, and other Disney fictional characters.

There are two other theme parks inside the resort: Disneyland Park, built by Walt Disney and opened on July 17, 1955, and Disney California Adventure Park. Millions of tourists yearly make the tourist destination generate almost 5.7 billion for the Californian economy.

Anaheim is Less Dangerous

As per record by the Federal Bureau of Investigation, Anaheim is one of the safe places in America. The statistics registered annually from this city for its violent and property crimes are lower than the national average. Around 10,000 related violent crimes in this town are recorded in a year.

Like other cities, Anaheim is also not exempt from a bad neighborhood where most of its criminal records originate. Consider avoiding the Colony, Southeast, Southwest, and Northwest areas if you like to move here.

The Downtown Disney District

One of the perks if you live in Anaheim is to enjoy more activities exploring the lane of Downtown Disney District. This place is an outdoor shopping center filled with lots of restaurants, store outlets, and the world of Disney stores.

People look forward to having an endless shopping spree in the area with over 30 shops and pure bliss entertainment just right next door to Disneyland Resort Hotel.

The Sports Culture

Anaheim City's love for sports is reasonably evident in its Angel Stadium and Honda Center. The place is home to champion teams, Anaheim Ducks, and Angel Baseball. Also, more people come to the town's big venue, especially during home-court games or any sports games like baseball and hockey.
Cons
Limited Job Market

There are limited industries where people can choose to look for work. Anaheim has a dependency on its tourism industry, making it produce jobs mostly from this sector. There is not much labor opening, resulting in a 7.5% unemployment rate.
The area also has a low income per capita with $26,185, lower than the national average.

Expensive Living

Most cities with famous tourist attraction like Anaheim has their fair share of expensive living. This high price place does not favor its residents. Paying more for your food and accommodation is ideal if you are only here for a short visit, but you need to prepare your pocket if you want to live here permanently.
Living in Honolulu
Pros
A Robust Economy

Honolulu, Hawaii, has a strong economy thanks to its tourism industry, healthcare sector, and the United States Department of Defense. Tourism is probably the most outstanding player in its labor market as it accommodates millions of tourists every year.

Altres Medical is a significant employer in Honolulu, where it provides healthcare professional jobs in the city's hospitals and clinics. Also, the salary rate in this city is highly favorable, with $34,613 per year, which is higher than the national average.

The Pristine Beaches of Honolulu

You will never appreciate Honolulu if you will not dive into one of its beautiful beaches. Hawaii is pretty famous for its outstanding beachfront and the variety of water activities you can do. One of the world's famous beaches is Waikiki Beach, which has white sand and tortoise-colored waters that will take your breath away.

Some of the finest shores you can find and explore on the long stretch of the Honolulu coastal area are Ala Moana Beach Park, Sandy Beach, and Kahala Beachfront. This beautiful attraction makes tourists come back for more.

The Pearl Harbor Heritage

Honolulu is home to Pearl Harbor, one of the most controversial historical happenings in the world. Aside from the beautiful beaches in this city, you can check out one of the most infamous world war bombings.

The remnants of Pearl Harbor have lots of stories to tell from its monuments and other cultural relics that they converted into museums and galleries. The Pearl Harbor Aviation Museum preserves every inch of the cultural incident seen in the memorial to view WWII-era aircraft, antique planes, and interactive exhibits.

Honolulu Has a Low Violent Crime Rate

Honolulu is one of the securest locations in Hawaii and even some cities in America when talking about violent crime cases. The place has a violent crime index of only 17.4%, lower than 22.7%. In Honolulu, you will only get 1 out of 500 chances to be prey to any violent assault or homicide cases.

Vibrant Nightlife in Honolulu

Honolulu is also known for its perks of having excellent nightlife for its people and tourist. You will never run out of the best bars and pubs to visit in this place. If you are looking for a great place to have a good cocktail, you can head over to Honolulu Tavern to experience a dynamic happy hour.

Bar Leather Apron is one of the most pleasing venues in Honolulu, and Skull & Crown Trading Co is a tiki bar where you can drink on a few of their delectable tropical cocktails.
Cons
The Cost of Living in Honolulu Is Relatively High

The living cost in Honolulu is considerably higher than other cities on the mainland, which is reasonable because of its perks. Honolulu's housing market is nearly 171 % higher than the national average, with a whopping $600,000 for a home.

Prices are similar to those in major metro areas like Los Angeles and the big apple. You need to prepare your wallets and pockets if you want to relocate here. After all, the city's high salary can compensate your commodity dues.

The City's Traffic is Terrible

Honolulu's traffic is still one of the worst in America. Congestion on the street is horrible and will worsen, especially during summer. Because of the place's location far from the mainland, the city has few big roads to accommodate millions of people on the island every year.
Anaheim Or Honolulu – Which Is Cheaper?
Anaheim and Honolulu share a high cost of living that exceeds the national average, but Anaheim is much cheaper than Honolulu for about 16%. The housing market in Anaheim is also favorable because it is 11.1% less costly than Honolulu.
Living in either Anaheim or Honolulu is pretty famous for its world-class attractions will make you pay more than you ever imagine.
Comparison Table of Living in Anaheim, California vs. Honolulu, Hawaii
| | | |
| --- | --- | --- |
| Living Expenses | Anaheim, California | Honolulu, Hawaii |
| Housing and Rent | 257.1% | 285.6% |
| Utilities | 97.4% | 176.3% |
| Food And Groceries | 102.5% | 138.9% |
| Transportation | 118% | 124.4% |
| Health | 95.9% | 95.5% |
| Miscellaneous | 104.4% | 122.9% |
Based on the Data of which 100 = U.S. National Average
>100 means more expensive
<100 means cheaper than the U.S. average
Housing and Rent Costs
Anaheim is somewhat lower in price, with a house value of $594,400 and a monthly lease fee of about $2,871, which is budget-friendly when you compare it to Honolulu.
A single home in Honolulu will cost you at least $660,300, and the price can rise when you choose a lovely community along the coastline, making it more expensive. An apartment will cost you approximately $3,057 per month in rent.
Utility Costs
Living in Anaheim will make you pay less in your monthly dues for electricity, water, phone, and internet. The average pay for your commodities here starts at $350.00 per month. In Honolulu, you need to prepare at least $587.79 per month to pay for your dues, or you will get disconnected from the services.
Food and Groceries Costs
Living in Honolulu and Anaheim will end up spending more money on food and groceries, but Anaheim has better deals than Honolulu. A full meal in Honolulu will set you back $95, whereas the same product in Anaheim will charge you $62.
Transportation Costs
Anaheim has lower subway and bus fares than Honolulu. A monthly bus ride in Honolulu will charge you roughly $70, whereas the same mode of transit in Anaheim will charge you around $69.
Health Care Costs
Honolulu has health care fees that are 0.3% cheaper than in Anaheim. The slight discrepancy of the percentile is because of the varying cost that both cities charge to their people regarding medical programs and other hospital diagnostics.
Taxes
Honolulu has a 4.5 % sales tax and an 8.3 % income tax. Meanwhile, the sales tax in Anaheim is 7.8 %, with an income tax rate of 8%. However, Honolulu's sales taxes are lower than the national average.
Is Anaheim Safer Than Honolulu?
Both Anaheim and Honolulu are less dangerous cities; however, Honolulu is safer in violence cases than Anaheim. According to FBI data, Honolulu has a violent crime score of 17.5, which is significantly lower than Anaheim's 22.3.
Honolulu is one of the country's most secure metropolitan areas regarding low violent crimes. Both cities have relatively low violence cases recorded in the FBI database. However, property crime rates are above average, particularly in the Waikiki area.
In Honolulu, the possibility of becoming a victim of violence is 1 in 500, while in Anaheim, the odds are 1 in 279.
Is Anaheim Bigger Than Honolulu?
Honolulu has roughly 341,555 people in its 60.3 square miles, making it a bit larger than Anaheim's community of 353,676 people in its 50.3 square miles. After all, Honolulu sits on one of Hawaii's large Islands.
Honolulu is a little too far from the mainland of the United States; thus, it is understandable that the population density of this city is 5,641.4 people per square mile. On the contrary, Anaheim has a small land area for its growing population, making it denser than Honolulu, with 7,028.4 people per square mile.
Is Anaheim warmer than Honolulu?
Anaheim has about 280 sunny days per year, while Honolulu has 271. Both cities have beautiful weather, but Anaheim has more sunlight and hot temperatures that frequently exceed 100 degrees Fahrenheit, making it warmer than Honolulu.
Anaheim and Honolulu have beautiful weather with no snowfall. Anaheim has an occasional warm day that typically can go as high as over 100 degrees Fahrenheit.
Honolulu's summer temperatures are pleasant and comfortable yet never hot, averaging 88 degrees Fahrenheit at sea level. Winter temperatures also in this location are pleasant but never harsh.
Is Anaheim Better Than Honolulu?
Living in Honolulu can provide you with a reasonable standard of living due to its thriving economy, where it generates employment opportunities that pay well. Honolulu City has a beautiful view and a myriad of enjoyable stuff to do, making it a better option than Anaheim. Meanwhile, Anaheim is a fantastic tourist spot that is also a secure location.
Living in Honolulu, Hawaii, is a great deal because it is a paradise. You will live in a city with a beautiful scenic view paired with good employment options that creates the balance to maintain the city's high living cost.
Anaheim is also an excellent place to explore because of Disneyland Resort, plus it is one of the most secure places in America. However, the high living cost in the city is not ideal, and the average salary is lower than the national median.
Anaheim and Honolulu are expensive cities because of their tourist attraction. However, the variety of income-generating industries of Honolulu, which provides more employment options, outwits the tourism reliance of Anaheim.
Anaheim, California versus Honolulu, Hawaii– Where do you consider moving? Let me know your thoughts below.