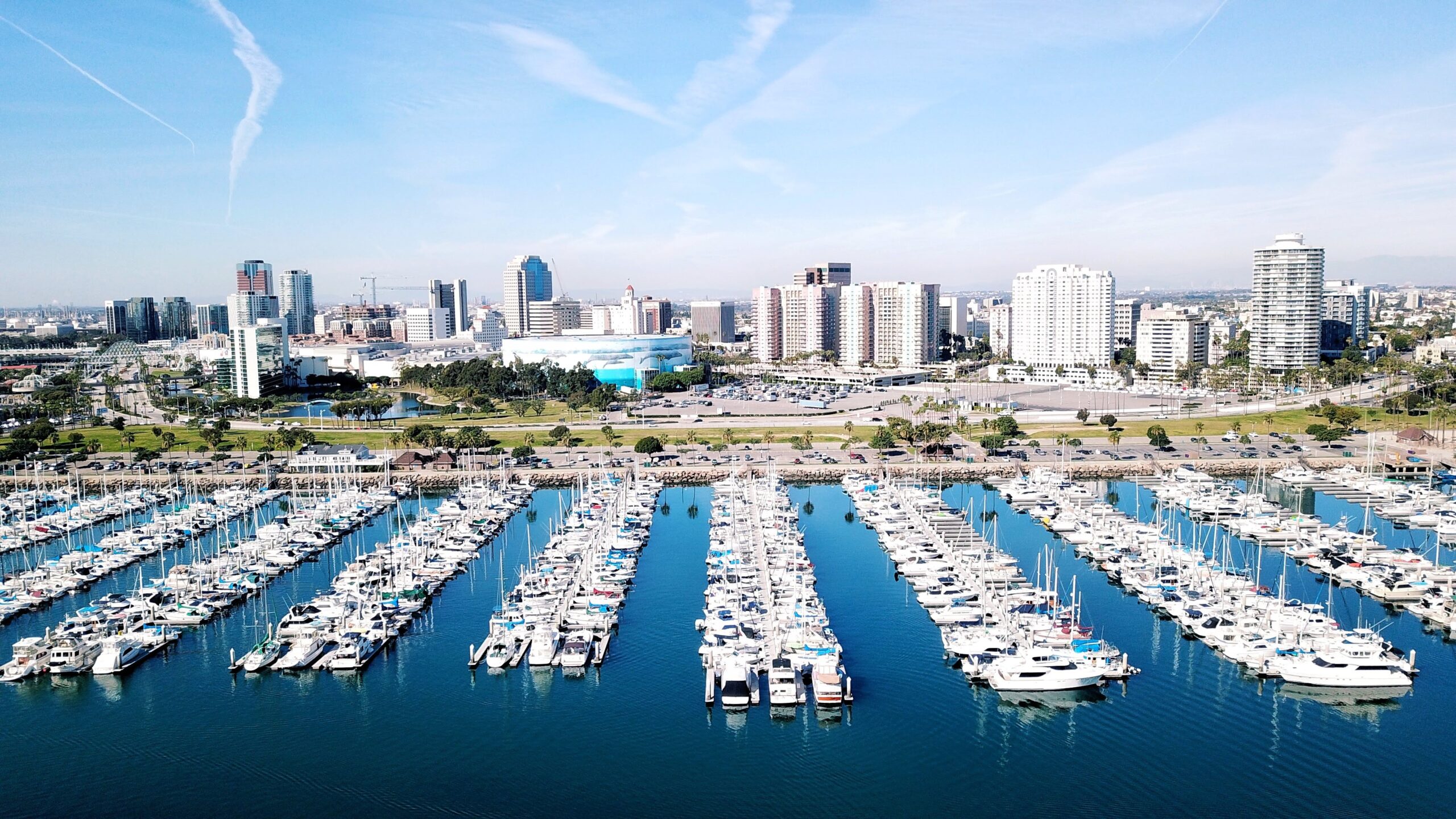 Lower cost of living, unemployment, and crime rate make Anaheim a better place to live than Long Beach. On the contrary, Long Beach has a beach vibe with cooler summers. Nevertheless, the town faces a job shortage.
Long Beach inhabitants enjoy a combination of urban and suburban living, with most people renting their houses. There are several pubs, restaurants, coffee shops, and parks in Long Beach.
Aside from its well-known amusement parks and beautiful cityscape, Anaheim offers a variety of fascinating stuff. From its major employer to its renowned residents who once resided in this area, the city never fails to impress.
Long Beach and Anaheim share the same Californian sun. Nevertheless, residing in Anaheim helps you save more and live smoothly than in Long Beach.
What are the Pros and Cons of Anaheim vs. Long Beach?
Long Beach is a diverse town with astounding beaches and vibrant neighborhoods, but living costs are too high. Meanwhile, Anaheim is an accessible metropolis with reduced pricing, yet the economy can heavily depend on tourism.
Living in Long Beach
Pros
Location

Despite its tiny size, it is nonetheless quite close to Los Angeles. It takes only 25 minutes to drive from the city to downtown Los Angeles.

You may use the benefits of both cities due to their closeness. From Long Beach, you may quickly access Los Angeles' unrivaled entertainment scene, obtain a job, dine at its finest restaurants, and so on.

Of course, Long Beach has an assortment of restaurants and shopping. If you become bored of the city, though, Los Angeles is just a short drive away.

Parks and outdoor spaces

Long Beach is known for its active lifestyle and adventurous community, and it is complete with parks and outdoor places that locals enjoy.

There is always something to do outside, with miles of natural green areas, walking and bicycling routes, dog parks, playgrounds, and picnic shelters.

Spending time outside is a part of everyday life in Long Beach, with bright and mild weather virtually all year. Join a leisure sports team or plan a fun day with the family.

Long Beach offers a range of attractions that locals should visit at least once to celebrate its unique culture and innovation.

Astounding beaches

Many beach activities are available in this California coastal hamlet known after its seven-mile stretch of magnificent beaches.

Belmont Shore Beach offers swimming, sand volleyball, and sunbathing. However, between Anaheim and Long Beach, the latter is closer to the astounding beaches in California.

Long Beach's Mother's Beach has a secure swimming area, toys, green spaces, and refreshments ideal for children.

Catch your breath while jogging at Junipero Beach. Alternatively, grab a few friends and enjoy the sunset after kitesurfing at Long Beach City Beach on Ocean Boulevard.

Diverse town

Long Beach is home to sizable Mexican, Cambodian, and other immigrant communities. They bring their culture with them, and you can expect to enjoy the delicious local cuisine as well as learn about their intriguing traditions.

Long Beach has a lot of diversity, whether it's culturally or ethnically. The city is one of the country's most varied.

You will find the city warm and friendly no matter who you are. Its food shows this diversity as well. Traditional foods from practically every part of the globe will be available to you.

Neighborhoods

Each of Long Beach's various communities has something unique to offer. Downtown is alive and vibrant, but Naples and Belmont Shore have a beachy feel.

Historic areas like Belmont Heights, Rose Park, and Bluff Heights are pretty walkable.

To consider other great Long Beach neighborhoods are Bixby Knolls, Lakewood Village, Alamitos Heights, Park Estates, Los Altos, and El Dorado Park Estates.
Cons
Costly than Anaheim

The cost of living in Long Beach, for example, is 43% more than the national average.

Long Beach isn't the most expensive city in the state, but it's far from the cheapest.

Housing expenses in Long Beach are 127% more than the national average. Meanwhile, utility expenses have climbed above the national average by 8%, transportation costs have increased by 31%, and grocery prices have increased by 12%.

A single adult needs to earn around $20 per hour to live comfortably in Long Beach. A person with three children and raising a family has to make more than $70 per hour to pay everyday expenses.

The average annual income for a family of four in Long Beach is around $130,000.

Unemployment rate

The work market may not appear to be that great right now, with a high unemployment rate of 6.7%.

Suppose you are looking for a job upon relocating to the city. In that case, it may take a bit longer than usual because the unemployment rate is higher than the national average of more or less 7.16%.

Compared to Anaheim's 4.30% rate in December 2021, Long Beach faces a job shortage.
Living in Anaheim
Pros
Accessible

If you want to go on vacation to other areas, Anaheim is a great spot to live. Anaheim's central position is beneficial for those who work in adjacent cities.

Los Angeles, Long Beach, Newport Beach, and Santa Ana are all conveniently accessible to Anaheim residents. If you work in one of these places, you can commute from Anaheim to the others.

Although the town is not on the coast, it is easy to access the beach.

Multicultural metropolis

Anaheim is well-known for its inventiveness. The fanciful nature of Disneyland and California Adventure, along with the area's art and cultural vibrance, make it an ideal destination for artists, creatives, and families.

Because it is home to Disneyland, tourism is plentiful, and Anaheim residents mix with tourists from all over the world who come to enjoy the theme park's rides and ambiance.

Anaheim is diverse, with historic downtown districts, shopping malls, and upscale residential developments strewn across the city.

There is a wide range of cultural and ethnic variety throughout the city. Residents like having a good time and admiring the creativity of others.

Museo Museum and Cultural Center

This museum and cultural center, housed within the historic downtown Carnegie Library, exhibits the region's history and artistic expression. The museum's Carnegie Gallery, which displays Anaheim's eye-catching, walk-through history, is free to enter.

Regional artworks rotate among the museum's other galleries, and the old building's brick exterior is worth seeing on its own. Teens may participate in special school activities at Museo, and the entire venue is ideal for private parties.

Outdoor recreation

While the hustle and bustle of city life are exciting, it is also vital to breathe fresh air from time to time.

In Anaheim, you may explore a variety of parks, walking trails, lakes, playgrounds, natural preserves, skate parks, tennis courts, and dog parks.

Spending time outside is a part of life in Anaheim, and many residents like doing so on nights and weekends.

Although Anaheim is not directly on the coast, it is only a thirty-minute drive from Huntington Beach and Long Beach, making it ideal for a day at the beach.

Adventure City

Every time you visit Adventure City, you may get lost in time for a few hours, thanks to the thrills and chills that await you within the park.

You won't find the flips-and-dips found in giant parks at this moderately sized amusement park.

However, there is a personal element to the general design and flow from ride to ride.

When considering what to do or where to go in Anaheim, one of the certified tourist attractions, but as you ride the "Balloon Race" or watch your kids grin as they ride the "Giggle Wheel," you'll quickly recall the significance of quality over quantity.
Cons
Traffic due to overcrowding

Overcrowding results from the city's population density being too high for its tiny land area.

Furthermore, Anaheim attracts a large number of visitors each year.

Overcrowding is an issue that causes traffic congestion: the more people in a limited area, the busier the roadways become. Every day, Anaheim's roads become congested due to this issue. In the city, there is likely to be a lot of traffic.

Dependent on tourism

Anaheim's economy appears to be on the upswing.

The city's reliance on tourism, on the other hand, has a detrimental impact on the local economy and employment market.

This heavy reliance on tourism might be troublesome since any unexpected incident, such as the COVID-19 pandemic had a severe economic impact.

It has an impact on the environment and the cost of goods.
Anaheim or Long Beach – Which is cheaper?
It is 5.1% less expensive to live in Anaheim than Long Beach. Prices of housing and transportation are higher in Long Beach.
| | | |
| --- | --- | --- |
| Living expenses | Anaheim | Long Beach |
| Housing | 257.1% | 261.1% |
| Food & Groceries | 102.5% | 101.9% |
| Health | 95.9% | 89.4% |
| Utilities | 97.4% | 97.1% |
| Transportation | 118.0% | 157.9% |
Data is 100 = US National Average
> 100 means more expensive than the national average
< 100 means cheaper than the national average
Housing
The cost of housing in Anaheim is 1.5% less expensive than in Long Beach. The median house value in Anaheim is $571,528. In comparison, Long Beach has a median house price range of around $788,384.
Food & Groceries
Long Beach's food and grocery prices are slightly lower than in Anaheim. 1kg of onion in Long Beach is only $2.57, compared to $3.00 in Anaheim.
Health
Health-related expenses are 7.3% more costly in Long Beach compared to Anaheim. In Anaheim, a doctor's appointment costs $108. Meanwhile, it only costs $79.3 in Long Beach.
Utilities
The utility fees in Anaheim are marginally higher than in Long Beach. A 50 Mbps internet plan in Long Beach costs $63.4 compared to Anaheim's $74.
Transportation
The transportation fees in Long Beach are more pricey. One liter of gasoline only costs $0.89 in Anaheim, whereas it costs $0.91 in Long Beach.
Is Anaheim bigger than Long Beach?
Long Beach is slightly bigger in area size and much denser than Anaheim. The city also has a higher unemployment rate than Anaheim. Thus, Anaheim is less crowded and has a better economy.
Long Beach has an area size of 80.35 mi² as of 2022, with a denser population of 12,488,000. At the same time, Anaheim has a slightly smaller area size of 50.88 mi² with a population of 350,986.
With only a 4.30% unemployment rate in December 2021, Anaheim offers more employment to its residents. Meanwhile, Long Beach suffers from a higher unemployment rate of 6.7%.
Even though Anaheim is overcrowded, Long Beach is 36 times more crowded, with a slightly bigger size of only 1.56 times.
Thus, Anaheim is less populated and has a better economy than Long Beach. However, the latter has a marginally bigger land size.
Is Long Beach safer than Anaheim?
Long Beach has a safety scale of 42.90, while Anaheim has a higher ranking of 46.76. In addition, Long Beach has a higher crime than Anaheim, making Anaheim safer than Long Beach.
Anaheim has a lower crime index of 53.24 compared to Long Beach's 57.10. At the same time, Long Beach has a lower safety scale than Anaheim.
In Long Beach, the chances of being a property crime victim are higher; it is one-in-198. The stakes are lower in Anaheim, with only one-in-279 possibilities.
Therefore, Anaheim is safer than Long Beach.
Is Anaheim hotter than Long Beach?
Anaheim has a higher maximum temperature of 85°F with longer summers. Contradictorily, Long Beach has shorter summers with a slightly lower high temperature of 82°F. Anaheim is, hence, hotter than Long Beach.
Anaheim has a lower annual average of 280 sunny days. On the other hand, Long Beach has a higher yearly average of 287 sunny days.
Summers in Anaheim are short, hot, and dry. Winters are also lengthy, cold, and somewhat depressing. Anaheim's temperatures usually range from 46°F to 85°F throughout the year. Furthermore, temperatures seldom fall below 39°F or rise above 94°F.
Summers are short, warm, arid, and clear in Long Beach, while winters are long, chilly, and partly overcast. The temperature ranges typically from 48°F to 82°F throughout the year, with temperatures seldom falling below 42°F or rising over 91°F.
Long Beach and Anaheim are close, so their climates don't differ significantly. Nevertheless, Long Beach's warm temperatures only happen from mid-June to mid-October compared to Anaheim. In contrast, Anaheim is hot from mid-June to the end of October.
Hence, Anaheim is hotter than Long Beach.
Is Anaheim better than Long Beach?
Long Beach is for people looking for a diverse city with astonishing beaches. However, Anaheim is better than Long Beach. Anaheim offers great employment, secure surroundings, and cheaper living expenses.
If you're considering relocating to Long Beach, you'll be pleased to learn that it is a gorgeous city.
Long Beach offers a varied culture, access to beaches, closeness to Los Angeles, and possibilities. However, it has flaws such as high living costs, high crime rates, heavy traffic, and natural catastrophe threats.
On the contrary, Anaheim provides abundant career opportunities, a safer place, and lower prices. Although the city relies heavily on tourism, its economy is still flourishing compared to Long Beach.
Therefore, Anaheim is overall better than Long Beach.
Long Beach versus Anaheim – Where do you consider moving? Let me know your thoughts below.