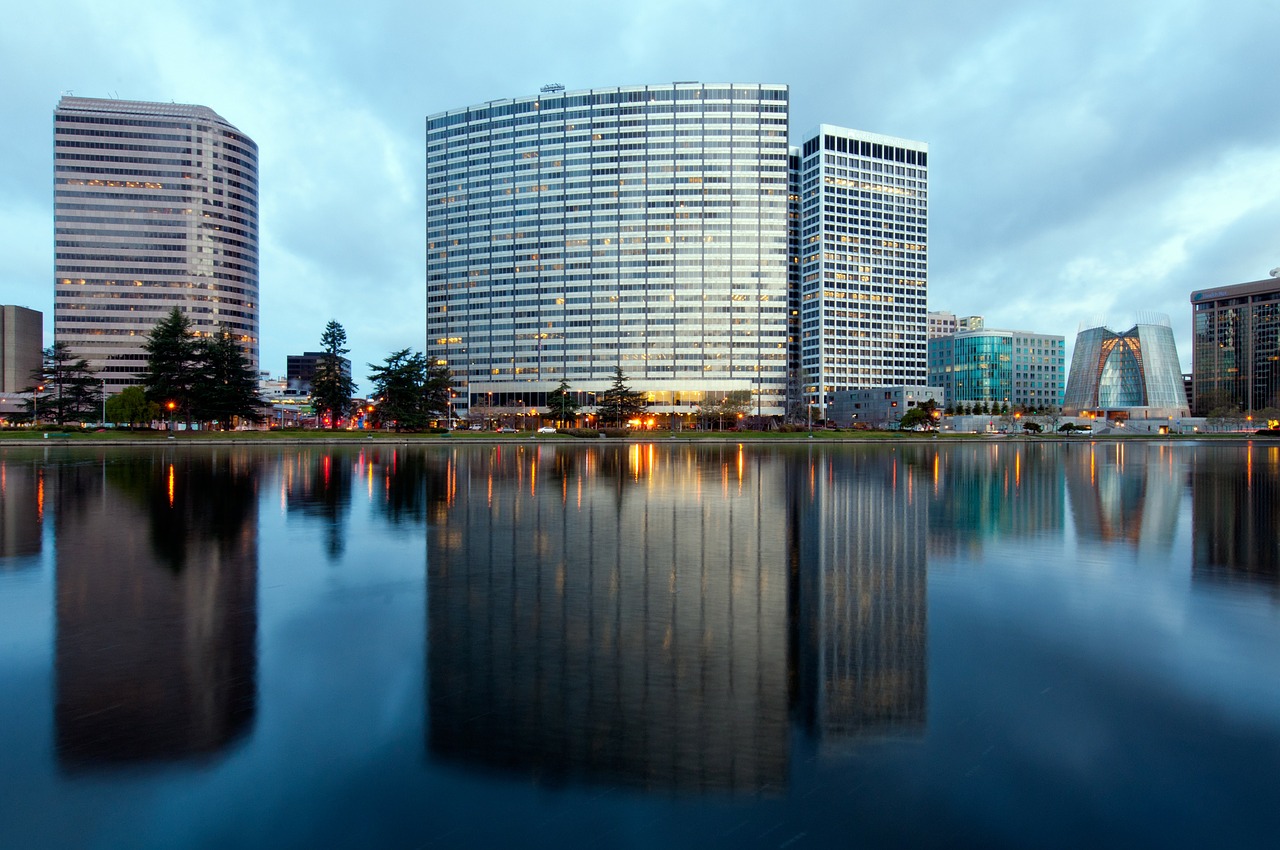 Oakland is one of the significant Port Cities in America, having a considerable impact on international trade and commerce, has a great transit link and premium education, making it the best place to raise a family and seek a good lifestyle. On the contrary, Anaheim has outstanding tourism and hospitality sector and a vibrant neighborhood with an excellent safety index.
Oakland, California, is one of America's leading port cities and busiest places for trade and commercial businesses, which provides many employment opportunities and favorable job growth. The urban area has a unique transit system, making it reasonably accessible to other big cities. Also, the site has fine weather, which complements its numerous street fairs and summer festivals.
Anaheim, California's expanding global attractions are top-notch. The city is home to big venues and vibrant recreational sites that bring vitality to the neighborhood. The metropolitan area also has a secured environment paired with lavish greenery that everyone will enjoy.
It's challenging to select between the two Californian cities. However, if you want to pick the place that will fit your needs and wants, we list down the real pros and cons of the two urban areas to make things easier for you.
What Are the Pros and Cons of Anaheim Versus Oakland?
Oakland's best asset is its growing port hub, great transportation link, and vibrant art scene, but living in this place is rather costly than you imagine. On the contrary, Anaheim's most vital point is its expanding tourism sector, which gives people adequate employment opportunities, but the high living expenses are also a setback.
Living in Oakland
Pros
Growing Port Hub in the West Coast

Oakland is a significant West Coast harbor and the fifth heaviest freight traffic in the United States. The Port of Oakland handles 99% of all container-based goods passing through Northern California, amounting to $41 billion in global trade.

The Port of Oakland was a pioneer in the innovations of Intermodal Container-based Shipping, generating billions of dollars in annual revenue. There are nearly 200,000 employees related to marine cargo transport in the Oakland area, with an average yearly salary of US$91,520.

Excellent Transportation Link

Oakland's pride is its efficient and effective transit system that brings convenience to everyone. The city is near three major airports and has a long-distance and regional train system. Interurban buses transport residents in and around Oakland, and the Bay Area Rapid Transit System serves the entire metropolitan area.

The urban district also has cost-effective bike transportation benefits, such as bike trails accommodating over 2,000 bikes. You can enjoy the variety of its means of transport at any time and from any location.

Proximity to Other Big Cities

Oakland's proximity to nearby cities is a great deal. In minutes, you can be in the core of San Francisco, Pleasanton, Berkeley, or other urban districts in the United States.

A day trip will take you to nearby cities in California such as Alameda, Albany, and even San Leandro. You can enjoy and explore another central metro area without having to move your residential location if you want to live in Oakland.

Vibrant Art Scene in the Metro

One of the most fantastic finds in Oakland is that you never ran out of art appreciation. The place has one of the best architectural spotlights and is home to many artistic people. The city is the abode of one of the most beautiful modern-day churches globally, the Cathedral of Christ the Light.

Oakland is one of the Bay Area places with the highest per capita concentration of artists in the country. The urban district is home to remarkable arts alleys, community murals, museums, art festivals, and galleries.
Cons
You Will Pay More in Oakland

Oakland is a small city, yet the cost of living here is a negative thing you ought to bear. The place has a high cost of living expenses that surpasses the national level.

Its housing median has an average of $731,000. Utilities, transportation, and food expenses are also above the national standard. If you have a low paycheck, chances are, you will find it difficult to sustain a lifestyle here.

High Crime Level

One of the ugly things about living in Oakland is its increasing crime level. Its violent and property-related crime index is double the national average, and these numbers are pretty unappealing. Criminal offenses here are one of the city's constant problems.
Living in Anaheimh
Pros
Expanding Tourism and Hospitality Sector
There is no surprise how Anaheim is famous for its growing tourism industry. The place is the hometown of Disneyland, the beginning of Walt Disney's dream amusement park. There are also globally-recognized attractions in this place, where it contributes to the growing economic drive of the urban area for around $7 billion in its annual statistics.
The city aims to expand its horizon in this growing industry, thus having old places renovated to suit the modern trend like the Anaheim Packing District. There are also cheaper theme parks to appreciate with extreme rides like Adventure City. However, nothing beats the billion-income generation of Disney when it comes to this category.
Acceptable Employment Prospects
As the tourism industry flourish, so does the employment opportunities in the premises of Anaheim. There are over 18,000 employees in Disneyland Resorts alone, and it will still increase as the place expand.
The place has a good prospect for growing industries aside from its hospitality sector. Big companies offer an excellent labor option in the city, like AT&T, Anaheim Memorial Medical Center, Kaiser Foundation, and L-3 Communications.
Anaheim's Notable Venues
Anaheim is pretty famous for its winning Anaheim Ducks and Los Angeles Angels. If you happen to come across one of the team's homecourt tournaments, you will surely head to the city's notable large venues in the form of Angel Stadium and Honda Center.
The big A's capacity is almost 42,000, while the Honda Center can cater to up to 18,000 people, while its indoor theater can occupy 8,400 spectators.
The Luscious Green Spaces in The City
There are vast green spaces in the town of Anaheim, and its gorgeous weather makes it even more alluring. The city homes 57 parks about 800 acres wide and many nature preserves, including the Oak Canyon Nature Center. If you want to relocate to a place with lots of options and spaces to have your recreational activities, then Anaheim is the one for you.
Cons
Surging Living Costs

One of the significant setbacks of a tourism-centered city is its high living costs which Anaheim suffers. The place's average cost of living index surpasses the national level, and its housing market is unlikely favorable. You need to have at least $500,000 to purchase a good home and $2,000 for a monthly rent.

Inefficient Transportation Link

Anaheim city still has an ineffective mode of transportation. The town has a bus system that will carry you around, but the routes are limited to some noteworthy neighborhoods. No rail system could help people commute, which is bothersome considering millions of people flocking the town during peak season.
Anaheim Or Oakland – Which Is Cheaper?
Anaheim is 12.7% cheaper than Oakland in terms of its cost-of-living category. Also, Anaheim's housing market is 18.7% less expensive than Oakland's price level.
Both Californian cities have a high cost of living. You need to have a good and stable career to sustain a good lifestyle if you want to live in either Anaheim or Oakland.
Comparison Table of Living in Anaheim, California vs. Oakland, California
| | | |
| --- | --- | --- |
| Living Expenses | Anaheim, California | Oakland, California |
| Housing and Rent | 257.1% | 316.3% |
| Utilities | 97.4% | 90.3% |
| Food And Groceries | 102.5% | 111.3% |
| Transportation | 118% | 125.8% |
| Health | 95.9% | 103.5% |
| Miscellaneous | 104.4% | 111.6% |
Based on the Data of which 100 = U.S. National Average
>100 means more expensive
<100 means cheaper than the U.S. average
Housing and Rent Costs
Anaheim and Oakland will make you pay a lot when you want to have accommodation here. Both Californian cities have whopping housing and rental prices that exceed the national average. However, Anaheim is 18.7% less expensive, having a median price for its home of $594,400 and a rental fee of $2,871.
Meanwhile, Oakland's luxury home value is $731,400, while a monthly rental fee will cost you $2,730. The place has a whopping price level and can even go up to a million when you pick a good neighborhood.
Utility Costs
In terms of utility expense, Oakland is 7.1% cheaper than Anaheim. However, both cities have an excellent percentile that does not exceed the national standard. For example, an internet connection with unlimited data in Oakland only costs $63.56 per month, while the same service in Anaheim will cost you $69.50.
Food and Groceries Costs
Anaheim is around 8.8% cheaper than Oakland when discussing purchasing foods and groceries in their areas. However, both Californian cities have a considerably high percentile in this category. Regular milk with a loaf of bread prices around $4.19 in Anaheim, while the same goods cost $5.06 in Oakland.
Transportation Costs
In terms of transit fees, including public carrier fares, Anaheim is 7.8% less expensive than the prices in Oakland. There is efficient mass transit in Oakland; thus, this city can get a high fare. The monthly regular bus pass In Anaheim will cost you $69.00, while Oakland's price for the same service is $95.00.
Health Care Costs
Medical care in Anaheim is 7.6% cheaper than in Oakland. Anaheim's percentile, though, does not exceed the national median; thus, a reasonable expense for your health is lower, while Oakland's average surpasses the nation's standard.
Taxes
As per Californian State, Anaheim and Oakland share the same income tax of 8%. However, Anaheim has a sales tax of 7.8 %, while Oakland has a staggering 9.3 % sales tax.
Is Anaheim Safer Than Oakland?
Anaheim has a favorable safety index of 14%, creating a more secure neighborhood than Oakland's 1%. The city also has a fair violent crime index of 22.3, relatively lower than Oakland's 75.5.
Anaheim is a relatively safe city. It also has numerous neighborhoods that are near the police department. The city's average annual criminal records are 10,122. The safest community in this city belongs to the Summit of Anaheim Hills.
Meanwhile, Oakland's criminal offenses reached an annual record of 28,668. Its violence-related assault has a 75.5 index and property-related crime score of 81.2. The city has a high percentage of violence and real-estate-related offenses, where its numbers are double the national median.
Is Anaheim Bigger Than Oakland?
Oakland is slightly larger than Anaheim in terms of population and mainland area. Oakland's 424,891 people reside in its 55.3 square mile land stretch. Meanwhile, Anaheim has inhabitants of around 353,676 in its 50.3 square miles.
Oakland is the most significant urban district in the East Bay area of California and Alameda County. Two-thirds of this metropolitan location lies on the East Bay flat plain, with the remaining one-third moving up into the East Bay range's foothills and hills.
In contrast, Anaheim is part of the greater Los Angeles Metropolitan Area, sharing a considerably small unit. The city stretches to 91 freeway, and its city limits extend almost the entire length of Orange County, from Cypress in the west to the Riverside County line twenty miles east.
Is Anaheim Warmer Than Oakland?
Both Californian Cities have great weather; however, statistically speaking, Anaheim is warmer than Oakland. Anaheim City has around 280 sunny days, a good 9.3 comfort level index, and a UV score of 5.9. On the contrary, Oakland receives 260 sunny skies with an 8.7 comfort level score and UV index of 5.4.
Anaheim is a warmer place when compared to Oakland's facts and figures. The city has a favorable climate temperature during warm days with around 100 degrees Fahrenheit with no snowfall. Meanwhile, Oakland's figures do not vary much from Anaheim's, which is still favorable, and both places do not experience extremes in their climate.
Is Anaheim Better Than Oakland?
Oakland's international trade relations provide a vast employment opportunity, and salary is favorably high. These perks make it a better place for everyone that wants to establish a good lifestyle living in an economically driven community. Anaheim is best for people that want to be neighbors with many tourist spots while enjoying the city's secured area.
Oakland's economy is rising, evident in its busy harbor. It also has an expanding cultural scene and high-quality schools ideal for your family. The urban area was ranked fourth in the metroplex with professional opportunities, making it one of the best cities to start a career.
Anaheim is somewhat reliant on its tourism industry, where most of its employment opportunities are related to that category. Still, the city has a peaceful neighborhood with green sceneries even though living here is slightly expensive, and the salary is not that appealing.
Oakland has a thriving commercial trade industry, with many benefits that outweigh its cons. Anaheim has a great potential for job growth, especially if it can lure other big companies to plant roots there.
Anaheim, California versus Oakland, California – Where do you consider moving? Let me know your thoughts below.