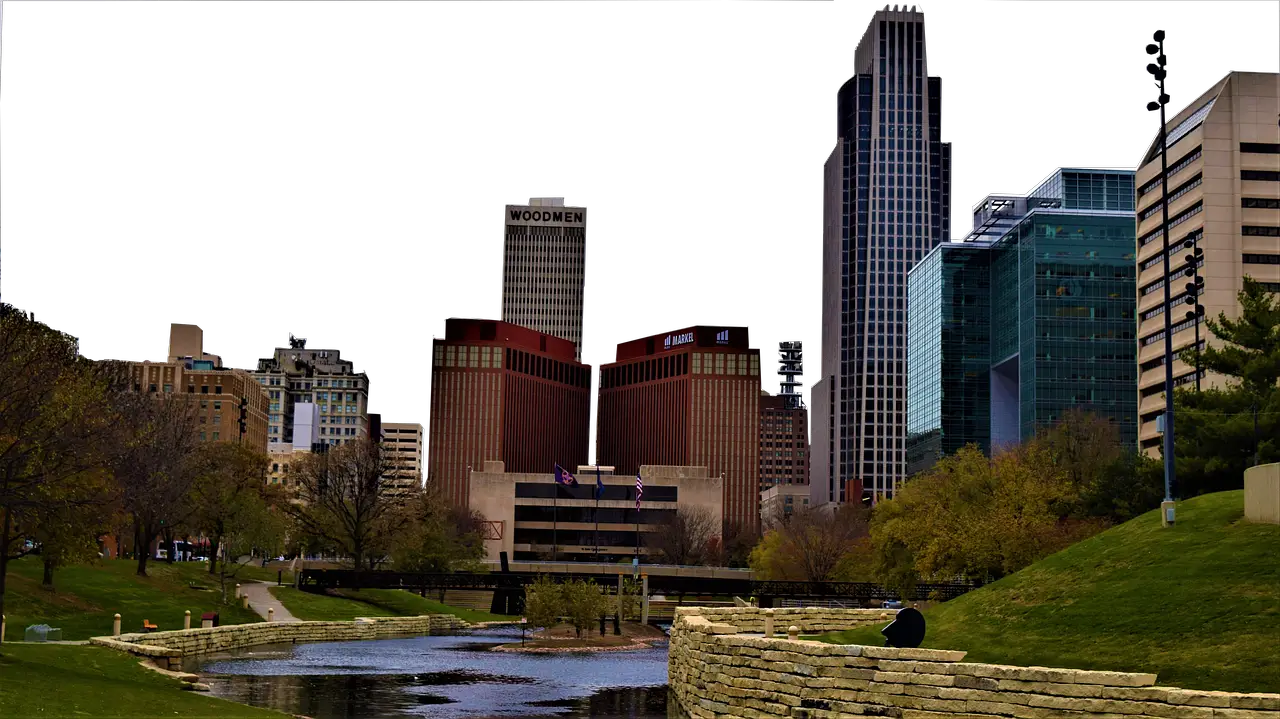 Omaha is the best place to live than Anaheim. Anaheim is a great city, but its economy and quality of life are not as great as Omaha's. In Omaha, the prices are low, and the work opportunities are abundant with friendly locals, making it a livable city.
Omaha, located near the Iowa border in Nebraska's extreme eastern area, is full of surprises. With many museums, performing arts venues, and distinctive festivals, the city, offers diversified art and cultural milieu.
If you want to shift or widen your professional path, there are plenty of options. Omaha is also a friendly city that welcomes new enterprises.
Anaheim is known for its terrific tourist spots. The city boasts many lovely areas with stately homes and well-kept yards brimming with flowers and plants.
Comparing the two cities, Omaha offers a lot more advantages than Anaheim.
What are the Pros and Cons of Anaheim vs. Omaha?
Omaha is one of the USA's best cities thanks to its developing tech industry and overall livability ranking, but its location is not desirable. Contradictorily, Anaheim relies on tourism, affecting its economy and living costs, yet the city offers more excellent weather.
Living in Omaha
Pros
"Silicon Prairie."

Omaha is part of the developing "Silicon Prairie," where big names like Microsoft and Apple are eyeing new investments due to its low cost of living and ample space.

Some Fortune 500 and Fortune 1000 companies are in the city. Berkshire Hathaway, the investment powerhouse whose founder Warren Buffett originates from Omaha, is one of them.

Omaha boasts the country's lowest unemployment rate, at 2.0% in December 2021, which is much lower than the national average.

The town's attractiveness for major firms wishing to relocate to a city with a bit more breathing room may have something to do with this.

Great academic rankings

Omaha rates highly in both national and state rankings regarding education. Moreover, Omaha has one of the highest percentages of public school graduation in the country.

The metropolis was placed 7th in protecting student safety and 11th in academic excellence. In comparison to other large cities, the rate of student dropout was likewise much lower.

There are also several excellent community institutions in the area that provide students with various possibilities.

Private colleges and universities such as Creighton University and the University of Nebraska Omaha are excellent examples.

Livable city

Compared to other cities, this city's overall livability ranking is above average.

For example, the city's economy is stable, especially for the IT industry. It was recently named first among prospective tech hubs. That should be sufficient to encourage you to start your own tech business.

Furthermore, Omaha was voted 25th among the best city to live in, 109th best places to retire, and 15th cheapest city to live in the United States.

Omaha is a beautiful place to live because it offers a diversified variety of job opportunities, easy commutes, and a wide selection of housing options.

Entertainment for all ages

There are various things to do in multiple communities, whatever your age is. Your weekends will be well spent, with everything from art galleries to children's museums. Depending on your personality, you also have a variety of options.

Visitors to Omaha's Botanical Garden, Lauritzen Gardens, may learn about various flowers and plants while connecting with nature. If you appreciate art, pay a visit to the Joslyn Art Museum, which houses works by multiple painters.

Friendly citizens

There aren't many frowns since everyone considers themselves quite fortunate to live here. Omaha is also one of the top 30 most caring communities.

People living in Omaha are not difficult to approach. It's so easy to begin a discussion with your neighborhood grocer, Uber driver, or dog walker on the street. You will see yourself getting along well quickly in this community.
Cons
Intense weather

Living in Nebraska means being exposed to a broad range of temperatures in general. Due to the intense humidity, it may be downright unpleasant at times. Thankfully, it isn't always so hot; it only happens a few times a year.

Temperatures drop to the other end of the range in the winter, making it highly chilly.

Location

Naturally, there are no coastlines nearby because Nebraska lies in the country's middle. While there are several lakes, they cannot compare to the beaches along the coast.

The views in Omaha may not be up to your liking. If you want to see the views of the mountains or other things, you'll have to go to other cities.

The flatlands and spectacular sunsets are appreciated by those who have lived there for a long time. It is not, however, suitable for everyone.
Living in Anaheim
Pros
Dining alternatives

Anaheim has a wide range of dining options, from economic street food to fancy dining establishments. You'll taste flavors from all around the world, both familiar and unfamiliar.

The Anaheim Packing District is one of the best places to dine and drink in the city. There are two levels of culinary ecstasy here, each with a different cuisine to offer.

There are waffle dogs, fish, chips, homemade ice cream, freshly squeezed juice, and Indian, Syrian, and Japanese cuisines to choose from in this area.

Disneyland Resort

Anaheim's biggest attraction is also known as the "happiest place on Earth." Disneyland Resort in Anaheim is a fantastic area for youngsters to explore, thanks to the combination of Disneyland Park and the nearby Disney California Adventure Park.

Adults won't be left out of the excitement since the many distinct worlds of Disneyland are so detailed that it's easy to lose track of where you are. Because of the park's large number of themed regions, it's also a good idea to have a map.

Splendid schools

For families, Anaheim has a lot of splendid schools you can enroll your kids. Anaheim has 74 public schools and some private schools, including Fairmont Preparatory Academy.

Oxford Academy, located in the Anaheim Union High School District, is the best high school in California and the 11th best in the US.

Nice weather

Anaheim has beautiful spring and summer weather. Summer days are often in the 80s, with days in the 70s and 90s.

Temperatures in the winter plummet to the 40s and 50s, although during warm climates, midday temperatures can reach the low 70s.

Anaheim only gets 35 days of rain or snow each year, making it a fantastic area to live in if you don't like rain or snow.

Anaheim's Honda Center

Honda Center, an indoor arena, is jam-packed with pleasure during the hockey season since it is home to the Anaheim Ducks of the National Hockey League.

Tickets to games are inexpensive, and the enthusiasm generated by the audience may last for several days. Aside from hockey games, the Honda Center hosts various other athletic events, such as professional wrestling and USA basketball.

The Honda Center hosts national touring concerts and comedy acts, festival events, and family-friendly entertainment throughout the year.
Cons
Relies on tourism

Anaheim has an excellent economy. Nevertheless, the metropolis leans a lot on its tourism industry. The area has abundant tourist spots to explore, such as Yorba National Park, Honda Center, and the famous Disneyland.

Disneyland alone employs thousands of people, which is a big help to the economy of Anaheim. However, this heavy reliance on tourism has its disadvantages. Due to the pandemic, the tourism industry has struggled to cater to tourists.

Compared to Omaha's 2.0% employment rate, Anaheim's 4.30% is higher, which means the latter has fewer job opportunities than its counterpart.

Higher cost of living than Omaha

Anaheim is not the ideal spot to go if you want to save money. The city was named one of the top five worst places in the United States.

In addition, Anaheim is less expensive than New York, London, and Los Angeles, among other big cities in the United States. Despite this, the city is around 69% more expensive than Omaha.

Anaheim's closeness to Los Angeles and numerous prominent attractions makes it a popular tourist destination and appealing city, which explains its high cost.
Anaheim or Omaha – Which is more expensive?
Anaheim's overall living costs are 69.5% more expensive than Omaha's. For example, housing expenses in Anaheim are 236.1% higher. As a result, Anaheim is more costly compared to Omaha.
| | | |
| --- | --- | --- |
| Living expenses | Anaheim | Omaha |
| Housing | 257.1% | 76.5% |
| Food & Groceries | 102.5% | 96.6% |
| Health | 95.9% | 130.3% |
| Utilities | 97.4% | 98.6% |
| Transportation | 118.0% | 81.7% |
Data is 100 = US National Average
> 100 means more expensive than the national average
< 100 means cheaper than the national average
Housing
Housing expenses in Anaheim are 236.1% higher than in Omaha. Anaheim's median home value is $571,528, while Omaha's median home price is only $308,136.
Food & Groceries
Anaheim's food and grocery prices are also more costly than in Omaha. 1kg of potato in Omaha is only $2.15, compared to $4.47 in Anaheim.
Health
Healthcare costs in Anaheim are 26.4% cheaper than in Omaha. In Anaheim, a doctor's appointment costs lower, for $108 only. At the same time, it costs $111.37 in Omaha.
Utilities
The utility costs in Omaha are higher than in Anaheim. Compared to Omaha, an internet bill in Anaheim can only cost you $69.50 per month. In Omaha, it costs $80.56 monthly.
Transportation
Omaha's transportation fees are less pricey. A monthly pass in local transportation cost around $54.50 in Omaha. Meanwhile, it costs $69.00 in Anaheim.
Is Anaheim bigger than Omaha?
Omaha is 2.8 times more extensive than Anaheim, with a land area of 144.6 mi². Furthermore, Omaha has a booming economy with a denser population than Anaheim.
Omaha has a land area of 144.6 mi² and, as of 2022, has a denser population of 851,000. Anaheim has 350,986 residents with a small land area of 50.88 mi².
Additionally, Omaha has a better and booming economy than Anaheim. In December 2021, Omaha had an unemployment rate of only 2.00%, while Anaheim's unemployment rate was 4.30%.
Although both cities' economies are doing great, Omaha's economic standing is much better. The metropolis is known for providing career opportunities to its residents.
Therefore, in population, economy, and area size, Omaha is bigger than Anaheim.
Is Omaha safer than Anaheim?
Omaha is safer than Anaheim. Anaheim's crime index is 53.24, higher than Omaha's of 45.84.
Omaha has a safety scale of 54.16; compared to Anaheim's 46.76, Omaha is safer. Anaheim's crime index is also higher than its counterpart, making Anaheim a less secure city.
There is a bigger chance of being a victim of vandalism, theft, and drugs in Anaheim. Moreover, walking alone day or night in Omaha is safer.
In Omaha, crimes like theft, drugs, racism, and bribery are low. In contrast, these crimes are moderate or high in Anaheim.
Thus, Omaha is safer than Anaheim.
Is Anaheim hotter than Omaha?
Omaha's yearly average peak temperature is 87°F with longer summers. Meanwhile, Anaheim has a lower average annual high temperature of 85°F. Omaha is, hence, hotter than Anaheim.
Even though Omaha only has an annual average of 214 sunny days compared to Anaheim's 280. The temperature in Omaha isn't as pleasant as in Anaheim.
Maximum temperatures in Omaha happen from June to mid-September. In comparison, maximum temperatures in Anaheim are more prolonged, from mid-June to October. Nevertheless, Omaha gets hotter than Anaheim, and the weather gets too extreme yearly.
Summers in Omaha are hot, humid, and rainy; winters are cold, snowy, and windy; the weather is partially overcast all year. The temperature ranges typically from 16°F to 87°F throughout the year, with temperatures seldom falling below -2°F or rising over 96°F.
The summer season in Anaheim is short, hot, and dry. Winters are also lengthy, cold, and somewhat depressing. Anaheim's temperatures typically range from 46°F to 85°F throughout the year. Furthermore, temperatures seldom fall below 39°F or rise above 94°F.
Hence, Omaha is hotter than Anaheim.
Is Anaheim better than Omaha?
If you want to live in a city with great schools and pleasant weather, Anaheim is the place to be. On the other hand, Omaha is for individuals looking for an excellent economy with lower prices than Anaheim.
Omaha is known as a livable city in America. The metropolis has a low unemployment rate, affordable prices, excellent schools, and a growing tech industry. The locals in Omaha are friendly and approachable. Relocating in Omaha is going to be a lot easier than in Anaheim.
On the other hand, Anaheim has a strong economy, outstanding schools, and a milder climate. However, the city's employment market and safety rating are worse than Omaha's. Furthermore, Anaheim is an expensive city.
Thus, living in Omaha is better than in Anaheim.
Anaheim versus Omaha – Where do you consider moving? Let me know your thoughts below.