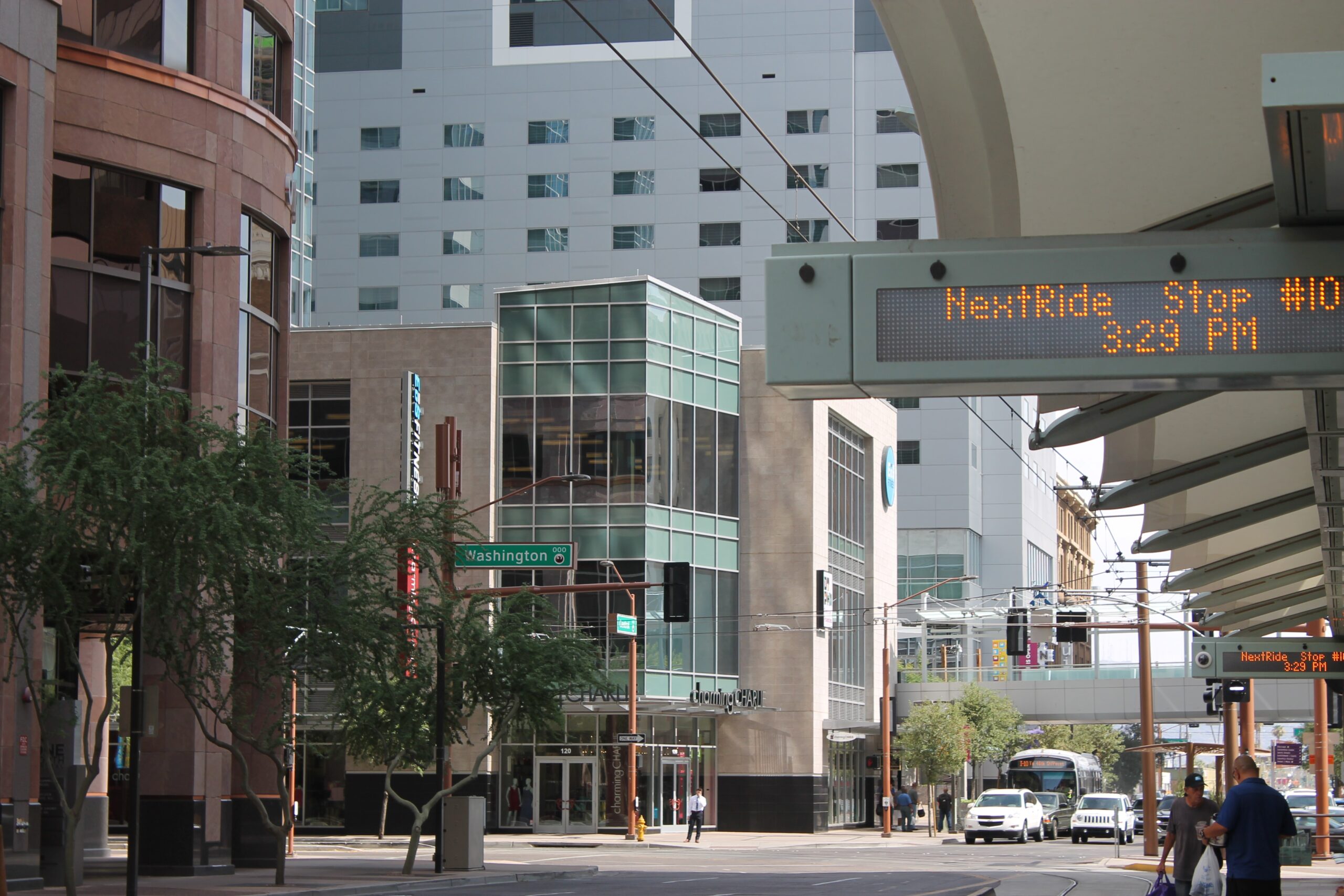 Living in Phoenix guarantees you smoother job hunting, top-level school systems, and reasonable living costs. Contradictorily, Anaheim's expensive costs and weaker economy outshines its well-known tourist attractions and beautiful weather.
Anaheim's ambiance is vibrant, lively, and a little glamorous, with plenty of parks and green space, making it appealing to seniors looking to spend their days in peace.
Phoenix is a combination of calm and laid-back Arizonans. It is a massive metropolitan region with millions of people. Despite its size and climate, the metro area attracts migrants from all over the country.
Although both Anaheim and Phoenix have strong points, one outshines the other.
What are the Pros and Cons of Anaheim vs. Phoenix?
Phoenix's burgeoning economy and lower living costs are impressive, but haboobs can be devastating. In contrast, Anaheim provides tons of fun activities and good weather than PHX, yet economically too dependent on tourists.
Living in Phoenix
Pros
Burgeoning economy

Compared to Anaheim's unemployment rate of 4.30%, PHX has a much lower rate of 2.60%. Hence, Phoenix has a way better economy than its counterpart.

Moreover, Phoenix is a powerhouse for software and technology companies when it comes to technology. Operational costs are up to 42% cheaper in Phoenix than in California.

Government officials and organizations are working hard to bring more technology opportunities to Metro Phoenix, which will result in more tech employment.

Uber, Yelp, and Shutterfly have all opened offices in Phoenix, and Amazon has a fulfillment center there as well.

Due to the city's burgeoning economy, many residents don't have to worry too much about looking for jobs.

Convenient travel

Phoenix features an international airport and an Amtrak station, making commuting to the city quite accessible. This city also has one of the fastest-growing motorway networks, making it more straightforward to move around.

Because of a network of roads that circle and cross the metro region, HOV lanes help to alleviate traffic congestion on the highways during peak hours.

Walking and bicycling are pretty convenient in Phoenix. This city is ranked 15th in the United States for bikeable.

School system

Education is vital in recruiting new individuals, and Phoenix takes this seriously. Phoenix is home to some of the best private and public schools. On standardized tests, these schools typically do well.

Arizona State University, University of Phoenix, Argosy University, and Grand Canyon University are all great higher education schools in Phoenix.

Phoenix also boasts over 200 public school districts and over 400 charter and private schools that serve kids from kindergarten to 12th grade.

Exceptional living costs

Phoenix has a cost of living of around 5% cheaper than the national average. Housing costs are roughly 5% more affordable, with utilities and food falling behind at 4% and 5% lower, respectively.

This location will probably not appear to be an economical place to reside compared to rural sections of the county. Compared to other major cities, Phoenix offers meager living expenses.

In comparison to Anaheim, Phoenix has a substantially cheaper cost of living. The latter is over 46% more expensive than PHX.

Dining and Nightlife

PHX has a wide range of fantastic restaurants, from fine dining to international cuisines, as well as dive bars and food trucks.

Many of the world's best restaurants and chefs make their homes in Phoenix. In other words, if you're seeking anything new to try, you're unlikely to run out of options.

If you prefer a more relaxed vibe, the cuisine at tiny local eateries and street foods is just as fabulous while being a more cost-effective alternative for your eating needs.

Phoenix's nightlife is also growing, and locals frequently travel to Scottsdale for the evening to get a snack and hit the clubs. Many young individuals opt to reside in Scottsdale because of its easy access to its nightlife and walkability.
Cons
Sweltering hot

Phoenix is the hottest metropolis in America. Throughout the year, the weather in Phoenix is increasingly unpredictable.

Summer temperatures can exceed 112°F, while winter temperatures hover around 66°F. Every year, there are just 33 days of rain in Phoenix.

If you can't stand the heat, leave the desert. Many people go to Phoenix because of its weather, even though it may be difficult to acclimatize to, especially during the summer months.

Similarly, if you're looking for a white Christmas, this isn't the place to go. Phoenix doesn't get much snow.

Haboobs

When it comes to monsoon season, you'll quickly realize that the city may experience some very severe dust storms.

They're magnificent to see, but they can be a hassle to deal with when you want to go on with your day.

Haboobs, or dust storms, may rip across the metropolis, inflicting devastation. You'll have a little cleaning to perform once they've departed. The crimson dust adheres to walls and automobiles, creating breathing problems.
Living in Anaheim
Pros
Nicer weather than PHX

Residents may anticipate mild, dry weather with low humidity almost all year because of the city's Steppe climate.

While May through August is the most popular for visiting Anaheim because of the wonderfully bright and warm weather, most days in this portion of southern California are moderate and pleasant.

Winters are chilly and partly foggy, while summers are dry and clear.

Anaheim can be hot but not as close to Phoenix's sweltering climate. The temperatures in Phoenix can score more than 100°F every year. In contrast, Anaheim experiences a summer heat like Los Angeles' which appeals to many people.

Tons of fun activities

The Disneyland Resort, two Disney theme parks, and other entertainment attractions are among the city's most well-known attractions. It also has world-class shopping, multiple entertainment areas, fine dining, and lively nightlife.

Following is a list of the top Anaheim attractions to visit once you've relocated:
Disneyland
Adventure City
Yorba Regional Park
Anaheim Town Square
Central location
The central position of Anaheim is suitable for those who commute to surrounding cities. Anaheim is an accessible city to enjoy a short trip to urban and rural areas.
Los Angeles, Long Beach, Newport Beach, and Santa Ana are all conveniently accessible from Anaheim. Working in any of these places is no problem; you can commute from Anaheim to any of them.
The metro area is also more or less a 20-minute drive to the beaches and a short drive to the mountains.
Various sports
Anaheim is not just all about world-known tourist spots and shopping sprees. It is also home to plenty of professionals and amateur sports teams that will quickly have you cheering.
If you think Anaheim only focuses on one sport, Anaheim has a section for every sport imaginable.
The Anaheim Ducks are a must-see for fans of all things hockey. Be ready to root for the Los Angeles Angels if you like baseball. The Angels of Anaheim are a Major League Baseball team that plays in Orange County's Angel Stadium.
Diversity
Anaheim has a lot of diversity, with ancient downtown districts, retail centers, and affluent residential projects all around the city.
There is a vast spectrum of cultural and ethnic diversity throughout the city. Residents like having a good time and admiring other people's inventiveness.
Anaheim's vast assortment of music venues caters to a broad spectrum of musical types, with the House of Blues in Anaheim GardenWalk being one of the most well-known.
Cons
46.8% more costly than PHX

Considering that Anaheim is a Californian city, the high cost of living is not surprising. California is among the US states with the most increased living cost.

The cost of living index in Anaheim is 147.8. That implies Anaheim is 52.2% more expensive than the national average.

Utilities are around 6% cheaper than in the rest of the country, while transportation and consumables are 16-35% more expensive. The housing index, on the other hand, is 242.

For comparison, the cost of living in Anaheim is 46.8% more than in Phoenix.

Economy dependent on tourism

Anaheim receives over 25 million tourists each year from throughout the world. Thus, there are around 68,500 tourists in the city at any given time.

This heavy reliance on tourism might be troublesome since any unforeseen catastrophe will have a severe economic impact. The city's reliance on tourists has a detrimental effect on local enterprises and the employment market.
Anaheim or Phoenix – Which is more expensive?
Living in Anaheim is 46.8% more expensive than in Phoenix. Thus, living expenses such as groceries, housing, transportation, and food are higher in Anaheim. In contrast, utility costs are higher in Phoenix.
| | | |
| --- | --- | --- |
| Living expenses | Anaheim | Phoenix |
| Housing | 257.1% | 103.5% |
| Food & Groceries | 102.5% | 97.3% |
| Health | 95.9% | 92.2% |
| Utilities | 97.4% | 101.8% |
| Transportation | 118.0% | 117.9% |
Data is 100 = US National Average
> 100 means more expensive than the national average
< 100 means cheaper than the national average
Housing
Housing expenses in Anaheim are 148.4% higher than in PHX. The median house cost in Anaheim is now $571,528 compared to PHX's median house price of only $330,344.
Food & Groceries
Food and grocery prices are lower in Phoenix. 1lb of onion in Phoenix is only $0.92, compared to $1.36 in Anaheim.
Health
Healthcare costs are 4.0% more costly in Anaheim. In Phoenix, the price for cold medicines good for a week is $6.68, while in Anaheim, it can cost $8.2.
Utilities
Phoenix's utility fees are higher than in Anaheim. The monthly internet bill in Anaheim can only cost $69.50, while it costs $80.64 in PHX.
Transportation
Phoenix's transportation fees are slightly cheaper than Anaheim's. When riding a taxi, the standard tariff only for 1 mile costs $2.23 in PHX compared to Anaheim's $2.75.
Is Anaheim bigger than Phoenix?
Phoenix has an area size more than ten times bigger than Anaheim. The city also has a denser population and a lower unemployment rate. Thus, Phoenix is bigger than Anaheim in area size, economy, and people.
Phoenix has a land area of 517 mi² with a denser population of 4,652,000. At the same time, Anaheim has a much smaller land area of 50.88 mi² with a 350,986 population.
Therefore, PHX is ten times more extensive and is 13.25 times denser than Anaheim.
Phoenix's lower than the national average unemployment rate can provide plenty of work opportunities to its citizens. The city boasts a low unemployment rate of 2.60%. Meanwhile, Anaheim has a higher rate of 4.30%.
Thus, Phoenix is bigger than Anaheim, considering population, economy, and area size.
Is Phoenix safer than Anaheim?
The crime count in Anaheim is 53.24, whereas Phoenix has a somewhat lower crime count of 51.89. At the same time, PHX has a higher safety scale than its counterpart. Hence, Phoenix is relatively safer than Anaheim.
The difference in crime index and safety scale between Anaheim and Phoenix is not a lot. Phoenix has a safety scale of 48.11, marginally higher than Anaheim's safety scale of 46.76.
Additionally, Anaheim has a crime index of 53.24 compared to PHX's lower crime index of 51.89.
Property crimes, having your car stolen, corruption, and encountering drug dealers are more likely to occur in Anaheim than in Phoenix.
Hence, Anaheim is a bit less safe than Phoenix.
Is Anaheim hotter than Phoenix?
Phoenix has an annual average high temperature of 107°F. Conversely, Anaheim has a lower average yearly high temperature of 85°F. Phoenix is, thus, undeniably way hotter than Anaheim.
Anaheim is known for its Californian sun. Nevertheless, nothing beats the desert and Arizonian heat of Phoenix. Phoenix ranks #1 consecutively as the hottest city in the USA.
Hot is an understatement in PHX because the metro area is sweltering. Summers in Phoenix are hot and dry, the winters are mild, and the weather is evident.
The temperature in Phoenix typically ranges from 45°F to 107°F throughout the year. It also seldom falls below 37°F or rises over 112°F.
Anaheim's summers are brief, hot, and dry. On the other hand, its winters are long, frigid, and partially gloomy. Throughout the year, temperatures in Anaheim typically vary from 46°F to 85°F. In addition, the temperatures seldom drop below 39°F or go over 94°F.
In PHX, there are 299 sunny days a year on average. At the same time, Anaheim only experiences 280 sunny days.
As a result, Phoenix is hugely hotter than Anaheim.
Is Anaheim better than Phoenix?
Phoenix is for those who seek a strong economy, a better quality of life, and admirable schools. In comparison, Anaheim caters to people who aren't fond of the scorching heat and area accessibility. However, Phoenix is better than Anaheim because it offers more advantages.
Phoenix's cost of living is much more affordable than Anaheim's. If you plan to move to PHX, you won't have difficulty looking for jobs and managing expenses. PHX is also ideal for people who seek a top-quality educational system with fantastic dining and nightlife.
Yet, the town suffers from scorching heat every year. You might want to invest in an air-conditioning unit to keep cool. Other than this, Phoenix is an excellent place to reside.
On the contrary, Anaheim is a beautiful city as well. Nevertheless, its advantages aren't at par with Phoenix's. Anaheim is less secure, and prices are significantly higher in the city.
If you plan to move to Anaheim, you'll be amazed by the number of fun activities it offers. Anaheim has more excellent weather all year round than Phoenix as well.
For comparison, Phoenix overshadows Anaheim because of its healthier economy and better quality of life.
Are you considering moving to Phoenix or Anaheim? Let me know your thoughts below.