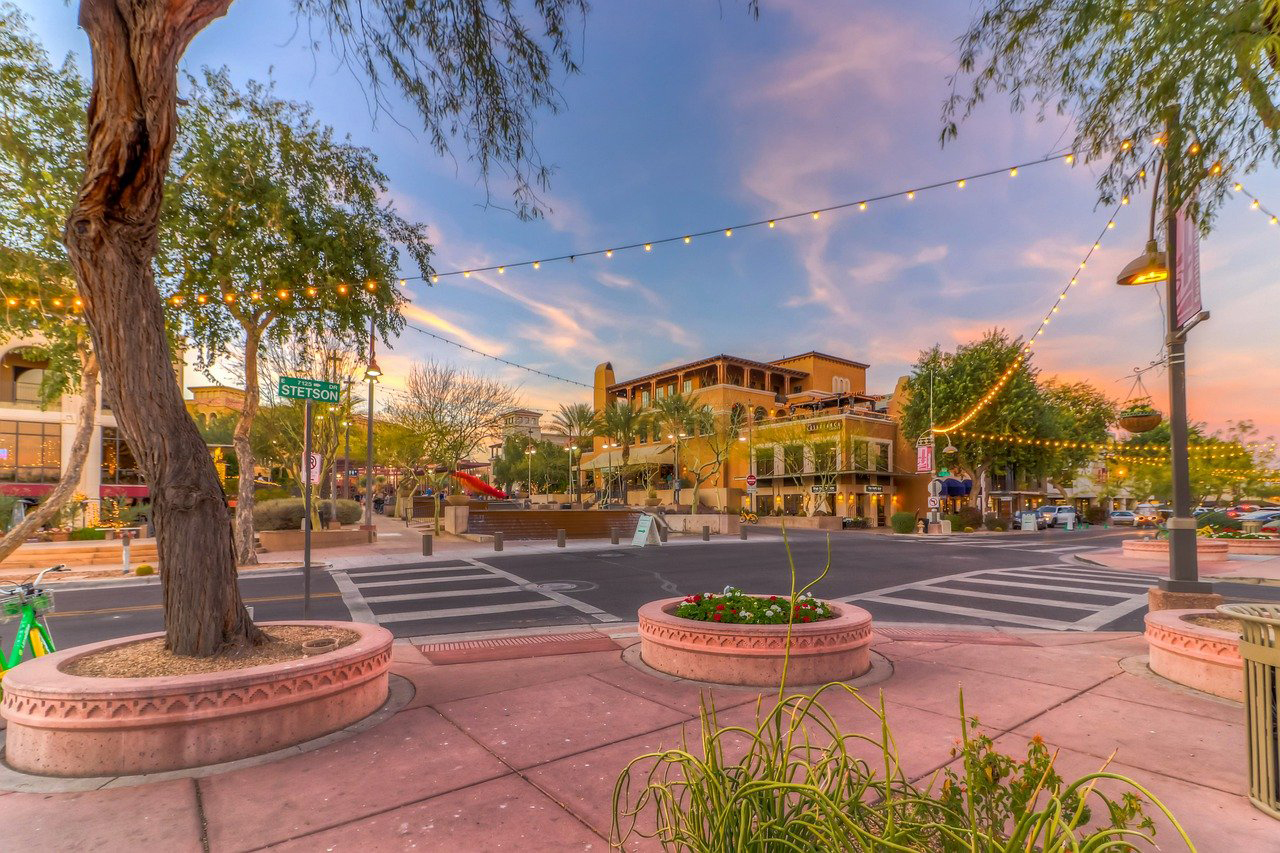 Scottsdale is a city in Arizona that boasts about its luxury homes and extravagant amenities. It also offers stunning desert landscapes, vibrant nightlife, and a fantastic dining scene. Meanwhile, Anaheim is a city in California filled with amusement parks and world-class tourist attractions.
Anaheim is one of the top family holiday destinations in the United States. It has expansive theme parks and nature reserves for families. The city is always filled with lovable mascots, street parades, and fireworks displays created by Disneyland Park.
On the other hand, Scottsdale provides a dense suburban vibe filled with coffee shops, parks, bars, and restaurants. The city also offers luxury homes and high-rated learning institutions.
What are the Pros and Cons of Anaheim vs. Scottsdale?
Scottsdale and Anaheim have great locations, warm weather, and excellent schools. However, they are also expensive cities with a higher living cost than the national average.
Living in Scottsdale
Pros
Great location

Scottsdale offers you the perfect location in Arizona. You can go to Mexico in the south, while the Gulf of California in the west. Then, in just about a five-hour drive, you can easily reach Los Angeles and San Diego.

Las Vegas is also a five-hour drive away from Scottsdale, while the Grand Canyon is only 3 hours away. You can also reach the Phoenix Sky Harbor International Airport, 15 miles away from the city.

Clean and well-maintained environment

Cleanliness is the first thing you can observe when you arrive in Scottsdale. Locals put high regard on the city's cleanliness. Upon reaching the city's borders, you will find it hard to see graffiti and trash in the public spaces.

Sidewalks are always clean, and the city's landscape is consistently well-manicured. You will also observe that parks are clean and safe in Scottsdale.

Amazing neighborhoods

There are great neighborhoods that you can choose from in Scottsdale. The options range from luxury homes to more affordable properties. Scottsdale may be the most expensive city in Arizona, but there are more budget-friendly houses here compared to the average.

Here are the top neighborhoods you can consider in Scottsdale:
McCormick Ranch
Gainey Ranch
Downtown Scottsdale
North Scottsdale
Excellent schools
The public education system in Scottsdale is outstanding. The schools here made it to the Top 10% of public schools in the United States. The plan garnered an above-average rating in both math and reading proficiency tests.
Besides, 97% of the residents obtained a high school degree, and almost 83% of the population reached a college education.
Festivals and celebrations
Scottsdale has loads of entertainment options.
The city enjoys beautiful weather and sunshine, which is ideal for festivals and outdoor fun.
It is a dynamic city full of activities and events throughout the year.
When you move to this city, here are the celebrations and festivals you should not miss:
Scottsdale Arts Festival
Scottsdale Culinary Festival
Scottsdale International Film Festival
Arizona Taco Festival
Salt River Fields Balloon Spectacular
Scottsdale Fall Festival
Cons
Drought

Scottsdale has been exhibiting years of drought based on the research conducted by scientists. The city receives 299 sunny days and only 11 inches of rain every year. Its only source of drinking water is the Colorado River which has already shrunk by 20% in the past decades.

Snowbirds

Snowbirds are the constant struggle of the residents. Almost 300 thousand snowbirds fly to the Greater Phoenix area to avoid the North winter months. Most of these birds pass in public spaces like golf courses and resorts which distract the locals.
Living in Anaheim
Pros
Weather

One thing you can enjoy in Anaheim is its pleasant weather. You will be showered with sunlight and warm weather throughout the year. Along with it, you can enjoy summer activities like swimming and surfing on nearby beaches like Long Beach.

Anaheim has a temperate climate with warm winters and sunny summers. The temperature during summers only goes as high as 80 degrees. Gloomy days are rare, and you do not have to worry about experiencing extreme weather.

Job market

The city is tourism-dependent. A higher percentage of the city's earnings comes from the tourism industry. Disneyland park employs thousands of people, which significantly contributes to economic growth.

According to the 2019 report, the city's unemployment rate is 2.4%. It is below the national average as well as the state average. Besides tourism, manufacturing, business, retail, trade, and health care also boost the city's economy.

Plenty of things to do

Anaheim is a fun-filled city with the Magic Kingdom under its belt. It is famous for its amusement parks like Disneyland. The Anaheim GardenWalk, Disney Resort, Honda Center, and Angels Stadium are other main attractions.

Green spaces

You can also rely on the city's green spaces, including the Yorba Regional Park. It is a 140-acre of green space, bike paths, and lakes. There are tons of playgrounds and picnic tables where families can enjoy being together.
Yorba Regional Park
Dad Miller Golf Course
Boysen Park
Museums and galleries
The city also has Muzeo Museum & Cultural Center, Medieval Times, and Center Street Promenade. You can also visit Camelot Golfland, Adventure City, and House of Blue Anaheim.
Shopping
Since it is a tourism-packed city, plenty of shopping centers is around. Here are the top shopping spots we recommend:
STC Anaheim GardenWalk
Anaheim Plaza
Anaheim Town Square
Food
Anaheim is a travel-friendly city with fantastic food culture. Here you will find different cuisines from almost all parts of the world. You can taste authentic American food, Asian, Mexican, and French.
With lots of options, you will have difficulty finding the best food spot for you. Hence, we listed the top restaurants you should not miss in Anaheim.
FiRE+iCE
The Pizza Press
Ralph Brennan's Jazz Kitchen
Napa Rose
Healthy Junk
Cons
Costly

The cost of living index of Anaheim is over 152. It is more than 50% of the US average. It is also higher than California's average. You need to adjust your living expenses when you move here, especially coming to a cheaper city.

Housing costs

The housing cost in Anaheim is incredibly competitive. Buying a house or property here will cost you around $600,000, higher than most major cities in the United States.
Anaheim or Scottsdale – Which is more expensive?
The cost of living in Anaheim and Scottsdale is higher than the US median rate. Between the two, Anaheim is more expensive than Scottsdale by 8.2%. Home cost in Anaheim is 13% higher than Scottsdale's.
| | | |
| --- | --- | --- |
| Living expenses | Anaheim | Scottsdale |
| Housing | 257.1% | 203% |
| Food & Groceries | 102.5% | 103.3% |
| Health | 95.9% | 92.2% |
| Utilities | 97.4% | 102.4% |
| Transportation | 118% | 109.2% |
Data is based on 100 = US National Average
> 100 means more expensive than the national average
< 100 means cheaper than the national average
Housing cost
Scottsdale and Anaheim are expensive cities with real estate twice the national average rate. Comparatively, buying a property in Scottsdale is still cheaper than in Anaheim. You need to spend $673,400 in Scottsdale while $762,700 in Anaheim.
Utility cost
The cost of utility is slightly more expensive in Scottsdale than in Anaheim. You will be paying 4.9% more for electricity, water, phone, and internet when you live in Scottsdale. Nevertheless, the price difference is very slim, and you will not even notice it unless you have more members in the family.
Food & groceries cost
The food and groceries costs in Anaheim and Scottsdale are comparable. You need to allot a monthly budget of $845 for food in Anaheim. You can still buy the same goods in Scottsdale with the same monthly budget.
Transportation cost
Even though it has a comprehensive public transit system, the convenience also comes with a price. The transportation cost is higher in Anaheim compared to Scottsdale. In Scottsdale, the transportation cost is also higher than US median rate.
Health care cost
There is just a 1% difference in healthcare costs between Anaheim and Scottsdale. The price is higher in Anaheim city. Scottsdale offers a lower cost for general care consultations, vision care, and medication.
Is Anaheim bigger than Scottsdale?
Scottsdale is more extensive than Anaheim. It has a total land area of 183.92 square miles, while Anaheim barely covers 50 square miles. By population, Anaheim is the bigger city.
The city of Scottdale is in the eastern portion of Maricopa County. It is part of the Phoenix metropolitan area and one of the fastest-growing cities in the United States. Scottsdale has four regions – South, Old Town Scottsdale, Central Scottsdale, and North.
Meanwhile, Anaheim is at the site of Orange County. It enjoys excellent geography. It is bounded by Yorba Linda, Placentia, Fullerton, and Buena Park. The city also shares its western border with Cypress.
Is Scottsdale safer than Anaheim?
Scottsdale is safer than Anaheim. The city has a crime rate two times lower than the US median rate. On the other hand, Anaheim has a crime index almost comparable to the national average.
The city of Scottsdale receives the 17th percentile for safety. It means that 83% of its area is safe, while 17% can be dangerous. This analysis is relatively positive since more than half of the cities are safe.
On the other hand, Anaheim has a recorded violent crime rate of 320 per 100,000 people. It also ranks 79th among the cities in America with the most crimes. The rate of crime in Anaheim is the same with San Diego, Forth Wayne, and Laredo.
Is Anaheim warmer than Scottsdale?
Anaheim and Scottsdale are both warm cities. Anaheim's highest temperature in a given year could only reach 80 degrees. But Scottsdale is warmer than Anaheim, given that its temperature can go as high as 100 degrees.
Scottsdale is a desert area with an arid climate. The winters can be mild to warm, while the summers tend to be insanely hot. The temperature during the winters does not go beyond zero degrees.
Meanwhile, Anaheim has a hot semi-arid climate. The residents experience warm winters accompanied by erratic rainfalls. It is also a friendly city like Scottsdale, but the summers are more tolerable.
Is Scottsdale better than Anaheim?
Scottsdale offers more opportunities than Anaheim. The city exhibits rapid economic growth and is still consistently advancing. There is more employment diversity in Scottsdale than in the tourist-dependent economy of Anaheim.
Both cities have luxury homes that attract rich people and celebrities. Scottsdale is a high-priced city in Arizona, while Anaheim competes with its neighboring towns regarding the cost of living.
They are both desirable places to live in, especially if you are willing to spend money on living expenses. Anaheim and Scottsdale also have great locations, and nearby cities are only a drive away. You will find these cities excellent places to relocate where you can build an exciting and quality life.
So, which city is better for you? Anaheim or Scottsdale? Share your thoughts below.