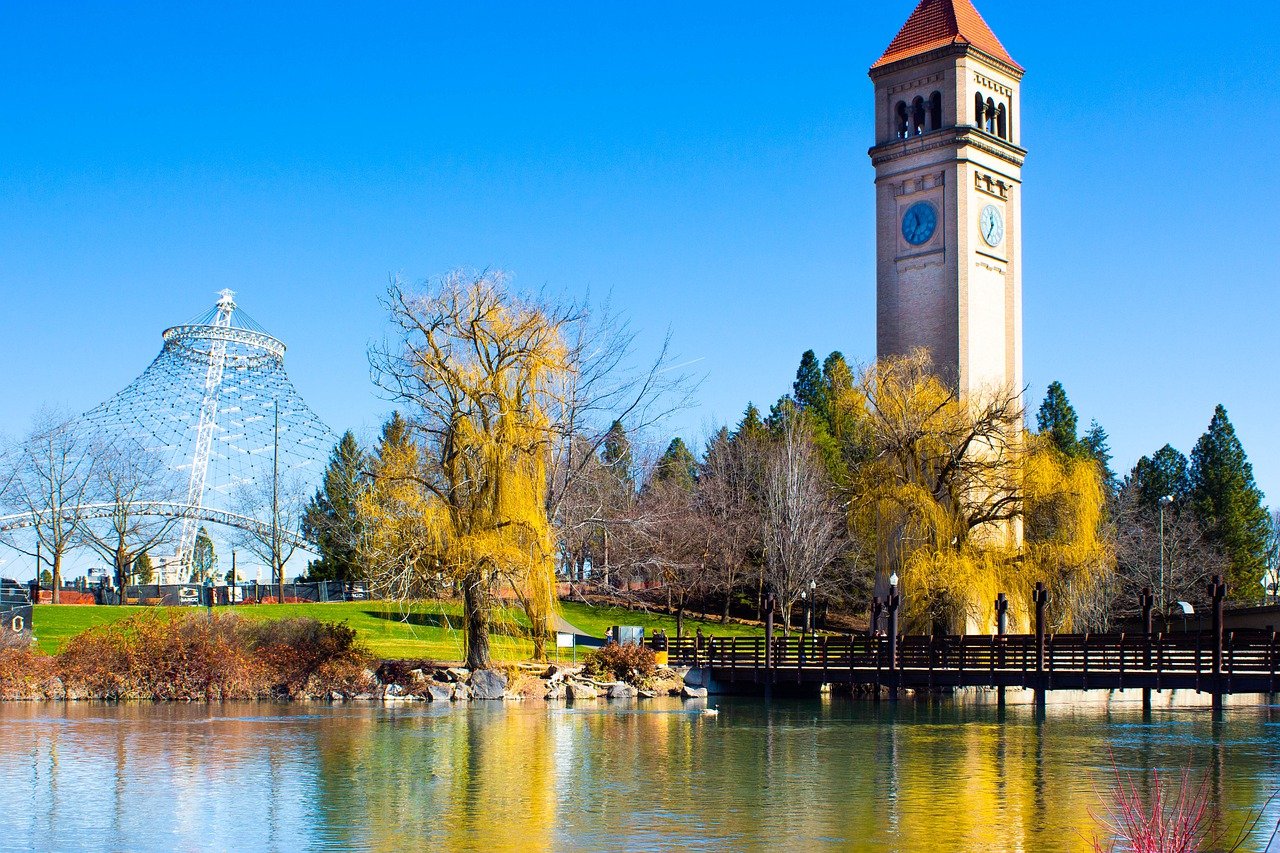 Spokane, Washington, has a solid economic base that generates decent-paying jobs, an excellent educational system, and a low cost of living, making it a fantastic place to invest and raise a family. Meanwhile, Anaheim, California, has a thriving tourism industry, wealthy neighborhoods, and outstanding recreation facilities.
Spokane, Washington, has a growing economic standing with various industries thriving. The place also has a robust school, lots of fitness trails, and most significantly, the area is cheaper than other metro cities. Plus, this town is the homeland of the Father's Day celebration.
Anaheim, California, has a strong tourism industry paired with a high concentration of job market in its hospitality and tourism sector. The place has vast recreational space, plus you will feel secure living in this community.
It is challenging to resolve which metropolis is best for your budget and lifestyle without any valid comparison. Here, we compiled Anaheim and Spokane's best and worst to help you decide where you will resettle in the future.
What Are the Pros and Cons of Anaheim Versus Spokane?
Anaheim's best assets are its growing tourism sector, global hotspots, and green city; however, you need to prepare yourself to pay more for almost everything in this place. On the contrary, Spokane's best values are its strong economic drive, taxation benefits, and outstanding institutions, but your safety is not guaranteed if you opt to live here.z
Living in Anaheim
Pros
Growing Tourism Sector

When Disneyland opened in 1855, Anaheim's tourism industry evolved with growing motels around the area. The Walt Disney Company remains the top employer in the metro area with over 18,000 employments and contributing to almost $4.7 billion in Orange County revenue and $255 million in yearly taxes.

Another economic driver in this metroplex is the Anaheim Convention Center, Honda Center, and the Angel Stadium, which lure many tourists because of their thrilling games and conventions.

Global Hotspots

Disneyland Resorts in Anaheim is the best deal you can get in this metro area. Living in this city also means you can save some bucks for your next vacation destination because you got tons of amusement parks and tourist spots.

The metroplex has a cheaper version of Disneyland in Adventure City and Knott Berry's Farm, whose enormous rides will make you dizzy and crazy. Also, the newly renovated Anaheim Packing District and the great lane of Downtown Disney District are just minutes away from other hotspots in the vicinity.

The Green City

Anaheim has over 800 acres of open spaces for its people, enabling them to do various recreational activities under the fine Californian weather. The city has a great trail track and other trekking spots in Oak Canyon Nature Center and Yorba Regional Park.

Anaheim residents also do not need to go to the countryside to appreciate the beautiful greenery. More than 50 public parks offer great amenities to everyone, from clubhouses, fitness areas, and even playgrounds for the children.

The Vans Skatepark

One of the great things for millennials offered by Anaheim is its 20,000 square feet indoor skatepark. There are more than five skate courses in the area, including the main street, the combi pool, warm-up, mini ramp, and outdoor trails. The skate park is open from Mondays to Sundays, 10 am to 10 pm.
Cons
You Will Pay More in Anaheim

Anaheim is one of the American cities that offers a high cost of living. The place is somewhat a luxury neighborhood, especially in its housing market wherein you need to have at least half a million dollars to buy a decent home or $2,000 to rent a flat. The pricing in this metro area, including its utilities, transportation, and health expenses, is not a minimum wage earner can easily afford.

The Crowd is Flocking the City

There are around 22 million individuals that see Anaheim yearly, which equates to almost 50,000 people in the area every day. If you do not like to live in a crowded place, the tourist city is not for you. The metro will still lure more visitors in the following years because of its tourism expansion.
Living in Spokane
Pros
Strong Economic Drive

Because of its proximity to mining and farming areas, Spokane grew into an essential intercity and shipping hub. Spokane is a commercial, industrial production, transportation, healthcare, shopping, and entertainment hub for the Inland Northwest and southern British Columbia and Alberta.

The State of Washington, Spokane Public Schools, Providence Sacred Heart Medical Center, Children's Hospital, the 92nd Air Refueling Wing, and Spokane County are the top five employers in Spokane. The city also has a favorable unemployment rate of 6.6% and future job growth of 33.4%.

Taxation Advantage

One of the benefits of relocating to Spokane is the lack of an income tax or inheritance tax. There are more job opportunities in the metroplex because these taxation perks enable people not to move to another area. As a result, the community has become a popular retirement location for retirees and working professionals, who profit from the metroplex's tax-friendly status.

Robust Educational Institutions

Spokane invests much in its educational system, thus creating a better result in its school rankings among American schools. There are multiple educational establishments in the metropolitan area, such as five universities and two medical schools.

Best primary and secondary schools include Sacajawea Middle School, Riverpoint Academy, Moran Prairie Elementary, and Prairie View Elementary. Colleges in the vicinity include Washington State University, Eastern Washington University, and Whitworth University.

The Homeland Of Father's Day

Spokane is famous for its town's pioneer in celebrating Father's Day. Father's Day is a holiday in which folks honor their fathers and celebrate the impact of fathers on one's societal structure. Sonora Dodd of Spokane, Washington, proposed it first in 1909. Father's Day in Spokane commenced on June 19, 1910.
Cons
High Crime Rate

One of the worst things in the city of Spokane is its alarming criminal rate. The metropolitan has a very high crime index in its property-related cases, roughly 95.3, higher than the nation's standard of only 35.4. You will be a potential crime victim in the area in 1 in 16.

Unlikely Air Pollution

One of the most significant disadvantages of relocating to Spokane is the poor quality of the air. The metroplex is among the worst cities across the United States for air pollution caused by forest fires and global warming.
Anaheim Or Spokane- Which Is Cheaper?
Spokane, Washington's overall cost-of-living index is 64.9% cheaper than Anaheim, California. Also, the housing market of Spokane is almost 172.9% less costly than the figures of Anaheim.
Living in Spokane will let you experience paying less for essential commodities, whereas living in Anaheim is the opposite, where prices are more than the national standard.
Comparison Table of Living in Anaheim, California vs. Spokane, Washington
| | | |
| --- | --- | --- |
| Living Expenses | Anaheim, California | Spokane, Washington |
| Housing and Rent | 257.1% | 94.2% |
| Utilities | 97.4% | 78.2% |
| Food And Groceries | 102.5% | 98.8% |
| Transportation | 118% | 91.1% |
| Health | 95.9% | 83.1% |
| Miscellaneous | 104.4% | 97.9% |
Based on the Data of which 100 = U.S. National Average
>100 means more expensive
<100 means cheaper than the U.S. average
Housing and Rent Costs
Spokane has a desirable home value, with a median price of $217,900 and a monthly rental fee of only $1,332 for a simple residence. On the other hand, Anaheim's price structure is not so friendly, with a home costing $594,400 and a monthly lease fee of $2,871, making it harder for people to purchase or rent a place.
Utility Costs
Spokane is relatively 19.2% cheaper in its utility expense compared to Anaheim. For example, the energy bill in Spokane will charge you $137.88, while the same service in Anaheim will cost you $207.58. Both metropolitan areas' percentiles do not exceed the national average.
Food and Groceries Costs
Spokane is an excellent agricultural place, the reason why food prices are low. Essential food and grocery items in Spokane are 3.7% less costly than in Anaheim. For example, a dozen eggs in Spokane are only $2.08, while the same product in Anaheim will cost you $3.07.
Transportation Costs
Spokane is roughly 26.9% cheaper in its transportation costs which is opposite of Anaheim. The city in Washington has a lower price in its gasoline, where a liter will cost you $2.84, while the same item in Anaheim is around $3.63.
Health Care Costs
Spokane is still 12.8% less expensive in its medical costs when compared to Anaheim. Living in this town in Washington will make you avail of low fees in its health insurance for only $420.00 per month, while the same plan in Anaheim will cost you $487.00.
Taxes
Anaheim has a 7.8% sales tax and an 8% income tax. In comparison, the sales tax in Spokane is 8.8%, with no income tax. As a result, citizens of Spokane, Washington, will obtain their entire salary without paying a small percentage to the state government.
Is Anaheim Safer Than Spokane?
Anaheim, California, is 15% safer than most cities in America, making it a better place than Spokane's 3% safety index. Also, Anaheim has around 10,000 criminal cases in a year, compared to Spokane's figures with over 13,000 records.
Anaheim has a favorable safety index and low crime, particularly violence-related cases. Its 22.3 scores in violent crimes equate to around 1,242 records in a year. Its property index is slightly higher than the national standard, with a 39.4 score of 8,880 cases.
On the contrary, Spokane has a high index in violent or property crime-related cases. The 28.6 crime score in its violent crime equates to 1,341 archives. Also, its property crime is technically high, with a 95.3 score of around 11,541 cases in a year.
Is Anaheim Bigger Than Spokane?
Spokane has a 68.8 square mile stretch which is significantly bigger than Anaheim's 50.3 square mile area. However, the city in Washington has a population of 222,050, which is lower than the Californian City with 353,676.
Spokane is the biggest city in Spokane County, Washington. Its location is in eastern Washington, along the Spokane River, near the Selkirk Mountains, and west of the Rocky Mountain foothills. Also, Spokane is on the outskirts of the North Central Rockies forests ecoregion, mainly within the Spokane Valley Outwash Plains.
On the contrary, Anaheim is the second-largest metropolitan area in Orange County, California, and is a Los Angeles metro area member. Anaheim–Santa Ana edge city, extending south and east into Orange, Santa Ana, and Garden Grove.
Is Anaheim Warmer Than Spokane?
Anaheim's hot-semi arid temperature creates 280 sunny days and a comfort level of 9.3 scores, making it a warmer city than Spokane with only 171 sunny skies and a 6.7 comfort index from its warm summer-humid continental climate.
Anaheim has fine weather with around nine months of sunny atmosphere. The metropolis does not acquire any snowfall, and its precipitation average is 115 inches in a year. Thus, it is best to roam around and explore its more extraordinary recreational sites and global hotspots.
Meanwhile, Spokane has cold weather, especially when winter strikes. The metroplex receives 44 inches of snowfall and is likely to experience severe blizzards. Also, summer is the driest season, while December is the month with more precipitation than you expect.
Is Anaheim Better Than Spokane?
Spokane's steady economic condition, low living costs, excellent school system, and favorable tax treatment make it an ideal location for establishing roots and making significant investments. Meanwhile, Anaheim is the right place if you enjoy having many global hotspots in one area.
Spokane, Washington, will give you a comfortable life with many good perks, especially for growing families. It has good schools, low taxes, and has a bigger job market for working professionals. Also, there are many outdoor activities that you can enjoy in this dynamic city.
Meanwhile, Anaheim, California, is an ideal place to pay a visit and resettle if you are a fan of amusement parks because the famous Disneyland is just next door. However, the city has an affluent neighborhood which means you need to have a higher and more stable financial source to sustain the town's lifestyle.
Spokane is ideal for a low-cost city with numerous resettlement benefits. Anaheim will expect you to pay more, especially in its housing market; thereby, you need to earn better in this city.
Are you considering moving to Anaheim, California, or Spokane, Washington? Let me know your thoughts and concerns below.