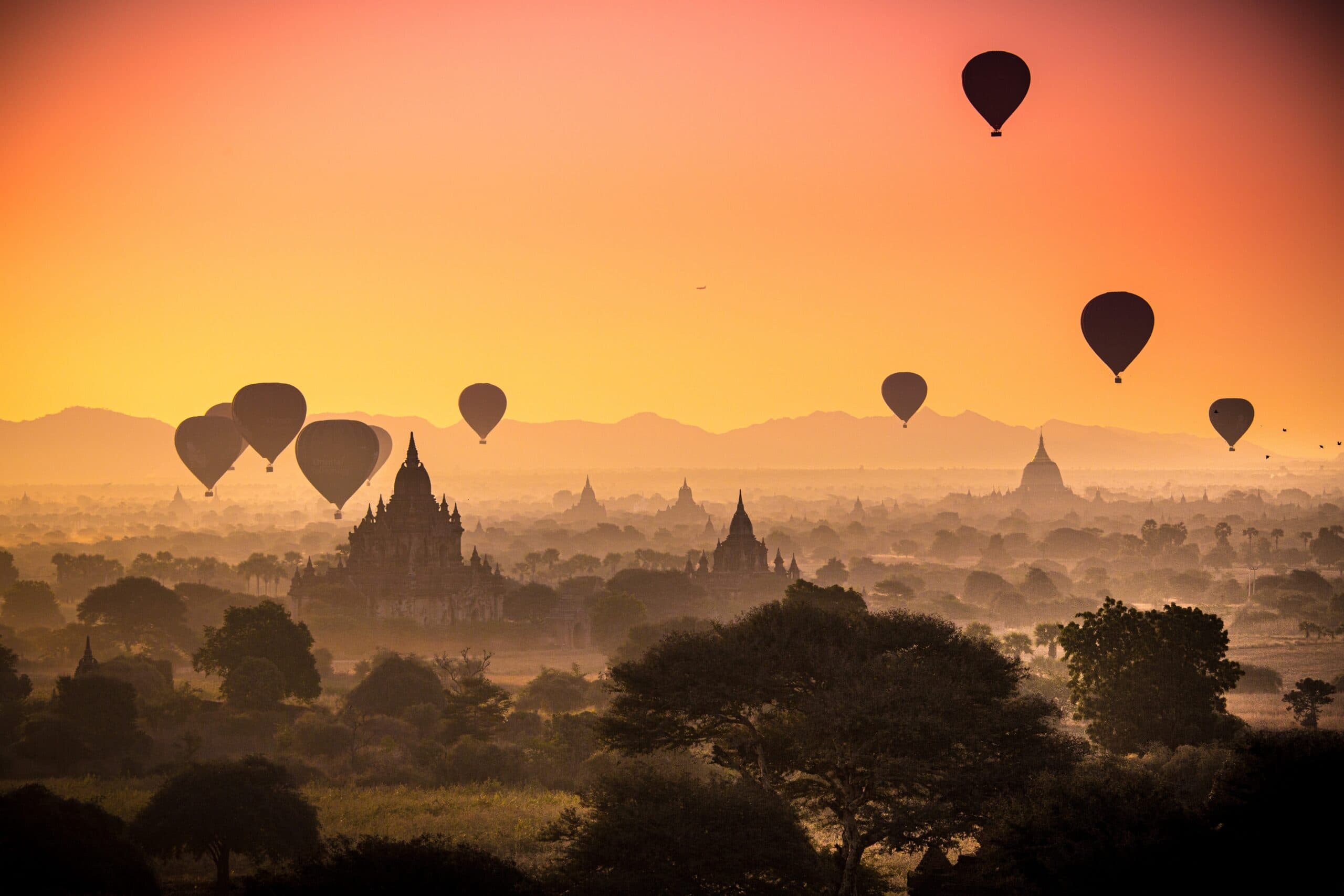 Well, that would depend on a lot of things. A solo traveler in Myanmar can spend as much as $87.50 to $910 for a week, depending on your activities. These are just for food, accommodation, and transportation.
If you put into the equation bus rides from one city to another, tourist attractions, and airfare, the cost can go up to a range of $367.5 to $2,430 for a week.
Aside from the airfare and the hot air balloon ride in Bagan, Myanmar is cheap to travel. Food is affordable and readily available, no matter the time of the day. The same is true with transportation and accommodation.
When it comes to accommodations, the country is one to beat when it comes to affordability. Here's a breakdown of how it looks like when traveling Myanmar.
| | | |
| --- | --- | --- |
| | Minimum | Maximum |
| Food | $31.5 | $105 |
| Transportation (within the city) | $21 | $105 |
| Accommodation | $35 | $700 |
| Airfare | $100 | $800 |
| Transportation (outside the city) | $80 | $120 |
| Attractions | $100 | $600 |
| Total Cost | $367.5 | $2,430 |


Traveling as a couple may be a bit cheaper. Considering the amount you have to share – food, accommodation, transportation – a chunk of the costs decreases. You can see that below:
| | | | |
| --- | --- | --- | --- |
|   | One Week | Two Weeks | One Month |
| One Person | 367.5 | 735 | 1470 |
| Couple | 735 | 1470 | 2940 |


Traveling as a family (or as a group) is the cheapest option. Because of the equal sharing in transportation costs, accommodation, food, and tourist attractions, you get to have a huge slice of your budget saved. Individually, you pay less than when you travel solo.
For example, a cab ride of $10, when shared by four, would only equate to $2.50 per person. Now, compare this to when you are traveling solo, and you pay for the $10 all on your own.
Generally speaking, traveling in Myanmar is not expensive, even on your own. If you are flexible enough to adjust your traveling habits, you can save a chunk of your budget.
Is Myanmar cheap to travel?
As you may already know by now, the country is cheap to travel to. Significant factors are accommodations, food, and transportation that are all cheap compared to other destinations.
Unlike popular Asian destinations, there isn't much to read about Myanmar. The country sits beside countries popular with tourists. This is why most travelers miss it. The country sits by the sides, waiting for you to explore.
Yet, nobody seems to be talking about how much to spend when in the country. I know you have this question in mind. That's exactly the reason why you're here.
I get you. I know how important budgeting is when traveling. Budgeting in Myanmar is nothing to be worried about. As a solo traveler, you can get by for as low as $60 to $100 per day, depending on your travel lifestyle.
What you should be thinking about when visiting Myanmar is how much time you need. The country is cheap. But the sights are amazing. The people are friendly. The culture is enchanting.
How much does it cost to visit Myanmar?
As you may already know, flying through different airlines to Myanmar is cheap. This is especially true when you are flying from any of its neighboring countries.
The currency in Myanmar is Kyat. One US dollar would equate to roughly about 1,300 Kyat.
Flights. Flying to Myanmar from Asia takes about $50 to as much as $150 one way. With the growing popularity of budget airlines, this can even be cheaper.
Aside from the flights, there are a few things you should take note of. Food, transportation, and even booze are some of these considerations.
So, here's a quick rundown of these important (and not so important) factors to consider.
Food. I should be very honest about this. I am not a huge fan of Burmese food. But hey, the food in the country is cheap. On average, a meal can cost you anywhere from $1.50 to $2, depending on where you get it.
Street food in the country is cheap. When dining in restaurants, it may be a different story, though. Prices in restaurants can go to as much as $5 per meal.
When traveling in more popular spots like Bagan, food prices can be higher. Expect an additional $1 to $2 per meal.
It helps, though, when you take your breakfast at your accommodation. At least, you only get to pay for a couple more meals for the day.
Which brings me to say, how cheap are accommodations in Myanmar?
Accommodation. Some blogs say accommodation in Myanmar is expensive. You may have already bumped into reading materials that say you have to book early.
I can say that these things may be true a few years ago. But tourism in Myanmar is starting to become popular. This destination is now learning from its neighbors.
Hostels in Myanmar can range from as low as $6 to $10 for a bunk bed.
When in Myanmar, expect to pay around $12 to $16 per night for a double room. This is how affordable it now is. And mind you, these are decent rooms already. If you opt to stay at hostels, it would be cheaper.
More luxury hotels can go up from $50 to $100 per night.
Transportation. I would have to tell you transportation in Myanmar is very cheap. If you want a point of comparison, it would be like that of Cambodia or Vietnam.
One of the things I love about Myanmar is that they have Grab Car in Yangon. If you don't know what Grab Car is, it's like Uber, only Asian. When you go Grab, it means only one thing – set prices. This also means there's no need for you to haggle.
Usually, a ride from one part of the city to the other would cost you around $3 for a 20-minute Grab ride.
When in other locations like Bagan, you can even rent a motorbike for less than $10 per day. This way, you can explore the ancient city on your own. And don't worry; there are no complicated intersections in Bagan, so you don't lose your way around.
Going from one city to another is also cheap. Not only that, but it is easier as well.
Buses travel from one city to another. From Yangon to Bagan, you can book your ticket at the bus station or book online. And the bus rides cost no more than $30. Even the 13-hour ride from Yangon to Bagan would not cost that much.
Myanmar is easily-traversed by bus. But if you feel like you don't want to spend your time sitting on a bus for 6 to 13 hours, plane rides are also affordable.
For a one-way flight from Yangon to any other destination within the country, expect to pay around $60.
Nightlife. Alcohol is not that popular in the country. But if you feel like you need a drink after a long day exploring, you can get a can of beer at groceries for less than a dollar.
While this may be true in Yangon, it is a different scene altogether in Bagan. This ancient city has caught up with the tourist demands. Alcohol is more common in these parts than in Yangon.
When in Bagan, drinks can be as cheap as $1.50 to as much as $3. Don't forget to watch out for their happy hours! They have much cheaper drinks by then.
Attractions. Myanmar has a lot of attractions to offer. Temples are cheaper spots to go to. While some temples charge for a fee, most of them are free.
Attractions in the country are either cheap or free of charge. Unless, of course, you have plans of riding the hot air balloon in Bagan. That could bump your expenses up by $400 for a single ride.
How much money do I need in Myanmar?
Well, this depends on you. Are you the kind that only eats in restaurants? Do you think you can settle for motorbikes and find your way around tourist destinations? Would you settle for buses when going to other cities?
Pretty much of your total Myanmar travel cost depends on how you travel. There are as many cheaper alternatives as much as expensive ones.
When in Myanmar, you can go by for as low as $60 per day. This would already include bus rides, food, and even accommodation.
I know this is way cheaper than you imagine Myanmar to be. But if you want to travel cheaply, you need a plan on what to do and where to go. Plus, checking on cheaper alternatives like hostels instead of hotels contributes a lot.
If you want to go for fancier options, the possibility can skyrocket to as much as $100 per day or more.
Plus, there are touristy attractions to take note of. If you consider riding a hot air balloon in Bagan, it can go up to even $400 or $500 on a single day!
Traveling in Myanmar is cheap, but only if you choose to. What you need is a good plan, and you're good to go without fear of breaking the bank.
Is Myanmar more expensive than Thailand?
When planning a trip to Myanmar, one thing always comes to mind. Is the country more expensive than neighboring Thailand?
Well, here's the tale of two cities.
Popular opinion among travelers claims that Myanmar is more expensive than Thailand. But it's because accommodation prices in the country are pricier than its neighbor's.
Thailand has been a tourist destination for decades. It has attracted a multitude of tourists from around the world for years. This is the reason why the country has already coped with the demands of tourism.
Thailand has cheaper accommodation alternatives. Despite being more affordable, it can be a bit tricky. There is no regulation of its quality. Myanmar's tourism is only about to wake up.
As such, lodgings, while available, are starting to catch up as well. But the catch up is not as much as Thailand's, which, as I said earlier, has been into tourism for so long now.
For example, hotels in Mandalay can go up to as much as $30 per night. Such hotels in Thailand can cost you less. In fact, there are even hotels in Thailand that are as cheap as $20.
Even backpackers in Myanmar can experience a slight bump in prices. A bunk bed in Myanmar can cost you around $5 to $8 during off-peak seasons while it can go to as much as $15 during peak seasons.
Thailand has far cheaper options for accommodation. A bunk bed in Thailand can range from $5 to as much as $10 per night. The disadvantage, though, is the regulation of its quality. Bunk beds in Khaosan Road in Bangkok are cheaper. But they're always not the best around.
Aside from accommodation, everything else is cheaper in Myanmar as compared to Thailand. So, stop fretting.
What can I buy in Myanmar?
Myanmar is just opening up to tourists from around the world.
The country had been in hibernation for many decades. The world had never seen much of the country until 2011 when it started to open its doors to tourism.
One of the most common items you get from Myanmar is a piece of clothing they call the longyi ($15). Longyi is about 2 meters long and is donned by men and women alike. It is cylindrical and is worn at the waist.
The country is also famous for gemstones and other pieces of jewelry. But be careful with this one. When you trust yourself to identify the real ones from the fake ones, then be very excited. The country is teeming with unique gemstones you can feast your eyes on.
However, the cost can skyrocket to as much as $300 to $650 for these beauties.
There are other items to take note of. Examples are sand paintings, lacquerware carvings, and marionettes. Marionettes play a significant role in the country's culture. It was entertainment to the country's royalties centuries ago. And what's best about this is that you can bring one home!
And before I forget, don't miss out on tamarind flakes. They're everywhere in Myanmar, and they're fab!
The Cost of Settling Down
Sometimes, a country or a culture finds its way into your system and never lets you go. You may find yourself interested in settling down. If you are one of those that got enchanted by the country and never planned to let go, here are a few things you need to know.
While food and everything else is cheap, rent is the one that will take most of your finances. For example, a one-bedroom apartment right at the heart of the city can cost you as much as $750 per month.
Utilities would depend on your usage but on average, and it can cost you anywhere from $25 per month or more.
Food is cheap, like we mentioned. Restaurant prices can be for about $2 for a decent meal. Costs can be less when getting food from street food vendors.
Settling down in Myanmar is not a hard thing to consider. While rent is the one that takes most of your bucks, you know there will always be cheaper options.
For example, instead of getting an apartment in the city, you can try one that does not smack at the city center. A one-bedroom apartment outside the city can cost you about $400 or so per month. But don't go very far. Your transportation costs will be your problem if you do.
Another cheaper alternative is if you cook your food. With essentials not costing much in Myanmar, I know you can quickly get by.
And so if you cannot ignore the culture and the calling, you can go ahead and settle down in Myanmar. We know you're going to love it.
And as they say in Myanmar, mingalaba!