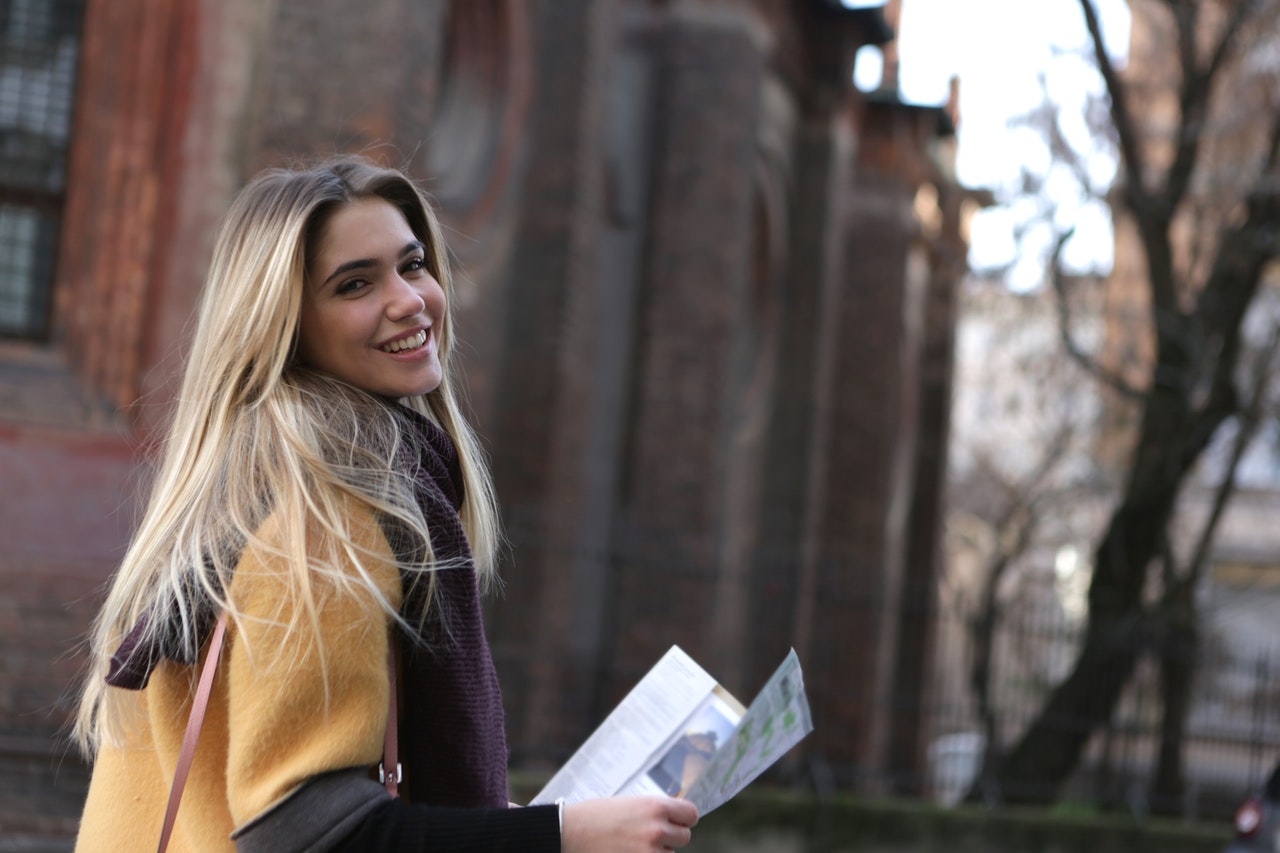 English is the universal travel language. Tourist destinations often have signs in both local and English. If you travel to a tourist destination, you will probably meet locals who speak relatively basic English.
Being in a foreign location can be frightening on its own, but it gets significantly more so if you do not speak the native language. It's unpleasant to think of putting yourself in a risky situation — or any circumstance — in a country where you can't speak.
The Office of Travel and Tourism reported that 29 million Americans traveled abroad in 2013, most of them to countries where English was not the predominant language. Although some visitors can survive on English alone, cultural immersion largely depends on the ability to understand and converse in the native tongue.
Being lost, unable to locate a toilet, or communicating food allergies to wait for staff can feel overwhelming in a foreign location where you do not speak or understand the language. Even the prospect of appearing ridiculous by mispronouncing words in a foreign language deters many from visiting overseas.
Do you have to speak the language to travel?
Traveling does not necessarily require a second language. However, speaking English will not solve all language issues while abroad. Fortunately, English is a global language. Hotels will have someone on staff who speaks English.
When you become familiar with the local language, you will navigate much easier and make travel a memorable experience. It can be beneficial, whether for reading signs or seeking directions – it eliminates the possibility of being lost in a foreign country.
Tips when traveling in a non-English-speaking country
It is improbable that you will learn a new language with each country visit. However, with the appropriate tools, you can survive. Here are some tips for surviving if you don't speak native speech.
You'll need more than a phrasebook to bridge the divide. Many countries and big cities that rely on tourism from English speakers (as we assume you are if you're reading this) are quite English-friendly, which helps—but your mileage may vary.
Research about the country

Knowledge is a strength in all disciplines. When traveling, research can have a substantial positive impact on your time. Before departing, conducting research may provide you with invaluable insight into the area, indicating which locations to avoid and which to visit, as well as an endless number of extra information that will ease your travel.

Visit destination-specific websites to learn about local customs, such as how to greet or thank someone. Whenever possible, follow the example set by others around you to avoid misinterpretation caused by inappropriate gestures or words.

Plan ahead

Research goes hand in hand with planning. The results of your research will be the guide of your plans.

Before departing on your trip, it is critical to determine your potential connections and schedule as many appointments as feasible. Then, you should examine transportation timetables and, if necessary, make travel and hotel reservations or bookings.

Often, the host in your destination country will gladly assist you with hotel reservations and may even offer to assist you with transportation to and from the port of entry. Additionally, you should confirm any meetings and other travel arrangements before departing the United States to avoid any surprises once on your trip.

Additionally, it is critical to have a flexible timetable and itinerary to account for unanticipated problems such as transit delays and unexpected possibilities. For instance, a flexible schedule may enable you to accept an unexpected invitation from a prospective customer while already in another country.

Additionally, you must be prepared for a meeting that is confirmed while you are already overseas, as it makes little sense to undertake a second journey if the appointment can be accommodated during the current trip.

It is crucial to arrange logistics such as hotel reservations, airport transportation, and restaurant reservations before traveling. At the very least, secure the first few nights' accommodations and the initial airport transportation depending on your destination.

Confronting unethical taxi drivers when you don't know the language or are suffering from jet lag can be uncomfortable and make you vulnerable to being tricked or conned.

Try to learn essential words and phrases

If you're a complete amateur, make an effort to acquire at least a few phrases before departing. You can even bring the phrasebook on the aircraft with you to brush up on the language right before you arrive.

You'll want to practice greeting people, introducing yourself, and asking basic inquiries such as "Where is the train station?" and "Can you direct me to the hotel?"

If you have dietary requirements, you'll need to learn how to communicate them to avoid encountering difficulties once you arrive. Acquire the ability to say "please" and "thank you." By mastering these few straightforward phrases, you'll position yourself for success upon arrival.

Certain languages can be learned in as little as three months while living in a foreign country. Tourists can pick up new vocabulary via ordinary activities such as shopping or touring.

While communicating with locals without knowledge of the language may appear complicated, communication is frequently as simple as utilizing simple words and approaching others with a warm smile.

Use a translation app

Traveling and communicating has never been easier than they are now. You can download translation apps for your phone easily, like Google Translate, iTranslate, and TripLingo. To begin, download the apps, which you can access over WiFi.

Additionally, download the offline dictionaries to enable scanning of menus and items in supermarkets and pharmacies and usage of the software without access to WiFi.

You may use them to speak your native language into the app, which will convert it into the native language of the foreign place you're visiting, allowing you to "chat" with someone.

Engage in a conversation

In a foreign country, the most significant impediment you may face is yourself. You may feel ridiculous when attempting to communicate in a foreign language and stammering over unfamiliar sounds, words, and pronunciations.

However, firmly asking a question in plain, straightforward English as soon as you enter a scenario, you immediately communicate your intent – you want assistance. Most traveler interactions are about purchasing something — whether it's goods, a service, or a ticket – or obtaining information.

If you enter and shuffle around, avoiding eye contact with those around you, you create an air of insecurity for both yourself and those around you.

Therefore, even if you lack confidence, pretend to be one – it is true that by forcing yourself to appear confident, you increase your confidence. By taking the initiative and being specific about your goals, you can make the conversation lot smoother and more pleasant for both of you.

Be extremely polite

Engage in conversation with an open mind – politely decline if you are offered something you do not need or want.

Being extremely polite requires less effort and rewards than being cagey, making communicating what you want more difficult. While it may reduce your vulnerabilities to being exploited, it doesn't guarantee your safety.

Above all, respect individuals as individuals. Do not regard them as a filthy small vendor deserving of your patronage.

Regardless of how you act at home, address every local as "sir" or "ma'am," whether you believe they understand you. This is true of all employees, including taxi drivers, cleaners, and wait staff.

Not your words, but your body language communicates the majority of the time. If you speak to someone with respect, they will notice regardless of whether they comprehend what you're saying.

Consider hiring a local guide

A tour guide can assist you in developing a more substantial knowledge of the local language and is an excellent resource for practicing words and phrases.

Consider hiring a guide if the cost is within your budget. Not only will this likely enhance your cultural and tourism experience, but it will also simplify logistics such as finding attractions and navigating a new place.

Rather than haggling at the market, searching for a restroom, or requesting a bottle of water in a foreign language, a guide can assist you with these types of exchanges.

The greatest method to learn how to communicate with natives is to immerse yourself in the culture. Visit restaurants, museums, stores, and parks to learn about the region's gestures and words.

It is suggested to take a guided tour of the country to gain a greater understanding of the region's customs and traditions and how people interact.

Seek help from the right people

Consult locals on which areas of town or city neighborhoods to avoid at night, avoid excessive drinking, mainly if you are alone or not with a group of people you trust, and meet new potential acquaintances in public places, at least initially.

Keep the date public if you're using a dating app. And always, always, always trust your gut when someone or anything gives you a foul sensation.

Carry a map

Assuming you have a working knowledge of maps (dark green blobs represent major or national parks, those blue puddles represent lakes). Examining a map helps you build a geographic grasp of a country.

This facilitates travel by highlighting developed places, areas of natural beauty, and virtually uninhabited areas (which is not always a negative thing). From here, you may browse the list of prospective highlights and Google them to learn more about what each has to offer – you may well discover some hidden treasures in the process.

Speak slowly but not too loud

Slower speech causes you to pay more attention to the other person's conversation since you take time to consider your response. Slower speech enables you to sound more polite and eloquent.

When you're accustomed to hearing everyone speak English, you may be unaware of how quickly or colloquially you speak. Therefore, while communicating in English with native speakers, speak slowly, clearly, and attentively, utilizing simple words and phrases.

Body language can be helpful

When traveling to foreign countries, expressive body language is an excellent technique to communicate meaning. For instance, when you imitate drinking, the majority of people understand that you desire a beverage.

While you may feel ridiculous, expressive gestures and body language are critical components of communication between all people, even those who speak the same language.

Body language is also a kind of communication. Before you begin speaking, friendly gestures are usually the most fantastic method to communicate your intentions.

When approaching someone, friendly gestures include smiling and keeping your hands open and visible. Make an effort to communicate well with locals by using clear body language.

Pay attention to your surroundings

When you are unfamiliar with the language, you can pick up a lot by observing others. If you're unsure how to behave in certain situations, look to the people around you for guidance.

Whatever your level of caution and observance, you are bound to make social mistakes. Resources suggest that if you unintentionally offend someone, you should apologize and explain that you're new to the culture—most people will understand.
How can I travel in a non-English-speaking country?
Traveling without knowledge of the local language does not have to be a hassle. You'll be surprised at how much fun you'll have if you use body language, pay attention to your environment, and immerse yourself in the culture.
Do not be afraid or apprehensive about traveling to countries where you do not speak the native language. By following the above travel recommendations, even if you are not bilingual (yet), you may have a safe and enjoyable vacation — and perhaps even pick up a few words of the local language in the process.
Travel facilitates the development of human relationships through education about culture, food, new places, music, and life in other parts of the world. It is the very best on-site education a person may obtain. The internet can only convey so much information about a location.