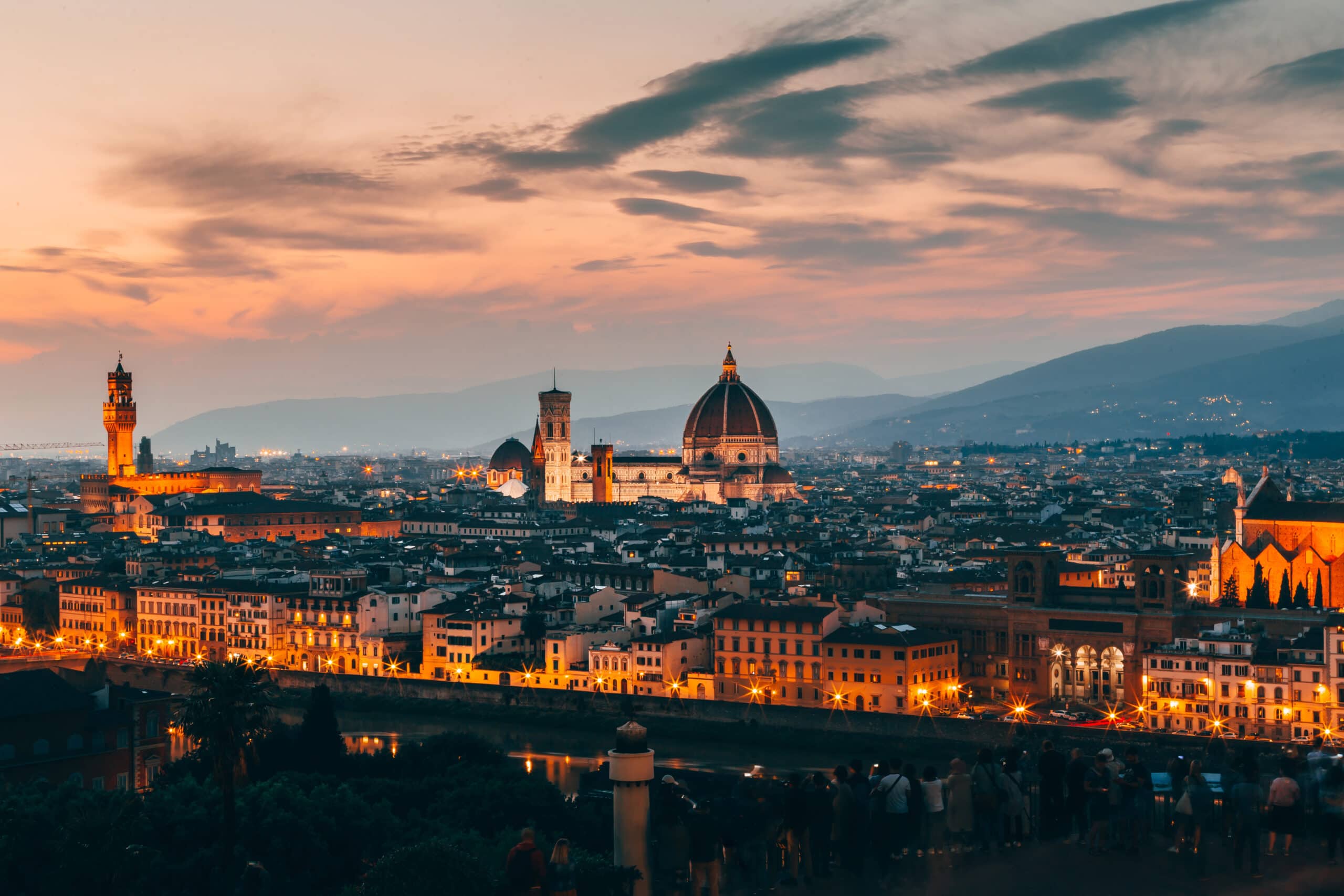 Of course! Florence is worth your visit.
When it comes to the Renaissance, Florence is the ideal place to travel. The period after the Middle Ages gave birth to cultural and social changes in Europe.
Florence started it all.
Back in the 14th century, there was a period of decline in feudalism and church power over the nation-states. While Florence, in this part of Europe, began a massive change in its art, culture, and ideology. Some states were still experiencing the decline of the Middle Ages.
The growing populism of masters like Michelangelo, Da Vinci, and Raphael happened here. You can marvel at their masterpieces in one of its galleries and museums.
The stunning display of art in the cathedrals, domes, and monuments are of Renaissance.
The greatness and power of the Medici Family came alive as you witness art dedicated to them.
Oh, of course, the food culture influenced by Italy, in general. You cannot miss the line of piazzas and restaurants in this city.
The delicious pizza, the creamy and colorful gelatos, and endless recipes of pasta are the best try. These should also be top of your list.
So, read on, dig in, and see the beauty of Florence.
Is Florence expensive to visit?
Compared to other cities, like Venice or Rome, Florence is more affordable to travel.
Transportation
If you're from another country, and your starting point is at the airport, you can ride a bus from the airport to the train station at €5.
You can head to Santa Maria Novella, the train station, and book your stay there. The station is at the historical center of Florence.
Since most of the city's attractions are within walking distance from this station, you can stay near it.
As you go around the city center, it is advisable to walk. The attractions are near to each other, and you can allow 10 to 15 minutes to walk from one place to another.
Buses are circulating the city when you opt not to walk. But avoid riding taxis, as this will cost you around €12-15 for a short trip downtown.
Here is the breakdown of bus tickets:
Single ticket: €1.50
4-ride ticket: €4.70
Bus (Vola in Bus) from the airport to city: €6 one-way, €10 round-trip
Taxi from the airport to the city center: Fixed rate of €20
Stay and Accommodation
Your stay and accommodation in Florence are average. You can find mid-range hotels at an affordable price or luxury hotels that can be quite expensive.
A comfortable stay at hostels will cost you €28/night per person for a shared bedroom while €50-€80 for a solo room.
Allot €70/night at budgeted hotels for a more decent stay. It is better than hostels with private bathroom and twin bed.
Or if you travel in a group, there are rental apartments that can cost around €80-€145+. It can be very cheap when divided into the number of the person in the group.
You can save a decent amount of money on apartment rental, already.
Tours and Attractions
There are plenty of attractions in Florence. The museum and galleries are already quite overwhelming. You may opt to choose a guided tour to lessen the burden of planning.
Most of these guided tours are informative. It will give you the whole Florence experience. The city has available free guided tours with a licensed guide that accept tips. On one side, paid guided tours will cost you €10 along with the entrance fee.
If you want to make your itinerary, I recommend booking your tickets online to save from the long queue. Many people are visiting this attraction and expect long lines when visiting one.
Here are some of the main attractions that you don't want to miss in Florence:
Galleria dell'Accademia – see Michelangelo's masterpiece, David. One of the most incredible sculptures in the world carved out of marble.
Museo dell'Opera del Duomo – a museum dedicated to the artworks on Florence Cathedral.
Florence Cathedral – is one of the best cathedrals in Florence. You can go to Grom to eat gelato.
Uffizi Gallery – it displays the flourishing of the Renaissance period. You can see the art collection of Anna Maria Luisa, the last Medici heiress.
Ponte Vecchio and the Arno River – see the sunset from this vantage points.
Piazzale Michelangelo – it is the best place to see the majestic Florentine sunset.
Food
You don't want to miss the food culture in the city. So, allot time and money in this category. There are tons of food places that you can visit the city center.
Allot the following amount, so that you can budget your travel well.
Breakfast – €3
Lunch – €4-€12
Dinner – €7-€20
Moreover, here are some of the recommended restaurant that you can try:
Restaurants
All'Antico Vinaio
Gustapizza
Le Volpi e L'Uva
Trattoria Mario
Trattoria Za Za
Piazza
Piazza della Signoria
Ponte Vecchio
Oltrarno
Gelato Shops
Venchi
Gelateria La Carraia
Gelateria Artigianale
Gelateria Dei Neri
Perché No
Is one day in Florence enough?
With so many tourist attractions and incredible sights, one day in Florence is not enough.
Even though it is a relatively small city, you cannot take Florence all in just one day.
The museum and galleries are quite overwhelming. Spend time looking at the statue of David in Galleria dell' Accademia, and it will take a while.
Or be amazed at the richness of the Medici Family at Palazzo Medici Riccardi for hours. And you'll notice, you only have half of the day left.
And it is just visiting the galleries alone, what about food and winery? You never want to miss that.
Several restaurants are offering delectable Italian cuisine. Do not miss the pizzas, pasta, and gelatos in the city. Having a taste of everything will not suit in one day.
Yet, if you don't have time, and you want a mere glimpse of Florence, you can include in the itinerary the following:
One best church
lunch at the resto of your choice
1 or 2 best museums
One sundown activity at Arno river
This itinerary will give you an overview of how beautiful Florence is.
Where should a first-time tourist stay in Florence?
Duomo
Filled with cobblestone streets, piazzas, and line of cafes, Duomo is an ideal place to stay. It is the heart of the city and provides you access to all major landmarks in Florence.
The Duomo, Museo Nazionale del Bargello, and Giotto's Campanile are a distance away. You can book your hotel here and experience Florence in an instant.
San Marco
If cheaper accommodation is what you're looking for, try finding one in San Marco. A residential area where stay-ins and rental apartments are plenty but affordable.
The place is home to several classic and historical landmarks. You can visit museums and restaurants right before your hotel.
San Spirito and San Frediano
A place opposite the Arno River, the San Spirito is the home of local bars, pubs, and nightlife. Here you can find the best nightlife in Florence.
A lot of travelers and backpackers enjoy their stay here, where they can chill out, hang, and enjoy the sunset. Budget hotels are also available here. You can find one that will suit your needs.
Santa Croce
Near Duomo and the city center, Santa Croce is a place to consider. It is one of the secret gems of Florence, where charm will reveal once you get to know it.
Home of both cultural and historical landmarks, you can see museums and art galleries. The place is less crowded, but mind you, local bars, clubs and restaurants open during the night.
Santa Maria Novella
It is the first neighborhood travelers will see. It is the station from the airport. Most of the tourists book their stay here. Aside from its proximity to the airport, it is also the center of a Florentine scene.
There are tons of landmarks that you can enjoy. It is the home of Parco Delle Cascine, a park and a green place where you can relax.
If you are looking for a nice place to stay for a night, Santa Maria Novella is worth considering.
What is the best time of year to visit Florence in Italy?
Of course, visiting the city has a lot of considerations. If you want to soak all Florence in (one single trip), consider the following guides. It will save you from getting frustrated and stressed out during your trip:
Weather
The weather in Florence is quite unpredictable, so it is crucial to plan your trip very well.
If you love summer, and you like to experience the beauty of the city in broad daylight, choose July and August. The weather can be hot, averaging from the 90s to 100s.
On one side, the spring season is more desirable. April and May are the best months to visit. Consider October to December as well.
I recommend you to avoid January to March, as this is the time where the weather is cold and usually cloudy. There are instances of rain during these months.
Crowd
If you want to avoid crowds and don't want to get frustrated from long queues in sites, visit the city in rainy months. There will be fewer tourists, and hotels and accommodations are cheaper.
Events and Holidays
The city has a lineup of events throughout the year. If you want to experience one of those, mark them in your calendar and plan.
Here are some of the main events and holidays that you want to witness:
Scoppio del Carro – March or April
Liberation Day – April
Music and Gelato Festival – May
Estate Fiorentina ( summer art and music festival) – May, June, and July
Festival of Lanterns – September
Do not miss the Christmas Season in Florence, where markets are everywhere. It is the time of the year, where the locals celebrate the birth of Jesus. Everyone is joyful and celebrating. You might want to experience the vibe of this holiday.
Is it safe to walk around Florence at night?
Florence is a safe city compared to anywhere in the world. You can do solo travel and still go home safe and sound.
Yet, if you want to be extra cautious, these are some smart tips to avoid any unnecessary incidents in your trip.
Avoid narrow pathways and keep observing your surroundings when walking alone. It applies especially during the night.
Watch out for these places, San Lorenzo market, Piazza del Duomo, and other crowded places. Always be on alert level. There are pickpockets in the area, and if you practice caution, you will be safe.
Avoid buying tickets from street vendors to skip the long queues. It may sound hassle-free, but this will cause you trouble. I recommend booking your tickets in advance for a stress-free visit to the main attractions.
Always keep an open mind, observe your surroundings, and be alert. Traveling Florence requires cautions as well. It is the same in other places. Be prepared and plan.
Florence is a beautiful city that evolved. Its colorful past that dated back to the 14th century is still alive today. The architecture, art, and culture are evidence of a colorful nation-state.
The main event as holidays, music festivals, and a whole lot more, connects its past to the present.
Florence is a place worth visiting. So, pack your bag now, book your ticket, and get ready for a Florentine experience.