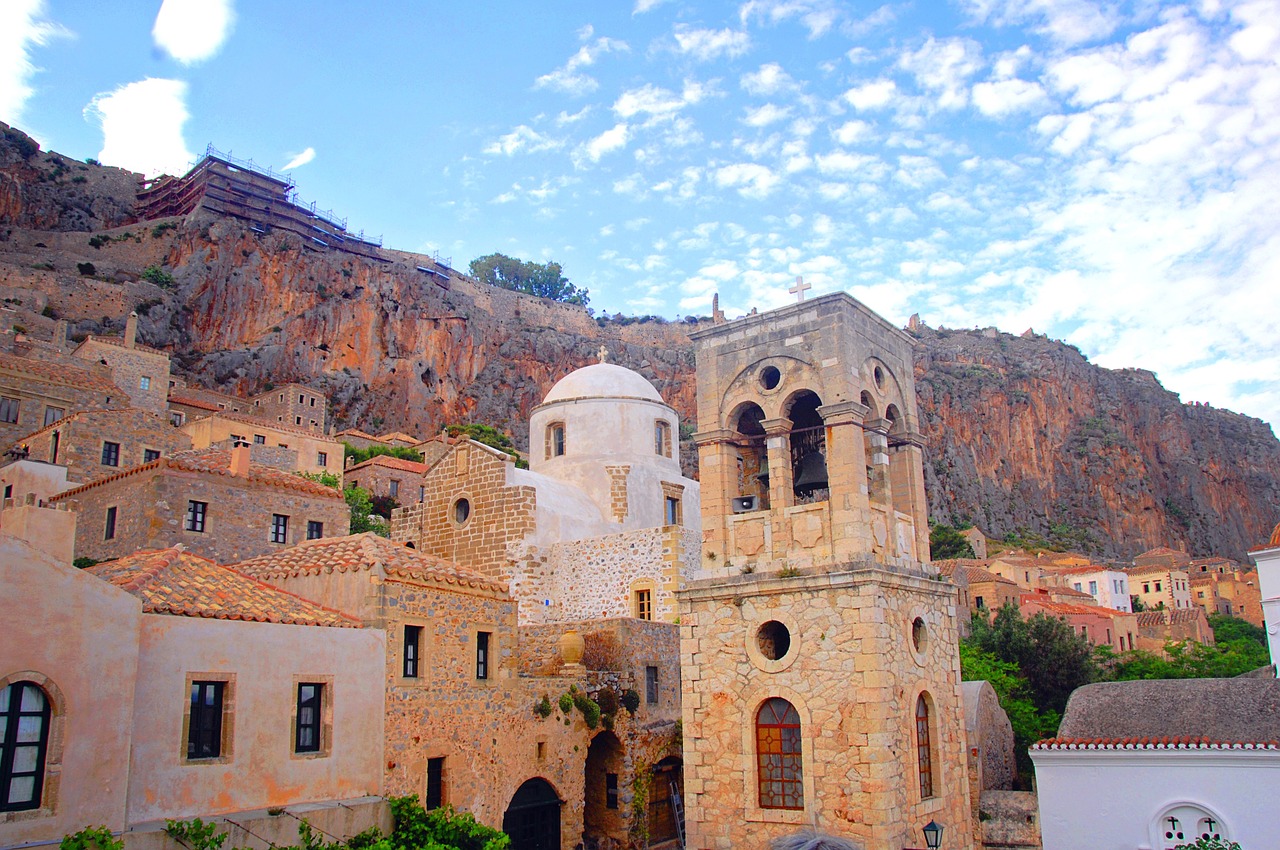 Monemvasia is cheap. If you are a solo traveler, you can spend as low as US$40 per day in Monemvasia. This cost should already cover activities, lodgings, and food. But if you travel in luxury, you can spend as much as US$300.
Just like any other destination, Monemvasia can be cheap or expensive. The amount you spend depends on your travel style.
Some people can travel (without spending too much) because they want to. Others want to bask in the glory of luxury, resulting in a very expensive travel cost.
The Average Traveler
On average, hotels in Monemvasia range anywhere from US$29 to about US4170 per night. The median cost would be around US$50 per night. And these 50-dollar dwellings are decent.
The rest of the costs, like food and sightseeing, can be between US$26 to US$62 per day. Some travelers can go as much as US$112 per day if they want to.
When You Travel Cheap
But just like I said earlier, some travelers can travel cheaper than others.
If you travel cheap, the island has 1-star hotels for you to choose from. These 1-star hotels are dwellings of budget travelers. Rooms can cost anywhere from US$25 to US$30 per night.
Food and sightseeing activities could cost you around $14 to $30 per day.
In total, a budget traveler can shell out about US$60 per day. This amount should already include everything. Some budget travelers can even slash out a few items on the list and lower down the cost to US$40 per day.
But remember that traveling cheap can have repercussions.
There may be activities and touristy sites you may not be able to visit. There may be restaurants you cannot eat at, just because you are trying to travel cheaply.
Traveling to Monemvasia can be cheap. But remember that you may not be able to maximize your experience on the island when you do so.
The Luxurious Way
Monemvasia can also be very expensive if you choose to.
Tourists traveling in luxury can expect to pay anywhere from US$120 to US$170 per night. For food and activities, the costs can run to as much as US$50 or even US$130 per day.
The luxurious way of traveling in Monemvasia can amount to about US$300 per person per day.
What is Monemvasia known for?
This little corner of Greece is famous for being one of the most romantic in the country. It is a medieval castle town and has been sufficiently populated since the time. What makes this unique is that the town is beautifully carved on a slope of a big rock.
Greece is a country full of impressive towns and cities.
Monemvasia is no different.
This Medieval town on the southern side of Peloponnese is fully carved on the back of a rock. The rock not only contributes to the uniqueness of the town. It also served as protection from attacks during Medieval times.
In the past, the only way to go to the island was by boat.
It was years later when a paved road was finally constructed. This road connects the castle town to the mainland.
Entering the castle town of Monemvasia is like entering the glorious past. It has old mansions converted into guesthouses and hotels.
The town is old and presents a clear picture of Greece of years past.
Aside from its beautiful architecture, the town also has Byzantine churches and stone mansions. The top of the castle also provides for a breathtaking view of the island and the town nearby.
Is Monemvasia worth visiting?
From its Medieval architecture to its rich culture, Monemvasia is a town worthy of a visit. It has attractions and magnificent natural views. It has picturesque locations and provides travelers a unique travel experience.
Sitting comfortably at the southeastern part of Peloponnese in Greece is Monemvasia.
This Medieval castle town, Jutting out from the mainland, is worth a visit. It is, in fact, a must-see when you are in Greece.
This town, carved beautifully on one side of sea rock, goes back centuries.
Entering its gates brings you back to a time of Byzantine churches. It exposes you to the Ottoman and Venetian homes that date back to as early as the 13th century.
On top of the rock is a castle in ruins, sitting about 100 meters above sea level. Its summit provides tourists with an amazing view of the seas as well as the town beyond.
There are also beaches as well as fishing ports that tourists can visit.
The Selling Point
The best thing about going to Monemvasia is the convenience.
This Medieval destination is easy to go to.
Early morning flights to Athens could allow you to enjoy a late lunch at Monemvasia. Whether it is a beach or a pool by your hotel, it doesn't matter.
So long as the sun is up, everything in Monemvasia is just right.
Greece has a lot of places like Monemvasia. But this little island is a destination worth it all.
Fly to Athens, rent a car and drive for about four hours. You get to reach the southern tip of the Peloponnese region. And once you are there, walk back in time.
Enjoy your cocktail by the beach because that is what tourists do in town.
Besides, driving the four hours to Monemvasia is not something you should ignore. Along the way, there are quaint little towns with coffee shops.
Drop by if you can, and enjoy.
Inside Monemvasia
The Kinsterna Hotel
A place so perfect you don't want to leave.
This is how most tourists describe the Kinsterna Hotel.
Kinsterna is a 13th-century mansion in the Byzantine era. It comfortably sits on top of a hill that overlooks the Aegean Sea.
Over the past few years, the architecture has been in ruins. This was until a man named Antonis Sgardelis decided to restore the property to what it is today.
The locals were somehow able to encourage Sgardelis to purchase the land and the buildings that go with it. As per the locals, the selling point was the olive trees, which were also deemed to be great investments at the time.
But for Sgardelis, it was the history that comes with the land that he recognized.
From that point on are years of renovation of the building. It was a project that took five years to finish.
No little piece of the building was eventually ignored. All corners were somehow touched.
Sgardelis knew that restoring the property allows the future to see a glimpse of the past.
Initially, his purpose was for the property to be a family home. But as the years passed, the now fully renovated property presented a new purpose – to be a hotel.
Nowadays, tourists can stay at the property and call this their home, even for just a day or two.
And so, whether you will be at the hotel's courtyard or just lounging by the pool, it would always be a challenge leaving the hotel to explore the town. Just because it's so beautiful, you don't want to leave it just yet.
The Shops of Monemvasia
Most of the properties in Monemvasia used to be dwellings of the rich and luxurious in Monemvasia.
These homes, which were homes to the wealthy merchants, saw a transformation. From homes, these are now boutique hotels, small bars, and even restaurants.
Do note, however, that the original castle and the upper town are off-limits. Currently, archaeologists that hail from the Greek Culture Ministry are doing excavations.
What is accessible to the public is the lower part of the town. This provides tourists with a maze of many alleys. There are shops all around. And not just merely shops, but shops in buildings of historical significance.
Even properties that may look simple to locals can provide tourists with Instagrammable photos. Expect red poppies and geraniums to add a touch of Greece to your photos.
Even brickworks and faded doors can go a long, long way.
How do I get from Athens to Monemvasia?
First of all, know that there are no airports in Monemvasia. To access the island, you should go through Athens. There are flights from major US cities to Athens. From there, you can rent a car or ride a bus and travel to Monemvasia.
Look closely at a map of Greece.
On the southeastern tip of Peloponnese, you will find a tiny strip of road that connects a little island to the mainland.
This path is the road to Monemvasia.
And how to get there is something that you should know.
You should know this by now. But to reiterate, the nearest airport is in Athens.
From the Athens International Airport, you have two options to get to Monemvasia.
Your first option is to ride the bus. This option takes about five hours or so.
The second option is to rent a car and drive to Monemvasia.
This option requires you to be awake for the whole duration of the drive. Well, because you're driving.
But fear not. Because from Athens to Monemvasia, you will be passing by small but beautiful towns. These towns all make you want to get out of the car and snap those photos in quick succession.
Driving from Athens to Monemvasia takes about four hours. If you stop by every town, it can take longer.
Because I don't want to drive back to Athens on the same day, I suggest you stay the night in Monemvasia. And this is for a good reason.
First, driving back on the same day would be too tiring for you. The second reason is that Monemvasia is beautiful beyond comparison.
You should stay the night.
So, I have been talking a lot now.
Let's help you decide on your mode of transportation.
How do you get to Monemvasia?
Drive Your Way to the Island
As I mentioned earlier, it takes four hours to drive from Athens to Monemvasia.
You start by driving through the National Road. Driving through the Greek National Road would have you pass through Corinth up until Tripoli.
Now, once you reach Tripoli, follow the route to Sparti. This route also leads to Gythio. But you will never have to drive all the way there.
Before you reach Gythio, there will be an abundance of signs that you must follow. These road signs will eventually lead you to your island destination – Monemvasia.
Of course, should you decide to drive, you can reread this for reference. Or you can also use GPS or Google Maps while driving.
One thing that you must note, though, is that there's no Waze in Greece. So, if you are using Waze in the US, forget about it while you're in Greece.
Now, where do you get your car?
The first things that you must understand are the guidelines and costs of car rental in Greece.
Rates start at US$5. It can go up to US$8 per hour.
But you will be staying in Monemvasia for many days. This means that you may be paying more if you go this route.
Compute how many hours you need the car for. And compare that with paying the daily rate. Because, yes, there are daily rates as well.
Daily rates in Greece start at US$25 per day. It can go up to as much as US$40.
You need a van. Bigger cars or vans can cost you more. This option is only essential when you have a horde of luggage with you. Or this is only applicable if you have your family and/or friends with you.
Vans or bigger cars can cost you anywhere from US$50 to US$60 per day.
Aside from the cost, there is also the matter of the driver's license to think of.
The license should be at least one year old. You should also be at least 21 years old for you to rent a car. And remember, the license should be an international driver's license.
What do you need?
You need to present your ID and/or your passport upon payment.
And by the way, fuel from Athens to Monemvasia would cost you around $45 or so. Multiply that by two to get the round-trip cost of fuel.
The Bus
If driving is not your thing, take the bus.
Buses traverse these roads daily.
Bus routes go through Sparti. Sometimes, they go through Molai as well. And as I mentioned earlier, buses take about 5 hours to reach Monemvasia.
From the airport, head on to the Kifissos KTEL bus station. Here, you have to board Bus 051.
On average, a one-way ticket from Athens to Monemvasia would cost you around US$34.
Now, that's a lot of savings if you ask me.
You get to rest during the whole ride. You also pay far less than renting a car. And you don't have to worry about a car breaking down or what.
But that's just me. Because if you want to rent a car, I leave it to you.
What's important is that you reach Monemvasia.
That's all that matters.