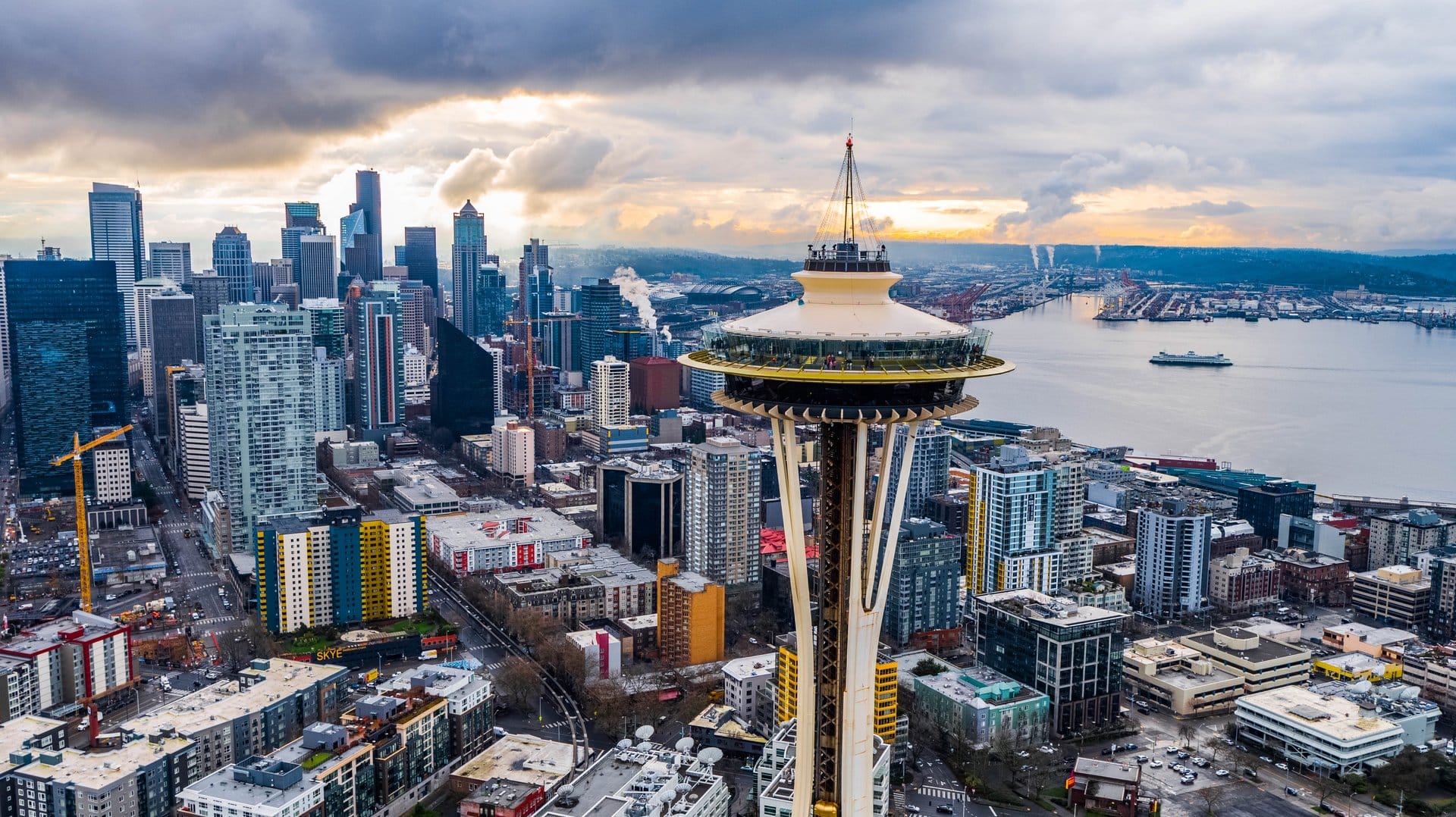 Are you asking if Seattle is worth visiting? Of course, it is a big, YES!
But before heading to the city, there is one thing you have to know. You have to love the rain for you to love Seattle. I mean, who does not love rain? I don't know about you, but I do.
If you are not the rain type of person, you may want to skip Seattle altogether. Or you can visit in the summer. Winter is something you should avoid. It gets rainy pretty much during these months.
During the summer months, Seattle provides a nice ambiance. There is little to no drop of rain. It is always sunny for many days.
The city is one of the nicest ones I have been to. I don't mean to say it's perfect or something but, you know what I mean. It's one of the coolest cities I have visited. Besides, if you are the type to always go out and do stuff, the city isn't boring at all.
The city brings with it a lot of stuff to do and places to visit. And if you are the type that does not mind the crowd so much, you will like Seattle.
There are a lot of attractions the city offers. There's the Space Needle. Then there's this place they call The Waterfront. Markets are magnets for large crowds. And if you don't mind the swarming tourists, the Pike Place Market is perfect.
If you are the type who does not want anything to do with the crowds, there is other stuff you can do. You can hike without getting out of the city, believe it or not.
The city has many parks that make it possible to hike without the need to travel much. Discovery Park is one notable place you should visit.
In general, the city is a great place to go to. There are tons of stuff that you can do. Plus, what makes it one of the best is that the city has excellent weather all year round.
You get all these amidst a backdrop of fantastic scenery. You get beautiful mountains, parks, and a lot more.
If this is not worth visiting, I don't know what is.
Is Seattle expensive to visit?
So, how much money do you need to visit Seattle?
If you compare the city with other major locations in the US, Seattle is not as expensive as the others.
A day in Seattle can cost you around $100 to $150 during vacations if you are traveling alone. This would already include meals, transportation costs, and entry to attractions. If I include your accommodation, it can be more.
If you want to know, hotels that are good for two people can cost you around $150 to $200 per night. So, if you are traveling solo, expect to pay a little less than that.
Meals in the city cost around $40 for a day. Transportation cannot be more than $20 per ride. So, depending on your activities and the places you visit, it can be more. Or it can be less.
Activities average around $12 to $15. This would be a person's daily cost on attractions. The estimated expense include entrance fees to museums, parks, and a lot more.
If you want to enjoy the nightlife, Seattle has many bars and clubs you can go to. Expect to pay not less than $15. As we all know, the more you drink, the more fun you have.
You might as well already know that the more you drink, the more expensive it is for you. So, when it comes to alcoholic beverages, it's a matter of choice.
How about the flights? There would be a lot of factors that can affect the price of plane tickets. It can be the date, airline, or month of the year.
Seattle is not as expensive as other major cities. That is something I can assure you. But like in any other travel destination, everything sums up to the places you visit. Other factors are the food you eat and the activities you do.
Is Seattle a safe city?
Seattle is famous for being a rainy city. It's reputation when it comes to crimes is not bad at all.
While it remains one of the rainiest, it maintains an average crime rate reputation. In a nutshell, the city's crime rate is not high enough for tourists to consider it dangerous.
The city is famous as an ideal destination for nature lovers. People call it the Emerald City as it offers the sights and diverse culinary experience.
While in general, the city is safe, there are a few locations you should avoid. These are those that have neighborhoods consistent in having records of crimes. Some of these are minor, some major.
South Park
The neighborhood has a population of about 3,500 inhabitants. It houses a diverse community. But together with the diversity is the mix of many crimes in the area.
The crimes can vary from minor like theft and vandalism, to as major as gang violence.
There are a couple of buses that go to this area. One is bus 132 while the other is bus 60. There are records of muggings and pickpocketing incidents in the area. You don't want to find yourself settling in this neighborhood.
Belltown
There are about 10,000 residents in this area.
The neighborhood houses a couple of popular sights. These are The Waterfront and the Sculpture Park.
The neighborhood has seen crime rates more than the Seattle average. This is because of its population density.
While the rest of the Belltown is OK as far as crime rates, you should avoid the area near the dog park at night.
The rest of Belltown should be safe.
High Point
You can find this neighborhood in the southeastern part of Seattle.
The area is famous for its crime rates in previous decades. While in recent years, the crime rate has gone down; it is still higher than in other parts of the city.
The growth and improvement in any of the area's low-income sections led to a drop in the area's crime rates.
This part of Seattle should be safer now than before. But it is still to your advantage if you take extra precautions when in the neighborhood.
Seattle is a safe city.
There are parts of the city that are safer than the others. When in Seattle, it would be beneficial to make sensible decisions.
Take extra precautions. Stay safe. And you will never be sleepless in Seattle knowing full well you are safe.
What would you not miss in Seattle?
I love going to Seattle. And you should, too.
Once you get to know the city, you will always have a space in your heart for Seattle. After a visit or two, you may find other attractions that suit your fancy.
But for a start, where do you go? Which parts should you not miss?
Here are a few attractions in the city you should not miss.
Japanese Gardens
These gardens are at Washington Park. The garden is close to Madison Park and is a great place for picnics and relaxation.
Pikes Place Market
The market was born in 1907. It is one of Seattle's oldest farmers' markets. Pikes Place is also a popular tourist attraction when in the city.
What makes this market a must-see is its great location. It is near the waterfront. It also has a wide array of shops for you to choose from.
Aside from the shops and the restaurants, there is the fish market you need to experience. One such attraction is when they throw a giant fish amidst the crowd. Tourists love it.
Also, one thing you should take note of is that the original Starbucks is from the area. You can visit the original store when you are at Pikes Place.
Snoqualmie Falls
About 40 minutes of travel outside the city of Seattle lies the Snoqualmie Falls. As soon as you get to the area, a two-acre park and many hiking trails greet you.
There is also an observation deck you can hike to. The deck gives you a spectacular view of the falls.
Space Needle
The year 1962 saw the construction of the Space Needle at the Worlds Fair.
This attraction is popular for its observation deck that sits at 520 feet. It also has a SkyCity restaurant that stands at 500 feet.
There is one thing you need to know before your visit. The lines are long. You may want to come early.
Seattle has a lot more sights and attractions aside from these. Aside from the sights and attractions, you should also note that the city has food beyond compare.
What are the best months to visit Seattle?
You already know by now that Seattle is rainier than sunny most of the year. If you are not the rainy type of person, when should you visit?
The ideal time to visit Seattle is from around July to October. During these months, expect more sun and less rain. Because the weather permits, you can also expect more events and festivals.
If chances never permit you to visit during these months, fear not. April and May are also great months to visit Seattle.
While not exactly sunny, the weather is also perfect for a lot of sightseeing.
From around October to February, the weather allows little opportunity for outside activities. If you are a rainy kind of person, these months are perfect.
These months are chilly, rainy, and wet. This would be a great opportunity for you to visit museums. Other things to do would be to spend time at restaurants and see the Pike Place Market.
The summer months from July to the middle of October are perfect for outdoor activities. During these months, expect to have more opportunities to explore Seattle.
If you love the rain, you should be in Seattle by the end of October to around February.
Whatever your preferences may be, Seattle is a perfect place to visit, no matter the time of the year.
Is Seattle a good place to live?
There are a lot of reasons to move to Seattle.
If you have kids with you, you can rest easy knowing that the city has some of the country's best schools. Also, the city has one of the lowest unemployment rates in the US.
Aside from that, you have a wide array of outdoor adventures you can do on weekends.
According to US News, Seattle is one of the 10 best places to live in the US. And this ranking spans more than a year. The city is consistent with its rankings.
And while the city is popular for being rainy, it is not as rainy as New York or Houston. That news is fake. In fact, it is only during the winters when you see consistent drizzles all day long. The rest of the year, expect a bit or more of the sun and fun.
Because of these reasons, Seattle has always been one of the best places to move to. Here, we tell you about the neighborhoods you can choose from. We'll also give you tips where you can look for jobs.
The Neighborhoods
Seattle is a city that has a wide array of districts to choose from. Each district has its own personality and flavor.
In the last century or so, immigrants settled in Seattle in different communities. These communities grew and became the neighborhoods that they are today. This is the reason why each neighborhood has distinct personalities.
One suggestion is that before settling in the city, you have to know the neighborhoods well. This way, you would be able to know which area to settle.
Aside from its cultural influences, neighborhoods are also built based on status. For example, the University District is great for students. When you are a couple planning to settle in Seattle, Capitol Hill should be perfect.
West Seattle is great for families. And finally, Queen Anne is ideal for retirees.
The Job Market
Residents in Seattle earn about 12% more than the average American. The city is also great for its low unemployment rate, making it an ideal place to live in.
Seattle is famous for the tech giants it houses. This is the reason why technology jobs are well-known in the Emerald City. From tech startups to tech giants, the city has it all. This established the city's popularity when it comes to the tech industry.
Aside from the tech giants, retailers also flock to the city. Go check out the Pacific Northwest, and you will find many choices when it comes to retailer jobs.
Some of these are Tommy Bahama, Zulily, and even Nordstrom.
The Public Transit
The city's public transit is the best in the whole country.
When in the city, you can choose from varying options. You can either go by car or public transit. The city is also working towards getting green. This is the reason why they are working on acquiring rechargeable vehicles for the city.
The Costs
While the city has amenities and sights that are some of the best in the country, Seattle is also expensive. In fact, it ranks as the fifth most expensive in the US.
If you compare Seattle to Washington, the latter would be way cheaper than Seattle. In housing, for instance, a median home in Seattle can cost you anywhere from $700,000. In Washington, it costs about $380,000.
Housing in Seattle is the most expensive. Then there's the matter of transportation. It is about 37% more than the national average. Utilities and health costs are below the national average. Everything else is more expensive in Seattle.
For a solo person, monthly costs, excluding rent, can be around $1,200 per month. For a family of four, it would be about $4,250 per month, excluding rent.
The city is expensive. But the residents are also earning more than the average American. This is the reason why, despite its cost, a lot still move to the city.
Whether the costs matter to you or not, Seattle is one of the best cities you can ever live in.
So, see you in Seattle?