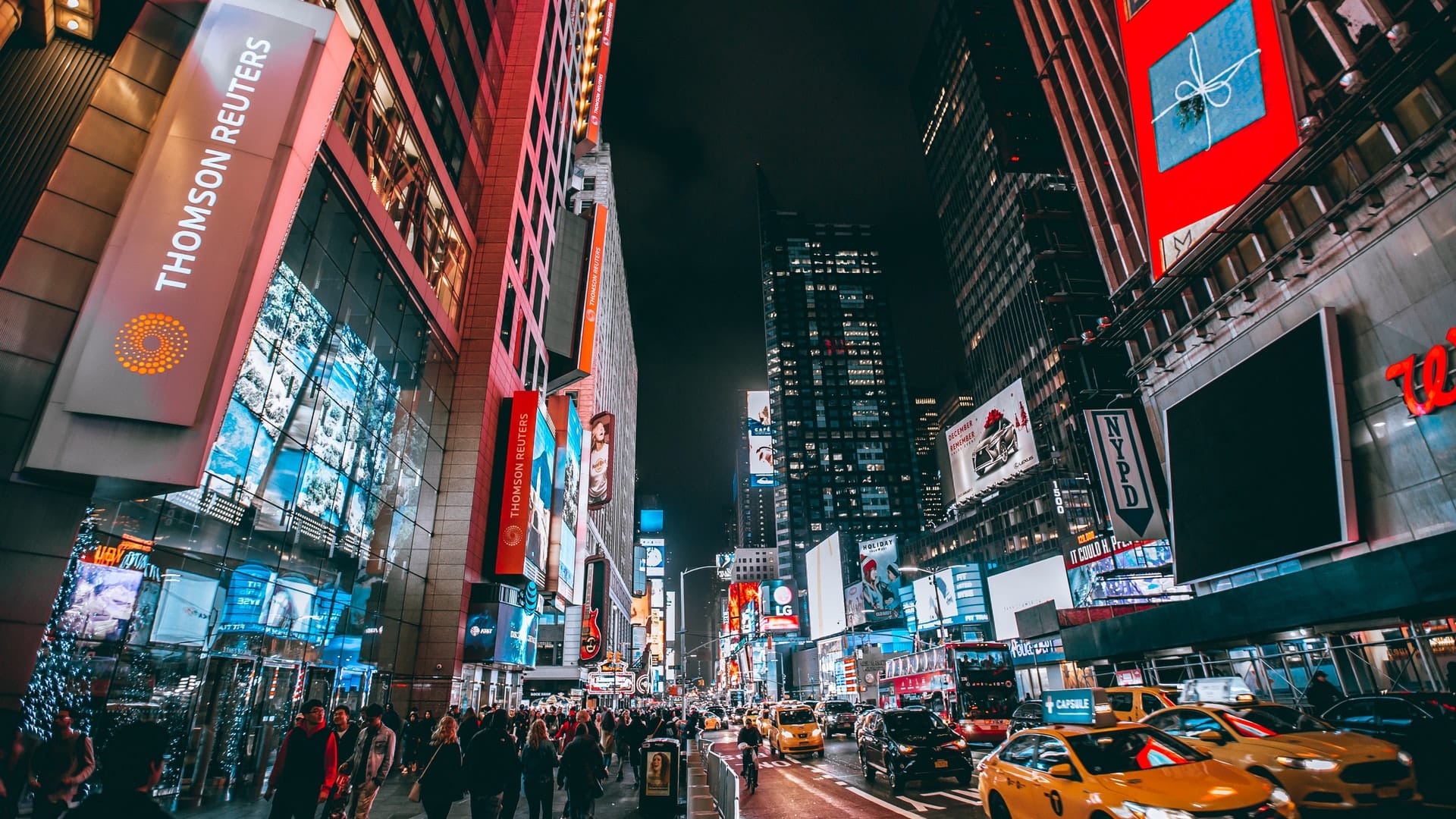 You hear about a place or a city on many occasions, and you wonder, is it great in there?
This is the same in Times Square in New York.
Times Square is a vast commercial intersection. At the same time, it is also a tourist destination. It is an entertainment hub. It is also a neighborhood in Manhattan.
But what makes the Time Square famous?
The intersection is all lights, billboards, and advertisements. All of these stretch from the 42nd all the way to the 47th streets. It has one of the world's busiest pedestrians. And finally, it is the center of the Broadway Theater District.
At times, people call this as The Crossroads of the World. It is also famous as the Center of the Universe.
Times Square is one of the destinations that get the most number of visitors every year. An estimate of 50 million people flocks Times Square every year.
But is it worth a visit? That would have to depend.
Are you a Broadway fan? For sure, if you are, it is a big YES!
Are you curious and want to see the area? If you are this type, a visit once would be good enough.
If you are nothing of the two, you may want to re-think your reasons for visiting.
Times Square is worth it, especially if you love shopping and the musicals. But note that it is expensive, rowdy, and loud.
But amidst all the light and noise, Times Square is a beauty not for everyone. But you might as well try. Who knows? It may be for you.
Is it safe to visit Times Square?
Every day, thousands of tourists visit Times Square. People may visit because of the bright lights. Some may go there because of the stores and restaurants. There are those that go for the Broadway shows.
In the middle of all the chaos stands a police substation. There are security cameras everywhere. This may be the last place for high-profile criminals to be at.
It is rare to find high-profile criminals may not frequent the area. But there are crimes in Times Square. This is natural. Anywhere else in the world, there will always be crimes. Some can be petty. Others can be serious.
In recent years, there were about 2,600 significant crimes that were on record in the precinct. While this is a lot, the number is way below than it was in the 1990s. At the same period in the 90s, there were more than 23,000 major crimes committed.
Suffice to say, Times Square is one of the safest areas you can be in New York.
In the past few years, we have also seen a rise in the building of parks in the area. The construction of plazas in Times Square had a significant impact on the reduction of crimes. Over the years, we saw a decrease of 35% in pedestrians hit by cars.
Times Square is safe. There may be petty crimes everywhere and occasional major crimes, but the same goes for most tourist destinations. There are also minor and major crimes in other cities.
What you need when you are in Times Square is utter caution. And this is the same level of caution that you have when you are in another location. Whether you are in Paris, Berlin, or Windhoek, you should always be cautious.
It is only then you will be 100% sure that you are safe.
But in a nutshell, Times Square is safe. I even believe it is much safer than in other cities around.
There is high visibility of the authorities in the area. There are security cameras everywhere. What more could you ask?
Is Times Square always busy?
I will be lying if I tell you it is not busy. Yes, it is.
Right smack in the hub of Manhattan, Times Square is a destination of fun and excitement.
No matter the time of the day, there will always be life in Times Square. And at night, you can never find a dark alley anywhere in the area.
So, yes, Times Square is a busy destination.
What runs the Time Square engine is it is fun and excitement culture. There are shops and restaurants everywhere. Aside from that, there are parks and all sorts of sites as well.
And at night, the bright lights shove the dark away.
Times Square has a very active nightlife. It is also the home of the much-renowned Broadway street.
Times Square will always provide you with something to do.
With something to do for everyone, Times Square is busy. It can even be one of the busiest corners of New York.
Is Times Square safe at night?
Anywhere in the world, I often get asked this question. Is it safe at night in Phnom Penh? Is it safe at night in Madrid? How about Barcelona? Is Nagasaki safe at night?
In general, places will always have their safe corners and non-safe areas. While we love to explore as much as we can, it is best to avoid areas that are not safe.
The city of New York has a population reaching up to about 8 million people. Despite the numbers, New York is still one of the ten safest large cities in the US. Take note of the words "large cities."
These cities are those that have 500,000 or more residents.
Anyway, the city is safe. Times Square is also safe. This is the reason why Times Square is drawing more than 50 million tourists every year.
But as you may already know, crime happens. This is the same in all the major cities. And as a tourist, one of the expectations is for you to take necessary precautions. This is for you to detract attention from criminals.
There will always be swindlers and thieves. They can identify tourists without so much of an effort. And once they can remember, they make their move.
So when in Times Square, make plans. A well-planned trip gives you more confidence when exploring the city.
Take note that criminals always target those that seem lost. They prey on those that look disoriented. So make sure to plan ahead.
In summary, Times Square is safe during the day. No matter where you are in Times Square, it is safe to walk as long as there is light.
At night, you may want to reconsider walking in Harlem. Or you can postpone your visit to Alphabet City for the next day.
Most of Times Square is safe at night. There will always be crowds around. Plus, there will always be patrons that have come out of the theaters. So, yes, you would feel safe with all the crowd around.
What to do in Times Square?
Times Square brings with it more surprises than any other place in the world. This busy piece of Manhattan is teeming with billboards. The area is also busy with tourists and a horde of amazing things to see and do.
When visiting New York, your trip will never be complete without passing by Times Square. So, when you're in town, here are the things you can do.
A Self-Guided Walking Tour
This is one of the best ways to acquaint yourself with the city. This is also an excellent way for you to determine how you would want to spend your day.
While this may be hard to do in the 1990s, it is easier now with all the travel apps around. Scour the internet, and you find yourself a GPS-enabled audio app that can help you with your guided tour.
This allows you to have a sense of what the city is all about. You can stop by the Times Tower and the Time Ball. There is also the Broadway pedestrian that you should not miss.
Aside from these, you may want to see the Palace Theater. Then there is the St. Malachy's Catholic Church, which is a beauty to behold.
A self-guided walking tour is also a great opportunity to wander. You can walk around or do some people-watching. There are street performers all over the area that begs for your attention all day long.
Food Carts!
Who can ever miss the food carts in Times Square?
The area is a great place to get a snack or a light meal. Times Square is full of food carts and food trucks to cater to everyone's needs.
There's a food cart that sells Indian food. Then, there's a food cart that sells Asian food. Some are selling burgers while some sell Italian food. Anything and everything that fits all palates is in Times Square.
So, try these food trucks. And when in Times Square, you have to eat like how New Yorkers do – on the go. So, get your food and go about your business.
Broadway
Your Times Square trip will never be complete without watching a Broadway show.
When in the area, you will see many ads and teasers for whatever Broadway is showing.
There are many theaters in the area to visit. Some of the most notable ones are the Ambassador Theater. Then, there is also the Brooks Atkinson Theater. And finally, who can ever forget the Circle in the Square Theatre?
See the Guilliver's Gate
I would have to admit; Times Square is also full of museums. Although, I know I did not mention this earlier.
But yes, Times Square is that – teeming with museums.
Gulliver's Gate is one of those museums. But what sets this one apart from the others is the size.
The museum brings with it nothing but uniqueness and fun for everyone, no matter the age.
In this museum, you will find miniatures of everything you see in Times Square. There will be miniature cars, buildings, and bridges.
The museum takes influence from Gulliver's Travels. Open from 10 am to 8 pm every day, the museum is there to impress.
Experience Rockefeller
I know it is easy to get lost down there. But when in Times Square, the view is best from the top.
Head to the Rockefeller Center Observation Deck. Here, you will feast on the beautiful panoramic view of the city.
From up here, you see the Empire State Building. From the top, you can also get to see Central Park and the Brooklyn Bridge.
From 8 am to midnight every day, the observation deck is open.
Go Ice Skating
This is something you can do during winter.
Every year, thousands of tourists flock to Times Square. They visit for an opportunity to do some ice skating. Head to the Rockefeller Center Ice Skating Rink.
This is a few meters away from Times Square. Ice skating at Rockefeller is also a tradition every New Yorker adores.
Since this is a winter activity, this is only possible anytime from October until the start of spring.
If you want to avoid the crowds but want to skate, you can still head to Bryant Park.
The park is a few meters away from Rockefeller. It also has a winter ice skating rink open.
Bryant Park
And speaking of Bryant Park, there's something else I have to tell you.
Bryant Park is one of the most relaxing places in Times Square. The park is between the 5th and 6th Avenues in Midtown Manhattan.
Amidst all the life, the lights, and the noise, this park exists to have you relaxed. It has gardens. It also has a merry-go-round. Most importantly, it has green spaces where you can stop by and breathe for a while.
By the way, there are many things you can do while at the park.
There is Wi-Fi so you can get connected. Aside from that, many classes do Pilates. Then, there are juggling demonstrations. And who would ever forget Tai Chi? You will also find in the park Tai Chi sessions you can join in.
Times Square is a hub of entertainment and life.
You will never run out of options when it comes to food. You will never have enough time to visit all sites on one trip.
Over the years, Time Square has been evolving. It responds to the test of time. One day, there is this attraction; the next day, it is gone.
But if there is one thing that remains in Time Square, it is that the destination is full of fun, life, and excitement.