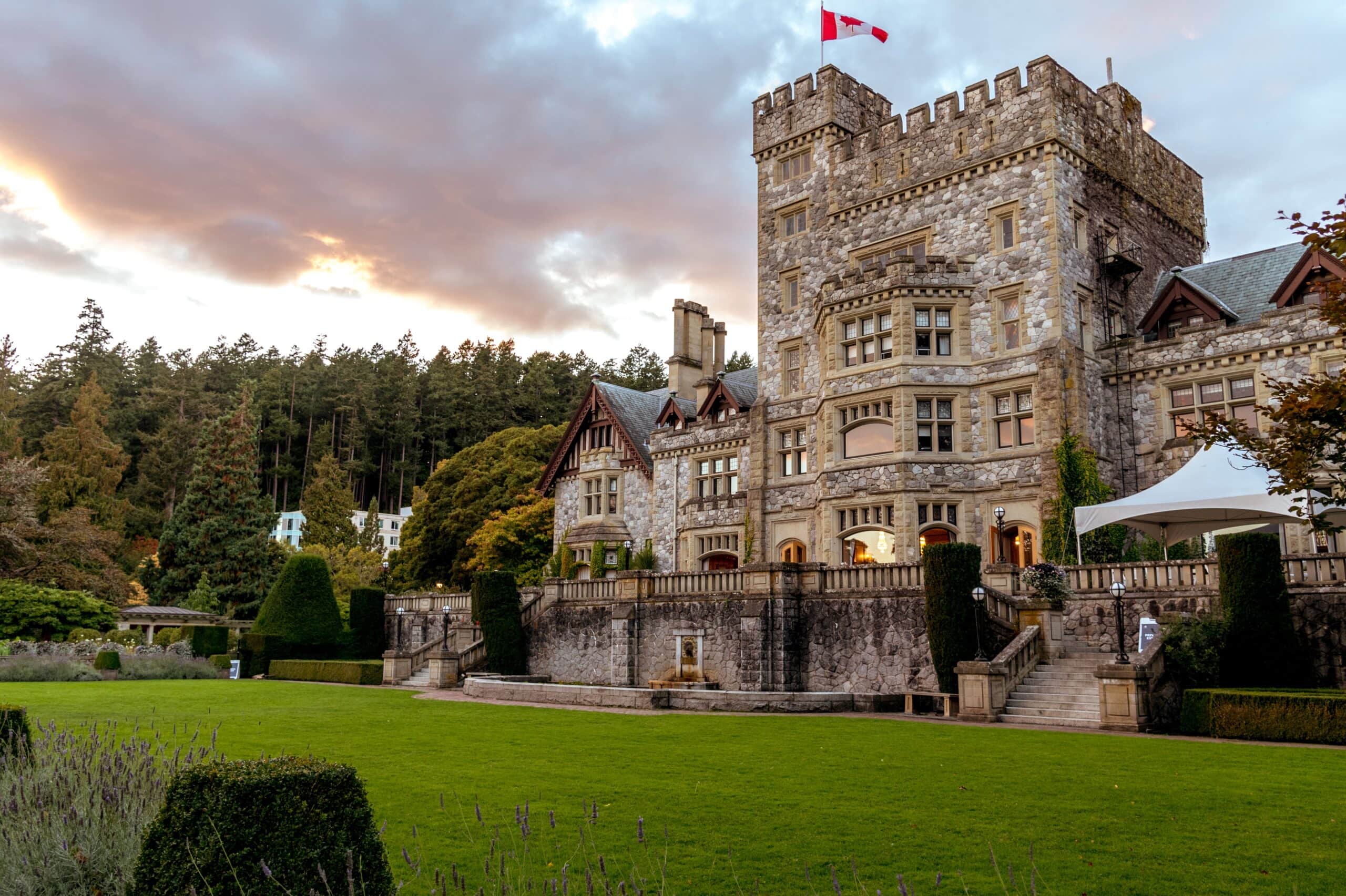 This magical place is worth a visit if you ask me.
But for me, you would need more than a day for you to maximize the trip. And if you are traveling by land, make your trip a bit longer. You're going to need it.
The city sits at the southernmost tip of Vancouver Island. The city is charming in more ways than one. It is also one of the oldest cities there is in the Pacific Northwest. This fact alone adds a subtle charm to the location.
The city is about 62 miles from Vancouver, BC. It is also close to Seattle. This makes the city a perfect destination. This is ideal for when you need a weekend time off from.
As I mentioned earlier, you need more than a day to explore the city of Victoria. The reason for this is because its attractions are set far apart from each other. Aside from that, there are way too many sights for you to cover in a day.
Victoria is famous for its beautiful gardens. Each needs more than an hour of exploration.
It has magnificent castles that bring life to your imagination. And not just your imagination, but these castles also share the city's rich history with you.
Aside from these sights, the city is full of wonderful attractions. Whether you plan to tour in or around the city, it is always worth the time.
I assure you, this is a one-holiday vacation you will never regret.
How many days do you need in Victoria BC?
Victoria BC's sights and attractions are far from each other. It is for this reason that visiting the city for a day is not advisable. You will go home with regrets for not adding one to two days more to the holiday.
If you ask me, the city is more than just a day trip. It has gardens and castles, food and parks. Its museums are extraordinary. You need your visit to be longer than one day.
A couple of days would be great. If you can stretch it to three or more days, that would be better. This way, you can have enough time to travel and explore the city in comfort.
Also, please take note that it also matters how you are traveling. Are you flying to Victoria BC? Or are you going to drive?
The trip alone from Vancouver to Victoria will take most of your time. It is a long drive to the ferry port from the city.
Add to that is the time you will spend waiting at the ferry port. Plus, you should also count the hours spent by boat during the trip itself. By this alone, it looks like you will be spending most of your time traveling to your destination.
Well, you can, of course, fly. Getting on to the next flight takes about 20 minutes from one harbor to another. Flying is fun. But the trip by land is better.
And once you are in Victoria BC, it takes more than a day to explore. As you already know by now, attractions are far from each other. Traveling from one site to another will also eat up your time.
This is the reason why, when people ask, I do not recommend day trips in the city—plan for at least two days. If you can have more than two days, you will have more comfortable travel experience.
Besides, what is essential about traveling is more than the photos you take. Immerse yourself into the rich history of the place you're visiting. Only then will you know that your holiday destination is worth it.
What is the best time to visit Victoria BC?
The city is beautiful all year round. But like in all destinations, there will always be the best times to visit.
I am not saying you skip the months I didn't mention. I want you to target these months as these are when the city is at its most beautiful.
Victoria and Vancouver are at their best from March to May. It is also great to visit anytime from September to November.
This is because, during this time of the year, the city has the best weather.
It is during these months that you see the mildest weather in the region. During summer months, the region can also be at its driest.
And what I like the most about the Victoria weather is its drizzles. No matter what month of the year, you can always expect a rainfall once in a while. This makes the weather comfortable all year round.
Besides, the drizzles can be romantic, isn't it?
The season when most tourists flock the city is during summer. The reason is because of the many festivals the city holds. These festivals run from Victoria and span up to Vancouver Island.
During winter, the city is also famous for winter travelers. This is because Victoria is quite near to one of Canada's famous ski destinations. It is always a focal point when traveling during winter.
And if you plan your trip anytime from April to October, it would be great to do some whale watching.
But let's go back to that question at hand. The best time is between March to May. It is also great to visit anytime from September to November.
But if you decide to visit in another month, you decide.
What is Victoria BC known for?
If there is something to know about this city, it is that the city is beautiful. In the international community, the city is famous as the City of Gardens.
History tells that the garden spots in the city go back to decades before. Even in the 1970s, the city already had an amazing annual flower count. In 2018 alone, the full blooms recorded was more than 3.4 billion.
Victoria in BC is also famous for its downtown area. One fun fact is that the city's downtown area is the oldest in the whole of Canada. Another fun fact is that the Fan Tan Alley in downtown Victoria is the narrowest in the country.
The city is also famous for its people. On a global scale, the country is one of the 15 friendliest destinations in the world. That is no easy feat if you ask me.
The international community calls Victoria other names as well. It is also famous as the most romantic city in Canada. Aside from that, Victoria equates to safety when it comes to women. People consider it as Canada's Best City to Live in for Women.
The city is beautiful in more ways than one. It is popular for its bright lights. During the summer months, about 1,600 lamp posts all over the city hold flowers in bloom. The city is also full of energy-efficient lights.
Aside from the lights and the gardens, the city is famous for being bike-friendly. It has hundreds of kilometers of effective bike lanes. This ensures that the locals have the option to get into their cars or bikes when going somewhere.
And speaking of bike lanes, have you ever heard of the famous Galloping Goose Regional Trail? It is in Victoria, BC.
The city is also famous for serving more than half a million cups of tea every year. It has thousands of farms that make the city sustainable than others.
The city is also home to one record holder. It is where you will find the earth's tallest free-standing totem pole. This is something you will see at Victoria's Beacon Hill Park.
And before I forget, there are killer whales in there!
The city is also home to killer whales. Despite that, the city is still famous for its cold-water diving destinations. It has a diverse marine life and one of the highest water clarity in Canada.
Finally, it has museums, parks, gardens, castles, and a lot more. So, do you think you can visit all these in a day? I guess not.
How do you get around Victoria BC?
The city is walkable. That's something I can promise you.
While other modes of transportation are available, the city is best seen on foot. But should you insist, here are a few useful suggestions. Please do take note.
You should know that some buses and cabs travel within the city. You can take those if you want.
Buses can be double-deckers or not.
Aside from the buses, you can also hail a cab to take you around town.
Speaking of cabs, Victoria is famous for its water taxis—the water taxis service at least 13 major interesting sights around the harbor. There goes Chinatown and a lot more sights to see.
The water taxis are one of the unique ways to explore the city of Victoria.
Another option you can take would be cycling. If you can remember, I mentioned earlier about the city being bike-friendly. If you are the adventurous type, go get a bike. I mean, you can rent them.
I should also emphasize that biking would be way healthier than the other options. Not only that, but biking would be good for the environment as well.
Or if you are the one that loves luxury, you can also get a chauffeur. You can even subscribe to charter services. Be the Don that you are with this type of transportation.
But if you want something different, please try traveling by a horse-drawn carriage. It would be cute. Besides, it gives you a feel of how it was exploring the city decades ago.
If you don't consider that as impressive, I'd be speechless.
What is living in Victoria BC like?
The city provides a fantastic working experience for its locals and expats alike. I should emphasize that the city's economy is pretty healthy. With that said, there are a lot of jobs available for everyone.
Working in Victoria would be amazing. It has a quaint and rustic vibe that you will love. Aside from that, working in such beautiful surroundings would be exciting.
It has warm summers and mild winters. The weather is pretty much important as it affects your way of life at the end of the day.
The quality of life in the city is higher than in other locations. It is no wonder why people from all over the world flock the city and move.
One of the things you have to consider, though, is that the cost of living is pretty high. Victoria is, in fact, one of the most expensive cities in Canada. It is now sitting behind Montreal and Quebec when it comes to the cost of living.
To give you an idea of how it is to live in the city, take a look.
On average, the rent of a one-bedroom apartment now costs around $1,400 in the city. For a two-bedroom, it can be anywhere from $1,720.
Meals at some mid-range restaurants in the city would cost you around $18. Other essential utilities like electricity and water bills can go up to more than $100. That is expensive if you ask me.
An internet connection of 60Mbps or more would also cost you around $78 or even more.
In a nutshell, the city of Victoria in BC is expensive. It ranks as 155th out of more than 560 cities globally when it comes to the cost of living. It is more costly than the most ordinary city in the country.
Also, the city has a cost of living index of 71.00.
While the city is expensive, it also makes up for its people and its sights. It has a healthy economy and is one of Canada's up and coming mighty cities in the coming years.
And for me, that's enough reason to visit. Isn't it?