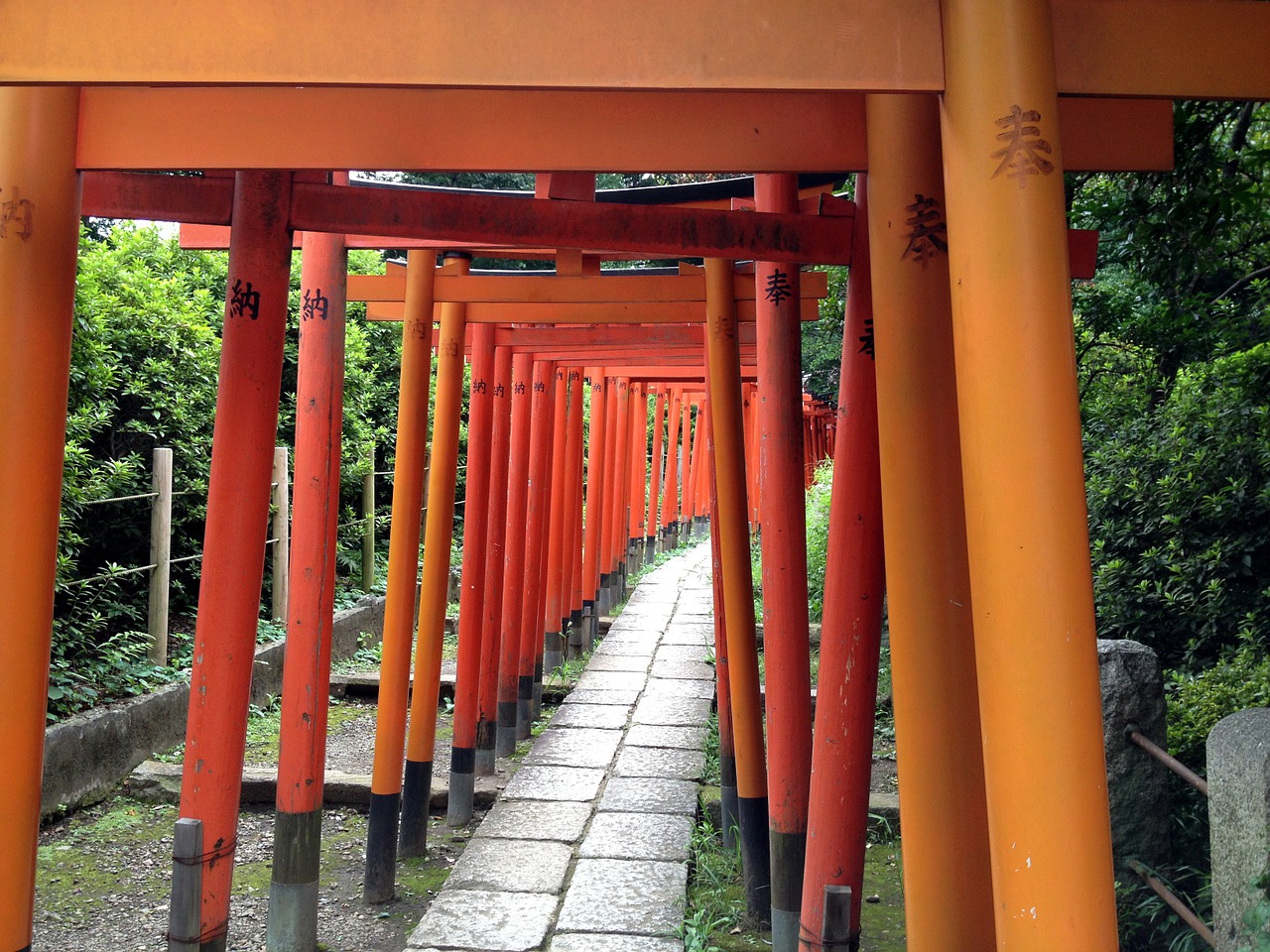 Tokyo is a city that is photogenic in every corner. It has a chaotic vibe that is beautifully captured by the lens. Sensoji Temple, Nakameguro River, and the Shibuya Crossing are just three of the many beautiful places to take photos in Tokyo.
It is a bustling city. It is beautiful, chaotic, and exciting.
If you are visiting Japan, it is a mortal sin to not swing by the city of Tokyo, even just for a couple of days or so.
And while you're in town, why not check out how beautiful the city is?
Every corner of Tokyo is a treat to the lens.
There are shrines. There is a multitude of street art. Everything is photogenic.
And out of the many photogenic corners, here are 15 of the most beautiful places to take pictures in Tokyo.
Senso-Ji Temple – The Star of Asakusa

Japan is cultural in every sense of the word.

And if you aim to capture the city's cultural side, it is in Asakusa that you should spend most of your time.

Jam-packed, chaotic, and yet beautiful – these words all describe Asakusa.

It has picturesque streets, quaint shops, and eateries in narrow streets.

And the star of Asakusa is the Sensoji Temple. Whether it is during the day or night, the temple is one you shouldn't miss.

Avoid the crowds by coming in late. Around 10 PM, most tourists would have already gone home.

Tokyo City View Tower – A City View

When you are at the Roppongi Hills, head over to the Tokyo City View tower, this is where you get the best view of the city.

The observation deck towers at an amazing 250 meters. Such height provides you with an amazing view of Tokyo.

You can visit during the night to capture the beautiful city lights. But know that tourists flock to the tower at night.

During the day, you may not be able to capture the city lights. But you can get clearer photos of the city without jostling for the view.

Meiji Jingu and Sake Jars – Sake Barrels and the Shrine

Dedicated to Emperor Meiji Jingu, the Meiji Shrine is a must-see sight in Tokyo. The most beautiful to take photos of.

A lush forest surrounds this Shinto shrine. It is also popular for its beautiful and large torii gate.

The area is peaceful and provides visitors with a relaxing commune with nature. While you are approaching the shrine, you will be seeing sake barrels that line the path.

Sake breweries donate these barrels every year to the shrine.

Nakameguro River – A River for all Seasons

All year-round, the river is beautiful.

Leaves beautifully change colors during fall here. Pink cherry blossoms abound during spring. And in winter, these trees are all covered in beautiful twinkling lights.

Shibuya Crossing – Chaotic and Beautiful

The crossing is chaotic and yet charming.

This area is the best way to capture the city's bustling crowd. Thousands and thousands of people cross the junction every day.

And while they cross, there is just something beautiful about all the chaos.

Head on to Starbucks in Shibuya. The upper floors can provide you with amazing views to take photos of the crossing.

Ueno – Intimate Neighborhoods

The district has many attractions you can take photos of.

It has a zoo, a bustling and colorful market, and a museum. The same place where you will find the Imperial Palace demon gate.

Aside from these touristy sites, the neighborhoods are quaint and intimate. You can explore them, too.

Shinjuku Omoide Yokocho – Piss Alley

The area is popular as the "Piss Alley." But don't worry about what the locals call it.

This part of Tokyo is one of the ideal places to get a drink or a late-night snack.

Behind the Shinjuku station is a great spot where you can take loads of photos. Because no matter how many times you visit this part of Tokyo, there will always be something beautiful to take photos of.

Hie Shrine – A Shrine Within the City

This is yet another beautiful Shinto shrine in Tokyo.

Hie Shrine, however, is in the bustling part of the city. But it has tall trees surrounding it. Aside from the trees, there are a lot of green spaces.

The shrine is photogenic and provides for that traditional Japanese vibe.

When in here, don't miss out on the entrance. In one of the entrances, there are about 90 red torii gates. They all converge and form something that looks like a tunnel.

If you have already seen the Fushimi Inari Taisha, the torii gates in Hie Shrine are similar. But this is without the big crowds you see in Kyoto.

Takeshita Street – The Cutest Street

Located in Harajuku, Takeshita Street is the cutest in Tokyo.

There are kawaii clothing stores, pink crepe shops, and vendors that sell rainbow cotton candy here. Taking photos in these shops is extremely popular. If you caught yourself in one of these crepe shops, don't miss out on taking a photo.

Tokyo Skytree – Soaring Observatory

This could be perhaps one of the more modern touristy sites in Tokyo.

But modern as it may be, it is brilliant in photos. From a distance, the observatory that soars up to about 350 meters high is one of the highest on the planet.

It opened in 2012. Whether taking a photo of it from up close or from afar, the Tokyo Skytree never disappoints.

Imperial Palace – Of Palaces and Gardens

Visiting the palace requires you to register ahead of time. But without the reservation, you can still walk its grounds without seeing the inside.

You will also be able to visit the East gardens as well as the old Meiji Palace ruins.

Kabukicho Shinjuku – Wild and Beautiful

This is yet another Shinjuku corner you should visit.

The entertainment area (verging toward red-light) may be wild. But it is beautiful and picturesque as well.

It has robot restaurants, streets lit with neon signs and a whole lot of luxurious locals.

If you are into late-night photography sessions, this should be perfect for you.

Nezu Shrine – The Oldest Place of Worship

Less busy than other Shinto shrines, the Nezu shrine is also one of the oldest in the city.

It was constructed in 1705; the shrine is well-hidden.

The entire area gives you great opportunities to commune with nature. It has landscaped gardens all over and is one of the most beautiful areas of Tokyo.

Surrounding the shrine are scenic paths and torii gates.

No corner is ugly in Nezu Shrine.

Hamarikyu Gardens – A Splash of Color

Sixty-one (61) acres and more than 400 years old, the Hamarikyu Gardens is a stark contrast to its surroundings.

Here, you will see acres and acres of flowers. Each season gives the garden a different set of colors. Its unique beauty makes the garden popular with photography enthusiasts.

Metropolitan Government Building – The View from Up Above

When you are in the area, make sure to head over to the 45th floor of the observatory. Here, you will get to see Tokyo from up above.

This is also the best way to take photos of Tokyo and its skyline.
Is it rude to take photos in Japan?
It is not rude to take photos in Japan. But when taking pictures, there are signs you should watch out for. A crossed-out camera is a sign that it is not okay to take a photo of the object. Without the sign, taking photos should not pose any problem at all.
Japan has a horde of beautiful corners to take photos of. But when taking photos here, you need to understand a few things.
Today, I will tell you when it is okay and when it is not okay to take photos in Japan.
Here are some rules that surround the act of taking photos.
Yes, You Can Take a Photo
The obvious sign that it is not fine to take photos is the crossed-out camera signage. What this means is that it is not okay to take a photo of the object. If you cannot find this signage in the area, it means taking photos is okay.
Generally, parks, buildings, and festivals are subjects that you can photograph. And when taking photos, don't worry about the crowd. If they don't prefer to be in the picture, they would tell you so. Or they would also move out of the way so you can take photos without them.
Otherwise, it is fine to take photos of the crowd/subject.
No, You Cannot Take a Photo.
Aside from the crossed-out camera signage, there are also a few things to remember when taking photos.
Do not take photos of children. Also, do not take photos of people unless they agree. Taking photos inside the train is also rude.
Additional Reminder
Most stores do not allow people to take photos of whatever they are selling. And if they do, they usually ask why you would like to take photos of their wares.
When shopkeepers ask you, make sure to be honest. It is always alright with shopkeepers if you tell them.
Just make sure that when you are in a store, ask the shopkeeper first if taking photos is fine.
What should I avoid in Tokyo?
Aside from the photography etiquettes, what else is there to remember? There will always be rules about wearing shoes indoors, not giving tips, and not breaking chopstick etiquettes. There are also more.
Japan is a country with a very rich culture.
And for first-time visitors, learning all these rules can be daunting. But fear not because there are a few basics you just need to remember.
Knowing these basic norms can go a long way.
If you are visiting Japan anytime soon, here are a few things you need to know.
Chopstick Etiquettes

For most of us, using chopsticks while eating can be uncomfortable. And the Japanese get easily impressed if you know how to use them.

If you do, remember not to stick the chopsticks vertically, especially when you are eating rice. Doing such is a symbol of a funeral ritual.

There are chopstick holders beside you. Use them.

Also, don't rub the chopsticks. That isn't polite.

Shoes Out

Visiting Japanese homes require you to take your shoes off before entering. This is because shoes that you use outside the home are what they consider dirty.

Once inside the house, you can wear slippers they wear inside.

The same rule applies in schools, some hospitals, and temples. And an indicator that you should take off your shoes is if you see shoes lining the doorway or the entrance.

This is also the same when using the toilet. There will always be toilet slippers available. These are those you wear when you head to the toilet.

Queue

Wherever you go, you will always find Japanese lining up in a single file. It could be at the train station, the bus stop, or even the elevator.

When there is a queue for something, never squeeze yourself in front of somebody. Always line up just like they do. It is rude to skip the lines. And it doesn't matter that you are a tourist.

When in Japan, do as the Japanese do. Line up!

Eating on the Go

Unlike in the US, the Japanese usually don't eat on the go.

When the Japanese are in a hurry, they usually buy their food, eat them standing up, and leave when done eating.

The same rule applies when you are commuting.

Eating in trains or buses is rude. Unless, of course, your trip takes long hours, then it is fine.

Blowing Your Nose

Don't do this in public. It isn't nice.

Find a private place or blow your nose while in a toilet.

Tipping

One of the important things you should know is that tipping in Japan is a big NO. Workers may construe the tip as an insult.

Even taxi drivers will not accept it if you round off the fare.

Waiters will even run after you if you leave a coin or two at the table after eating.
When in Japan, don't tip.
Is photography popular in Japan?
With camera manufacturers growing in Japan, it is obvious that photography is here to stay. Selfies, for instance, are getting more popular. The same is true with other types of photography.
Photography is an essential part of Japanese culture and technology. Why would it not be? If you look at the major camera brands, most of them are from Japan. The list includes Canon, Nikon, and Panasonic.
Sony and Olympus also have their manufacturing sites in the country.
It was the Dutch that first brought a camera to Nagasaki in Japan. The camera would pass hands for many years. Remember that this was in the 1800s when Japan closed its trading to most countries. The Dutch were exceptions.
Japan opened its trading to other countries in the 1850s. It was at this time when cameras, accessories, and everything else in-between started coming in.
It was also the start of foreign photographers coming into the country to take photos of its landscapes, people, and culture.
By this time, photography is becoming more popular even to the locals. More and more Japanese started opening studios in the country.
It was in the earlier parts of the 20th century when Japan started working on its camera industry. With its use over the years, the Japanese started learning about photography and its tedious process.
It was then that cameras became cheaper.
Even the Second World War did not put off the Japanese camera industry. By the 1950s, after the war, Japanese cameras are becoming more popular for their high standards. Their standards even surpassed those of giants like the US and Germany.
And with the digital and internet age ramping up, everyone is so used to photography. It is what the Japanese use as a medium for when they need to express or document something.
As mentioned earlier, selfies are becoming more popular as well. Cameras are also getting more popular. Almost everyone in Japan has at least one type of camera.
The Japanese are innovative geniuses. With this in mind, you can expect that the photography industry will soar in the country in the years to come.