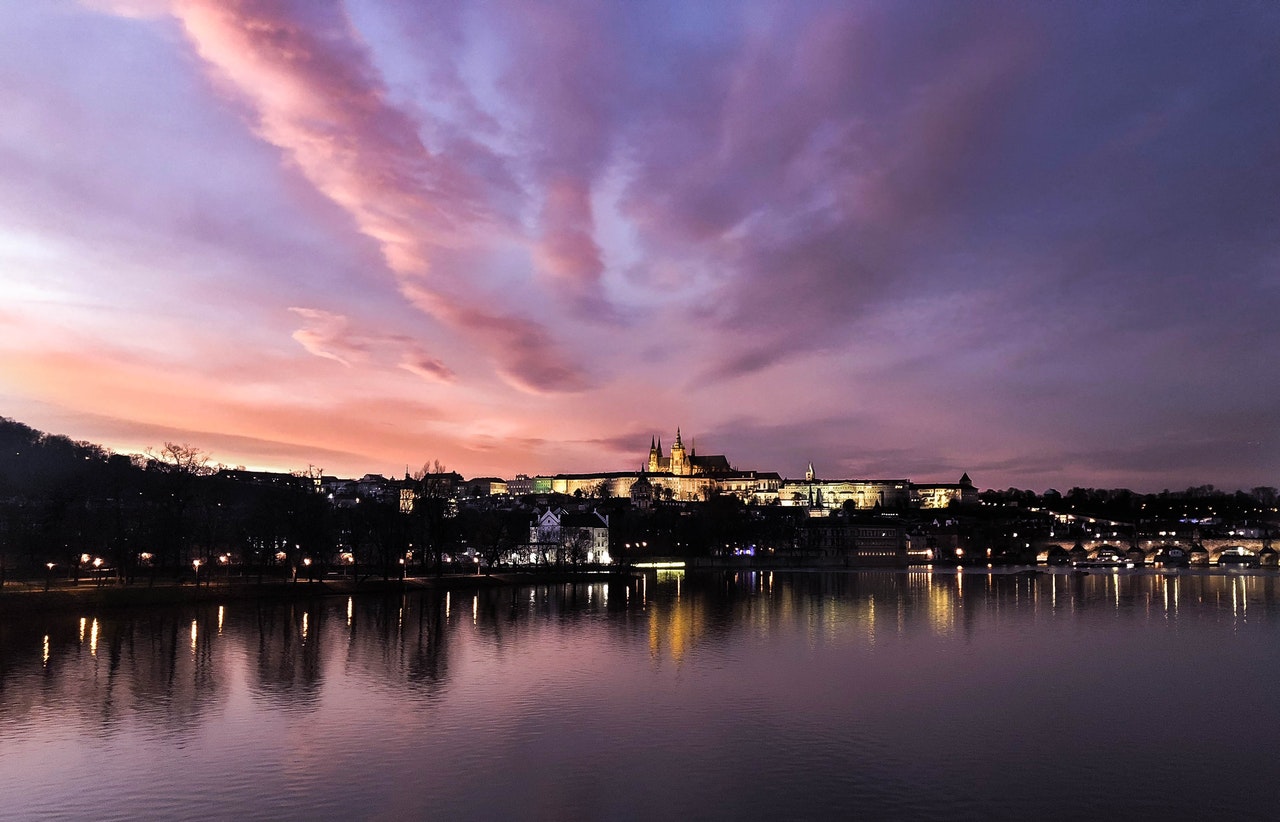 Romance can spark anywhere in the Czech Republic. But I find North Bohemia and Pilsen Cathedral to be the most romantic places. The Dancing House and Prague Castle follow closely next.
When Europe and the word romance combine in one sentence, most people always think of Paris.
But hey, romance can also spark in the Czech Republic. There are places in the country that can equal (or even surpass) Paris and other well-known romantic destinations.
Don't worry if you are a bit lost about where to go in the Czech Republic with your beau. I got you covered.
North Bohemia

Romantic destinations are not just fancy restaurants and glorious sunsets.

You can also find romance in the heart of nature.

The Czech Republic has all the beautiful countryside you can ever ask for. Riding a 4×4 in the north is one of the best experiences you can share with your partner.

Here, you will find ancient architecture you can explore.

Being out with your partner in the countryside is romantic to the core!

Pilsen Cathedral

For just about US$9, Pilsen is an estimated 1.5 hours away from Prague by train.

When in Pilsen, climb up to the topmost part of the bell tower to view the city.

Plus, don't forget to take a tour of the Pilsner Urquell factory!

The Dancing House

Why don't you try dancing in front of the Dancing House?

Other people just take photos of it. Dancing outside the Dancing House should be fun for you both.

Prague is a city of Baroque and Gothic buildings. The Dancing House is completely different and beautifully out of place beside these buildings.

So yes, going here is a must.

Prague Castle

Common as castles maybe but the Prague Castle is one breathtaking sight.

Head over for sunset and prepare to be really blown away.

Explore the town that surrounds the castle. It's a romantic, fairy tale kind of town.

Magical!

Charles Bridge

The bridge is more than 700 years old.

And as of this writing, the Charles Bridge in Prague is perhaps one of the most iconic sights in the continent.

As you cross the bridge toward the castle on the other side, you will never fail to see artists painting and musicians playing.

Cross the bridge in the early evening for a romantic walk.
Is Prague expensive to visit?
With an estimated travel cost of about US$60 to US$100 per day (without accommodations), Prague is expensive compared to other cities in the country. But compared to major cities in Europe, Prague is cheaper.
Prague has medieval architecture and bustling nightlife. This makes the city popular among tourists.
But when coming over to Prague, you should always know how much to bring. This would allow you to prepare just as much cash in order not to run short during your travels.
If you are wondering whether Prague is expensive or not, the answer is no; it is not costly.
It may be expensive compared to any other city in the Czech Republic. But it is way cheaper than Paris or any other major city in Europe.
If there is one thing to remember, it is this simple fact.
The closer you get to the Charles Bridge, the more expensive things get. This is because the Charles Bridge is where most tourists converge.
Here's a quick look if you're curious about the costs.
Accommodations
When it comes to lodgings, Prague will never disappoint.
There is accommodation for just about everyone here.
But if there is one place you should check out, it is the Old Town.
The Old Town is Prague's center and heart. Almost everything is in it. And the advantage is that everything seems to be walkable in the Old Town.
Luckily, Prague is a student city.
As such, you will never run out of more affordable options.
The most affordable lodgings would be a shared room in a hostel. A bed at a hostel can cost you anywhere from US$17 to US$23 per night. But as a couple, I find that sharing a room with other travelers may be last on your list.
Because of that, here's a more affordable option.
You get to have your room for US$76 to US$95 per night.
Luxurious rooms cost anywhere from US$120 to US$180 per night. The costs, as always, depending on the amenities of the hotel as well as its location.
Transportation Costs
Prague, especially the Old Town, is walkable.
When in Prague, transportation costs should be the least of your worries. A taxi or Uber is anywhere from US$10 to US$18, depending on the distance. But just to give you an idea, bus rides cost around US$3.50 on average.
A 24-hour pass costs US$5.30, while a 72-hour pass costs US$11.80.
Passes like these allow you to use Prague's public transportation a lot.
Meal Costs
Prague has cheap food everywhere, except in restaurants around the Charles Bridge. They're more expensive here.
In most parts of Prague, a cup of coffee plus pastry can cost you around US$6.
Meals in Prague depend on the location and the time of your meal. Lunch and dinners can cost anywhere from US$6 to US$18.
Some restaurants offer three-course meals for less than US$20.
If this is your thing, better check these deals out.
On the other hand, food stalls are all over the city. You can have sausages and other Czech food for US$5 to US$10.
When in Prague, you have all the options to choose from!
Activities
Prague is a city with hundreds of attractions in tow.
And lucky you, most of these activities are for free.
You can take a walk around the city and gaze at all the medieval architecture. Some famous spots like the John Lennon Wall and the Old Town Square are also free.
On your first day, I suggest you take a walking tour. It is for free but if you can, give the volunteer a tip.
The free walking tour can give you the first glimpse of Prague.
But should you choose, there are also other tours you should pay for. A beer tour or an underground tour costs around US$23 per person. Museums, galleries, and other tourist destinations cost anywhere from US$11 to US$23.
Entertainment
Nightlife in Prague is affordable, especially in less touristy corners of the city.
Beer is cheap in Prague. Plus, walking around the city, you get to choose from a horde of options. There are establishments with live music. Some have live shows.
With that said, a night out in town will not put a hole in your pocket. Unless, of course, you drink more than you can tolerate. You may end up having fun and spending more.
Pub crawl, a popular activity, costs around US$30.
But if drinking and partying are not your cups of tea, you can check out Prague's opera performances. At US$47 for a ticket, you will get a chance to watch live opera performances in beautiful venues.
In A Nutshell
So, if you are wondering how much to spend in Prague, it all depends on you.
But estimations state that it could anywhere be around US$60 to US$100 per day. The estimates depend on the type of activities you go for. It also depends on the food you eat.
If you go out for drinks (or a lot of it), your costs may be higher.
But at the end of the day, you will never regret a trip to Prague.
What month is best to visit Prague?
It is always perfect for visiting during spring and fall. The weather in Prague is mild. The crowd is few. Hotel costs are also cheaper.
Generally, Prague has a chilly climate. And so, if the climate doesn't bother you, spring and the earlier parts of fall are the perfect dates to visit.
Summer has a lot of tourists flocking the city. This also means that hotel costs are higher.
Here's a quick look at how Prague is all year round.
March to May
Spring is magical.
By this time, the weather is mild, and the streets are less crowded.
You have cheaper-priced hotels.
Temperatures can be anywhere from the mid-40s to around the mid-60s. This is not too cold. This is not too hot. Just perfect.
But when visiting around this time, make sure to dress up in layers.
Never underestimate the power of the winds.
June to August
Welcome to the sunny season!
This may be the perfect weather to explore. But you may have to wade your way through flocks of tourists that visit Prague by this time of the year.
Summer is expensive in most parts of Europe. And as I mentioned earlier, Prague is cheaper compared to the other European cities.
If you are planning on a relaxing getaway, this is not the time to go.
September to October
The other perfect time to visit is during autumn.
During this time, the weather is just fine. It is warm but not too hot.
This is not as popular with tourists as in summer. Also, there aren't as many tourists by this time. But this is, nonetheless, the perfect time to visit because of the weather.
As such, hotel prices tend to dip down.
November to February
Winter is when the city is devoid of tourists.
Everybody seems to go somewhere during these months. But not in Prague.
As such, there's no need to line up when visiting attractions. Hotel prices and other activities would also be lower compared to when you go on other months.
Is English spoken in Prague?
A huge chunk of locals in Prague speak English. In touristy areas, it is common to hear people speak English. Bus drivers may not speak English that much. But in hotels, restaurants, and the likes, they speak the language.
Czech Republic's official language is Czech.
Not many foreigners speak this language. The reason could perhaps be because of the level of its difficulty.
But when visiting the Czech Republic, you don't have to worry about not speaking their language.
People will still understand you just by speaking in English.
Don't worry. They can communicate in English.
A large percentage of the locals speak the language to some extent. This is especially true in touristy spots like the establishments around the Charles Bridge.
Staff working at restaurants speak English. The same is true with those that work in hotels.
At some point, there is not much English that you can get from the authorities and bus drivers. But a little hand movement can get your message across.
Besides, if push comes to shove, the locals are friendly. You can easily find somebody who can translate to the bus driver.
So, that's not a problem at all.
The Languages that They Speak
The Czech Republic is a multi-cultural country.
This is a melting pot of many nationalities.
Expats from many countries live and work here. And so, it would be normal to hear languages other than Czech when you are in the country.
As of this writing, more than 200,000 foreigners live and work in the Czech Republic.
Most of these are from Ukraine, Slovak Republic, and Russia. And believe it or not, but there is a Vietnamese population here as well.
In other cities, expect the English proficiency to dwindle for a bit. But when in Prague, you will never have any issues communicating in English at all.
The Czechs in Prague have a good command of English and can communicate well.
In Prague, English is one of the most common languages that they speak. The others are Czech, Russian, and German.
English in the Czech Republic
As earlier mentioned, there are a lot of locals in Prague that speak English.
The more touristy the street is, the more proficient the locals become.
When walking around, you also don't have to worry that much. This is because most signages in establishments and streets have English translations.
Of course, the older generation speaks less English.
The safest way to go is to ask for directions (or assistance) from the young ones.
While the young ones speak Czech and English, the older ones speak more Czech and Russian.
But no matter the language, I'm pretty sure your trip will be as romantic and as fun in the Czech Republic!