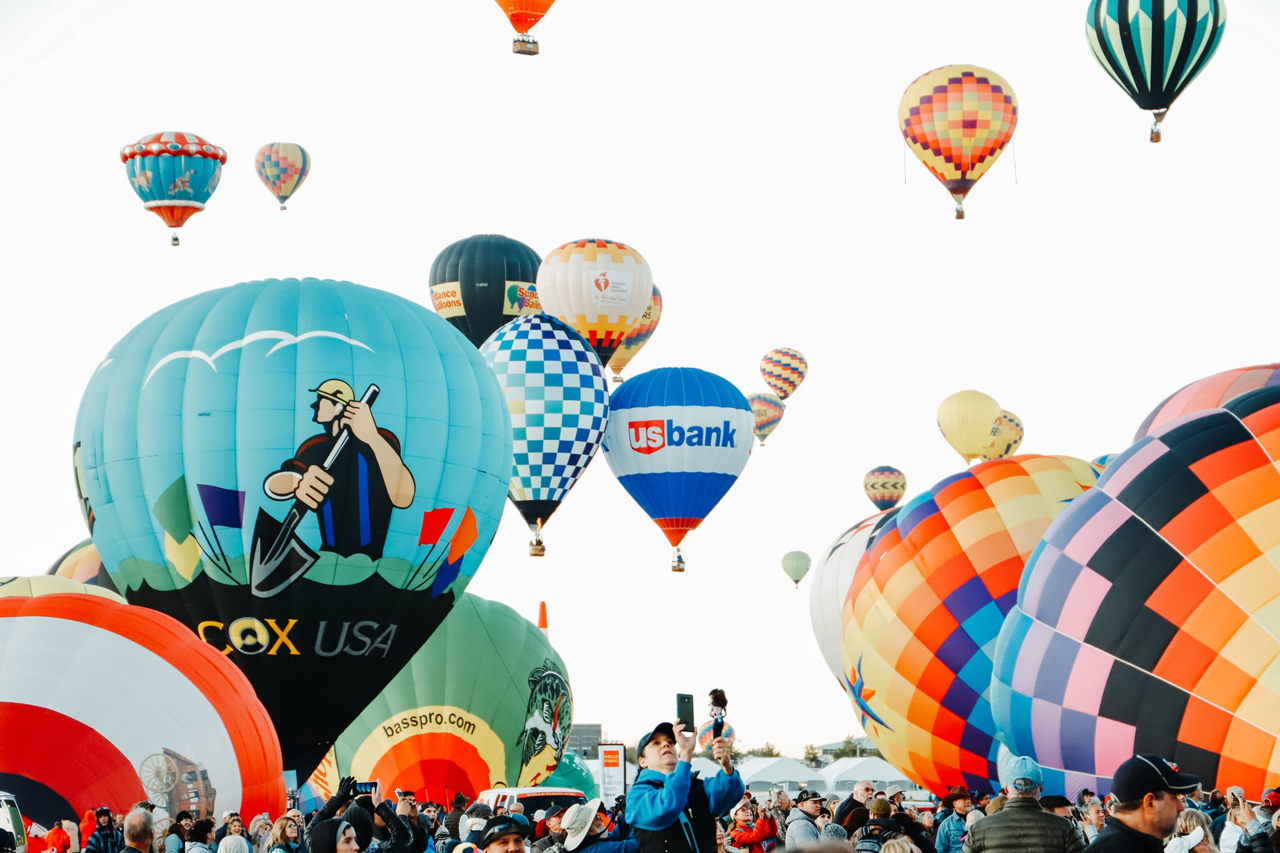 In the state's center, Albuquerque, New Mexico's biggest city, is situated on the Rio Grande. Albuquerque, a dynamic and cosmopolitan city, provides year-round pleasure even without a car.
I visited this city last year and found plenty of enjoyable, free activities. During my trip, I discovered that Albuquerque is one of the most cost-effective vacation spots in the southwest.
If you don't have a car, Albuquerque is a one-of-a-kind destination you should explore. It is brimming with enchanted landscapes, hundreds of acres of trails and protected space, well-curated museums and centers., and one-of-a-kind attractions. Here, the chances for enjoyment are limitless.
Here are my top 12 things to do in Albuquerque without a car to get you started.
1. Paseo del Bosque Trail
I visited Paseo Del Bosque last year, and I must say that it is unbeatable to get an insider's view of Albuquerque. It is indeed one of the fantastic things to do in the city without a car. The Paseo del Bosque Trail, Albuquerque's most fabulous multi-use trail, runs from the metro area's north to south boundaries across the Rio Grande's cottonwood bosque (forest).
You'll be able to view the Rio Grande Nature Center, Albuquerque BioPark, and the National Hispanic Cultural Center while traveling the metro region. What an adrenaline-pumping outdoor excursion!
The access points are my favorite part of this journey. It has several access points, including Alameda Boulevard, Paseo del Norte, Montaño Road, Campbell Road, Central Avenue NE, Marquez Street, and Rio Bravo Boulevard. I stopped at Alameda Boulevard, and it has an Alameda bridge where you can enjoy its picnic area sheltered by cottonwoods in the northeast corner.
2. Casa Rondena Winery
The Casa Rondena Winery in Albuquerque is a famous sight in this region that you should not miss during your visit. Situated on some of the most fabulous and serene grounds I've ever seen, this is an ideal spot for wine tasting, strolling, or perhaps enjoying some entertainment.
Since the late 1990s, this Albuquerque vineyard has been producing wines of unmatched quality. The Casa Rondena Winery's meticulously handmade wines are a treat to taste. From deep, luscious ports to crisp whites, their wine collection spans the spectrum of sweetness and taste.
Each wine has its unique characteristics, and you're sure to fall in love with whichever kind you drink!
It also ensures that its visitors have a good time by offering a range of events and activities. I had an excellent experience here because of its live music, allowing me to watch some of the region's most outstanding artists.
I also attended the Casa Rondena yoga courses, which were fantastic too! Overall, this breathtaking vineyard provides the ideal setting for you to breathe and rest.
3. Indian Pueblo Cultural Center
This cultural complex, in which New Mexico's 19 Pueblos jointly operate, is a must-see in Albuquerque, even without a car.
The Indian Pueblo Cultural Center, renovated in 2016, now has intriguing exhibits that tell the tales of the Pueblos' collective history and individual creative traditions and galleries that host rotating temporary exhibitions.
They're arranged around a plaza that regularly hosts dances and artisan displays. There's a huge gift store and retail gallery and the Pueblo Harvest Cafe.
I enjoyed seeing the dancers perform, learning from the informative displays, and conversing with tribe members presenting their art. The on-site cuisine was excellent as well. This site provided some of the most delicious meals I had on my trip to New Mexico!
4. Tingley Beach
Tingley Beach is a lovely park near the BioParks in Albuquerque's Old Town.
It is one of my favorite spots in Albuquerque to spend my time. Tingley Beach is big enough to enjoy a range of outdoor activities such as fishing, cycling, photography, strolling along the Rio Grande and taking in the landscape, or just observing the lovely environment of New Mexico.
Tingley Beach has fishing ponds, a bait store, an ice cream, a snack stand, port-a-potties, and paddleboat rentals.
If you want to maximize the experience here, go fishing, but remember that you'll need a New Mexico fishing license if you're 12 or older.
I'd gladly come back here for some more outdoor fun!
5. UNM Duck Pond
UNM Duck Pond is a charming location! It's one of those sites only known by locals or UNM students, making it remarkable. It's a beautiful spot for a picnic or hanging out with the kids or pets! If you are looking for a relaxing site to read a book in the sun, the duck pond is a peaceful haven!
It is a lively urban paradise shaded by trees and brimming with flowers, turtles, and ducks.
It's not the town's most prominent or most visible attraction, but it's a fantastic spot for a lunchtime picnic or a pit break on your UNM campus tour.
A lot of people like taking pictures here! Since my friend's wedding was in the campus chapel, many of her wedding photos were shot here, just gorgeous!
6. La Luz Trail
The best way to enjoy the city without a car is through its natural beauty. One of the naturally stunning sites in Albuquerque is the La Luz Trail.
Like all of the trails from Albuquerque to the top of the Sandia Crest, the La Luz trail rises quickly. If you're coming from sea level, you may need to take it slowly. As far as you want to go, turn around and come back.
It's a fantastic trail that starts easy but gradually becomes more complex as it climbs, with a steady elevation gain of 150 feet.
A new vista of the mountain, the desert, or just the trees awaits around every corner. It was just breathtaking!
Also, it has many gorgeous wildflowers if you face the challenging 8-mile hike to the top of Sandia Crest. It's one of Albuquerque's most challenging hikes, so bring lots of water, food, and rain gear if the weather turns.
Don't worry if you're tired when you reach the top—you can ride the Sandia Peak Tramway back down and be off the trail before dark.
7. The Open Lands Visitor Center
Throughout my visit to this city, I must add that this park is a great, calm area to explore even without a car.
The Open Space Visitor Center features displays highlighting natural and cultural resources. The Open Space Division preserves over 5,000 acres of extinct volcanoes, mesas, foothills, and other terrains. It is one of the places you can visit for free.
With the magnificent Sandia Mountains in the backdrop, the Visitor Center also has an art gallery and animals.
It has plenty of indoor and outdoor viewing areas to see Sandhill cranes and other migrating birds throughout their fall and winter migratory seasons.
Natural species coexist with pomegranate, apricot, apple, pear, grapevines, sunflowers, squashes, peppers, and maize. There are several spots to sit, rest, unwind, and enjoy the view of the mountains, whether in the sun or the shade.
Don't miss seeing various sculptures around the Out of Door Art Park, including a wheelbarrow archway, dirt urns, a fly route sculpture, cairns, etc.
It is just a tiny section of New Mexico's Open Spaces. I will come back here to explore more things it offers across roughly 30,000 acres in around fifteen places surrounding Albuquerque.
8. Old Town Albuquerque
If you come to Old Town Albuquerque, the old church, the courtyard, the shops, and the restaurants are all worth exploring.
I went onto the center green from a public parking spot on the outskirts of town, and there were a plethora of shops to pick from. It's simply a lovely spot to walk around, and the old structures are breathtaking.
Artisan stores offer beautiful art, jewelry, carpets, and ceramics in Old Town Albuquerque's picturesque streets and centuries-old adobe dwellings. I found traditional enchiladas, fajitas, and sopapillas at Old Town's New Mexican establishments.
Like me, don't miss the core of Old Town, which is the Old Town Plaza, highlighted by the San Felipe de Neri Church from the 1800s. I enjoyed free music on a summer Saturday afternoon and witnessed a handful of Route 66's most fabulous vintage roadsters.
9. San Felipe de Neri Church
You should not miss this site if you like churches like me. The San Felipe de Neri Church, on the north end of Old Town's square, was Albuquerque's first Roman Catholic church, constructed in 1706. The current construction was in 1793 (one year after the first structure collapsed) and has grown to include a rectory, a convent, and a school throughout the ages.
You'll surely enjoy this through its distinct attributes. When I explored this area, I fell in love with its museum. It shows religious art and relics initially displayed on the church's walls.
I must say that even if you are not religious, a visit to the San Felipe de Neri Church is a must while in the Old Town region. Aside from the museum, the tranquil environment and well-preserved interiors and architecture will draw you.
10. Cibola National Forest
The Cibola National Forest spans 1.6 million acres in New Mexico, but some of its most beautiful spots are free to visit or even without a car. It is a fantastic destination to explore in the Greater Albuquerque region if you want to see lush and natural surroundings.
Once you're here, the coolness and lush greenery of the trees and plants surrounding you make you forget you're still in the high desert of Albuquerque.
There are several picnic tables, grills, and hiking paths to explore. You have several activities here. I've seen gatherings of families, bird watchers, mountain bikers, school students on field trips, casual hikers, and dog walkers.
One thing to remember is that the direction might be pretty restricted. You come across signs there, but it's tough to determine the obstacles and how long it will take to finish them. I've been there and gotten lost half of the time when I opted to follow various pathways, so make sure you bring enough water for yourself and your buddies (if any) to keep hydrated.
Nonetheless, rest assured that more hiking destinations, such as 3 Gun Springs, Embudito, Domingo Baca, La Luz, and numerous other trailheads, await you here.
11. American International Rattlesnake Museum
I went to Albuquerque's American International Rattlesnake Museum and learned about many snakes. It's an excellent place to learn more about reptiles!
Bob Myers, the owner, is a clever guy who knows a lot. The American International Rattlesnake Museum has great lizards, tortoises, and desert spiders like tarantulas. The museum also has a live Gila monster, one of the few known venomous lizard species.
It is said to have more rattlesnakes than any other zoo. There is a lot of information on snakes, their history, and the local inhabitants. Each exhibit has information about the good things about snakes and other animals.
I saw some kids there, and they seemed to enjoy it. Plus, there are a lot of art galleries and good food close by, so it's worth going.
12. National Hispanic Cultural Center
One of the remarkable places I had a lot of fun is the National Hispanic Cultural Center. I enjoyed the exhibits, read the literature, and recorded videos without waiting for people to pass by or listen to background noise.
Some of the best artists who live in cities like Santa Fe, Taos, and Native American settlements are on display at the art museum.
Feel like you're in Mexico when you see an art piece by a great artist like Diego Rivera. He built one in the Torreon (tower), a 4,000-square-feet structure and just as enjoyable. It's called Mundo de Mestizaje (the world of mestizos); the round walls show history, while the ceiling is about people.
During my first-ever visit to the museum in early July, most of the exhibits came from its permanent collection, which means you can't take pictures of them. Nonetheless, I enjoyed this attraction so much, and I hope you do too.
Albuquerque is a lovely place to stroll about on foot if you don't have a car. Tourists and residents can enjoy the area's many parks, museums, shopping malls, and recreation facilities.
I appreciate your taking the time to review my list of the most incredible things to do in Albuquerque without a car. If you like to add another nugget to this list or share your story, please leave your thoughts in the comments section.