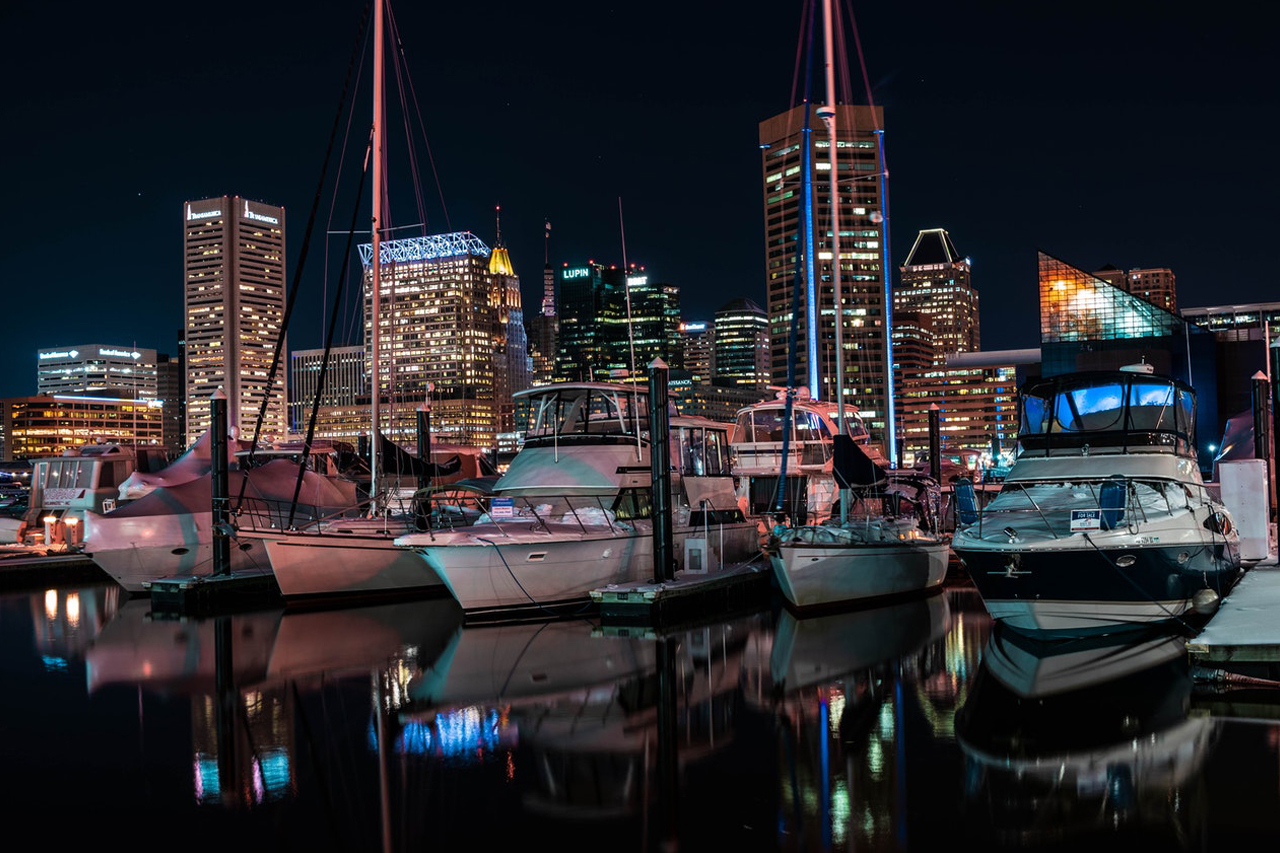 Welcome to Charm City, where the party never stops, and Old Bay is the game's name. Baltimore is fantastic in every aspect. It provides diverse experiences and numerous opportunities to create memories, have fun, learn something new, relieve stress, or do anything else you choose with your spare time.
Baltimore is a very walkable city. If you're staying in the Inner Harbor, practically everything on the list is within walking distance. The Charm City Circulator, an eco-friendly bus service that will get you where you need to go for free, is available for areas farther than you'd want to walk.
Even without a car, there are many things to do in Baltimore, ranging from free entry to museums and monuments to family-friendly parks, adventures, and tours.
You won't have to use much petrol to move from one free item to another. Here are my recommendations to do in Baltimore without a car.
1. Fort McHenry National Monument
Fort McHenry National Monument is the star-shaped coastal fort that defended Baltimore port from the British Navy during the War of 1812. There are self-guided tours of the restored fortifications and canons and picturesque sea views.
The Park was a lot cooler than I had anticipated.
The visitor's center through which you enter features a 10 to 15 minutes documentary that discusses the history of Fort McHenry and the birth of the Star-Spangled Banner.
While we were there on a weekday at noon, the restaurant wasn't overly packed.
The grounds themselves are beautiful to explore, particularly on a sunny day like ours. The views of the harbor are spectacular, and it's simply a lovely spot to be.
Aside from that, there are a few tiny rooms throughout the fort to offer you some history, such as viewing how soldiers lived in the barracks, how commanders lived, and even the cross beam that held the first star-spangled banner's flag pole.
There are also several fascinating cannons, many of which are not from the Revolutionary War or are reproductions, that are enjoyable to wander around and admire, particularly if you have kids.
2. Baltimore & Ohio Railroad Museum
The Baltimore & Ohio Railroad Museum's mission is to preserve, acquire, and share objects related to the Baltimore and Ohio Railroad's history.
Kids and adults will enjoy spending part of their day here! There are several exciting displays here and a lot of historic railroad equipment.
The museum gives a wealth of information on the many displayed machines, so it's not simply a collection of junk accumulating dust. There's a lot of local history to absorb regarding the B&O's crucial role in Baltimore for over a century, including the Great Railroad Strike of 1877.
They also offer train rides, but I wasn't there on one of the days they did, so check ahead if you want to ride. Overall, I would recommend it to people of all ages, although since it is outdoors, dress correctly for the weather.
3. Gwynns Falls Trail
The Gwynns Falls Trail is a great way to go outside and see Baltimore's downtown and beyond. The route starts at the I-70 Park & Ride trailhead and follows the Gwynns Falls stream to the Patapsco River's Middle Branch and Inner Harbor.
I found a historic house estate on this route in Gwynns Falls Leakin Park, where railroad tycoon Rebel owners created a false fort, replete with wooden canon, to dissuade Union forces from taking interest during the Civil War. Despite this, the Union forces exploited the orchard as a fuel source.
On MLK Day, the Outward Bound Office occupied the whole space, so you can hike up a hill and see a small museum, a picnic area, a playground, and even the home of the Chesapeake and Allegheny Live Steamers, where little steam-powered trains will ride. It's a great place to explore and discover new things.
There are a lot of very cool things off this route. I highly recommend it.
4. Urban Pirates
Little landlubbers have a joy cruising Baltimore's Inner Harbor on the Urban Pirates family adventure cruise. A crew of rowdy buccaneers turns all passengers into swashbucklers with pirate attire, tattoos, and face painting as soon as they board the ship.
Then it's off on a high-seas excursion, replete with singing, dancing, and games hosted by the crew. Water cannons are particularly popular among little pirates who want to recapture the captain's riches and take home a piece of the spoils.
When the youngsters are exhausted and the sunsets, it's time for the big kids to go on a BYOG (Bring Your Grog) cruise.
I had a great time on the trip with a big group of friends the first time I went a few years ago. I had a bottle of rum, a fun pirate boat, and a night on the water.
It is the perfect way to spend a pleasant evening. However, going in a group is highly recommended.
5. American Visionary Art Museum
One of the most significant sites to visit in the neighborhood is Baltimore's American Visionary Arts Museum (AVAM). This morning, two of us came here to take in some outsider art and visit our favorite folk art and outsider art museum.
We started at the top and worked our way down. We spent hours marveling at the artwork's diversity, quality, and intensity since there were many stunning and intriguing pieces. Some of it is pretty painful. Some of it is breathtakingly lovely.
In and of itself, the gift store is worth a visit.
If you want to shop here but don't want to pay for entry, you can ask for admittance to the store, and everything will be ok. It is a fantastic store for unusual items! This location is very stunning!
It is one of the best museum shops I've ever seen. Seriously.
We were inspired, moved, and entertained when we left. AVAM, thank you! We'll come again.
6. Charm City Food Tours
On a guided walking tour, travelers to Charm City Food Tours will stop at the city's most critical culinary venues. You will experience cuisine from several cultures, including Italian, Jewish, and others, as part of the trip.
We went on this trip about a month ago and enjoyed ourselves. It was a fantastic opportunity to get to know the region and see eateries we would not have tried otherwise!
Our tour guide was exceptionally kind and enthusiastic about Baltimore. He was able to mix in some fascinating personal tales about the areas and how they've evolved over his life since his family has been in Baltimore for generations.
The first visit (Attman's Deli), a big corned beef sandwich with pickle, knish, and caddie, was my favorite of the day. The next stop was La Tavola (two varieties of pasta with the option to purchase wine, beer, or cocktails), followed by Isabella's for pizza and arancini. The pizza was delicious.
Last but not least, La Piedigrotta for tiramisu and coffee; this was a sizable chunk, so be prepared.
Overall, we liked almost all meal options and discovered one of our favorite Fells places. If you need a present or a fun weekend activity, I certainly recommend it!
7. Walters Art Museum
The Walters Art Museum, open to the public since 1934, includes works dating from the third millennium BC to the current day. You may see outcomes in various media, including pottery and sculpture, and unusual treasures like medieval armor and glittering Faberge eggs, inside the walls of this world-class art museum.
All of the exhibitions in The Walter's Art Museum were fantastic. It is very informative and exciting. Arts of Asia was an incredible experience for me. In addition to Indian art, I learned about the history of Buddist art in East and Southeast Asia.
The many ceremonial implements, religious practices, and cultural origins astonished me.
The way each show introduces ongoing installations is very excellent. During my stay, I see the Renaissance coming to life. Paintings, photography, and sculpture by local Baltimore artists are included in Activating the Renaissance.
It's fantastic that students know and appreciate current artists and those that lived before our time.
The museum is also completely free! Plan a trip soon to see the current installations while they last.
8. Babe Ruth Birthplace & Museum
The Babe Ruth Birthplace & Museum is a row home where George Herman "Babe" Ruth was born. The museum, originally organized with the cooperation of Babe's widow, Claire, and his two kids and sister, includes relics from Babe's life and career.
Any baseball lover should watch this. It's in a bit of a neighborhood near Camden Yards. Ruth was born in this home, which is a historic residential property. A few rooms have been kept with historical antiques, but baseball is the main attraction.
There's a little dugout where you can sit and view a documentary about the famous shot, including genuine footage from the event. A visit to Japan and many Ruth-endorsed goods are among the other highlights.
I had a fun experience here!
9. Pierce's Park
Pierce's Park is across the street from the Pier 5 Hotel on Pier 5 in Baltimore's Inner Harbors. With a melodic fence and fanciful sculptures, the Park has a "Seussian" feel.
It's a great place to unwind after a day of fun in the Inner Harbor, and it's just a short walk from the National Aquarium and other attractions.
Sustainability aspects of the Park's design include indigenous trees, native plants, and rain gardens, which allow opportunities to teach youngsters about the advantages of absorbing water runoff, in keeping with the Waterfront Partnership's 'Healthy Harbor' theme.
Art, music, and fantastic design create a tranquil environment. It's a little park, but it has a significant effect. Wander around the Inner Harbor if you are there.
It's not big enough to justify driving to Baltimore to see it, but if you're already there, it's worth taking the time to appreciate the attention to detail that went into the design.
10. Lexington Market
The Lexington Market, initially opened in 1782, is one of the country's oldest marketplaces. It now stands in the old market's original location and regularly attracts many sellers.
This location is a gem in the rough, replete with long-established local companies that have perfected their culinary skills. All of the merchants were kind and accommodating!
For their lump crab cake, go to Faidley's Seafood. This crab cake is fantastic. It's well worth the money, and if you can, stay in the neighborhood around Faidley's and arrive with an empty stomach for the fresh fish.
Connie's Chicken was terrific, and if you don't eat it straight away, your waffle will be soggy.
Near Faidley's, there's also a bakery that offers a variety of cakes and cookies. They make the most delicious strawberry shortcake I've ever had. Stroll around looking for a bakery that provides large cake portions.
11. Edgar Allan Poe's Grave Site & Memorial
How often can you claim you visited the gravesite of a well-known figure in the city's heart? With Edgar Allen Poe, you certainly can.
The gate is open for anybody who wants to stroll in from the Lexington Market.
Some details regarding his life span may be found around his tomb. It had the feel of a bit of a museum. His enormous headstone features his face on it and the names of his wife and mother-in-law around the edges.
I appreciated walking around and seeing all of the other folks who had been burnt. I was delighted to discover the Bent Marble slab, a hidden treasure.
It would be best to keep in mind that other individuals are present—both awake and peacefully sleeping. So, please be cautious and considerate when walking about.
12. Federal Hill Park
Are you looking for the most splendid city views? That's where Federal Hill Park comes in handy.
You'll glimpse the beautiful views of the inner harbor from this old hilltop. It is a fantastic spot for your dog to relieve himself and stretch his legs with so much grass.
There's also a beautiful small playground for the kids to enjoy (I love the little ship).
You know there are a few monuments, flags, and a cannon you want to photograph.
If you're in the neighborhood for sunset, see it from above!
There are stairs to the right from the river, and if you proceed down the slope to the left, you'll be at the American Visionary Art Museum's back. It's well worth a look!
If you're passing through this section of Maryland, consider dropping over to see the city views.
Whether you drive, use public transit, or walk, there's always something to see and do in Baltimore. I hope you love these destinations as much as I did.
Please leave your comments in the space below so I can connect with you. Also, feel free to share what's a remarkable adventure you had in this city.