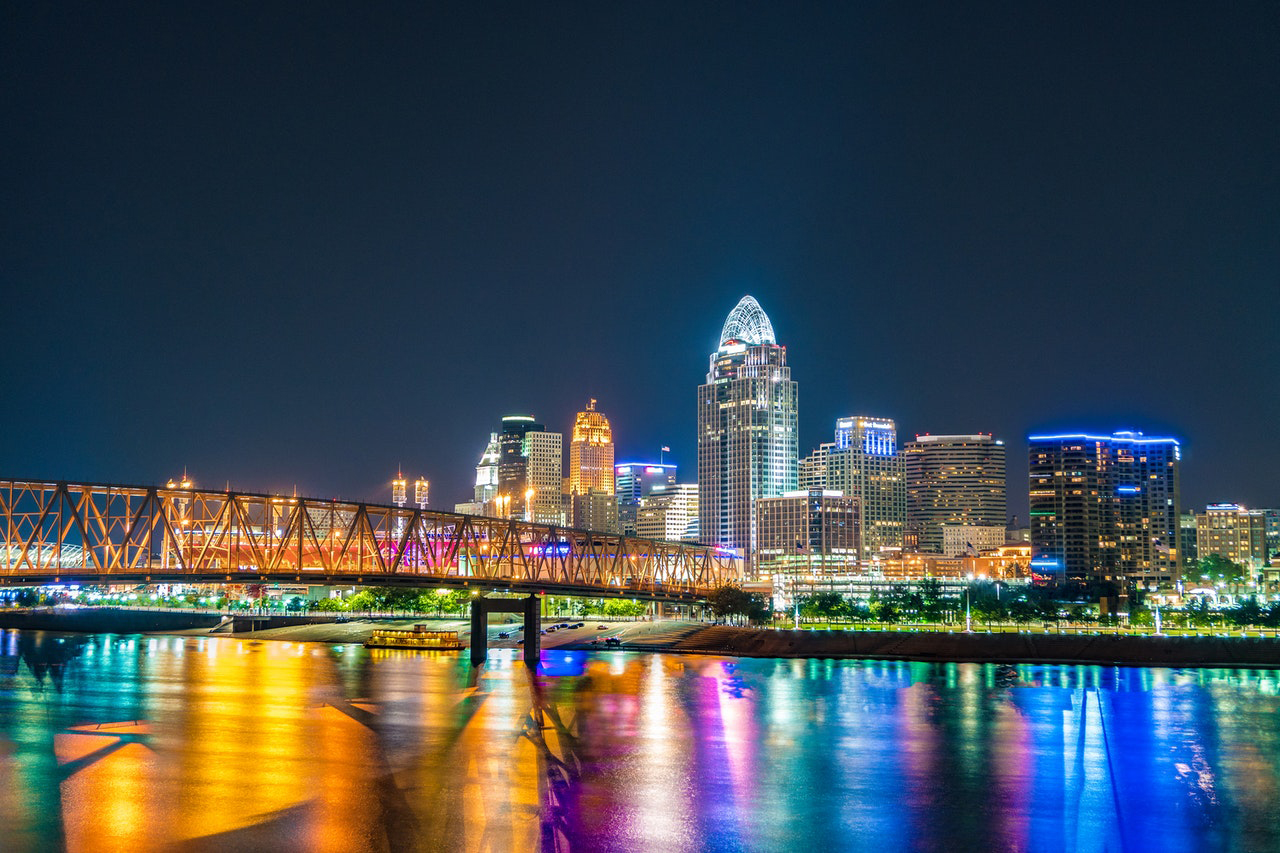 Cincinnati, located in Hamilton County, is another Ohio city that will undoubtedly be your next weekend vacation destination. The Queen City, as the locals refer to it, is well-known for its magnificent skyline and local breweries.
This metropolis is more than just the home of the first American baseball team, the Cincinnati Reds, The Great American Ball Park, and its famous chili. You will get many hotspots in the metroplex on the Ohio River.
If you do not have a car and want to explore the area, the metro city bus will take you to the most famous city attractions. Furthermore, there are ways to move around here, mainly if you are in the downtown district.
So, if you are planning a weekend vacation to Queen City, we will provide you with the top things to do here to make a checklist for your itinerary without sifting through so many sources.
1. Cincinnati Zoo
The world-famous Cincinnati Zoo is at the top of the list and unquestionably one of the best places for tourists and locals.
There are around five hundred animals and 3000 plant species in the area. Furthermore, it has been in operation for almost 140 years and is a tourist site in Queen City.
Over one million individuals see the zoo's award-winning exhibits each year, and the number of visitors continues to grow. The reptile house is always my top destination with its wide variety of snakes, lizards, and other highlights. Many of the exhibits have a fantastic landscape with blooming flowers during springtime.
If you prefer to avoid the massive lineups at the site, purchase your tickets online. There are also food stands and restrooms located around the zoo. They do not have large aquariums, though. However, the place is too beautiful not to visit.
2. MadTree Brewing
We will introduce another terrific bistro on Madison Road, and it is a great place to unwind and have a good time. MadTree Brewing has been serving Cincinnati residents the best-produced beers and meals from Catch-A-Fire Café since 2013.
The place has a homey feel, and you may enjoy the indoors or the outdoor terrace with picnic tables. You can have a great night with beers here. I went with a few friends over the weekend, and it was not too packed.
I strongly advise you to mix your best brews with amazing firewood pizzas. My favorite flavors are pepperoni and pesto. They also have an extensive tap list from which to choose and a gift shop with assorted products.
Madtree Brewing is one of the most incredible locales to stop and get cold beers while in the neighborhood.
3. American Sign Museum
The American Sign Museum is, without a doubt, one of the more unusual sights on Cincinnati's Monmouth Avenue. The unique museum, opened in 1999, houses an extensive collection of signages from various eras, a working neon shop, and an event area.
The facility supports sign preservation and restoration by presenting 100 years of signs. A guided tour is the most acceptable method to explore the museum.
I grabbed the chance to visit the location in my limited time, and the exhibit fits every piece of signage in a good spot upon entering the area. I enjoy all neon signs because they bring the room to life.
You will be well-versed in Cincinnati's sign-making history. The museum brought lots of education, and every place was photogenic. If you are in the neighborhood, this museum should be on top of your go-to spots in the community.
4. Krohn Conservatory
If you ever visit Cincinnati, another attraction I would recommend is their gorgeous botanical garden.
Krohn Conservatory, built at the peak of the Art Deco period in 1933, houses over 3,500 plant species worldwide. The conservatory hosts unique displays and activities, such as the ever-popular Butterfly Exhibition year-round.
What is fascinating about this zone is that it creates excellent surprises in every season, so you always get something unique when the environment changes. I enjoy the permanent exhibits, which feature a waterfall in the rainforest and exotic plants in the Palm, Tropical, Desert, and Orchid pavilions.
Because the conservatory is adjacent to the Cincinnati Art Museum, you may spend time in one place. Plus, it is very accessible to public transportation if you opt not to bring a car to avoid parking hassles.
Krohn Conservatory is a photogenic place. This hidden gem is a must-see and strongly recommended for everyone.
5. Via Vite
One restaurant in Cincinnati is so good that you must put it on your itinerary, and it is also a terrific find in the city.
I'm referring to Via Vite, a contemporary cafe that opened in 2007 near Fountain Square in downtown Cincinnati. This restaurant specializes in authentic handcrafted pasta, seafood, and steaks.
The original Italian restaurant attracts customers who come to sample and taste their exquisite cuisine, where they import all their fine ingredients from Italy. Their chef prepared each menu that is delectable on every palate.
I enjoy the pleasant setting, and the customer service is excellent. When dining here, some of the best dishes to order include the Bolognese, vodka pasta, and lamb shank.
The Fig and Goat Cheese Bruschetta was delicious, too. Via Vite is undoubtedly one of the best restaurants in the downtown area that you should eat and dine.
6. Civic Garden Center of Greater Cincinnati
Some urban gardens in Cincinnati are well worth a visit.
The Civic Garden Center of Greater Cincinnati is another unique jewel on Reading Road. This garden was founded in 1942 as one of the country's first Community Gardens Programs and has since expanded its accessibility to school gardens and field excursions.
I came here for a quick tour and was astonished to experience the annual "Flavors of Neighborhood Gardens" – an event when community gardeners from all around the city contributed exquisite dishes from their season's produce.
Aside from sampling their exquisite foods, I made sure to explore the surrounding neighborhood. There are spots here that are truly photogenic.
Civic Garden Center of Greater Cincinnati offers programs and classes if you want to know more about urban gardening. You can always learn how to grow food from home here. Do not forget to stop by here.
7. Findlay Market
For over 60 years, Findlay Market has been a local favorite of every Cincinnati resident and even tourist due to its expansive area of several businesses and food options.
This renowned boulevard, which connects uptown and downtown, attracts many visitors every year and is one of the hotspots you should visit if you are in the neighborhood. There is always something going on in this lane, so I constantly come here.
For more than 150 years, Findlay Market has produced an authentic local food hub in greater Cincinnati. Apart from its incredible history, you can enjoy the local staples such as treats from Taste of Belgium and Makers Bakers. Plus, there are artisan products, fresh produce, and more.
This marketplace has something to offer, and your visit would be incomplete unless you get souvenirs here. The best market in the Midwest is in this Over-the-Rhine neighborhood gem.
8. Contemporary Arts Center
The well-known Contemporary Arts Center in Cincinnati is near 6th Street. This one-of-a-kind show of contemporary artists with a twist is something you should see.
CAC is a posh downtown building that offers one of the best deals? It is unrestricted to people of all ages and is free of charge.
I happened to be in the area, and it was packed with pieces by several well-known modern artists. One must-see exhibit here is Ground Water from Screen Falls by the acclaimed Kahlil Robert Irving. The museum often rotates exhibits, so going here will give you a new contemporary perspective each time you visit.
CAC includes four floors of several types of modern art, each with its unique theme. It also provides public programs for individuals interested in learning more about contemporary arts, plus there is a tiny cafeteria and gift shop on the ground floor.
9. Carew Tower Observation Deck
The Carew Tower Observation Deck is another downtown Cincinnati treasure that you should visit. This location is one of the best tourist attractions in the city, attracting many people each year.
The venue is on the 49th floor of the city's tallest building. Visitors to the Carew Tower Observation Deck may take in one of the city's most beautiful views while purchasing a Cincinnati souvenir in the gift shop.
I went up to the observation balcony to witness a stunning night view of Downtown Cincinnati and Northern Kentucky. This venue did not disappoint me, as it always does. The final elevator to the observation deck, on the other hand, is so tiny that it can only fit four people, so brace yourself for the journey to the top.
In addition, Carew Tower has amenities that you can visit too. This venue is technically exceptional and should be on your Cincinnati itinerary.
10. Taste of Belgium – Findlay Market
Taste of Belgium -Rookwood is a highly recommended eatery in Findlay Market that I urge you to include.
Taste of Belgium is a restaurant organization of Belgian-inspired eateries that has opened a branch in Cincinnati to give the city's people real Belgian food with a twist. Undoubtedly, this venue is one of the most popular eateries in the city.
I always look forward to trying Taste of Belgium's best-selling waffles, particularly the strawberries and cream variety. Carbonnades Poutine, Goetta Hash, and Mcwaffle are additional must-haves on your menu. Getting your brunch here will never get you disappointed, too.
This area is a great dining space and the best venue to hang out with your family and friends. Their menu board has various preferences, and their refreshing drinks are excellent. Indeed, I would return to this location every time I visit Cincinnati, and you should go as well.
11. Blind Lemon
Blind Lemon, located on Hatch Street in the center of Mt. Adams, has been a popular music venue and cafe in Cincinnati since 1965.
Blind Lemon has been serving the neighborhood for over 50 years and has earned a reputation for bringing the most incredible cocktails. The establishment provides customers with a comfortable atmosphere, which is unusual for a bar.
If you are looking for a beautiful place to enjoy a pleasant drink while experiencing some old European feelings, this is the place to go. There is live music every night that suits the atmosphere inside.
The lovely basement bar is home to an unusual collection of vintage memorabilia, including classic vehicle and plane models, elaborately framed paintings, and autographed images that fill the walls and ceiling. Blind Lemon receives a perfect ten for service, ambiance, and cocktails and is an ideal hotspot for a great night out.
12. The 86 Uptown
The 86 Uptown may not be the most significant space for a beautiful coffee. Still, it is unquestionably one of the most recommended spots on the fringes of Jefferson Avenue in Cincinnati that you should discover.
The 86 Uptown is near the University of Cincinnati and serves the best artisan coffee in the city. Since its inception in 2011, the establishment has provided the residents of Cincinnati with finely made coffee and fantastic music. However, the customers here are patrons from nearby schools.
Going here is necessary because I am a huge coffee buff. If you do not love coffee, you should try the spot's famous fair trade organic teas, Italian sodas, and other beverages.
The place is ideal for a cold rainy season but always best with its coffee craft. You need to visit this hotspot if ever you swing around.
13. Cincinnati History Museum
To round up all the best things to do in Cincinnati without a car, the Cincinnati History Museum is a remarkable educational institution located in the center of the downtown region.
This well-known museum attracts millions of visitors each year and is one of the best sites to learn about the city's history. It is within the Cincinnati Museum Center and is part of a combo pack with the Natural History Museum and other attractions.
The Charley Harper show is one of my favorite rotating displays here. They contain transportation exhibits as well as a significant model railway show. I especially enjoy the cool steamboat town, which depicts Queen City during the pinnacle of steam navigation.
The Cincinnati History Museum is tiny, and you can finish touring the site in about two hours. Nonetheless, this place is one of the most incredible and coziest historical venues in Cincinnati's downtown area.
So, we wrap up the top things to do in Queen City if you are visiting the city for leisure or on vacation. Our beautiful state of Ohio has to offer several things, and they only need to be uncovered.
These most fantastic options that we present to you are the best, so we hope you will get the opportunity to visit all of them if you happen to take a quick break at Cincinnati.
We welcome your views or suggestions for hotspots we should visit, so please leave them in the comments thread. We will see you in the future article!