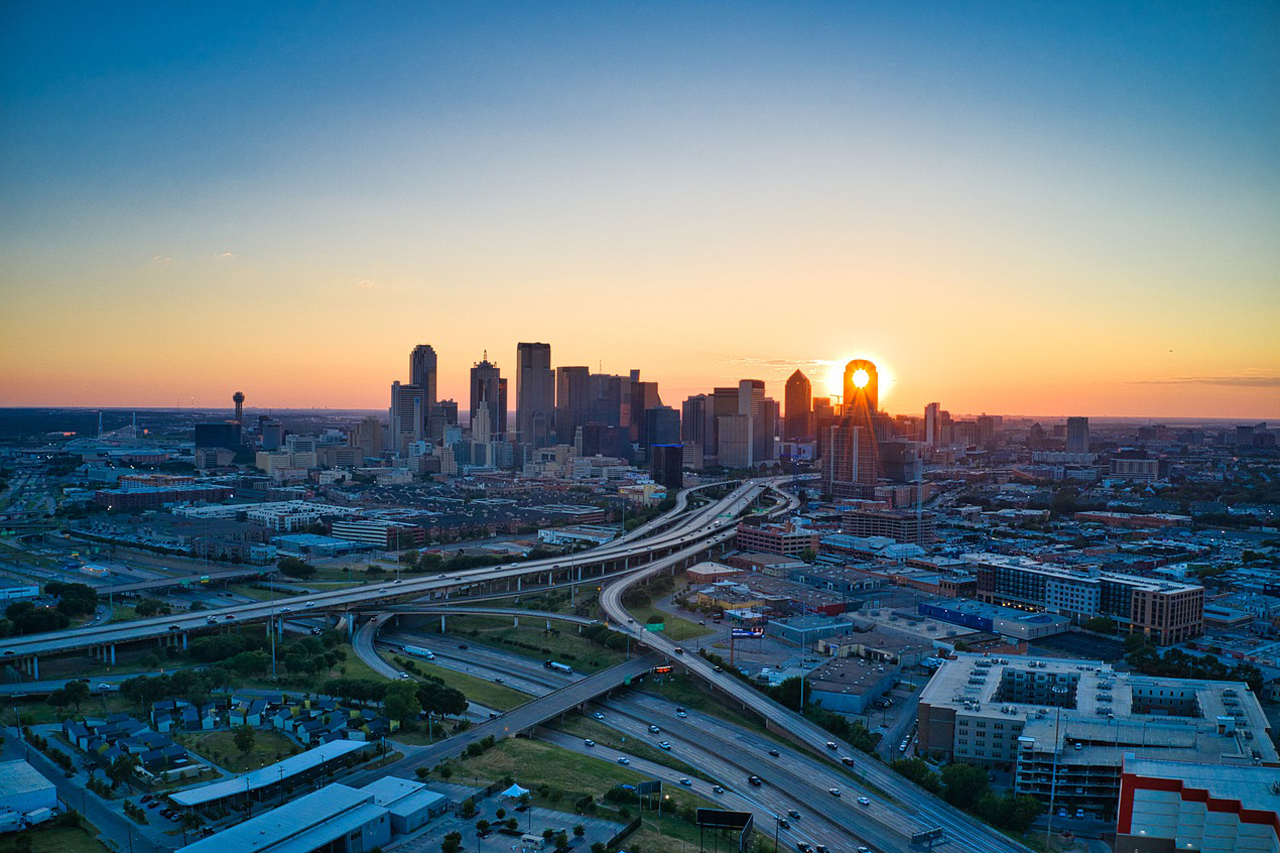 In the bright North Texas area, Dallas is the central hub of the largest metropolitan area in the Southern United States.
This metroplex, often known as the Big D, is renowned worldwide for its city attractions and hotspots. However, this metropolis has a lot better to offer than its famous Tex-Mex, Dallas Arts District, and cultural activities.
If you stick to the significant downtown landmarks, recreational zones, and nearby street restaurants, you can quickly move around Dallas without a car.
Fortunately, we got you covered if you want to spend your weekends here but do not know where to begin!
Our article will wrap up the top things to do in Dallas, saving you time researching and getting you the best-handpicked activities and places deserving of being on the first page of your Dallas bucket list.
1. Klyde Warren Park
The first on the list, and one I highly recommend, is Klyde Warren Park in the downtown area. Aside from being easily accessible to anyone, this park is one of the best places to spend your spare time.
Klyde Warren Park is a 5-acre deck park built over an eight-lane sunken motorway. The space connects Dallas' thriving Uptown community to the metropolis's award-winning Arts District and downtown commercial district.
The facility is a lovely urban sanctuary, and on weekends, you may see people having a fantastic time here. I frequently stop here during my trips to Dallas to grab snacks with friends.
There are food trucks along the sidewalk in front of the grass area, and people are having picnics on the large lawn. Furthermore, various museums are within walking distance of the venue, making it the ideal location for your tour.
2. Bishop Art District
The Bishop Art District is another tourist site that should be on your itinerary. This area is home to local favorites and other leisure areas.
Bishop Art District is a Dallas staple that attracts both visitors and locals due to its range of superb food and retail opportunities. It houses sixty stores, cafes, pubs, coffee houses, theatres, and art museums. It is only five minutes from downtown and is in the core of North Oak Cliff.
The district is also Dallas' most independent neighborhood, and this zone is one of the most exciting discoveries I have made. My favorite places for brunch are Hattie's, coffee at Espumoso, and Fete-ish for souvenirs.
This shopping district is top-notch, and many beautiful spots are also photo-worthy. The lane is busy, especially on weekends, but understandable because it is a gem in the city center.
3. White Rock Lake Park
If you enjoy hiking and wandering through parks, then head down to one of Dallas's hidden gems, located fifteen minutes from downtown.
White Rock Lake Park encompasses about 2,000 acres, including White Rock Lake, walking, and biking trails, Blackland prairie, picnic spots, and convention facilities.
Whether you wish to exercise, go on picnics, or watch local events, there are things for everyone here. I enjoy this location because, despite its generous size, it is not technically congested.
In addition, the most acceptable deal here is a lakefront view. The area is excellent for a stroll. It also provides space for your dogs. There is wildlife along the walk, including turtles, birds, gulls, and owls.
White Rock Lake is the place if you want to be one with nature and enjoy a peaceful park setting.
4. The Dallas World Aquarium
The Dallas World Aquarium, located on Griffin Street in downtown Dallas's Historic West End District, is a popular tourist destination. Dread not, this place is more than just an aquarium, as its name entails.
Instead, the zone is a tiny zoo in an urban setting, officially opened in October 1992, and provides the most extensive rainforest display and marine life for all ages. It houses hundreds of sea and land animals in its complex.
The multi-level compound is home to different land creatures that are worth seeing. You begin your tour by crossing through a canopy and witnessing various animals. In addition, I highly recommend visiting the shark cave, which is the best among all the amenities here.
If you want to avoid the long admittance line, buy your tickets online, as I did. It was convenient, so I could enjoy visiting this fantastic zoo.
5. Escapology Escape Room – Dallas
Escapology Escape Room in Dallas, located near Victory Park, is a highly recommended mind-bending adventure that you should attempt when visiting Big D.
In 2019, the mysterious doors of Escapology Escape Room – Dallas opened to the citizens of the Big D. You must escape your chosen cabin in less than an hour by cracking codes, solving puzzles, and picking locks in this premium real-life escape game. Do you get what it takes to flee?
Step inside Escapology for your one-of-a-kind journey and choose from six different themes to try.
My friends and I went over to the Budapest Express Room to play. The game was fantastic, and the interior decoration was great. Furthermore, the staff is fantastic and lovely. Go to Narco if you want a challenging play.
This zone is, without a doubt, one of the most excellent places in Dallas to explore and spend your time.
6. Pecan Lodge
Going to Dallas on an empty stomach is not advisable unless you have lunch and dine at Pecan Lodge. This place is among the most suggested eateries in town by locals.
The restaurant offers the most incredible Texan food in town. Their top seller is their BBQ, where their BBQ pit fires 24 hours a day, and their sausages and sauces are all created from scratch.
Residents do not cross out Pecan Lodge on their must-haves here in Dallas. We came on a weekend when it was not as crowded, and it was without a doubt the finest BBQ I have ever had.
Make a point of stopping at Pecan Lodge for a delicious BBQ lunch in town. We got the Hot Mess, Beef Ribs, Pork Ribs, and Jalapeno Cheddar Sausage, which was delicious. Everything on our platter is terrific. So, if you are around Dallas, do not miss this best diner in town.
7. Cedar Ridge Preserve
Dallas makes the most of its large territory and boasts one of the best natural landscapes. The Cedar Ridge Preserve is among the most excellent places you can visit in the most convenient location.
This Audubon nature park contains six hundred acres of hill country environment and has nine kilometers of hiking paths. People visit this area because of its excellent courses, suitable for any activity.
I like how this location gives fresh air and is a terrific place for strolling, jogging, and encountering wildlife up close. The Cedar Ridge Preserve is open to the public for hiking, academic, and recreational intents; however, the management encourages visitors to help keep the preserve's biological conditions.
If you want to take on excellent routes, I advise Cedar Brake, Fossil Valley, and Escarpment trails. These areas are also very shaded, so have fun and be careful.
8. Museum of Illusions Dallas
The Museum of Illusions Dallas, located in the renowned West End of Big D's downtown sector, is undoubtedly another metropolitan gem that you should add to your list.
The hotspot is a one-of-a-kind gallery and exhibition of distinctively designed and exhibited artworks that will bend your thoughts with its illusion effects. This venue is tiny, yet it is brimming with unique arts that will enrich your experience.
The Museum of Illusions Dallas has been open since 2019 and gave education and entertainment to its guests, including us. The museum's staff is so amiable and helpful that they took the time to explain the various exhibits and illusions to us.
Everything is photogenic, and I suggest seeing the tilted chambers and the puzzle spot.
We stopped by their modest shop before heading home to buy souvenirs. Bring your family and friends to this one-of-a-kind Dallas location.
9. Dallas Arboretum and Botanical Garden
Dallas Arboretum and Botanical Garden, located in Lakewood on the southern shore of Wild Rock Lake, was established in 1982 and is a pleasure to behold.
The natural preserve includes a 66-acre botanical garden with over nineteen named gardens. It attracts 541,000 visitors from all around the world.
We arrived and were happy to see the culinary garden. Because this place is so prominent, you might need a map to visit it as we did. It boasts of being able to deliver the best spring attractions to its guests and thus has won titles in this field.
The vast landscape is enticing as a photo option. This hotspot also features occasional exhibits appropriate for any season or occasion.
It might be an excellent concept to travel here without a car to avoid parking fees. The conservatory is a beautiful place to visit at any time of year.
10. Dallas Museum of Art
Dallas Museum of Art in the vibrant Arts District of downtown Dallas offers outstanding collections and ground-breaking education programs.
The DMA is one of the city's main tourist attractions, with over 23,000 pieces spanning 5,000 years of human history and reflecting diverse cultures.
This showroom, founded in 1903, is one of the ten most significant in the country and should be on your list of sites to visit in Dallas. The museum displays work by prominent artists such as Picasso and Monet and work by contemporary artists. It also receives approximately 500,000 visitors in the immediate neighborhood.
Visit the DMA and browse this zone for free. It houses a shop where you may purchase museum souvenirs. There are magnificent artifacts in the place, and you should see the Texas Art and European collections.
11. Texas Discovery Garden
There's one more roster on our list that you should add to your bucket list. The Texas Discovery Garden is a 0.5-acre organic garden with native and adapted species.
This Fair Park public garden educates nature conservation through events and displays. While the site is technically modest compared to other gardens in the city, it provides many facilities to visitors.
We went there early on the weekend to observe the gorgeous Butterfly Garden and some giant moths that you do not often see in a botanical environment. Undoubtedly, this abundance of butterflies is its number one attraction. We enjoy the number of picnic tables to sit and eat our snacks.
There is also a little gift shop so you can purchase souvenirs. You may spend more than two hours viewing the site and still say it is well worth your time. So, you better see this Dallas treasure.
12. Thanks-giving Square
The Thanksgiving Square in downtown Dallas is a work of art. Because it is in a bit of location in the city center, it is one of the city's finest little secrets.
In 1976, renowned Architect Philip Johnson designed the oasis of peace in the middle of downtown Dallas. It includes a landscaped contemplation area with cascading fountains and a cathedral open to people of all religions and traditions.
The "Glory Window" is the primary attraction of Thanksgiving Square. It provides an excellent location for introspection amidst the hectic streets of downtown. Plus, admittance is free, so you may relax and enjoy the tranquility of the setting.
One advantage of being in the city's center is that you can easily visit various hotspots in the surrounding area, making it very accessible. If you are in the neighborhood, stop by this hidden gem.
13. Reunion Tower
The iconic Reunion Tower is undoubtedly a reputable tourist magnet in downtown Dallas.
Reunion Tower is a 561-foot observation tower located at 300 Reunion Boulevard in downtown Dallas' Reunion neighborhood. It's also referred to as "The Ball" around here.
The skyscraper has three stories with circular floor layouts on four poured-in-place concrete shafts. The viewing deck on the top floor provides an incredible 360-degree view of Dallas.
When I visit Dallas, one of my favorite spots is Reunion Tower. The scenery from the top is astonishing, especially at night and in nice weather. They also offer a rotating restaurant called the Five Sixty, which is an experience you should experience, plus their staff is always welcoming.
The establishment is as panoramic as it is. Overall, this location will provide the ideal experience to conclude your Dallas trip, so put it on your list.
We have now wrapped up a list of the most incredible things to do in Dallas so you can pack up and head over to this lovely metroplex. The Big D has a plethora of popular destinations that are easily accessible without a car and in the city's center.
We hope you will review our rosters and take our advice. It is always a pleasure to help you in making travel arrangements. Please interact with us in the comment section below to share your insights. See you on our next adventure!