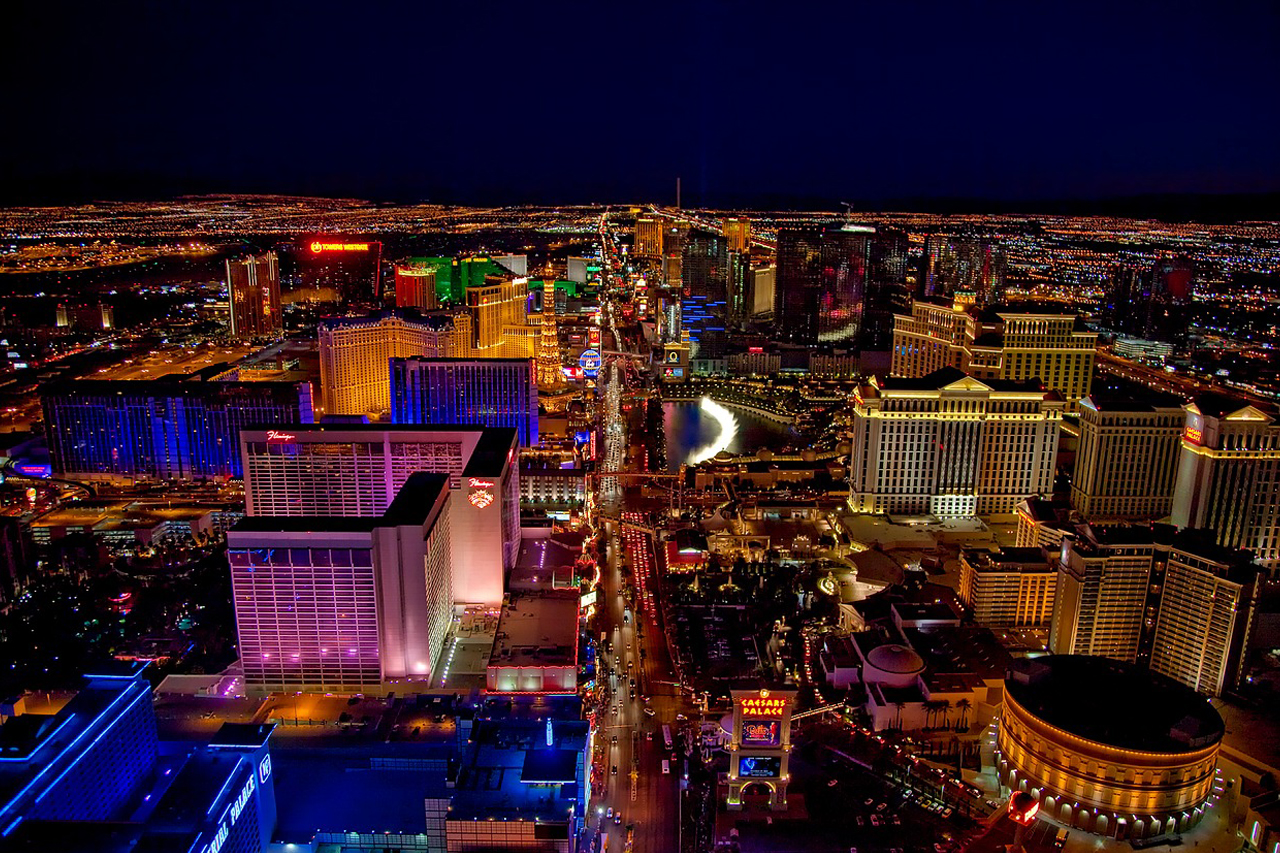 Las Vegas, Nevada, the world's gambling capital, is worth noting as one of the globe's most famous cities. Despite its location in the Mojave Desert, Sin City will never run out of globally recognized tourist attractions.
Aside from its widely known nightlife, shopping centers, casinos, and hotels, this metropolitan area offers a variety of other pleasurable activities that you will undoubtedly enjoy.
In its 141.84 square miles, hotspots are easily accessible from the bustling downtown area, even without a car, to see the other side of Sin City. So, if you prefer hanging out in botanical gardens or roaming around a museum, we got you!
When you want to spend your weekends off but avoid going to the casinos and other gambling-related events, we have made you a reliable list of the best things to do in Vegas to make your trip worthwhile.
1. Marvel's Avengers Station
The world's entertainment capital is proud of its one-of-a-kind Marvel's Avengers Station. This space, located on the famous Las Vegas Boulevard Strip, will transport you to the world of the Avengers.
It is an immersive setting where you access the official S.T.A.T.I.O.N. command center and are transported deep into the Marvel Cinematic Universe.
I visited Marvel's Avengers Station on the weekend, which was full of people. It welcomes visitors of all ages, whether fans of the Marvel characters or want to explore the space. There are rooms where you can see life-size characters with their backstories.
Plus, if you cannot get enough of the Marvels, there is a gift shop inside where you can stock up on merchandise. Overall, if you find yourself in Vegas, this is a must-visit.
2. Downtown Container Park
Among the bustling shopping centers in Sin City, the Downtown Container Park on Fremont Street is one of the most notable.
The shopping lane in the container park is a must-see for all Las Vegas residents and visitors. It is a small community with various shops, restaurants, and other businesses.
The playground and the lawn are two of the main attractions here, so other activities await you if you get tired of shopping. A giant praying mantis will greet you upon entering, which comes to life at sunset with a drum circle and fire show that I was lucky enough to witness.
Mob Pie is a highly recommended pizza joint that you should try. In addition, Oak & Ivy has the best American bar in Downtown Container Park.
It is undoubtedly one of the best shopping streets with a relaxed atmosphere, so do not miss out on visiting this location on Fremont Street.
3. Pinball Hall of Fame
The new Pinball Hall of Fame is located on 'the Strip,' directly across from the famous 'Welcome to Las Vegas sign.
The Las Vegas Pinball Collection Club curated this museum to house and showed the nation's most extensive pinball collection, open to the public. One feature that distinguishes this establishment is the absence of ticket spitters, also known as redemption centers, such as those claw machines.
The new Pinball Hall of Fame is now easily accessible to everyone, with over 25,000 square feet. It is all pinball and a few vintage arcade novelty games. The games were also relatively cheap when I tried playing there compared to others, making it an excellent way to be entertained for little cash.
If you happen to be visiting Downtown Las Vegas, do not pass up the opportunity to visit the Pinball Hall of Fame if you are looking for something different to try.
4. Area15
Area15 is a hidden gem on Las Vegas's South Rancho Drive. It is a wonderland of art, music, and pure entertainment and was a former warehouse converted into an entertainment zone.
The district is an interactive play area wrapped up in a large and vibrant space, with great dining options, an event center, enchanted rides, and immersive art.
I spent the weekend in the vibrant district, and it was a lot of fun. I got beers at the arcades, and the Lost Spirits Distillery is also worth a visit. If you want to bypass the inescapable queue, purchase your tickets online.
A plethora of attractions and events await to tempt and enchant your happiness. Whether you want to gain a one-of-a-kind event, you should look at Area15's calendar of events. Set foot in this location and discover a new favorite in Sin City.
5. Velveteen Rabbit
The Velveteen Rabbit, located on Main Street in the heart of the Arts District, is a local favorite that you must see if you are in Downtown Las Vegas.
Velveteen Rabbit is an artisan cocktail and beer bar that serves a variety of specialty beers on twelve spinning taps and twenty bottled beers.
Their diverse area includes local art, boutique spirits, vintage furniture, and a mystical, pink-themed outdoor patio that is sure to please. On occasion, the vibrant space hosts live music events, and I was fortunate to witness one when I visited on the weekend.
A few people are at the bar enjoying their handcrafted beers and house specials created by the bartenders. Each visit is unique because the menu rotates, so you must try something new each time.
I had an exciting time coming here, and you can do the same if you visit the lovely neighborhood.
6. Springs Preserve
If you had the option to see a scenic wetland habitat on Valley View Road in Las Vegas over the weekend, then head over to the Westside to visit the Springs Preserve.
The well-known Preserve is a one hundred eighty-acre creative organization committed to monumentalizing Las Vegas' rich past while also providing a vision for a sustainable future.
This zone features interactive displays, children's play areas, art museums, the Divine Cafe, a souvenir shop, 3.5 miles of trails, multiple gardens, and event spaces for special occasions.
Before its public opening in June 2007, the Preserve had been home to many other Southern Nevadans over the centuries. However, it is now one of the most visited urban green spaces in Sin City.
There is something here for everyone to enjoy, like the train and trail rides, the butterfly habitat, and the tortoise sanctuary. You can book your admission ticket online and spot the zone's calendar of events so you do not miss anything.
7. Banger Brewing
Our next stop in downtown Las Vegas is a cute little pub that is much easier to get to without a car.
We now proceed to a local favorite, Banger Brewing, a well-known microbrewery with a tasting room. The establishment features a 3.5 BBL brewhouse with five fermenters that use the freshest ingredients to craft the finest beers and other local breweries on tap.
This zone in Fremont Street is most popular among beer enthusiasts because of the best-tasting beer they offer, which is remarkably the best in Nevada. However, there is an age restriction in Banger Brewing, as it only admits people over the legal drinking age of twenty-one.
I particularly enjoyed the Morning Joe beer, and the limited edition Ocho was also delicious. They do not sell food, but you can invariably bring your own or eat at the delightful and affordable Dirty Dog next door.
8. National Atomic Testing Museum
The National Atomic Testing Museum, which opened its doors to the public in 2005 on Flamingo Road in Las Vegas, preserves and interprets the heritage, scientific knowledge, and innovations of the Nevada Test Site and the country's nuclear weapons projects.
This exhibition is not like those immersive but displays more essential facts about nuclear activities that we need to know. You will require to set aside hours to look through and read everything here.
You can see numerous artifacts, replicas, and dioramas on every aspect of nuclear bomb development and testing that you cannot visit daily in the National Atomic Testing Museum. Indeed, it is a fascinating material for your day trip.
The staff is amicable, creating a homely environment in an otherwise intense gallery. I highly suggest seeing this showroom if you do not mind reading and gripping information.
9. Gordon Ramsay's Hell Kitchen
The internationally acclaimed Gordon Ramsay's Hell Kitchen, located in front of Caesars Palace, is technically the best fine dining establishment on The Strip in Las Vegas.
This popular restaurant seats over three hundred people and features two chef's tables, floor-to-ceiling window frames overlooking the renowned Las Vegas Strip, a remote dining area, and a modern bar.
Thanks to Chef Gordon Ramsay's wonderful creation, the red and blue kitchens serve up modern lunch and dinner menus, including signature dishes with the highest quality ingredients.
I had some of the best lunches in this Gordon Ramsay's Hell's Kitchen, where they serve the ultimate favorite meals, a three-course dish of scallops, beef Wellington, and sticky toffee pudding. It was the best feast I ever had in Vegas.
If you want to reserve a table, do so online because people are booking and cannot serve everyone. Hell's Kitchen is a show-stopping dining destination in Sin City.
10. Cat's Meow
If you like to have a great night, I highly recommend going to Cat's Meow, the best karaoke bar in the Las Vegas area.
Many people have assembled on the platform over the years and enjoy a few of the club's musical and cultural activities. You can enjoy the best nightlife in Vegas, complete with music, where even famous people like Bill Gates and N'Sync cannot resist passing up into their Vegas itinerary. It is part of what has made Vegas one of the most energizing cities.
Cat's Meow has trademark alcoholic beverages, syringe Jell-O shots, and a menu with light pub food. When I happened to stop by here, the chicken strips and fries surprised me.
There is a kitty merchandise shop on the second floor, an ideal location to start stocking up on one-of-a-kind souvenirs to commemorate your visit to Sin City.
11. Las Vegas North Premium Outlets
The bustling district of Las Vegas North Premium Outlets is yet another downtown must-see.
This Las Vegas shopping center has many outlets, dining options, and an events center with its airy outdoor town hub to the famed Strip.
You will like this place even more if you like luxury items because it houses and features 175 designer and name-brand outlet stores that offer significant discounts every day.
When compared to other retail stores, you can save money here. They also have popular dining options such as The Cheesecake Factory, Shake Shack, Chipotle, and a fantastic Food Court with Green Leafs Beyond Great Salad and Kung Pao Wok.
This local favorite can get crowded, so I recommend going when the mall first opens to avoid a large crowd, especially on weekends for your shopping spree.
There is free parking for residents, but taking public transportation is the best option if you are a tourist.
12. A Gamer's Paradise
Chinatown's A Gamer's Paradise is a place you should include in your Sin City itinerary. The establishment opened in 2010 and is primarily a video game store that offers professional game console repair.
They provide service consoles for various brands, including XBOX 360, PlayStation, Nintendo, Atari, and Sega. The establishment has a new location next to the World-Famous Pinball Hall of Fame, allowing you to access your local favorite from a specific location.
When you enter A Gamer's Paradise, you will notice a full selection of game consoles and arcade machines. There is also a mini showroom in the shop's corner with exciting collectibles from various games.
While exploring the zone, you may experience intense nostalgia. If you were a fan of gaming consoles as a kid, I highly recommend visiting this location in Las Vegas.
13. City National Arena
To bring our rosters to a close, we will introduce City National Arena, the official home of the Vegas Golden Knights.
This arena served as a practice facility and opened to the public on September 18, 2017. It is off the 215/Charleston exit in Summerlin, next to the downtown mall area. The spot is very accessible, particularly for sports fans watching legendary games in the zone.
I once saw a big sporting event there, and it was an excellent play. If you get hungry while watching a home game, you can stop by the delectable MacKenzie River Pizza, Grill & Pub, located inside the City National Arena.
There is also a restaurant and bar upstairs, a suitable place to drink while watching games or Knights practice. This zone is the one if you are a hockey fan, a sports enthusiast, or simply a tourist looking for a great Vegas attraction.
So we wrap up our list of the best things to do in Sin City that do not require you to bring a car. Many rosters are on the Strip, downtown areas, and other notable neighborhoods where you can easily travel back and forth in time.
This compilation demonstrates that Las Vegas, Nevada is more than just skyscrapers and brightly lit hotels and casinos. Other hidden gems in this bustling city are yet to unfold.
We hope you enjoy reading our guide and would appreciate it if you could share your thoughts.
Please leave your remarks below so that we can interact. See you on our next trip!