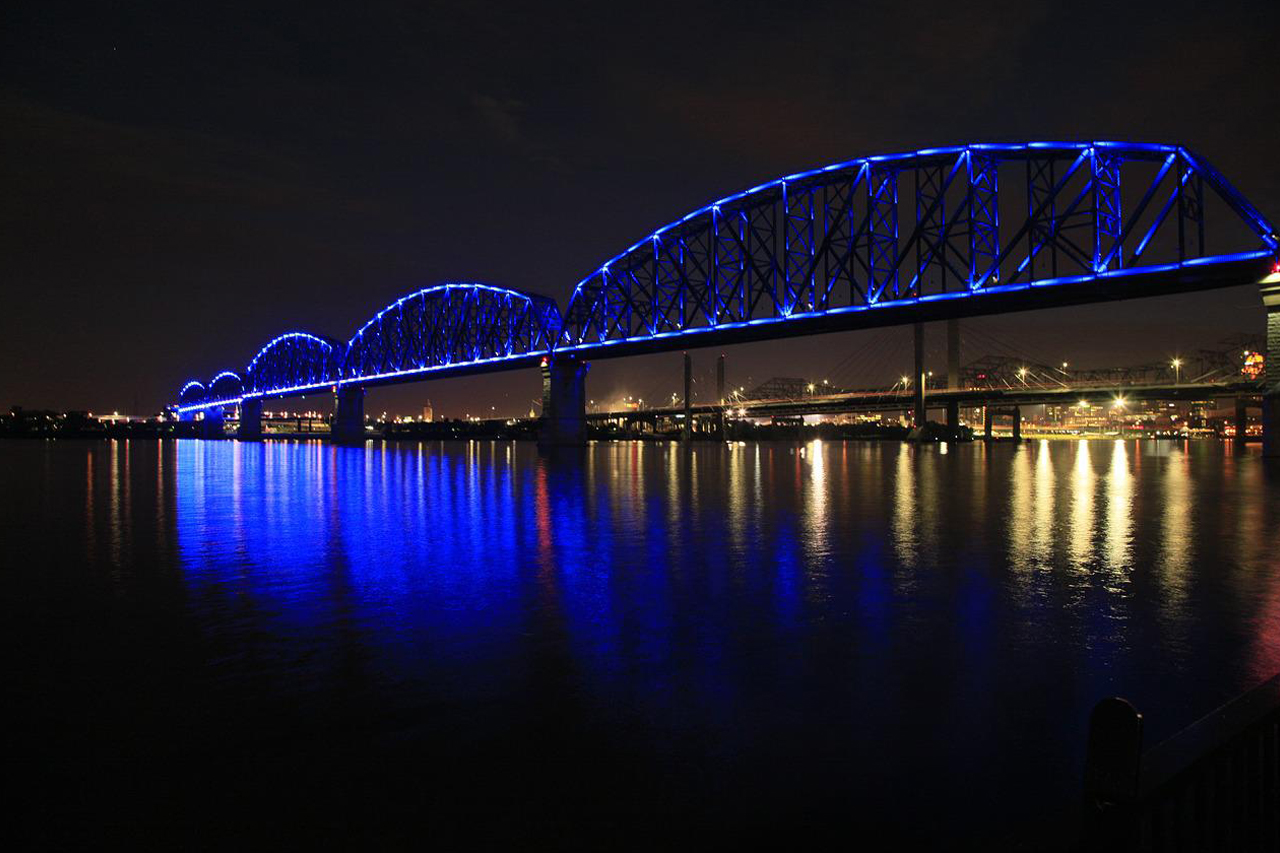 Louisville, Kentucky, monikered as the Gateway to the South, is another fantastic vacation destination in Jefferson County, on the borders of Indiana.
This Derby City is known as the hometown of Muhammad Ali, the global Kentucky Fried Chicken, and the University of Louisville. Still, it has another brilliant option that you need to know.
You will be astounded by how many alluring hotspots and activities this metropolitan encloses in its 66.30 square miles total land area.
This small town is not as big as its neighboring cities, making it genuinely accessible without a car. The best zones and spots, including Botanical Gardens, urban markets, museums, and dining establishments, are all walkable and are only minutes away from the city center.
We wrap a selection of the top things to do in town that are all worth seeing. So, pack your bags, and let us get started.
1. Waterfront Botanical Garden
The Waterfront Botanical Garden on Frankfort Avenue is one of Louisville's beautiful tourist attractions.
The urban garden is approximately twenty-three acres and contains a beautiful ecosystem thanks to the Mary Lee Duthie Garden, Helen Harrigan Garden, Beargrass Creek Pathway, and three major water features.
Aside from its ease of access, the Waterfront Botanical Garden admission is free, so you can come as often as you want to explore the extraordinary ecosystem that converts the former Ohio Street Dump atop a historic Point community at the junction of River Road.
As one of the new attractions in the metroplex, the space is still developing. Nonetheless, there are already gorgeous greens here that bloom beautifully, and the addition of the Japanese garden is something you should see.
Allot at least three hours, if not more, to discover the entire area. Overall, you should visit this location.
2. Louisville Mega Cavern
The Louisville Mega Cavern is one-of-a-kind and globally recognized attraction that you must see while in Louisville.
This 100-acre limestone cavern can withstand a 260-mph tornado and maintains a constant temperature of 58 degrees.
The limestone quarry opened its doors to the public in 2009. This hotspot attracts thousands of visitors each year due to its one-of-a-kind ambiance and the opportunity to participate in various activities.
Even though it is a large cave, the government considers Louisville Mega Cavern a building. You must experience the Mega Zip, Mega Tram, a 90-minute excursion through Mega Walking, and Mega Quest if you visit this zone.
You can book your tour online and on a weekday so that there are fewer people in the cavern. It may surprise you that this hidden gem exists in Louisville, but the experience is well worth your time.
3. Hammerheads
Let's go to a great dining establishment this time, and the spotlight will be on the Hammerheads on Swan Street in Louisville, near Germantown.
This small restaurant has viable delectable menu options such as best-selling smoked meats, BBQ, French fries, and vegetarian dishes. The restaurant opened in 2010 and has been serving the best-smoked meats in town to Louisville residents and visitors ever since.
We arrived on the weekend, anticipating a crowded atmosphere, particularly on the bar top, so we chose to dine on their patios. You should order the St. Louis spareribs and Lamb Ribs with Pork Belly Tacos when I mentioned getting meats here.
Because of its area of residence a few blocks from downtown Louisville, the space is small. Nonetheless, Hammerheads is a place to go in Louisville.
4. Fleur De Flea Vintage Urban Market
What is excellent about exploring downtown Louisville is that there are a handful of attractions to visit without traveling too much time.
The famous Fleur de Flea Vintage Urban Market is one of those must-see destinations. The flea market brought together vintage vendors, food trucks, and other artisans at the waterfront, which I thoroughly enjoyed exploring when I had the opportunity.
If you are an antique enthusiast or want to have a vintage shopping spree, your options are limitless here, so bring plenty of cash.
This outdoor market allows vendors from all over the South to showcase their wares. Fleur de Flea Vintage Urban Market has a distinct vibe that you would not find in any mall.
The crowd here is quite large but not intimidating, and you get to share tables with other people who enjoy delectable treats from the many food trucks nearby.
5. Frazier History Museum
There are multiple showrooms in Louisville, but something on the West Main is a suitable place to explore.
The Frazier History Museum is the official starting point of the Kentucky Bourbon Trail. The site, where the world meets Kentucky, lives up to its name. It houses an extensive collection of historical items highlighting what makes Kentucky hippy, famous weaponry, and historical facts on America's native ethos bourbon.
There are numerous things to see and learn in Frazier History Museum that I believe two hours is insufficient to fully appreciate the narrative of Louisville and Kentucky in a nutshell.
Some of the exhibits that piqued my interest includes Van Winkle Family Collection and the Stewart Historical Miniatures. Pappy Van Winkle is also on an array, with a fabulous table with moving images to touch and discover.
Visiting the Frazier History Museum is necessary if you find yourself in Derby City.
6. Angel's Envy
Angel's Envy on East Main Street is another pub worth including on your Louisville itinerary.
Louisville Distilling Company, a subsidiary of Bacardi Limited, produces The Zone, a handcrafted, small-batch whiskey. The distillery opened in 2010 and offered a guided tour, which we also took.
The journey will start in our reception area and continue into the heart of their distilling operation. Visitors will encounter a fully operational urban distillery.
The tour ends with a stop at The Finishing Room, their distillery bar, where you will reduce your journey with a tasting to savor the fantastic taste of Angel's Envy. You can book your tour online to ensure a smooth transaction.
You get to see the bourbon-making process on tour, and their alcohols are delicious. If you enjoy distilleries or are looking for something to do for the day, this tour is for you.
7. Ali Center
Louisville is the hometown of the world's famous boxer Muhammad Ali. Thus, creating a space for his life and achievement through the Ali Center is the best way of honoring him forever.
Muhammad Ali was legendary within and without the ring, and the showroom reflects that. You will see that this iconic person is more than just a boxer; he is a child, athlete, religious man, political figure, and humanitarian. I was amazed knowing how he crawled his way to success and what principle he lived.
Upon entering the Ali Center, you will see posters, sculptures, videos, and audiotapes from the legendary boxer. Admission requires a fee, and booking online is the most convenient way to secure your spot if you intend to visit here.
Whether you are an avid boxing fan, you should not miss a globally famous showroom on your Derby City bucket list.
8. Louisville Water Tower Park
There is something spectacular nearby the Louisville Water Tower Park that elevates it to the top of Louisville's outdoor spaces.
The park is known for its iconic tower that sits within the ample space; however, the reserve is not only for your recreational tour; little did you know that this site produces the best tap water.
I was able to join the Louisville Water Tower Park tour and was pleased to see its amenities. Some areas in the zone will undergo significant renovation, but other areas are still likely to be accessible to the public, especially rental venues. To make the most of your stay, look at their event calendar.
If a beautiful view of the Ohio River is not enough to entice you, I am unsure what will. So, pay a visit to this lovely Derby City hotspot.
9. Wild Eggs
Going to our next stop, we need to grab the most delectable meals at the only Wild Eggs in Louisville.
The restaurant is a locally owned and operated business that opened its first location in 2007. The zone's mission is to serve elevated, one-of-a-kind dishes for breakfast, brunch, and lunch that everybody can relish together.
Wild Eggs is extremely busy for breakfast on weekends, but for the best reason. This little cafe lives up to its reputation by providing the customers with fantastic and exciting flavors.
What I always order here, and you should as well, is their chicken and waffles with buttermilk syrup, bacon, spicy sauce, and French toast with an omelet, which is a filling breakfast option.
The location sits conveniently on Dutchman Lane, near public transportation and offices. Overall, this well-known restaurant is a must-try.
10. Haunted Hotel
This next tourist attraction is not for the faint of heart, as it offers the creepiest and wildest horror scene in an urban area.
Haunted Hotel is a terrifying hunt with real-life actors that will scare the hell out of you. Because the creepiness is intense, the management advises an age restriction prohibiting people under thirteen from entering because they may become lost or injured during the scare.
It is an interactive hunt, and we got to experience wandering inside the Haunted Hotel for the real deal. Just yet, actors can touch you, but please do not fight back and let your scream do the work. Plus, we must yell our lungs out and get thrown at times because we are trying to run to get to the exit route.
If you are interested in experiencing the most horrific horror house ever, check out their schedule and buy a ticket.
11. Louisville Slugger Museum & Factory
If you happen to be roaming around West Main, you will see a giant bat leaning against an iconic building, which will let you know you are in the right place.
The Louisville Slugger Museum & Factory is a fantastic baseball museum that teaches you everything you need to know about the game. You can see the showroom, which has baseball bats, memorabilia, and other items that illustrate the evolution of this ball sport over time, especially in Louisville.
Although you can explore the museum on your own, it is best to join a tour so you can learn more and make new friends, as we did.
In addition, we were able to take advantage of the All-Star Experience, which is a private, behind-the-scenes chance meant to cover your favorite teams and players.
On the other hand, the management encourages everyone to book their tickets ahead of time to avoid long lines at the entrance.
12. Doc Crow's
Downtown Louisville, particularly the Bourbon District, is never short of good dining options, and Doc Crow's is one of them.
This restaurant boasts its traditional favorites, BBQ, and fresh seafood menu. The restaurant celebrates the culinary heritage of the South and is situated ideally in the city center; you will immediately acknowledge this eatery.
Come hungry and order Doc's Tacos, Half Rack St. Louis Ribs with a side salad, and housemate chips. You can also select your favorite whiskey from the 2,000 bourbon options.
The place is busy, especially during weekends, so it is best to reserve your seat ahead, or you can opt to have the bar seating to experience Doc Crow's favorites.
If you seek good eats here in Louisville, this place should land a spot in your travel goals.
13. Cherokee Park
Cherokee Park is the final stop for our best finds. This urban space first opened in 1891 and has always been a significant attraction, catalyzing growth in surrounding areas of town.
Cherokee Park receives 500,000 visitors per year, ranking it the 69th most popular municipal park in the United States. The site's main attraction is the scenic loop, but the management temporarily closed it to automobiles due to vehicular traffic.
I had the opportunity to visit here and roam around the 2.4-mile rolling hills, open meadows, and woodlands. You also get to see the iconic Hogan's Fountain, which has a sizeable, detailed sculpture that is impossible to miss.
There are amenities to try and a large area for picnics. I strongly recommend stopping here for leisure time or a nice walk when visiting Louisville.
Our checklist of the best finds in Louisville includes all the hidden gems you should see and try, even if you do not have a car.
Everything mentioned here is only minutes or a short walk from the city center, so getting here is technically more manageable than in other large cities. You will never regret staying in town to make the most of your vacation time.
It is an honor to pen these top finds for you, and we hope you can see each item and share your thoughts with us here. Please comment down with your best experience or something you would like to add to our article so we can talk more.
See you on our next trip!