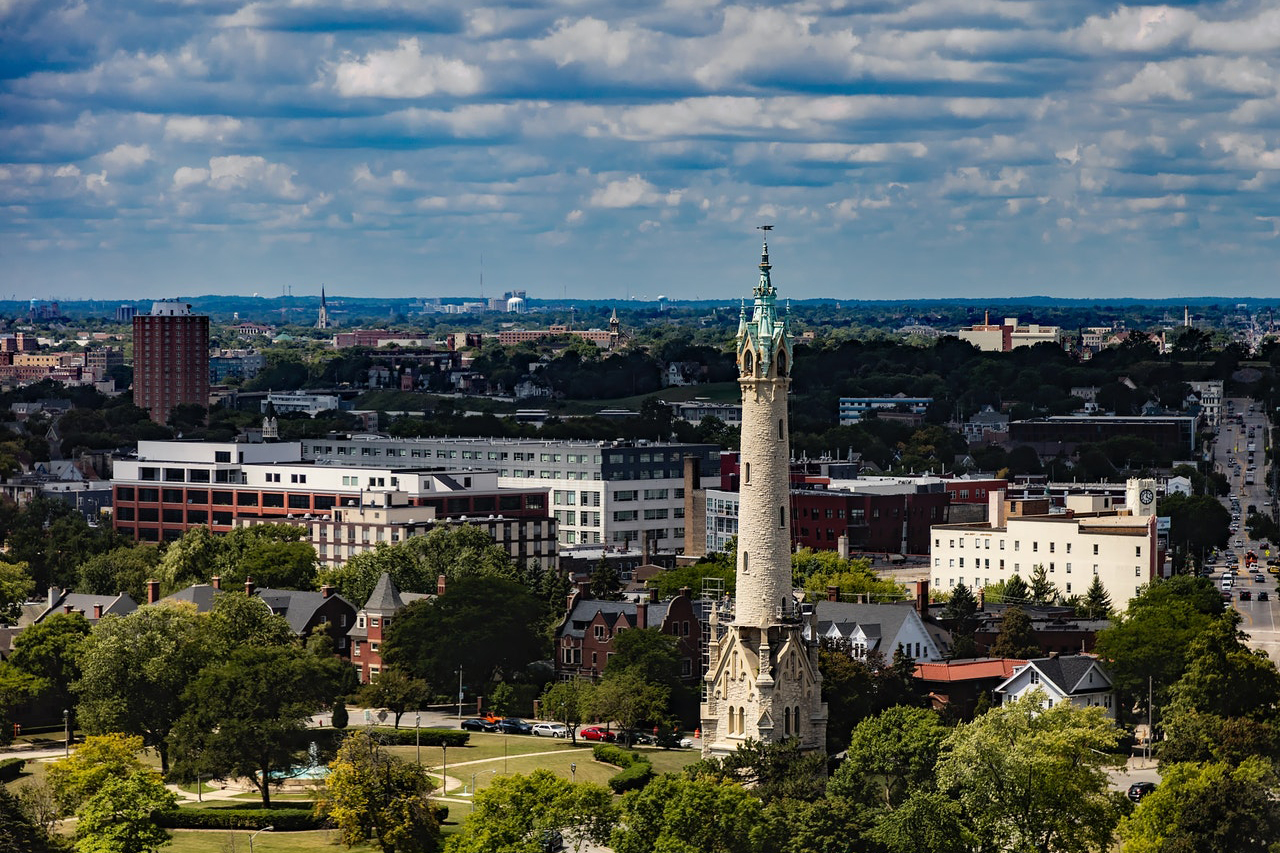 Milwaukee, the not-so-underrated city in Wisconsin, has a lot to offer in its 96.81 square miles total geographical area.
The metroplex, recognized as the world's beer capital, has a great brewing culture while also providing an excellent river promenade, stunning lakefront entrance, and historic establishments in its neighborhood. It is also worth highlighting how beautiful this accessible tiny town in America is, as you do not need a car to move around the city center and neighborhood.
You got lucky if you wanted to hop to Interstate 94 and circle through the town for a weekend trip or leisure time. We made our handpicked list of the top selections of the best things to do here, which puts Milwaukee on the tourist destination map.
1. Harley-Davidson Museum
Milwaukee built the Harley-Davidson Museum in 2008 to give prominent attention to the world's most excellent motorcycle brand. The cultural space houses an unequaled collection of Harley-Davidson motorcycles and memorabilia. There is also a 20-acre park-like site and private event rooms in this space.
A handful of exhibits here are interactive. We got to hear motor engines and see the best displays at the custom culture displays on the first level and the club, competition, and engine room permanent exhibit on the second. And if you wish to take a more in-depth tour of the H-D Museum, you can do it online for a hassle-free entrance.
Aside from the motorcycles and occasional events at the Harley-Davidson Museum, the area also houses the Motor Restaurant, which serves exquisite monthly specials such as balsamic chicken and brew city burger. So, if you cannot get enough of the location, there is a shop where you can buy souvenirs to round out your visit.
2. Safehouse
Another must-do is seeing and dining in a unique restaurant near the downtown district when visiting Milwaukee. However, people, you must enter the zone with a password, or else you need to do something special before getting in.
The SafeHouse, Brew City's first and only spy bar and restaurant, encourages you and your fellow spies to unearth incredible mysteries in the city and the dining room, which opened its doors to Milwaukee, the community since 1966.
This location has something for individuals of all ages, and it is the best dining area you should attempt. Customers can have a suitable time at the Milwaukee bar or do clandestine daytime recon at their family-friendly restaurant.
SafeHouse served lunch and dinner, and both times were not busy. The establishment also has a pleasant environment and helpful employees. So, if you want to try a wonderful meal with a twist, put this restaurant on your first-page list.
3. Blue's Egg – Milwaukee
Blue's Egg – Milwaukee, Milwaukee's local favorite breakfast restaurant, is still making a name for itself as one of the best dining options on 76th Street.
The Brew City dining area first opened its doors in 2011, serving only delectable breakfast and brunch to the community. This restaurant prepares approximately 4,000 eggs, four hundred pounds of bacon, seven hundred pounds of hash browns, and 1,000 pounds of butter during a busy week.
We headed for brunch on a weekday morning. Even though it was not peak hour, the restaurant had patrons waiting, so if you want to secure a seat, book online and be on time because this diner appreciates timeliness.
Blue's Egg – Milwaukee has an extensive menu, and I highly recommend the Monkey Bread and their stuffed hash browns. Overall, go to Blue's if you want to start your day with the most delicious meal in town.
4. The Avalon Theater
You are probably close to The Avalon Theater if you smell fresh popcorn for a good movie night.
This film house opened in 1929, providing the people of Milwaukee with a unique dine-in theater, digital projection, a bar and lounge, and the best popcorn. The building's design has a distinct Mediterranean Revival aesthetic, making it stand out among the other modern structures.
The Avalon Theater is a small business that shows a limited number of movies, but the service is excellent and will keep you coming back for more.
Cinemas have comfortable chairs with attached trays where you can order foods such as the Avalon Cheeseburger, Cheese Quesadillas, wine, and beers. My favorite part of the cinema is the ceiling, a starry sky with the occasional bright star.
So, if you are looking for a good movie theater, you should include this location on your itinerary.
5. Mad Planet
You are going to the Mad Planet on Milwaukee's River Westside if you look for good live music. Locals frequently regard the venue as a center for late-night dancing in the community.
This dive bar only accepts people of legal drinking age and serves the best and most aromatic cocktails and alcoholic beverages in town. You will have a fantastic night at Mad Planet, and if you arrive early, you will be able to get your drink quickly as we did. Take note that this location can attract visitors, especially on weekends.
The club's aesthetics are excellent, and it is one of the best I have seen in Wisconsin. There are live bands with front acts here, and you may be lucky enough to see them perform in front of you on occasion.
6. Discovery World
Discovery World in East Town is a must-see attraction when visiting Milwaukee over the weekend, especially if you have children.
The museum is an excellent mix of immersive science and technology and an aquarium for everybody. Although it is technically a children's museum, there are things that adults will enjoy too.
The area is not too large, and you can walk around it for an hour or two. The space can get a little crowded, especially during the holiday or school breaks. There is also an indoor cafeteria that serves light snacks.
The aquarium is undoubtedly the main attraction at Discovery World, and it keeps people coming back for more. If you come here, the museum can bring back the joy of children you once had on a field trip.
7. Historic Third Ward
"Every trip in Milwaukee starts with Historic Third Ward," as the locals say, and it is true because this prominent landmark represents what this city is all about.
The Historic Third Ward is a large shopping district where you can enjoy this revitalized warehouse district. It is abode to a range of restaurants, boutiques, and works of art. It is one trendy setting and is walkable from the City Center and other tourist attractions.
The neighborhood is home to the prize Third Ward Riverwalk and the nationally renowned Milwaukee Public Market, one of the reasons we visit Milwaukee.
You could visit shops such as The Wicked Hop, which serves the best fish fry and Bloody Mary, Cafe Benelux, Water Buffalo, and SweetDiner.
The Historic Third Ward is a lovely neighborhood with excellent restaurants, waterfront views, and delightful local shopping.
8. Miller Brewery Tour
Milwaukee's culture links to its thriving brewery, and you would not be able to complete your trip without taking the Miller Brewery Tour.
The tour will take you to the most prominent brewery in the city, allow you to sample the meticulously crafted beers, and entice you to return for more. Activities here run all day, so even if you are from the outskirts of town, you should be able to attend one.
It is highly informative, and you get a taste of both education and the best beers.
Do you know what the most promising part is? The Beer Cave! It is the primary reason people want to embark on this journey.
It was a cozy cavern, you got to taste free beers, and the journey ended at the welcome tent, where you could get more freebies. Check out the Miller Brewery Tour if you enjoy great alcohol or want to learn about Milwaukee's history.
9. Northpoint Lighthouse
The Northpoint Lighthouse is another notable landmark on Milwaukee's East Side.
The lighthouse was built in 1988 and earned its reputation on the National Register of Historic Places. It is a remarkable icon near the shore of Milwaukee and is also next to a museum, making it an excellent day trip destination.
It was a long walk to the top of the lighthouse, but the breathtaking view of Lake Michigan made it all worthwhile. While we were there, we could not help but notice the fourth-order Fresnel lens. It was rotating and a significant part of this landmark.
North Point Lighthouse makes an excellent photograph, and even if you go on a weekday, it is not as crowded as other historical sites in Milwaukee. This building is one of the most viewed in the city and should be on your vacation itinerary.
10. St. Paul Fish Company
You have arrived at the St. Paul Fish Company if you noticed a crowd waiting for their freshest seafood finds.
This space within the Milwaukee Public Market made its reputation as the go-to shop for the best kinds of seafood in town, and you can also pick those fresh catches and request them to be a complete meal.
St. Paul Fish Company has a small dining space where you can get a great meal after roaming around the market. We precisely came at lunchtime and ordered their best-selling Lobster Roll, Clam Chowder, and a portion of King Crab Legs.
The shop is inside the market, so you need to expect a flock of people going in and out. If you cannot secure a spot in its dining area, you can take out your meal and head over upstairs for more seating.
Visit this store and take home the freshest seafood.
11. Grohmann Museum
Another East Town treasure along the 1000 Broadway also deserves a spot on your day trip: the Grohmann Museum.
The said museum, which officially opened in 2007, houses numerous art collections dedicated to depictions of human work. It also houses one of the most comprehensive collections of paintings and sculptures from 1580 to the present.
The Grohmann Museum, located at the Milwaukee School of Engineering, is open to the public and hosts three to four special exhibitions per year, and I was fortunate to see several of them.
The content is engaging enough to occupy approximately 2 hours of your time. It was not too crowded when I went over, and I also took advantage of the opportunity to visit the sculpture garden on the rooftop.
It lies in a small spot, but the artwork is worth seeing. You can support this hidden gem if you happen to be in town.
12. Odd Duck
Odd Duck should be your go-to restaurant whenever you are in Milwaukee. The eatery, which opened in 2012, serves a delectable and varying menu of world-inspired small plates highlighting local ingredients.
It recently relocated to the Walker's Point neighborhood. Also, this restaurant is friendlier because its menu caters to everyone, especially vegans.
Odd Duck also serves international cuisine that will tantalize your taste buds, and I was fortunate to find a seat during a weekend lunchtime. I ordered Malaysian Lamb Rendang, Crispy Oyster Mushrooms Plate, and Duck Confit Enmoladas. In addition, their rotating cocktail menu is something you should try.
Because of the high volume of visitors on weekends, street parking can be challenging to find, so I recommend taking public transportation. The service is excellent, and the diverse menu options based on your diet make this a local favorite dining superior in Milwaukee.
13. The Captain Frederick Pabst Mansion
If you do not visit The Captain Frederick Pabst Mansion in Milwaukee, you might be missing something important.
This hidden gem on Avenue West is the home of the famous brewing family who ruled the brewery industry from 1890 to 1892. The Captain Frederick Pabst Mansion is still known as the largest and most luxurious house ever built in the city.
You can take a tour, as I did, to fully appreciate the mansion's historical significance. The house's interior is certainly lovely, with all those ornaments, and management preserved the classic design so well that you can still see the original look during the olden days.
Everything was classy and exclusive. Plus, this place gets excellent decoration, especially during holidays like Christmas, so booking a trip during these days is also an impressive must-do list.
From museums to the best dining options in downtown Milwaukee, our list of the best things to do here will undoubtedly surprise you.
You might not expect to find these treasures within the confines of the world's brewery capital. Indeed, this metroplex is so full of revelations that you will not regret spending your vacation in the best Midwest city.
We are grateful for the opportunity to author this article for you. We also hope that you will visit each item and share your experiences in the comments section so that we can interact more and share the same sentiments from these fantastic spots in Wisconsin.
See you on our next adventure!