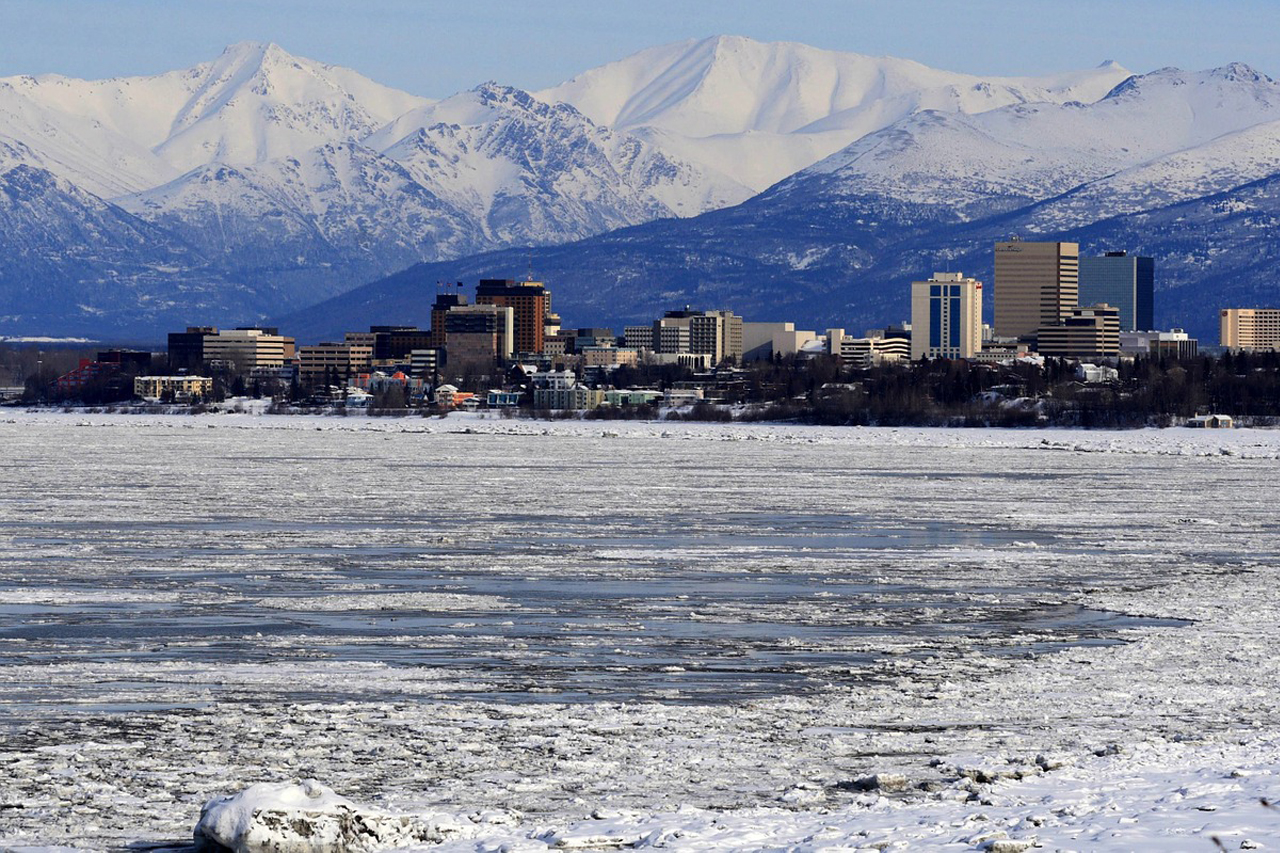 Located in the traditional homelands of the Dena'ina Athabascan people and the Native Village of Eklutna, Anchorage is the gateway to your dream Alaskan adventure. The metropolis earned its nickname, "The Air Crossroads of the World," due to its ascending plane traffic and ideal worldwide location along vital shipping lanes.
Anchorage's picturesque coastal environment, wintery feel, and cultural soul draw numerous visitors annually. It is a dream come true for people who dream to live under the stunning aurora borealis and midnight sun, surrounded by wildlife such as moose, whales, and lynx. A trip to this Alaskan city is a journey to the winter wonderland.
You may think that there are only a few things to do in Anchorage, but it offers many unique activities you can only find in Alaska. Our guide will walk you through the glistening glaciers, parks and trails, wildlife encounters, and historical places that guarantee an exciting getaway, even for those under 21.
1. The Alaska Native Heritage Center
Opened in May 1999, The Alaska Native Heritage Center promotes and supports the Alaskan Native culture and traditions. For more than two decades, the living cultural center has been educating people by giving an in-depth lens on the 11 Alaskan Tribes.
The Alaska Native Heritage Center has three main parts: Native artifacts gallery, a performance hall, and a collection of seven traditional dwellings. It is not only a collection of artifacts stored in a glass, but the center offers a first-hand experience of living and hearing the dynamic culture and tradition of the natives by interacting with their respective representatives.
Don't miss out on purchasing authentic Alaska Native arts in their Ch'k'iqadi Gallery shop. You'll be able to buy jewelry, paintings, and other original items from skilled Alaska Native artists from different regions and cultures across the state. You'll not only take fantastic souvenirs home with you, but you'll also be supporting their businesses.
2. Alaska Zoo
Alaska Zoo is a well-known attraction in the state that welcomes nearly 200,000 visitors yearly. Starting in 1969 with only one elephant named Anabelle, the zoo expanded its area, added 100 animals, and remained the only zoo in Alaska. The Alaska Zoo is a non-profit organization operating for more than 50 years, consistently providing homes to injured and orphaned animals.
Situated at 4731 O'Malley Rd, Anchorage, AK 99507, the zoo has a wooded hillside setting that lets guests look at the animals. It houses over 100 birds and mammals, including exotic animals like Yaks, Amur tigers, and Bactrian camels. The zoo also offers behind-the-scenes tour packages and natural trails.
If you are not afraid of getting closer to animals, the Alaska Zoo's Animal Encounters is a popular choice you must not miss. It lasts for 30 minutes with the help and guidance of the zookeepers. However, bringing drinks and food during the encounter is highly not allowed. You can choose either of these two encounters: Amur Tiger or Porcupine Encounter.
3. Tony Knowles Coastal Trail
Known as among the most beautiful coastal trails in the USA, The Tony Knowles Coastal Trail spans over 11 miles and is always open to the public all year. Its paved pathway makes it an easy feat and provides an extraordinary view to its explorers.
The Tony Knowles Coastal Trail boasts a scenic outdoor experience that is perfect for activities such as rollerblading, biking, skiing, running, and hiking. Keep your eyes and senses active as you might encounter moose and beluga whales on the trail. You can also join their guided tour to experience a more educated approach.
The Anchorage Light Speed Planet Walk is part of the Tony Knowles Coastal Trail in Anchorage that you must not miss. It is a scale replica of our solar system designed to reflect the speed of light at a moderate walking pace. Each step represents the distance light travels in one second (186,000 miles).
4. Ghost Tours of Anchorage
Located at 1200 I St #410, Anchorage, AK 99501-4392, Ghost Tours Anchorage will walk you through the metropolis' most historical haunted places. Guests are accompanied by Rick Goodfellow, the top-hatted guide, which means you'll get first-hand anecdotes from the owner.
Ghost Tours of Anchorage last for about 90 minutes. The tour starts from the creepy Snow City Cafe, onto Anchorage's Hotel Captain Cook, Fourth Avenue Theatre, and ends in the Historic Anchorage Hotel. Ghost Tours of Anchorage does not aim to make you believe in ghosts but to tell you the stories of the tragedy and haunting that has taken place until now.
Among the haunted sites included in the walking tour, be prepared to have the chills as you enter the Anchorage Hotel. It is known as the third most haunted hotel in the USA. Paranormal investigators have claimed that ghosts of a little boy and girl, a prominent socialite, a jilted bride, and more haunt the hotel.
5. Salmon Berry Travel & Tours
Salmon Berry Travel & Tours is a small Alaskan-owned and operated tour company founded in 2005 by Candice McDonald. With the belief that visitors to Alaska deserve a genuine Alaskan experience, the Salmon Berry Travel & Tours philosophy centers on safety and sustainability.
This tour company offers what you seek if you are looking for a customized approach. Located at 515 W 4th Avenue Anchorage, AK 99501, it delivers a genuine Alaska hospitality experience with tours and travel packages tailored to its guests. Alaska Tours available are Alaska Winter Tours, Cruise Transfers, Day Tours, Summer Tours, and Alaska Tour & Travel Packages.
If you love to know more about Alaska's history, you must try their Independence Mine State Historical Park. Suitable for 45 minutes, get ready to learn more about the miners, their tools, and the milling process from Alaska's oldest and most historical mining site from 1930 to 1950.
6. Chuck E. Cheese
A kid-friendly chain situated at 308 E Northern Lights Blvd, Anchorage, AK 99503, is known for its fun games and diverse menu. Chuck E. Cheese built its first branch in May 1977, located in San Jose, CA. Its founder, Nolan Bushnell, made the restaurant with the vision to unleash the child inside every individual.
Chuck E. Cheese welcomes guests of all ages and provides varied dishes and entertainment. Featured desserts on the menu are Unicorn Cupcake, Unicorn Cotton Candy, Unicorn Churros, and Rainbow Ice Dippin' Dots. Here, skill-level arcades games, pizza parties, play zones, and in-store performances are among the fun things to enjoy.
Spice up your meal by playing the games available in the restaurant. Chuck E. Cheese has it all regardless of age, from video games to skill games. By playing more, you'll have more chances to win e-tickets and redeemable at their Gift Shop—some of the games to expect are basketball, console games, alley bowling, etc.
7. Z.J. Loussac Public Library
Located in midtown Anchorage and opened in 1986, The Z.J. Loussac Public Library has connected people to the community, information, and education for over 35 years. Zachariah Joshua Loussac, a Russian immigrant who arrived in Alaska in 1907, is the name of the long-running library. In 1942, he operated a drug store and became mayor from 1948 to 1951.
Currently, the library circulates more than 1.7 million media, books, and digital materials per year. Notably, this library and its neighboring libraries yearly welcome 940,000 visitors. Aside from library patrons, over 60,000 children and adults participate in the programs hosted each year. Most of their Alaska collections are on the 3rd floor, Alaska Wing.
If you have trouble choosing which books to read, check out their "Staff Picks." They provide a list of books recommended by the library staff. Some books and authors are Bell Hooks' All About Love: New Visions, Andrea Bobotis' The Last List of Miss Judith Kratt: A Novel, and Catriona Ward's The Last House on Needless Street.
8. Alaska Railroad
Anchorage's historic Class II railroad, Alaska Railroad, operates as a passenger and freight train. The railroad's mainline spans over 760 kilometers, whereas its track extends to 1,056 kilometers. Although there was a change in ownership during its decades of operation, the Alaska Railroad still continuously serves locals and tourists alike.
The Alaska Railroad runs all year, and busy seasons occur from mid-May to mid-September; meanwhile, the quieter winter timetable runs from mid-September to mid-May. The train slows down when passing critical landscapes, allowing passengers to take beautiful shots of waterfalls, glaciers, and wildlife. It also has five working trains you can ride for your day trips.
Don't forget to check Alaska Railroad summer travel packages. Guests can customize their trip by including add-ons depending on what they want. Some of the excursions to expect are glacier cruises, flightseeing, and ice climbing.
9. Anchorage Museum
Situated in the heart of the metropolis, Anchorage Museum dedicates its purpose to exploring and studying Alaska's people, art, history, and land. Designed by Mitchell/Giurgola Architects, the museum opened its doors to the public in 1968 with 2500 historical and ethnographic items, 60 borrowed Alaska paintings, and only two staff.
Since its opening, the museum has continuously grown, most notably in 2010, to its present size of 170,000 square feet, 500,000 historical photographs, 25,000 artifacts, and a staff of more than 50. Furthermore, they devoted over 40,000 square feet to its permanent collection: Alaska Gallery and Art of the North.
After visiting the permanent collection, don't forget to take the time to try their Thomas Planetarium. It has 38 seats and features a Digitarium Lambda Plus Fixed model digital planetarium technology. It creates immersive pictures on the interior surface of a 24-foot-diameter and 180-degree dome.
10. Putters Wild
Putters Wild is Anchorage's premier indoor entertainment center at 1230 E 68th Ave #109, Anchorage, AK 99518. It started in 2010 and had its re-grand opening in 2019. The full-service family entertainment center welcomes ages as young as five to 105. Putters Wild's blacklight mini-golf course and cutting-edge VR boots attract tourists and citizens.
The entertainment center offers not only 3D 18-holes of challenging blacklight miniature golf but also introduces spectacular games, including Blaster and Jump Shot. You'll need to wear special glasses to appreciate the special effects, including eye-popping ocean-themed murals and interactive challenges.
Overall, Putters Wild has four activities you can choose from Virtual Reality, Blacklight Mini Golf, Jump Shot, and Blaster. Their mini-golf should top your list because it is the only of its kind in Anchorage. However, don't forget to try all their games before calling it a day.
11. Chugach State Park
Located inside the Municipality of Anchorage, Chugach State Park is among America's most significant state parks, with about 495,000 acres. Established on August 6, 1970, the park continues to protect the Chugach Mountains, provide recreational activities, and ensure Anchorage's water supply safety. Alaska State Parks currently manages Chugach State Park.
The park allows guests to hunt and fish except for target practices. Other activities include trekking, kayaking, biking, hiking, paddling, skiing, and snow machining. They also offer dozens of two to 5 miles of excursions suitable for people who only want a low-key encounter with the wild.
The Chugach State Park's campground is also a must-try. Watching the sunsets, fishing, animal viewing, hiking, and whale watching are just a few of the recreations available. Bird Creek Campground, Bird Creek Overflow Campground, Eagle River Campground, and Eklutna Lake Campground are the campgrounds public for its guests.
Visiting Anchorage gives you the feeling of getting closer to nature and wild habitats you can never encounter in other places. Anchorage's tourist attractions are wholesome, and even individuals under 21 will surely relish every moment because of the city's serene and dream-like destinations.
Can you see yourself visiting Anchorage, Alaska, these days? Are there any entertaining activities you want to see more in this city? Anchorage might soon become the most special place in your lifetime. We are excited to know your impressions of Anchorage.