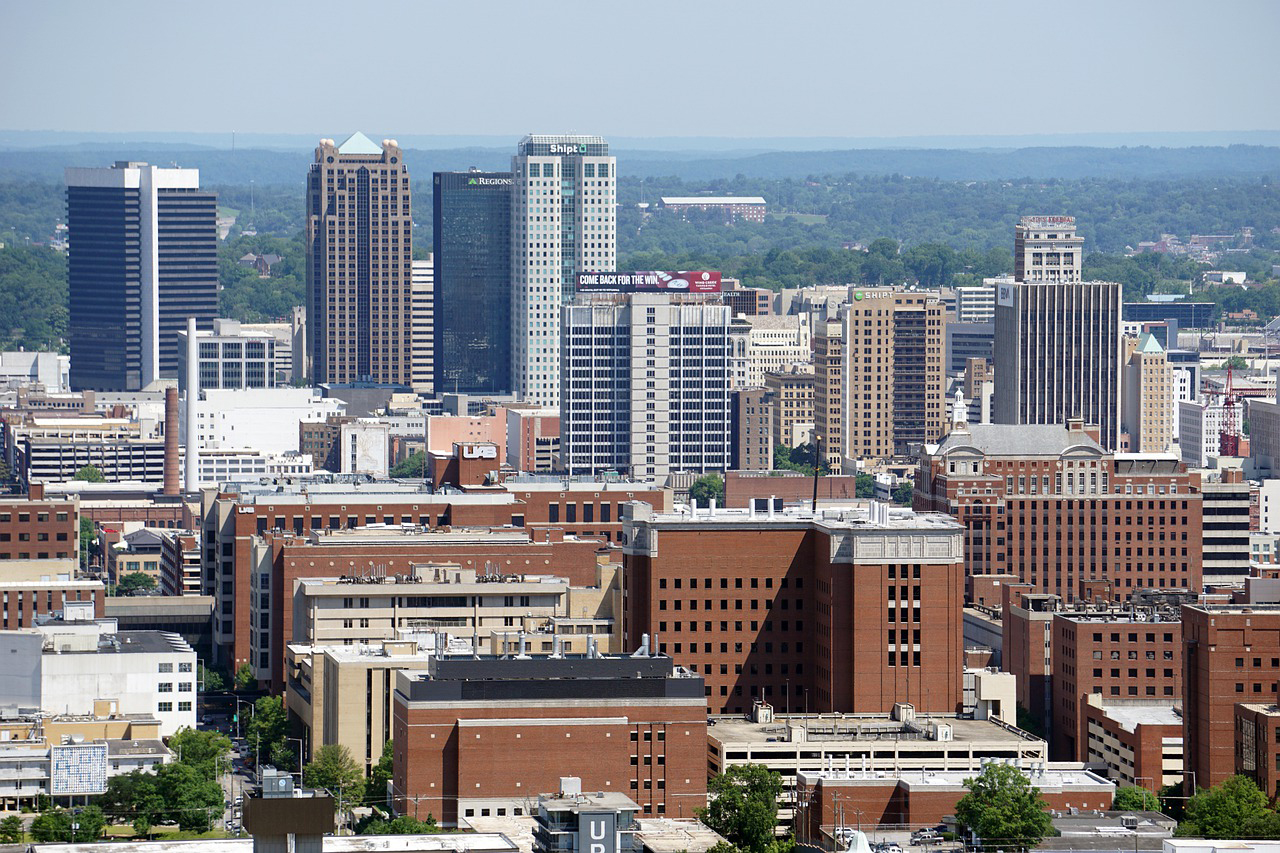 Birmingham in Alabama, which owes its origins to the steel and iron industries, is rich in historical sites that respect the state's industrial past.
Beyond historical attractions, Birmingham is known as "The City of a Thousand Trades."
Also, it is the most prominent city in the state that has various intriguing things to see and do for people under 21, ranging from museums and historical sites to sports, theaters, and beautiful restaurants.
Birmingham will keep you entertained and engaged for the duration of your visit. So, if you're under 21 and seek fun things to do in Birmingham, this thorough list is for you!
1. Birmingham Civil Rights Institute
The Birmingham Civil Rights Institute is a contemporary museum that connects to the Birmingham Civil Rights National Monument, a collection of historically significant sites in Birmingham.
You can walk through a simulation of a segregated city in the 1950s, study a Freedom Riders bus, and even see the original prison cell door where Dr. Martin Luther King Jr. wrote his famous "Letter From Birmingham Jail." The institution also has an extensive collection of Civil Rights Movement papers and almost 500 recorded oral histories from the period.
Don't miss the Freedom Rides, the Selma-to-Montgomery marches, the 16th Street Baptist Church bombing, Elder Grace, and lesbian families in the Deep South touring exhibits while you're here. Also, annual commemorations of significant occasions, such as Martin Luther King Jr. Day and Black History Month, are held at the museum.
2. Rainbow Tunnel (18th Street Light Rail Tunnel)
For students looking for a quick vacation from the boredom of class and the stress of midterms, a short jaunt up the highway can provide much-needed relaxation.
The Lightrails art installation in downtown Birmingham is the ideal option for students feeling overwhelmed by their studies and other duties. Light Rails, often known as the Rainbow Tunnel, is an artwork by Bill FitzGibbons erected in the 18th Street underground tunnel in 2013. Thousands of LED lights illuminate the underpass's walls, floor, and ceiling in the 60-foot tunnel.
The lights regularly cycle through every rainbow color, earning Lightrails its odd nickname. Don't miss out on strolling or driving through this 1930s railway tunnel to see this 24-hour light show.
3. McWane Science Center
The McWane Science Center, situated in downtown Birmingham, is a science museum and research repository. It has the objective to "inspire wonder and interest in the natural world through hands-on science." This goal is achieved by integrating McWane Scientific Center's unique assets to provide unique, hands-on science learning experiences.
This scientific center has four levels of fun and discovery. The Lower Level is accessible by steps (or elevator) from Level 1 and includes the World of Water section, the Shark and Stingray Touch Tank, vending machines and dining places, and school lunchrooms.
The main level of McWane is where you arrive from the parking deck or street-level parking; the lobby contains the ticket lines, the IMAX cinema, a gift store, and a food court. It is where McWane's ScienceQuest and Bubble Room sections are located.
On level two, discover Itty Bitty Magic City, the High Cycle, and Alabama Dinosaurs, among other attractions.
Finally, don't miss the exhibit SPEED: Science in Motion, which mimics the Formula 1 racing experience on the highest level, Level 3. Additionally, this level contains some visually stimulating activities, such as viewing digital butterflies land on your arms or playing with a giant Lite Brite or piano.
4. Birmingham Zoo
With over 500,000 annual visits, Birmingham Zoo is one of the city's most popular attractions. The zoo, which covers 122 acres, is home to 230 different animal species. It has established a national reputation for animal protection and is home to endangered animals from six continents.
A new part called Trails of Africa has just debuted and focuses on safeguarding African elephants. The zoo hosts numerous activities, including the Sea Lion Splash Show and giraffe feedings. The zoo is suitable for all ages and ensures a fun day.
The animals at Birmingham Zoo are well-cared for, which is a huge plus. It's challenging to maintain all animals in an environment that they're used to in their own homes. Still, they have dedicated employees who care about all-natural habitats to ensure they're as realistic as possible.
It is fascinating for youngsters and people under 21 to learn how to put food inside "puzzles" for animals to keep them "scavenging" and set new odors in their environment. If you're not sure why they do it, you should go and don't miss it to find out!
5. Pepper Place Farmers Market
If you ask residents what to do on a summer Saturday in the Magic City, they're likely to start with the Pepper Place Farmer's Market. For almost two decades, thousands of tourists have waited in line for fresh vegetables, pastries, meats, homemade art, jewelry, and crafts on Second Avenue South.
Pepper Place now has 350,000 square feet of mixed-use retail, office, and workshop space. It is the home of Chef Chris Hastings' OvenBird, with his main restaurant, Hot & Hot Fish Club. It also has some of the city's top home stores, including Charlie Thigpen's Garden Gallery, Richard Tubb Interiors, and Birmingham's first store from legendary Alabama menswear designer Billy Reid.
When you're here, don't forget to visit Bettola, a Pepper Place veteran living in the area since 2006. You can have an Italian triple threat here (Pizza, Pasta, and Pagnotelle) at the informal yet polished lunch and dinner venue.
The pizza's crust has the ideal Neapolitan thickness and flavor—not too thick, not too thin, with just the proper amount of burn. Consider the classic Margherita, which has buffalo mozzarella and San Marzano tomatoes, or the Pancetta e Cipolla, which features caramelized onion and pancetta.
The handcrafted al dente pasta holds up to the delicious cream and tomato sauces, and the sandwiches provide a satisfying bite with some of the same toppings like a pizza.
6. Civil Axe Throwing
Ax throwing sounds like: you hurl an ax at a target, hoping to hit the target as close to the bulls-eye as possible while having a good time! It's the most enjoyable way to commemorate a particular event or spend a day with friends or family.
Spend your time with the Civil Axe Throwing in Birmingham for a one-of-a-kind, unforgettable event. It provides a safe, enjoyable pastime that requires no previous ax-throwing expertise, strength, or agility.
It has outstanding ax instructors on staff who will teach you the ropes while ensuring that you have a good time learning. Start a friendly competition as you strive to strike the goal and have a good time with your friends. You'll have no trouble becoming a pro in no time.
Birthday parties for ages ten and up, business team-building events, bachelor/bachelorette parties, reunions, or simply a fun night out with friends can benefit from ax throwing. All activities begin with safety and training from one of the coaches before the fun starts to ensure you have the best experience possible while you're here.
Even though their retail hours vary, it can accommodate any big group event with prior bookings on any given day of the week. It can accommodate 50+ people for one to two hours, and they'll work with you to develop a bespoke timetable that suits your needs. So, don't miss this chance to hang out with as many of your friends as you like.
7. Birmingham Botanical Gardens
These beautiful gardens cover more than 65 acres and are noted for their varied plant collections. It also houses the United States' first public horticultural library. There are 30 themed gardens organized into three categories: nature, collections, and culture.
You can participate in activities and seminars, and the Bruno Vegetable Garden offers food if you get hungry. The grounds also include various walking and running routes, making it a perfect place to unwind and relax.
Don't forget to visit the 112-acre Huntsville Botanical Garden to learn about the beautiful environments of north Alabama. You'll pass through meadowlands, upland and bottomland woods, wetlands, and an astounding array of unique and native plants weaved through the park's twisting routes.
8. Railroad Park
The 19-acre Railroad Park, dubbed "Birmingham's Living Room," is where citizens congregate for leisure activities, concerts, and special events.
There are about 600 trees in the park and various flora, walkways, and water features such as a lake, marshes, ponds, and streams. It also has skating bowls, an outdoor gym, playgrounds, and the partly covered 17th Street Plaza, which houses bathrooms and the Railroad Park Dining Car.
The Rotary Trail sign is always Instagram-worthy, even when it isn't decorated with flowers. It's also near the Rotary Trail, a beautiful area to spend the rest of the day if you're still downtown.
9. Barber Vintage Motorsports Museum
Crank those engines! It's time to visit the Barber Vintage Motorsports Museum, devoted to the past's spectacular motorbikes and vintage cars, perfect for a family day out.
If you're a motorbike enthusiast, you won't want to miss George Barber's collection of over 1,400 bikes from 200 different brands, which Guinness claims is the world's biggest.
If you are more obsessed with four wheels than two, the museum also has an extensive collection of Lotus Cars. Don't miss it, too! You will discover more about Lotus Cars with this collection, which will surprise you during your stay.
10. Sloss Furnaces
Sloss Furnaces National Historic Landmark is a historic landmark and museum that was a blast furnace that produced iron from 1882 until 1971. It is operated as a museum to educate the public about the iron industry.
Throughout the year, Sloss Furnaces hosts a variety of activities, including tours, concerts, festivals, and seminars.
At one of the numerous on-site public workshops, you can acquire new skills (or polish your own). The subjects taught are welding, blacksmithing, cast iron sculpture, and casting.
Whether you're a student or just curious about the rich history of the Birmingham Industrial District, the Sloss Research Library has something for you. It has several research materials on industrial technology, science, metallurgy, and furnace practices. So, if you're taking a course relating to these topics, don't miss it!
11. Vulcan Park and Museum
Vulcan, the world's most enormous cast-iron statue, is a reminder of the city's iron mining heritage. You can climb the Vulcan tower for amazing open-air city views or visit the museum on the ground level to learn more about Birmingham's history.
The most popular viewing location for the annual Fourth of July fireworks is Vulcan Park. Also, the park is a favorite spot for weddings, parties, admiring the fantastic view of the city, or just enjoying the day. Meanwhile, the Vulcan Museum holds numerous exhibitions, lectures, and other activities.
Did you know that Vulcan's tower has 159 steps to the top? That's the equivalent of a ten-story building!
Many people participate in this journey regularly, enjoying the heart-healthy movement and the breathtaking views once they reach the summit. If you want to test your endurance, you must try it and obtain a certificate acknowledging your achievement at The Anvil, the newly remodeled museum shop within Vulcan Center.
This list of Birmingham's best things to do if under 21 can help you plan your trip. With almost enough activities to fill a whole year, these are some of the top ones to get you started!
We hope this post sparked your desire to visit Birmingham for excellent activities. Were you inspired to add any new places after reading this article? Let us know what you think in the comment section below.