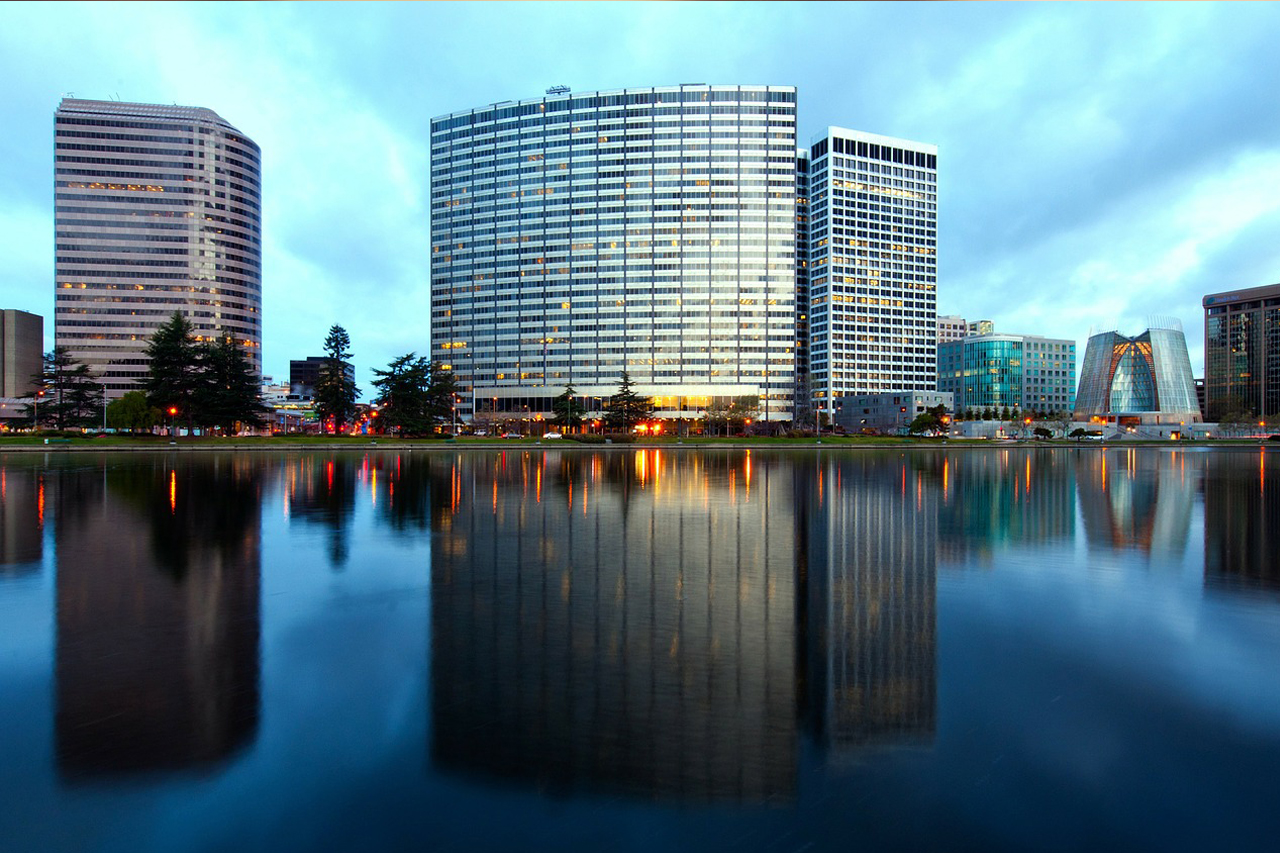 Oakland got its name from the shady oak trees common in the area.
It is a smaller city and is across San Francisco Bay. The latter, being hipper and an up-and-coming destination, usually overshadows the city of Oakland.
Oakland used to be a manufacturing city. These days, the town is famous for its style while maintaining the production of goods and handcrafted artisanal products. A melting pot of many cultures, Oakland also has a diverse population.
It has an African-American community that brought their influences on food—other immigrants like Ethiopians, Indians, Italians, Mexicans, Thais, and more.
All these cultures brought with them culinary flavors from their own countries.
And as a tourist under 21, you will, for sure, enjoy the local eateries and street food in Oakland.
There are also lively street fairs here and summer festivals.
Oakland is a city of many cultural events like dance performances, concerts, and gourmet food events.
Of course, there are also several other activities aside from eating here.
We have already covered you if you are 21 years old or younger.
1. Lake Merritt
Imagine an idyllic parkland with groves, expansive lawns, and luxuriant trees. Imagine several picnic areas in a backdrop of beautiful green space.
Lake Merritt is an oasis that offers tranquility right in the heart of Oakland.
It is usual to see locals visit the lake to relax and socialize.
Besides Lake Merritt is another popular destination – Lakeside Park.
It is a beauty of seven acres with unique and exquisite gardens. These notable gardens include the sensory garden, the edible garden, a Bonsai garden, and a Mediterranean garden.
There is also a spot called Children's Fairyland, which you can find within Lakeside Park. It is an attraction with a storybook theme and is one of the best places to visit, especially when coming here with kids.
A three-mile path suited for jogging and walking is also available for those with active lifestyles. The jogging course surrounds the lake's shoreline and is full of joggers in the mornings and early evenings.
Bird-watching and water sports are also the most common things while at the lake.
Around the lake, some establishments rent canoes, kayaks, and rowboats. There are also pedal boats available that you can rent by the hour. These are available during summer, spring, and fall.
There is also a gondola that you can ride from one end of the lake to the other.
Aside from the activities, the park houses a wildlife sanctuary.
And since the lake is an ecosystem of seawater, it is a magnet to a wide array of birds like the Canadian geese, pelicans, and black cormorants. You will also find snowy egrets here once in a while.
Since its establishment in 1870, the park has been one of the oldest spots designated for wildlife refuge.
One of the attractions you should not miss is the beautiful Victorian mansions. These mansions are at the banks of Lake Merritt.
The Camron-Stanford House is one of the notable mansions open to the public. The mansion offers a traditional English afternoon tea in its dining room. But make sure to make your reservations.
2. Oakland Museum of California
Imagine an extensive collection of exhibits and displays.
Oakland Museum of California boasts of the region's ultimate rich culture and heritage.
The museum has divisions depending on the topic.
There is an area that is specific to history. There is a division focused on natural sciences. There is also another area only for the arts.
But the ones you should not miss are the exhibits that feature the history of the Oakland community. Here, you will find important information and unique displays related to political activism, social justice movements, etc.
If you want to check out Oakland and its history, the museum is the perfect place to visit.
3. The Redwoods
If you want to see some redwoods, you no longer have to drive north to Muir Woods.
Oakland has some of the most beautiful redwood parks.
And there is not just one, but there are two redwoods you will find in the area. The redwood is also one of the oldest in the area, dating back to the 1880s.
There are park maps that they provide. The maps should be able to guide you in your exploration of these parks.
First to explore is the Scenic Redwood Loop. It is a hike that is four miles long and gives you everything from valley floor streams to scenic landscapes. You will also be seeing different types of ferns along the way. And of course, you will see a lot of redwoods.
You may also want to try the French Loop Trail. This trail is famous among hikers and provides you with redwoods that are a feast to the eyes.
4. Jack London Square
The square is a relaxing maritime atmosphere in the backdrop of a beautiful waterfront setting.
The neighborhood has a historical significance. Stepping back in history, this is the place where you would find the famous American author Jack London. The notable sight in this attraction is the replica of the log cabin where London stayed during his expedition to Alaska.
These days, Jack London Square is famous for its dining scene. The waterfront trail (which I should say is extremely beautiful) adds to the charm of the square.
The square has many restaurants with indoor and outdoor dining options, all while entertaining diners with the beautiful view of the marina.
And before I forget, do not miss out on Everett and Jones. It is a restaurant famous for its authentic Southern-style barbecue.
It also has a farmers market nearby that opens on weekends. Aside from these, the pastel-painted Miette Bakery is also a place you have to visit for your old-fashioned cakes, candies, and cookies.
5. Chabot Space and Science Center
Are you a science buff? If you are, you can get your science fix at the Chabot Space and Science Center.
The center focuses on space exploration and the solar system. Of course, anything and everything about the universe is also part of the museum.
The museum is an exciting part of Oakland to visit, especially if you love the planets and the rest of astronomy.
The museum has a planetarium. And yes, the planetarium is a fantastic way to look up at the stars from the comfort of your seats.
The museum also has observatories. There are tours and several other fun activities to fill your afternoon schedules.
6. Oakland Coliseum
We love sports in Oakland. But if there is something we love the most, it is the Oakland Athletics. In short, locals call it the Oakland A's.
Walk the streets of Oakland, and it is common to see signs of Oakland A's everywhere.
The elephant mascot, Stomper, is everywhere. It is also common to find a few locals sporting Oakland A's apparel like a hat, a jersey, or a sweatshirt.
The Oakland A's go way back from 1968. The team also got their movie appearance at Moneyball. But film appearances or not, the team is Oakland's pride. And attending an Oakland A game at the Oakland Coliseum is a must to complete the experience.
Even if you are not as well-versed as the others when it comes to baseball, the games at the Oakland Coliseum are entertaining.
And when you go to a game or two, make sure to get a giant A hat full of nachos. Or you can also grab a plate of barbecued ribs from one of the concessionaires in the area.
7. Oakland Zoo
Oakland's famous zoo is home to more than 660 exotic species that live in their natural environments.
Natural habitats within the zoo include an African savanna, a tropical rainforest, and the Australian Outback.
You can also try getting up close and personal with a few of these animals.
Head over to the Wayne and Gladys Valley Zoo to do that.
Wayne and Gladys are home to bats, lemurs, and river otters. There is also a section where you can pet one of these animals.
Aside from these, a wildlife theater is popular among visitors.
You can also get a bird's eye view of the California Trail and everything. Hop on to the Sky Ride gondola and see the African savanna nearby, its giraffes, elephants, and everything that calls the savanna home.
Finally, Oakland Zoo has many amusement rides for your excitement and thrill. There are carousels, a train that goes through the park, a roller coaster, and a jeep safari.
8. Mountain View Cemetery
When visiting a city, cemeteries do not usually appear on lists of attractions. But if you can give me the chance to explain, you will understand why.
The Mountain View Cemetery looks more like a park than a cemetery. It is a place that is perfect for an afternoon stroll. Plus, you will see breathtaking views from across the city when in the graveyard. And this is because the cemetery lies on top of the hill.
While strolling around, you might come across resting spots of famous personalities. Rapper Mac Dre is here, and so is architect Julia Morgan.
Charles Rocker is also in this cemetery.
9. The Oakland Food Scene
From the start of this countdown, you might notice that I would throw a suggestion or two of where you can dine. That is because Oakland has an exciting food scene.
The food scene in Oakland is diverse. It is fresh and expertly created. Here, the food scene is one of the best ways to know the city more.
Oakland is all about chicken and waffles.
The city is famous for its shrimp and grits. It also has the most authentic dumplings and other Asian dishes.
Never miss out on some Ethiopian injera bread and some Korean bulgogi when in Oakland.
The food in Oakland spans different cultures. It is a city of Chinese, Mexican, Korean, and African dishes. And the list does not end there. Throughout the city, some restaurants cater to almost all cultures and nationalities.
Choosing one restaurant for a meal will be the hardest thing to do in Oakland.
But if you only have limited time in the city, I recommend you take a food tour. The food tour should help you extensively through the city's food scene.
The food tours would also allow you to walk through the best neighborhoods in the city.
The Grand Lake Cultural Cuisine Tour is a good find.
Here, you can taste famous Italian comfort food from one of the city's neighborhood kitchens. You will also be visiting spice shops and even taking some savory bocadillos from a Cuban restaurant near the Grand Lake.
The Temescal Tastes Tour is also another option you can take. Here, you will get to taste tacos from Cholita Linda, who happens to be an award-winning Breton pastry from a local baker. There are also Ethiopian injera and wot to taste and Korean rice bowls to devour.
Finally, try out the Rockridge Neighborhood Food Tour.
The tour involves a fluffy bun from one of the best French patisseries in the area. There are crispy chicken tacos and lots of ice cream to eat here. The tour also touches on exotic cheeses and homemade sausages from local butchers.
10. Morcom Rose Garden
Entirely hidden away in a quaint neighborhood, the Morcom Rose Garden is a beautiful area you should visit.
This government-owned garden is where you will find thousands of roses of many colors and varieties.
The combination of blooms in different colors makes this garden a favorite spot among locals.
The roses bloom from around May until around October.
The garden is also beautiful during spring and the early parts of summer. Expect a horde of visitors coming here from May until July.
When walking around the garden, expect to find beautiful landscapes around walkways and stairways.
You can also rent out the garden for special events if you wish.
11. African American Museum
If you love museums, the African American Museum is an attraction you should not miss.
The museum shows the history and culture of African Americans who settled in Oakland. Here, you will learn about the lives of African Americans throughout the years.
There are more than 160 families in Oakland of African American descent. More than 12,000 volumes of documents, books, and texts lay down the interesting culture and history of the African Americans here.
—
San Francisco and other bigger cities in California may overshadow Oakland.
But the city of Oakland is also worth visiting.
There are cultural performances, significant events, and beautiful attractions to visit. Plus, the food here is fantastic.
Oakland has it all for you if you are under 21 and would like to enjoy a city.
How about you?
Have you been to Oakland?
Which attractions would you like added to the list?
Let's talk about it.