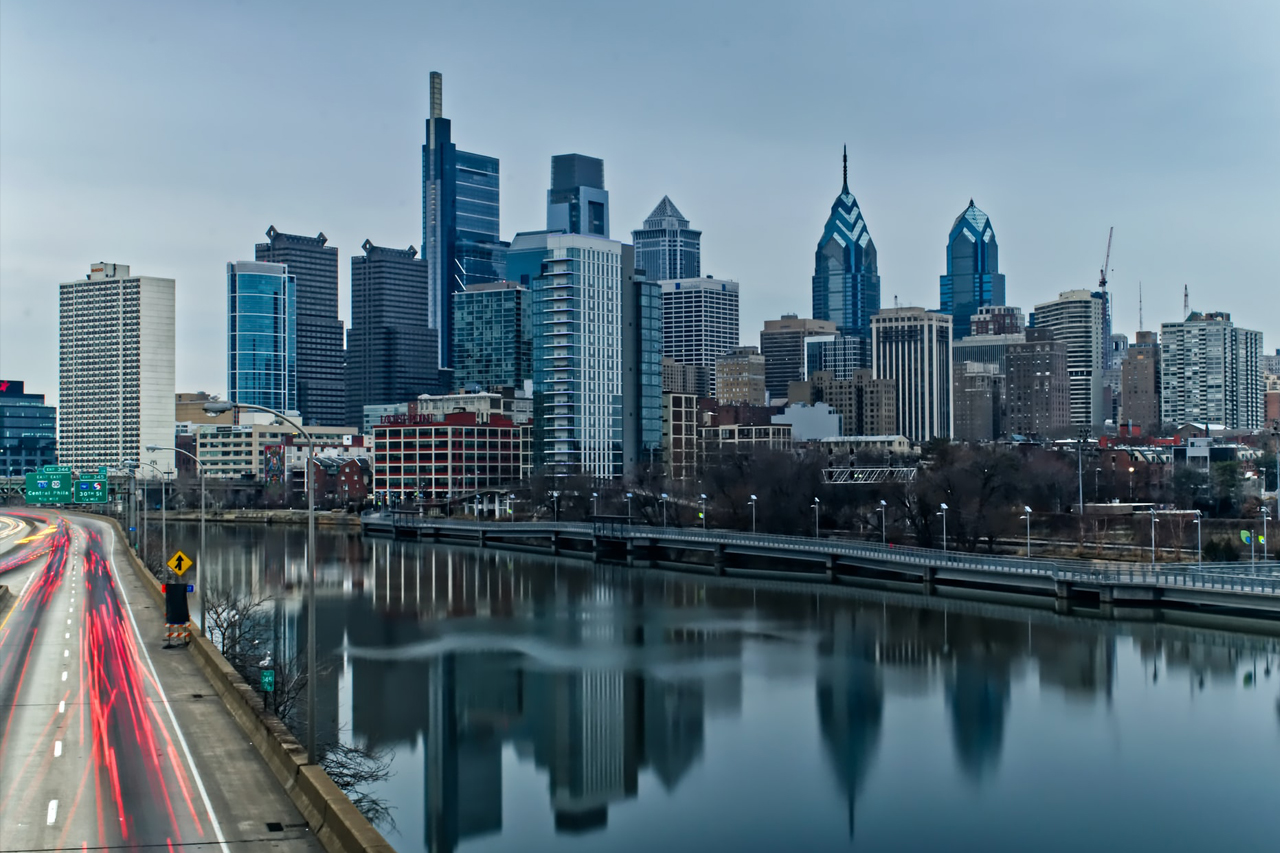 Because often overlooked by more prominent cities like New York and Washington D.C., Philadelphia is always in the background.
But the city boasts a wide array of tourist destinations for you to check out.
Most of these tourist destinations are rich in history and played a significant role in the story of America.
Aside from impressive architecture and many national historic sites, Philly also boasts art. There are also several science museums worth checking out.
In addition, the city has several lovely green spaces to see.
Finally, the food scene is a must-try.
And so, even if you are under 21, there will always be something for you to try out here.
1. Rittenhouse Square
Atop the city hall is a guy named William Penn. It was him who planned Philadelphia and its ins and outs.
He designed five squares that would all function as parks.
The most beautiful of all five is Rittenhouse Square. It is both a park and a catchall name for all its neighborhoods.
The square and its surrounding neighborhoods are home to some of the city's best dining and shopping experiences. Plus, the real estate here is as glamorous as its name.
As mentioned earlier, Rittenhouse Square is beautiful. It has a well-maintained park. A fountain at the Park's center serves as a gathering place for locals and visitors alike.
In beautiful weather, it is common to find locals and tourists alike picking up picnic supplies and finding a seat on one of the many benches you can find at the Park.
You can also dine at the Parc, a few meters away from the square.
Once done, you can take a stroll along Walnut Street. This street is where you find high-end national brands for your shopping fix.
2. Independence National Historical Park
It is common to find locals dressed in character here.
Locals flock to the Independence National Historical Park from tricorn-hat to square-buckled shoes.
It should not surprise you. After all, the Cradle of Liberty is in Philadelphia.
Visiting the National Park is something you need to do when in Philadelphia.
All 55 acres of the Park are full of landmarks, including the Independence Hall, the Liberty Bell, Congress Hall, and the Ben Franklin Museum.
There are several green spaces in the area where you can sit down for a picnic. Or you can decide to stroll your afternoon away at the Park while admiring the many historical landmarks.
3. Fairmount Park
Sprawling across the center of Philadelphia is Fairmount Park.
It is also split into two beautiful sections. The dividing river is the shimmering Schuylkill River.
You might not know it, but the Park is the largest city park in the whole country. It is large, beautiful, and offers its visitors many activities to enjoy.
The Park is perfect for biking and hiking. These two activities are extremely popular with visitors.
Established in 1812, the scenic Park grew with a fantastic collection of sculptures and public art installations.
As of this time, you will find these art installations alongside landscaped lawns and historical houses.
One of the sites you should visit is Boathouse Row.
Aside from the Boathouse Row, the Park is also home to the magnificent Memorial Hall plus an exceptional Japanese garden.
The Park has several playing fields and a wide array of recreational opportunities.
Because of this, Fairmount Park is one of the places you should not miss when in Philadelphia.
4. Reading Terminal Market
The vibe at the Reading Terminal Market seems to be a happy hubbub of the whole of humanity.
The sprawling area has always been around since 1893. As of the present, it serves as a hub for vendors that sell vegetables, fish, and meat.
Mixing with these vendors are dozens of dining places and bakeries.
When in the area, never miss out on the neon signs to guide you on the numerous options.
Or, well, you can go ahead and dine at DiNic's, where the roast pork sandwich with a broccoli rabe is divine. Then, finish your meal with a scoop or two of Bassett's ice cream. Yum!
5. Historic Old City
Close to the Delaware River, the Historic Old City is a hub of several cafes, boutiques, art galleries, restaurants, and some of the most interesting historical sites.
We learned about Betsy Ross in grade school. Here, you can visit her home. You can also check out the stories behind the flag and its making.
You can also check out the oldest and cutest residential street in the U.S. if you are into it. We will discuss more Elfreth's Alley later.
A few minutes away from the Alley is the historic Christ Church. Founded in 1965, the church remains active up to this day.
Revolutionary personalities like Ben Franklin, George Washington, John Adams, Benjamin Rush, and Sally Franklin Bachelor attended mass decades past.
6. Philadelphia's Magic Gardens
Philadelphia's Magic Gardens is a surreal and striking attraction to visit. You can find the garden to the south of the city center.
What makes this garden attractive is the art museum that goes with the attraction. It has galleries and parks that provide visitors with a mix of mosaics, mirrors, and murals.
The artworks and art installations are all incredible. They are everywhere, wherever you look.
There were some renovations on the site in the 1960s. But it fully opened in 2008. It now includes the works of mosaic artist Isaiah Zaharia and his wife, Julie.
The Magic Gardens is an attraction that has everything. There are numerous beautiful things to see, from folk art and tile mosaics to art installations and sculptures.
The garden also hosts temporary exhibitions once in a while. Some tours and workshops take place here.
7. Barnes Foundation
Are you in the mood for a Parisian afternoon?
Most people here speak French. Strolling about the streets with their hands clasped behind their backs, one could surmise being in Paris.
But no.
Barnes Foundation is where such groups of people spend their weekend afternoons after brunch.
When in the area, prepare to spend an hour or so looking at several Impressionist art pieces. There is a manor home with an incredible collection of artworks from the Impressionist and post-Impressionist eras.
The collections include pieces done by Matisse and Cezanne.
And while the majority of the art pieces are from the Impressionist era, there are also Native American ceramics, African sculpture, and American paintings and decorative arts abound.
The collection will surely impress any art lover.
8. Philadelphia Zoo
Zoos in the past would always receive a bad rap for the captivity of these animals on display.
But whatever your view is on animals in captivity, you might want to go ahead and check out the Philadelphia zoo.
Philadelphia Zoo's Zoo360 program provides its inhabitants with enough room where they can roam. There are also more locations for the animals to rest while making sure visitors can still observe. Animals here can be anywhere like that orangutan who may be checking you out from above.
With an opening dating back to 1874, the Philadelphia Zoo is the oldest. It also leads the industry in innovative systems, especially in the treatment and management of animals in captivity.
In 2011, the zoo started putting up a series of mesh wire trails. The trails suspend about 20 feet above the ground.
Over the years, the mesh and paths expanded to include the Big Cat Crossing and the Treetop Trail, specific for monkeys and lemurs.
There is also the Great Ape Trail to check out. The trail focuses on much bigger primates. Like the Meerkat Maze and the Gorilla Treeway, several other mazes run for about 300 feet.
Finally, check out the 10-minute Zoo Balloon ride. The ride goes over the Schuylkill River. It goes as high as about 400 feet and gives its riders a stunning view of Fairmount Park and the surrounding areas.
9. Elfreth's Alley
Now, here we are in one of the best parts of Philadelphia.
Elfreth's Alley is a strip of historic houses, some of which date back to 1703.
The Alley is one of the oldest that you can find in the country. With its charming cobblestoned streets and attractive architecture, the Alley is one of the must-see places in Philadelphia.
The Alley is a few minutes away from the Benjamin Franklin Bridge. It is not hard to drop by when you are in the area.
The Alley used to be home to blacksmiths and furniture builders. This place was also where you would typically find shipwrights and silversmiths at the time.
But as of this time, the houses were perfectly-preserved and are now famous attractions of the city. The Alley is also a National Historic Landmark.
Within the Alley is a museum. It is small, but it provides its visitors with a clear picture of how life was for the Alley and its residents in the past centuries.
If I may suggest, make sure you visit in June. This month is when they hold the festive Fete Day. During this time, the Alley carries historical reenactments. It is also during this day that they have open-house visits.
10. Philadelphia Museum of Art
At first glance, you would think you are seeing a Greek temple that rises into the blue skies.
But this is the Philadelphia Museum of Art. The structure steals everybody's attention, especially those who pass by the Ben Franklin Parkway.
Here, you will find Duchamp's largest and most significant artworks. There is also an extensive collection of Brancusi sculptures.
Aside from these famous artworks, you would also find Impressionist and post-Impressionist paintings done by Van Gogh. His painting "Sunflowers" is here.
Pissarro, Renoirs, and Monets, some of the world's favorite artists, are also here.
Walk up the steps before entering the museum. Once there, you will see that the museum has impressive holdings. It has an antiquities gallery that is perfectly lit.
And before you head home, take a few minutes and watch as the city traffic passes you. The museum gives its visitors the best view of the city.
11. Schuylkill River Trail
Whether you intend to take a stroll, go for a run, or ride your bike, the Schuylkill River Trail is always a good choice.
The trail is perfect for your active lifestyle, running about 26.5 miles. It is a protected trail that starts at Center City and winds its way into the Valley Forge National Historical Park.
The trail ends at Chester County's Phoenixville.
About 10 miles of the 26.5 total distance runs along the Schuylkill Riverbanks. Also, aside from the place being perfect for walking, running, and cycling, it also provides its visitors with several other activities.
It is common to find people doing yoga, boarding in a skatepark, and going on moonlight kayaking tours during summer.
And oh, before I forget, they also do summer outdoor movie screenings here, especially when the weather is fine.
—
Philadelphia is a city worth visiting.
It has attractions and activities for everyone, despite their age. You can skateboard here, visit some museums, and have a picnic at parks.
The city also offers its residents and visitors places exceptionally well-preserved that it could even pass as a museum itself.
You will love Philadelphia for its quirks and beauty, especially if you are 21 or younger.
Have you been to Philadelphia in the past?
If you have, which attractions would you like included on the list?
Let me know so we can look into it.