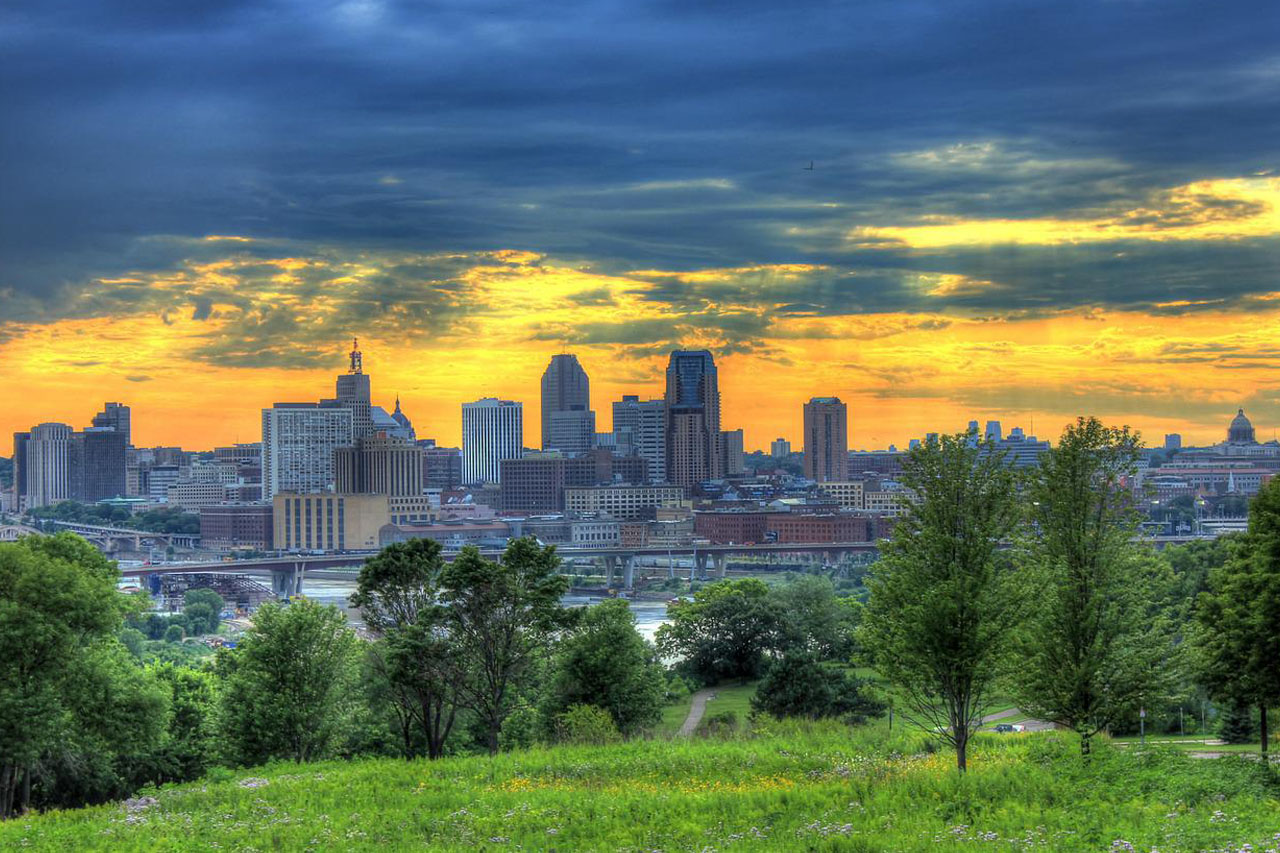 St. Paul is the state capital and the second densest city in Minnesota, with a 2,967,000 population. It ranks high in the healthcare, environmental quality, and leisure & culture sector, thus, making it a livable city. Originally known as "Pig's Eye," St. Paul boasts the longest shoreline compared to other towns along the Mississippi River.
Aside from being a livable city, St. Paul is not just any quiet area that shies away from the fun. Instead, it is full of dramatic skylines, state fairs, acclaimed restaurants, spectacular parks, and exciting pro sports. Those under 21 will see St. Paul as a new and exciting city where it fulfills a serene dream getaway.
A trip to Minnesota's capital city will take you on a journey of discovery as you traverse through the different attractions during your vacation. Our guide lists museums, parks, festive, and indoor adventures you must look forward to during your next memorable holiday, St. Paul.
1. Science Museum of Minnesota
Established in 1907 at 120 W Kellogg Blvd, St Paul, MN 55102, the Science Museum of Minnesota is an American non-profit institution that focuses on natural history, mathematics education, physical science, and technology. It has an area of 370,000 square feet with a 10,000 square feet temporary exhibit.
Science Museum of Minnesota welcomes hundreds of thousands of patrons annually. The museum has two exhibits: temporary and permanent. The temporary exhibit includes Ultimate Dinosaurs, Science Superheroes, and Real STEM Stories. In contrast, the Experiment Gallery, Giant Astronaut, Light Gallery, and Math Moves are in the permanent exhibit.
Space remains a mystery that makes people get starstruck by Astronomy. Don't miss the chance to see face-to-face the museum's five-story tall Giant Astronaut exhibit. It is an interactive display located in the atrium where you can project your face on the helmet.
2. Can Can Wonderland
An amusement center located at 755 Prior Ave N Suite #004, St Paul, MN 55104, Can Can Wonderland, resides in the old historical building home of the American Can Company. The latter is a known can maker for several well-known brands such as Carnation, Del Monte, etc. Now, Can Can Wonderland gave a new life to the old factory.
Visiting Can Can Wonderland does not only give you great entertainment, but for every purchase, the center can give back to the local community. Attractions in the place are indoor mini-golf, arcade games, pinball, and an eatery. Since its opening, it now has six awards and recently received a new one in 2021.
After having fun at the mini-golf course and arcade games during the daytime, stay for the night to laugh out loud with their "Yes I Can Can" open mic comedy event. Located in the Red Room of the building, spend hours grinning from ear to ear for a low-key, cozy evening of humor.
3. Como Park Zoo & Conservatory
A division of Saint Paul Parks and Recreation owned by the City of St. Paul, Como Park Zoo & Conservatory is an enormous 384-acre park in the city. Created in 1873, it welcomes visitors of all ages to meet and co-exist with the environment.
It boasts plenty of attractions from Como Town amusement park, golf course, 2.3 miles of paved trails, Como Lake, a zoo, 16 gardens, a pool, athletic fields, and picnic shelters. Over 1.9 million visitors come to Como Park Zoo & Conservatory to spend a relaxing and fulfilling day. Most notably, it is home to a diverse range of animals and flora.
It will take hours for you to try all the attractions Como Park Zoo & Conservatory offers. After a long, fun day with your loved ones, you can take a break at one of the park's gardens: Lily Pond. It was once the public's favorite as per Park Superintendant Frederick Nussbaumer.
4. Minnesota Children's Museum
Situated at ten 7th St W, St Paul, MN 55102, Minnesota Children's Museum's history dates to 1981. Since the original Children's Museum opened on December 12, 1981, it has become a popular spot for locals because of its hands-on, playful learning. The museum is full of kid-powered play spaces.
Since its renovation and significant expansion in 2017, the museum now features ten new exhibits, more space, better amenities, and a bolder design. It has three floors of fun with permanent exhibits such as the Thomas & Friends™: Explore the Rails!, Shipwreck Adventures, Laser Maze, 3M Gallery, Car Wash, Ball Launchers, and more.
Among its countless interactive displays, explore their brand-new "underwater" adventure. Shipwreck Adventures is full of action-packed puzzles and imaginative spaces you don't want to miss at Minnesota Children's Museum.
5. Wellstone Center
Wellstone Center is a community center located at 179 Robie St E, St Paul, MN 55107. It is a 93,000 square feet facility built with recycled and new materials that opened in 2006. The community center aims to help individuals gain the confidence, knowledge, and skills needed to succeed in various settings.
Public art by Craig David, Evelyn Rosenberg, and the COMPAS ArtsWork Program are in the Wellstone Center. Besides this, twenty different meeting rooms and event venues are available for rent at low rates. It is the perfect place to hold your rare family vacation event or any occasion deemed appropriate in Wellstone Center instead of paying for expensive event space rent.
Don't miss the chance to rent the Wells Fargo Gathering Rotunda & St. Paul Travelers Lobby room. It is open to all visitors looking for intimate seating and comfortable, easy chairs with a stone fireplace available inside the area for cold seasons.
6. Trapped Puzzle Rooms
A team-based puzzle activity in St. Paul, Trapped Puzzle Rooms, will get you pumped up with its mind-blowing puzzle room games. Two of the most popular rooms and three of the newest rooms in the city are available here for your enjoyment.
You can find Trapped Puzzle Rooms at 561 Snelling Ave S, St Paul, MN 55116. The Temp Agency, A Very Potter Escape Room, The Heist, and Video Game Mayhem, are the puzzle-themed rooms you can choose from here. Their rooms demand ingenuity, wit, a keen eye, and teamwork from the players to successfully solve the mystery for less than 390 minutes.
If you are a big fan of Money Heist or anything related, you better try Trapped Puzzle Room's The Heist escape room. Here, your mission is to recover the stolen painting hidden away in a mysterious gallery. You need not get caught with no traces left behind and sneaking in.
7. Mischief Toy Store
Located in Grand Ave, St Paul, Mischief Toy Store is an indoor shopping toy store. Opened in 2015, founders Millie Adelsheim and Dan Marshall decided to create Mischief Toy Store after closing its previous business, Peapods Natural Toys & Baby Care. Six years later, their daughter named, Abigail, joined as a co-owner.
You're mistaken if you think Mischief Toy Store is only for those little kids. They cater to people of all ages. Kids and grownups are all welcome to explore the store and buy the things they like. Books, comics, adventure gear, toys, jewelry, art supplies, anime merchandise, board games, and tattoos are available here.
For those under 21, visiting Mischief Toy Store is a haven. If you don't like to run out of fun things to try, don't miss out on purchasing their board games or anime merchandise. These items can accompany you on your family picnic at the city park or while you are relaxing in your hotel room.
8. Minnesota State Fair
Minnesota State Fair started in 1859. However, the creation of the state fair started from a mini territorial fair highlighting farming and agriculture in 1859. Minnesota State Fair is often known as the "Great Minnesota Get-Together" since it is when locals and tourists worldwide gather to celebrate.
Scenic gardens and stunning architecture beautify the area in the 322 acres of Minnesota State Fairgrounds. The Minnesota State Fair spans 12 days featuring hundreds of entertaining activities, including educational exhibits, free music & shows, countless competitions, over 60 carnival rides, Grandstand shows, eateries, etc.
Their Ye Old Mill and Hamline Church Dining Hall are a must-try among its hundreds of activities to explore! Ye Old Mill is the oldest amusement ride that began operating in 1915, whereas Hamline Church Dining Hall has been the most senior food concession on the fairgrounds since 1897.
9. Voxel Virtual Reality Parlour
A groundbreaking modern technology situated at 550 Vandalia St #218, St Paul, MN 55114, Voxel Virtual Reality Parlour is among the city's newest incredible attractions. It is the state's first-ever Virtual Reality Arcade. Opened to the public in 2016, various locals and tourists alike flock to this site to have that realistic virtual fun.
Playing Voxel Virtual Reality Parlour guarantees a worthwhile immersive and highly realistic fun with surreal settings. The experiences you can expect in this VR lounge and arcade facility are painting and sculpting, orbiting the planets, honing your archery skills, and more. There are six VR rays available with over 30 themes to choose from and a quick tutorial.
Besides several VR experiences to try, don't miss out on the complimentary refreshments and snacks provided by Voxel Virtual Reality Parlour. Compared to other sites, their freebies are a great deal since you will probably use all your energy trying out every VR experience you want.
10. Midway Used & Rare Books
Established in 1965, Midway Used & Rare Books is an open shop bookstore filled with thousands of secondhand, rare, and out-of-print books. You can find them at 1579 University Ave W, St Paul, MN 55104. Aside from being a member of the Antiquarian Booksellers Association of America (ABAA), they also participate in book fairs nationwide.
Midway Used & Rare Books has a mix of more than 100,000 books, magazines, comics, and pulps on its three floors. They have a collection that collectors, scholars, and readers look for that is unavailable in newly established and commercialized bookstores. Since most of their books do not have website listings, it is better to visit the site itself.
For people who love to discover precious vintage books, Midway Used & Rare Books is a gem. Although most books do not have website listings, you can still check their website for new arrivals and featured items. Don't forget to try to search; maybe the book you are looking for can only be bought here at a vintage bookstore in St. Paul.
11. Central Village Park
Maintained by the St. Paul Parks Department, Central Village Park is a general public local park located at 460 Central, St. Paul. Initially developed in 1970s, Central Village Park has a long history of community resilience, displacement, and racist urban planning. It finally had its moment nearly five decades later.
Central Village Park has 4.11 acres with uninterrupted trails and green spaces. Through the cooperation of the citizens and government, locals and tourists now enjoy the amenities the park offers. BBQ grill, benches, horseshoe ring, picnic area, playground, and two tennis courts are some of the amenities in the area.
The park's most notable amenity is its playground. Kids can climb up with the Lolipop Climber, Croquet Climber, and Sunbeam Climber or go back down withSlideWinder2® and Double Slide. They also have a clubhouse for children six months to five years. Nevertheless, it is a fun place for the whole family.
Besides being the capital of Minnesota, St. Paul continues to prove that it has plenty of recreational sites for those under 21. It may not look like the first choice of some, but this city will leave a remarkable impression once you can explore and discover all it has to offer.
Do you think St. Paul deserves a lot more recognition? Are you excited to discover more of the "Twin Cities"? Can you tell us more about what you know of St. Paul? We hope that our guide stimulated your wanderlust and book that flight to St. Paul just in time for the city's biggest festival, Minnesota State Fair.