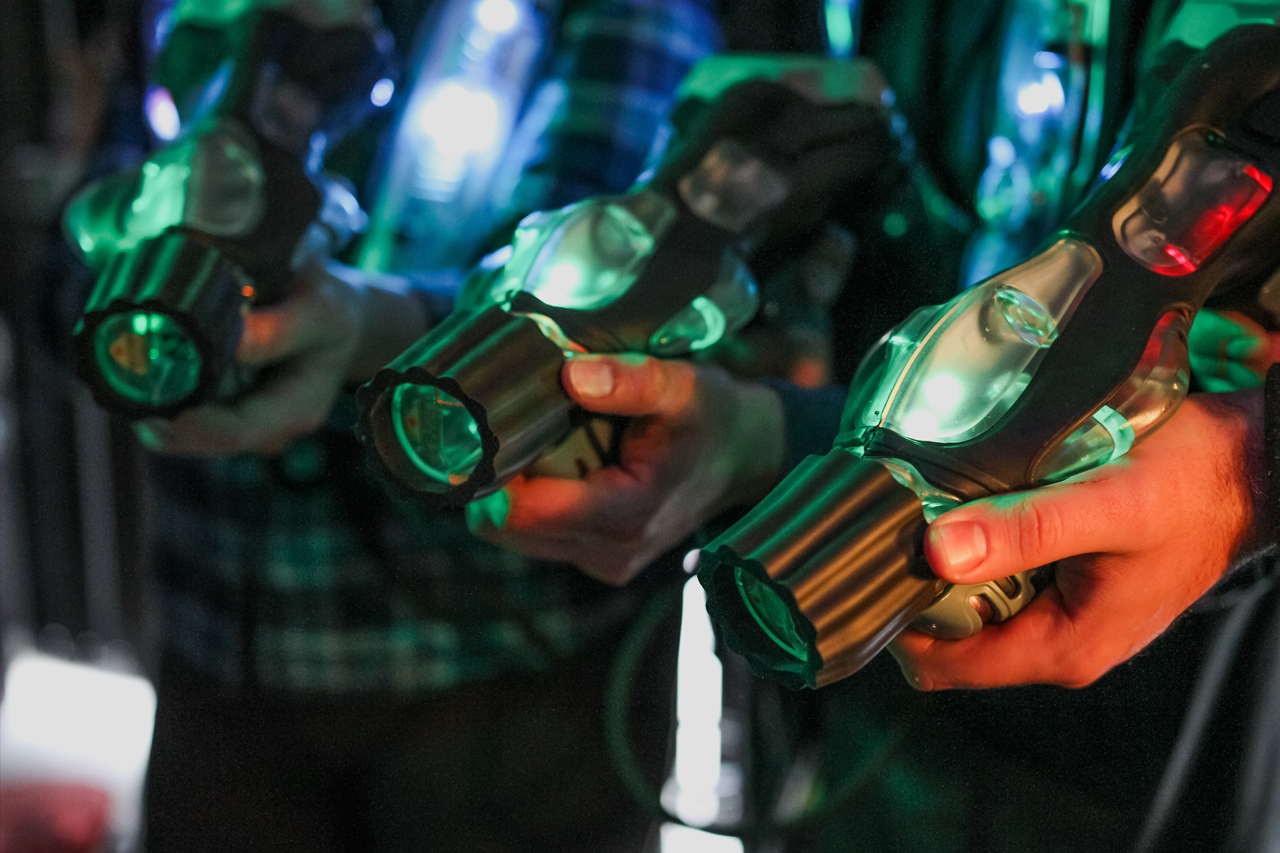 Toledo, a large coastal city in the Midwest of the United States, is a bustling metropolis noted for its vital auto and glass manufacturing industries, earning the nickname "The Glass City" in Ohio.
Its 83.83 square mile region stretches many recreational sites and entertaining pastimes that are more than just seeing pretty glass things in every corner. This small town provides a different excitement for anyone under 21 looking for a fun weekend getaway.
Thus, we have compiled a list of the top 11 best things to do in Glass City to help you make the most of your limited time here.
This article covers local hotspots such as arcade zones, botanical gardens, museums, escape games, and other noteworthy activities that should be on your checklist of must-see attractions in this booming town on Ohio's northern border.
1. Dave & Busters
Nothing compares to the excitement provided by Dave & Buster's, America's most prominent sports bar-style chain. This sports pub, which now has a location in Toledo near Franklin Park Mall, offers a variety of culinary options and leisure activities such as arcade machines, billiards, bowling, and virtual reality.
People below 21 are welcome at Dave & Buster's in Toledo, but a legal guardian must accompany them. The hotspot has a variety of entertaining activities, including classic games in their arcade zone. Many locals spent their evenings playing games, eating, or watching sporting events on their enormous television screens.
Do not forget to purchase their eat and play combo, play the newest arcade games, and themed Virtual Reality when you come.
Try their new spring menu items, like the Sticky Tempura Popcorn Shrimp. They also have appetizers, wings and tenders, salad and bowls, desserts, sides, and entrées on their menu board.
2. Toledo Botanical Garden
Among the best urban experience in Toledo is visiting the local favorite, Toledo Botanical Garden. This community garden opened its gates to the public in 1965 and is the only free urban agriculture in the region. The spot is also a center for farming and crafts and is a renowned tourist destination in the city.
Attracting around 150,000 visitors per year, the Toledo Botanical Garden is one of the major hotspots for everybody. It has a wide array of art sculptures scattered inside the place, and the annual Crosby Festival of the Arts is something you will need to anticipate.
Toledo Botanical Garden caters to a series of occasional events and hosts important happenings; it also creates live jazz music and a festive atmosphere during the summer months. Through educational, firsthand plant investigation, and pioneer living activities, everyone can become immersed in the real world within the city limits.
3. Get Air Toledo
Toledo's Get Air Trampoline Park is another fun entertainment place worth visiting.
The trampoline playground is one of the most extensive in the United States. They have a large facility, about 8,000 square miles in extent, ideal for a remarkable play space within the city limits. So, there is usually stuff going on at the venue.
Everyone is welcome to have an enjoyable time and achieve their fitness objectives all in one location at the hotspot. Get Air recreational facility features a large trampoline area and other fun games such as dodge ball, foam pit, Ninja activities, Kiddie Court, Slamball, Slackline, Fidget Ladder, and Massage Chairs.
The management ensures everyone's safety, so each jumper must first sign a waiver.
Weekly surprises and events include time for jumpers with special needs, toddler time, a family day, and club air for teens. Make friends, and experience unique fun in this family-friendly zone in Toledo.
4. Toledo Museum of Art
The Toledo Museum of Art, another attraction in Toledo's Old West End area, is a must-see for art and history buffs. This worldwide recognized art display, which opened on April 18, 1901, includes a collection of approximately 30,000 objects, forty-five galleries, and 280,000 square feet of rare antiques.
The wonderful atmosphere of this four one-half-acre floor area on two levels will appeal to everyone, which features a fifteen-classroom studio, a 1,750-seat Peristyle performance hall, and a 176-seat lecture theatre. There is also a café and a gift store inside. It also attracts 380,000 people every year from the surrounding area.
TMA is a privately funded, non-profit institution that offers free access to its holdings to the public. The gallery aims to be the nation's model art museum, providing an engaging environment for locals and visitors to this significant educational institution in Toledo.
5. Greetings from Toledo
It's a lovely sensation to be greeted by a large mural in one of Toledo's neighborhoods, and that's what the goal of Greetings from Toledo is to communicate. This large mural exhibition pays homage to the city and is a popular tourist destination in East Toledo.
The massive artwork portrays each letter of the TOLEDO alphabet with images of the city's well-known attractions and why it is known as the "Glass City."
This large project belongs to the several undertakings created by the Greetings Tour, which features several noteworthy mural paintings across the United States.
In addition, you can buy some cool merch from the Greetings Official Merch Store, with all sales going to their community mural grant. When visiting the city, do not forget to stop by, buy merch, and snap a photo at one of Toledo's most famous tourist attractions.
6. Trapped Toledo
The Trapped Toledo is another mind-exerting activity center that should be on your itinerary. This Key Street escape room center is one of the best and most interesting recreational areas. You must escape the room in fewer than 60 minutes while deciphering hints and clues. Will you be able to flee?
Everyone is welcome to join in this unusual and engaging activity at the site. Trapped Toledo has a variety of thriller-style social gaming scenarios, including a zombie apocalypse, an Area 51 mystery setting, and Old Man Wilson's cabin, where you must avoid Big Foot.
The rooms can accommodate 2 to 8 people, making them ideal for a family outing or a gathering of friends and peers. If you are searching for a fun and challenging game to train your ability to think critically, then Trapped Toledo is the place to be.
7. Imagination Station
Toledo's Imagination Station will appeal to everyone who likes science with various interactive activities and exhibitions. Toledo's Science Center, which spanned 80,000 square feet and opened its doors to the public in 2009, is a vital non-profit institution that is a crucial element of Toledo's economic, academic, and sociocultural context.
This facility, situated in the center of Toledo's Downtown District, teaches everyone about important science principles and how they apply to current life. It also gathered around one million visitors from the beginning of its inception, bringing other educational resources to the attendees, especially educators.
In addition, be enthralled by their spectacular science presentations, visit the Starlab planetarium inside, and occasionally participate in science fairs and workshops. Plus, go on a breathtaking 3D trip without ever moving your seat at the KeyBank Discovery Theater. Learning science has never been his fun, thanks to Imagination Station.
8. Wildwood
At Wildwood Preserve, the town of Toledo's most frequented Metropark, natural beauty and artificial elegance join as one. The management rebuilt the 493-acre park from the Stranahan family's former estate to provide the citizens of Toledo with ample space for leisure activities.
The network of paths that cover the different landscapes, considered a treat in the flatlands of northwest Ohio, is one of the natural area's most distinctive attractions. The trails are ideal for people under 21 to go biking, jogging, or just strolling in the area.
In addition, Wildwood accessible area is ideal for a terrific picnic when the weather is nice. Plus, it has a playground where kids are free to roam and have fun.
Wildwood's Manor House, a famous Georgian colonial-style structure open to the public for visits, is located within sight. However, portions of the residence function as Metroparks administration buildings.
9. National Museum of Great Lakes
If you like to know more about the fascinating Great Lakes, visit its one-of-a-kind museum featuring a grand narrative.
The National Museum of the Great Lakes uses beautiful photos, over three hundred remarkable artifacts, a variety of compelling multimedia presentations, and forty firsthand interactive features to convey the incredible history of Toledo's Great Lakes.
During your visit to the showroom, you can prolong your time learning about the Schoonmaker and Tug Ohio. The different concept of the Great Lakes as a Powerful Force that goes through a considerable effect and creates a lifelong interest in those who visit will pique everyone's curiosity. The duration of the entire exhibit trip lasts around 90 minutes.
You can order your tickets conveniently online and enjoy hassle-free access. In addition, the museum offers an inside store that sells commemorative posters, books, towels, and other items related to the National Museum of the Great Lakes.
10. Playzone Toledo
The Playzone Toledo is another entertainment attraction in Toledo that everyone will enjoy. If you are exploring for a fun day out, this location has a variety of activities to choose from and hosting parties and other key events.
This recreational spot, located on New Town Square Drive and reopened to the public on August 18, 2017, brings out the best in everyone. Laser Tag, Bumper Cars, the Miner Mike Roller Coaster, and various coin slots and arcade games are attractions you must experience. A new addition to the arcade team, the VR King Kong, will be displayed soon.
If all the games exhaust you, they offer a fully equipped Café with enough seats where you can get a lite snack – or a meal – and refresh. You will be surprised with its daily specials and a merchandise store inside the venue for mementos.
11. Willis B Boyer Museum Ship
Col. James M. Schoonmaker is a name that comes to mind when you think of the Great Lakes. Also known as Willis B. Boyer, the lake steamer functioned as a commercial vessel on the Great Lakes for much of the twentieth century.
The vessel was anointed after Medal of Honor recipient James Martinus Schoonmaker and is now a museum ship in Toledo, Ohio. The 617-foot-long Col. James M. Schoonmaker has 64-foot beams and over thirty-three feet. It has a carrying capacity of 12,200 gross tonnages and a draft of 21 feet.
The ship's pilothouse is a unique feature that all guests are welcome to see. The Willis B Boyer Museum Ship is one of the top attractions of Glass City, reliving the memories of when the coastal town became famous for its coastal trades before.
Apart from concisely learning about the city's history, there are other reasons for visiting Glass City. In this sprawling metropolis in Ohio, numerous exciting places and distinctive attractions will entice you. Toledo, which flourishes as a well-known entertainment hub in Lucas County, has more to offer.
We hope you find our Toledo travel helpful guide. We would also like to hear about your experiences! If you have anything to add, please leave a comment below to let us know if there are any elements that we missed or any new hotspots that should be on our lineups.