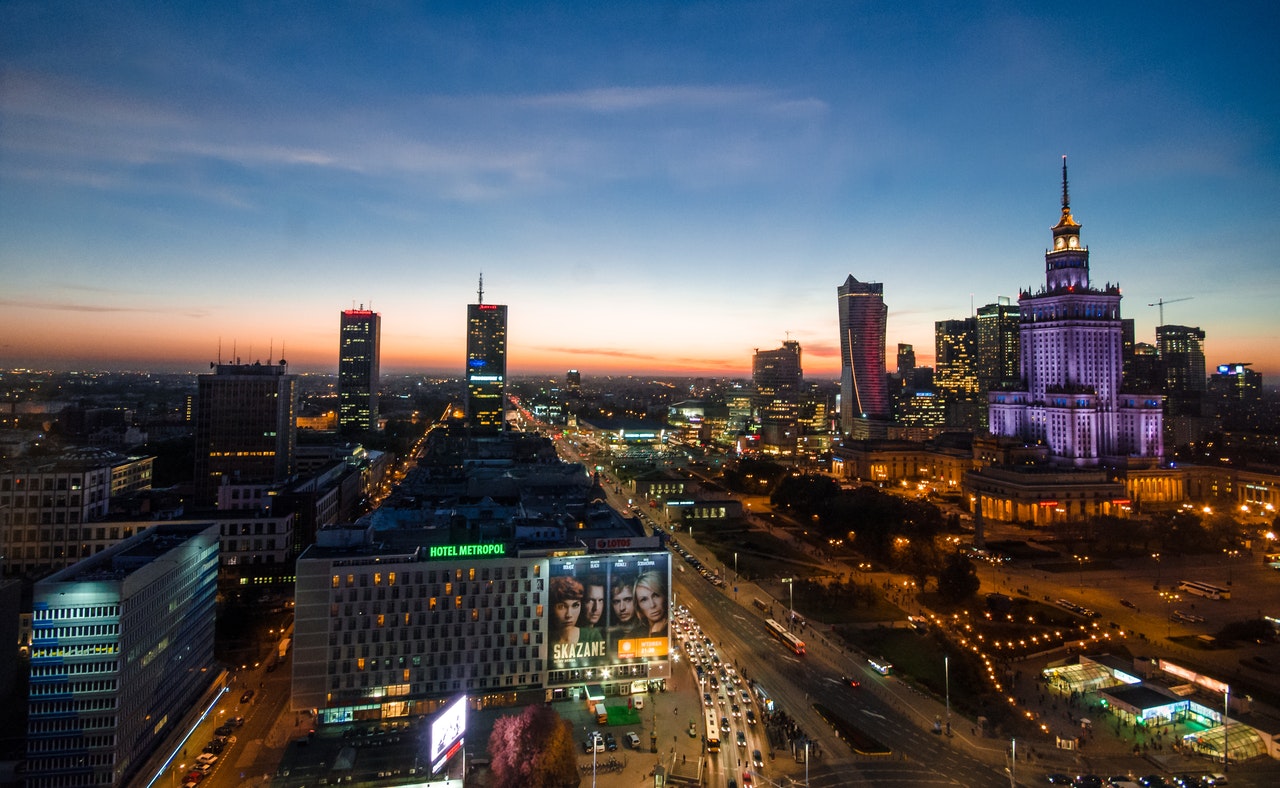 Even with just 24 hours, there is so much to do and see in Warsaw. Start with Lazienki Park and Palace on the Island. Try to swing by the Old Town of the city. There is also the Presidential Palace and the Palace of Culture. See the river before the day ends.
Warsaw is the capital city of Poland.
Warsaw has an old town rich in history. It may not be the most popular city in Europe. But the city has tons of things to offer. It has an impressive skyline. And most important of all, it also boasts of beautiful architecture.
The food in Warsaw is also affordable.
The moment you get to Warsaw, the feeling can be overwhelming.
There just seems to be a lot of things to see and do. And with about 24 hours in your hands, it might seem that you will not be able to cover everything.
But fear not. I got you covered here.
Below is an itinerary you can look at as a guide on how you can spend and maximize a day in Warsaw.
Morning
What better way to start the day than by walking?
If there is one thing about Warsaw, it is that the city is walkable.
You can walk around the city and see its many touristy sites in one go. For example, the famous Lazienki Park is walkable.
In the area, you can already find much 17th-century architecture. But when at the park, make sure to visit the Palace on the Island. This is the park's main attraction.
Once done exploring the park, you can go to Aleja Armii Ludowej Street. Here, you will be able to ride a tram on your way to Warsaw's Old Town.
Noon
The Old Town of Warsaw is perhaps one of the most beautiful places in the city.
It has a lot of fascinating museums like the Historical Museum and the Museum of Literature. You can also head on to the Royal Palace and the Old Town Market Square.
The Old Town of Warsaw is full of many restaurants. Here, they serve anything and everything – from traditional Polish food to international cuisines. And since it's already noon, you can go ahead and get a taste of Warsaw's delicious cuisines.
Indeed, you should never miss this part of the trip.
Afternoon
In the afternoon, enjoy the hustle of the city as you head off to Krakowskie Przedmiescie street. From there, you can go directly to Swietokyzyska Street.
I know they're hard to read. But what's in these streets?
These streets can show you how the hustle and bustle of the city. This provides you with a picture of the vibrant Warsaw.
Here, you will find beautiful architecture like the Presidential Palace. The University of Warsaw is also here. Walk a little bit farther to reach the National Bank.
Aside from these institutions, you will find trendy shops and stores that sell amazing Polish cuisines.
Early Evening
Just as soon as the sun sets, you can head on to the Palace of Culture and Science.
The building is impressive. It is also Warsaw's tallest.
This very same building also offers you a great view of the city. If you can go there before sunset, the golden hour is just as beautiful.
Night
This is the perfect time for you to immerse yourself with the locals.
Go to the Vistula River.
If you can, bring with you a picture. If bringing food is not to your liking, La Playa has a bar. There, you will get all your needs from food to music to even dancing.
Should you choose an indoor setting, visit PiwPaw Heaven. It has more than 100 kinds of tap beer. Their bottled versions have more than 200 kinds.
Where to stay in Warsaw?
If you want to maximize your 24 hours in Warsaw, there are many accommodations you can choose from. While Hampton is a safe bet, Hotel Indigo and Mercure Warszawa Centrum are also excellent choices.
Warsaw has a lot of accommodation options.
Choosing where to lodge for the night can be a tedious exercise. If I were you, I would go stay in the Old Town. The area is walkable to the many tourist spots of the city.
But aside from those in the Old Town, here are my other recommendations.
Hampton
Just a few steps away from the Warszawa Centralna is Hampton. From here, you can also walk to the Palace of Culture and Science.
The rooms are spacious. Each room can also provide you with amazing views of the city.
Mercure Warszawa Centrum
Elegant, modern, and sitting right smack near the central train station, this hotel is ideal for overnight stays.
It has a fitness center. It also has other amenities like a hot tub and a sauna.
Hotel Indigo
This four-star boutique hotel is beautiful in all aspects.
It is in a 19th-century building. Its rooms are all in royal blue accents. Plus, it gives you amazing views of the city.
When staying at this hotel, don't miss out on trying Florentin, the hotel's restaurant.
It is a taste of the Middle Eastern cuisines while you are in Warsaw.
Day Tours
Is my itinerary too much for you? Or are you looking into other options when exploring Warsaw?
There are day tours you can join.
Read on.
Warsaw Morning Tour
The tour lasts for three hours. The guide speaks English.
This tour brings you to the main tourist sites of the city. The areas include the Old Town, St. John's Cathedral, as well as the Royal Way.
You will also be dropping by the area that once was the Jewish Ghetto. Finally, the tour ends with a visit to Lazienki Park.
Warsaw Jewish Heritage Tour
The tour is specific with its routes. This four-hour tour brings you to the most relevant Jewish locations in Warsaw.
You will be swinging by the Jewish Ghetto, Ghetto Wall, as well as the only surviving synagogue, the Nozyk. You will also get to see the Jewish Cemetery along the way.
Half-Day City Tour
The half-day tour takes four hours to finish.
It is a combination of walk and bus tours that brings you to Warsaw's most popular sites.
The tour takes you to Old Town, the Tomb of the Unknown Soldier, as well as the Ghetto Memorial. You will also be swinging by the Belvedere Palace during the tour.
How do you maximize your stay in Warsaw?
You can group the tourist sites in Warsaw according to their common characteristics. To maximize your stay, you need to know what your interests are. There are sites related to WWII and history. There are palaces. And there are Communist-related sites.
Sometimes, preparing your itinerary can be daunting. This is especially true if you have limited time at a certain destination.
When in Warsaw, the good thing is that you can group these tourist sites depending on your interests.
To maximize your 24 hours in the city, you have to know what your interests are.
For example, are you a history buff? If you are, you should know the tourist sites related to history.
The same is true if you are a fan of the royalties because you could easily group tourist sites like palaces.
This way, you can prioritize visiting these sites according to your interest.
If you still have extra time after visiting the places of interest, you can start exploring the other tourist sites as well.
Is Warsaw worth visiting?
In general, Warsaw is a city worth visiting. It may be touristy. But it is worth it, especially when it comes to touristy sites. It is also less populated compared to other European cities. But the charm and the experience make visiting worth it.
When it comes to European cities, there aren't many that see Warsaw as an option for a holiday. This is just not the usual city you hear about.
But Warsaw tends to surprise visitors.
So, what makes this not-so-popular city surprisingly amazing?
History
Did you know that during World War II, the Polish decided to fight against the Nazis? The Warsaw Uprising was not successful. And as a form of punishment, the Nazis destroyed almost 80% of the city.
The population also went down from millions to a mere 1,000. Some had to leave the city.
Aside from this story, Warsaw has a rich history. It is home to notable political figures, artists, and leaders. Each has a story to tell.
The Past and the Present
Because of the destruction of almost 80% of the city, everything else was relatively new.
The city built itself from the ashes. There are new Warsaw Castles. There are Soviet-era buildings. There are palaces. And these structures all mix harmoniously with modern architecture.
Green Spaces
For a city reduced to almost nothing during World War II, there seems to be a lot of green spaces in Warsaw.
Much of these green spaces were due to the rebuilding efforts after the war.
The city of Warsaw has a lot of beautiful parks and gardens. Warsaw has all the green spaces that you would love to spend an afternoon picnicking in.
And what's best about these parks is that once in a while, you will stumble upon a live concert here.
The Food
Traveling is always a cultural experience for me.
And the food is cultural. You can never get a bowl of soup from some country without hearing a story about it.
When it comes to food, Warsaw is top-notch.
They have pierogi. They have milk bars. And while you may be wondering what they are, milk bars don't serve milk. What they serve are traditional and more affordable local cuisines.
You wouldn't know what they usually are. You wouldn't even consider these plates as beautiful. But when it comes to the taste, they are absolutely delicious.
The Popular Residents of Warsaw
From science to the arts, Warsaw has its share of famous residents.
For instance, the musical genius Chopin called Warsaw his home. It is normal to hear some Chopin music here and there whenever you are in Warsaw.
And in case you don't know, Marie Curie was also from Warsaw. Marie Curie is a physicist and a chemist who made substantial contributions in the world of radioactivity. And yes, she was the first-ever female ever to win a Nobel Prize.
If you want to hear more of Chopin's music, you can visit Lazienki Park. There are many Chopin concerts, especially during summer weekends.
Also, if you want to visit the birthplace of Marie Curie, you can. Drop by No. 16 at Freta Street.
The Warsaw Vibe
This last part is pretty hard to explain.
I mean, how do you explain a city's vibe?
Warsaw is a city where the past meets the present. There is a perfect combination of history and the modern. There are touristy sites, and there are not very touristy ones as well.
There is a hipster square. There are quaint coffee shops. There are shopping centers that sit side by side with milk bars. There are Soviet-era buildings beside palaces, castles, and modern architecture.
Public transportation is easy. The people are warm and friendly. And yet, you will always find that Warsaw has all the amenities and atmosphere that make tourists feel at home.
Warsaw also has a huge university-aged populace. The population can be one major reason why the vibe in Warsaw is evolving.
In general, Warsaw is one interesting destination.
When you get there, you will find that the city is not as touristy as the other destinations in Europe. But despite that, it offers you all the amenities you, as a tourist, would need. And these reasons alone are enough for you to check out Warsaw the next time you head to Europe.
And so, if you are looking for a city that is not so common in Europe, consider visiting Warsaw.
I am pretty sure you will never regret it.
See you there!