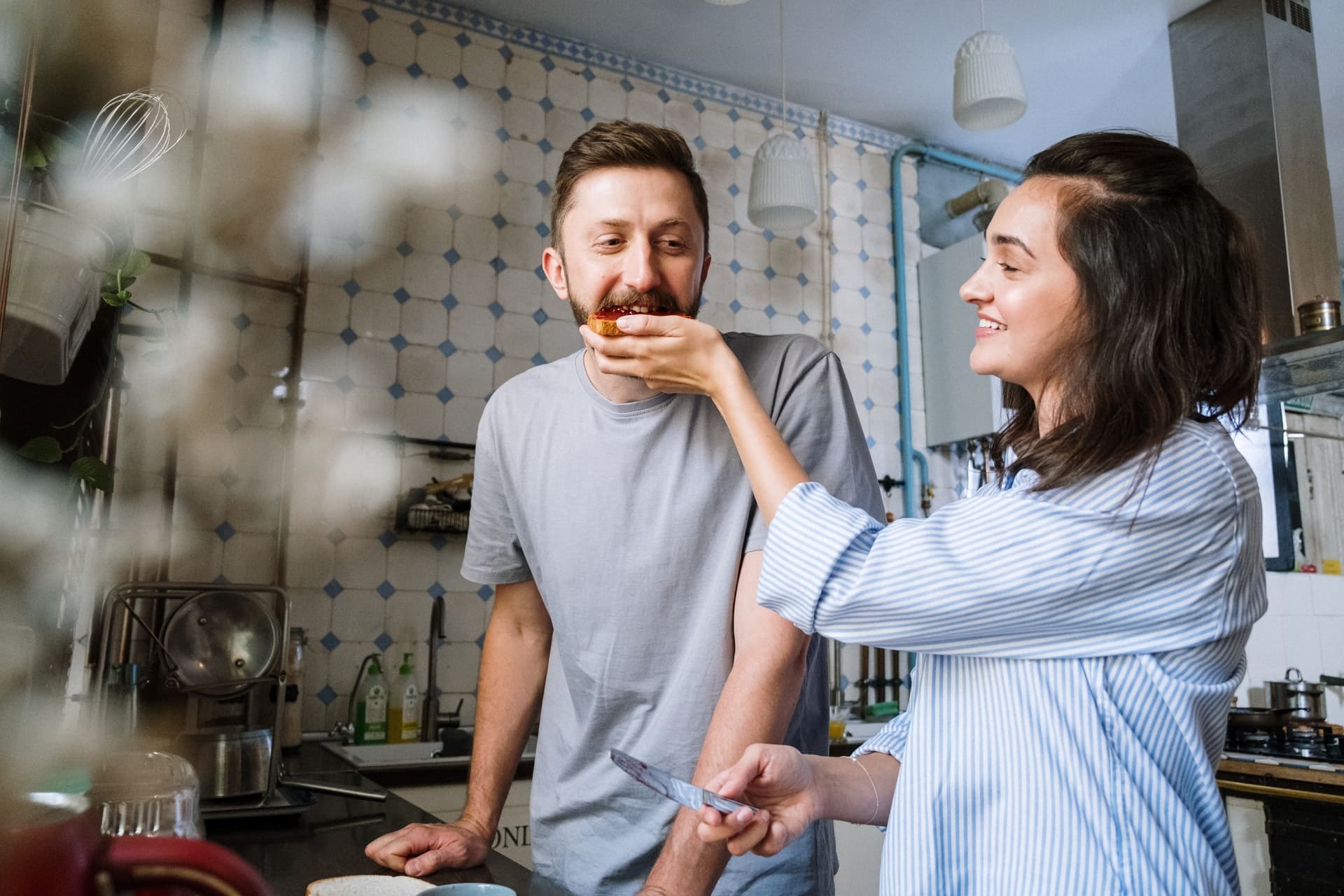 French people enjoy eating.
The French lifestyle is well characterized by the food they eat. Food is an integral part of French culture.
People all over the world admire French cuisine. It means that food matters in the everyday lives of the French people.
So, why French cuisine become so important?
French enjoy cooking as much as they love eating. French cuisine is about simplicity and class. Unlike other countries that put spices and herbs in food, French does otherwise.
Most of their dishes contain butter, herbs, and sauces (extracted from the meat itself). The juices create original and smooth flavor in French recipes.
The sophisticated way of French cooking is the pride of the people. The authentic flavors of ingredients are alive in their recipe.
French eat like all people around the world do. They have breakfast, lunch, and dinner. Yet, the French enjoy long lingering meals with a variety of courses at every mealtime.
Let's see what French people eat in each meal of the day:
Breakfast – it is the first meal of the day. At a French dining table, a strong cup of espresso and a fresh and warm baguette will greet you in the morning.
You can have tartines, a toasted jam, flaky croissants, or a Pain au chocolat to start your day.
French breakfast is quicker than any other meal of the day. A serving of bread with brewed coffee keep French people satisfied.
Lunch – this mealtime is more complicated in France. A big lunch meal and a glass of champagne or liquor can do the trick. But some will have a three-course set or even four complete with appetizers, meat, and dessert.
French restaurants have a complete meal. They have oyster as one entrée, meat as the main course, and crepe for desserts.
Dinner – dinner is available at around 6:30 to 7:00 in the evening. A usual dinner consists of soup, meat, pasta, or fruits. You can have Cassoulet, a famous French soup, and Boeuf Bourguignon during dinner. Finish it with a favorite drink and a piece of chocolate for a complete course meal.
Snack – French people do not enjoy snacks like Americans. But they can choose to have snacks from time to time. Cheese, pastries, and meat are snack set best enjoyed for snacks.
What is the most popular food in France?
French cuisine will not be famous without its distinct and classic taste. The variety of flavors French cuisine makes people all over the world come back for more.
So, what are the most popular food in the French menu people usually love?
Bread – the famous French baguette is being enjoyed all over the world. Baguettes have a unique spot to every dining table along with the soup. People love this bread alone or with spread and jam.
Another worthy bread to try is Pain de Campagne. It is from a sourdough recipe that often served in every French meal. You can also try the Pain Complet or Pain de Seigle, a different take to your usual French bread.
Pastries – you can fall in love with almost every French pastries. These sweet and tasty snacks found the home in most of the pastry shops and cafes in the world. The crepe, eclairs, and colorful macarons are of French origin. Enjoy them with your favorite coffee for a perfect French pastry experience.
Soup – French soups and potages are ubiquitous in France. You can have a variety of soup from the bisque to tourin. Potage, yet, is best for winter because of its creamy and distinct flavor.
Cheese– a favorite French snack. You can have it platter along with cold meat of your choice. Over 350 types of cheese are available in France. You can have soft cheese, blue cheese, or pressed cheese, all at the same time.
Dessert – France is famous for its colorful and elegant desserts. Most of the tourist find eating desserts a pleasurable experience in the country. Plenty of cafes serve desserts like moelleux au Chocolat, crème brûlée, and Mousse au Chocolat.
Yet, if you are looking for an iconic dish and recipe to try in Paris or other regions in France, try the following:
Coq au Vin – it is one of France's most admired dishes. Combination of chicken, lardons, and mushroom, infused with red liquor, garlic, and seasoning.
Moules Marinières – seafood fans should have this on the list. Fresh mussels in white liquor with a mixture of shallots, herbs, and garlic will be a mouth's delight.
Escargot – don't forget this strange yet delightful snail delicacy. The century-old recipe will mark your unique French food trip experience.
Madeleines – it is a delicious French treat. Madeleines are fun-filled with buttery sponge cake and looked like a scallop. They are good with brewed coffee, and a delightful way to start your day.
Ratatouille – flavorful and aromatic vegetable stew. Rich in taste with spiced tomato sauce, layers of vegetables, thick and creamy béchamel.
A successful trip to France should include a list of food to try. French cuisine offers unique flavors of dishes rooted in traditional French cooking.
Is French food healthy?
France is one of the countries with the longest life expectancy in the west. Studies showed that the French population has lower rates of obesity and live long.
Despite their obsession with food, how French remains healthy?
Read on, as we try to discover how healthy French food is.
Generally, a regular French meal is full of delicious and healthy food. From appetizers to the main course to drink, the food is nutritious.
Here are the main ingredients in French meal that are tasty and nourishing:
Goat Cheese – low in calories and fat, goat cheese is a favorite snack of French people. Full of nutrients like vitamin D, vitamin K, and Vitamin B that are good for your heart. Goat cheese is the perfect accessory for a salad filled with vegetables.
Potatoes – enjoying steak Frites is guilt-free because potatoes are rich in potassium. It is a healthy source of fiber and vitamin C, as well. Potatoes with cream, garlic, pepper, goat cheese, and anchovies. It is a mixture of healthy ingredients.
Mustard – you cannot spell the French cuisine without mustard. A favorite in the French cuisine, mustard contains phytochemicals. It is an acting agent against cancer.
Red Wine – French loves to drink while eating. This drink is high in polyphenol content. It helps reduce cholesterol and good to improve blood circulation.
French people are not only masters of delicious cooking, but they also think healthy. They are mindful of what they use in their dishes.
Fresh vegetables, meat, and nutritious ingredients encompass a simple French meal.
French Eating Habits
French are models when it comes to healthy living. Among the exciting truths of why French people live longer are the following:
Prefer eating fresh fish – French is not in love with processed food. They prefer organic and fresh. 70% of the French proved to be eating unprocessed fish in their diet.
Practice portions control – French people eat in small servings. The amount of food they put inside their digestive system allows it to work better.
Drink in moderation – most meals come with a drink or liquor. French people can live without their favorite drink, which is healthy if controlled.
Stick to Mediterranean Diet- this healthy diet is rich in fish, oil, and full-fat dairy.
Eating at Home – French people love to eat at home, where they can savor the meal and eat with their family. You cannot see them in public spaces with food in their hands. They don't like eating in transit or while in a subway.
Full Course Meal – French people love to eat a full course meal. They start with appetizers, main dish, salad, and dessert. They are often served one at a time, in small portions.
Unhurried Eating – French people have mastered the art of eating slow. They want to get to know their food and enjoy them while eating. Most of them are slim because unhurried eating means you get to chew your food well.
Well Prepared and Satisfying Meals – French people, as much as they love eating, they also love to cook. Most of them love to dine at home and share homemade recipes with their loved ones.
No Snack during a Day – some of them don't eat a snack. The three meals a day are enough for them to get throughout the day. Adults, in particular, don't eat between meals.
No-Diet – French people know portions control. They eat in a smaller amount, unlike other western countries. They eat what they want, and they do it in moderation. Dieting has no place in French eating habits.
Love Tea – French know the health benefits of drinking herbal teas. It cuts appetite and curbs cravings. Aside from this, tea keeps the French hydrated.
Local markets are better – villages in France have food markets. French people prefer to buy their food in this kind of place than bigger grocery stores. They look for fresh and raw found in the local market.
How to Eat Like French in America?
Now that we know about some of the French eating habits, how about let's eat like French in America?
French and American food culture has a huge difference.
It is evident in a study that Americans are more obese than any other nation in the world.
While the French have the lower rate of obesity, Americans are the most obese.
To figure out why, let's eat like how the French does. Ditch some of the unhealthy American eating habits for a while.
First, start buying more healthy food choices. Processed food seems to be circulating all over America. They are everywhere, from Walmart to some local grocery store, you can find processed food.
To be like French, be mindful when choosing your food. Fresh produce like fish and meat is preferable to those in cans.
Second, stop buying take-outs. Part of American food culture is taking out. Since McDonald's and other fast-food chains are within your reach, it is easy to land in this food culture.
To be like French, cook your meals at home. It is more fulfilling and cheaper when you start cooking your meals. The joy of cooking food is better than the guilt of eating take-outs.
Third, try eating in moderation. Americans love to eat food in huge platters loaded with oils and fats. It seems to be unhealthy and unnecessary.
To be like French, practice eating in small sizes. Listen to your body, and know when enough is enough.
Last, alcohol is healthier when drinking in moderation. Americans love drinking beer bottomless. They are more in quantity than quality.
To be like French, start drinking with your meals. Most French are eating food, with liquor as their preferred drink. It is more like a social event than a mindless drinking choice.
Americans can learn a lot from French food culture. Try the above mentioned to be healthier and live longer, like French.
In conclusion, French people are one of the best standards when it comes to eating and food. French cuisine is famous worldwide because it tells the story of France. It is the reflection of French people past and present.
The traditional and classic French cooking is fast evolving. Nouvelle cuisine is becoming popular, a delicate approach to cooking.
The food culture in France adapts to the changes in food culture across the globe. It demonstrated that yes, French people always love to eat.