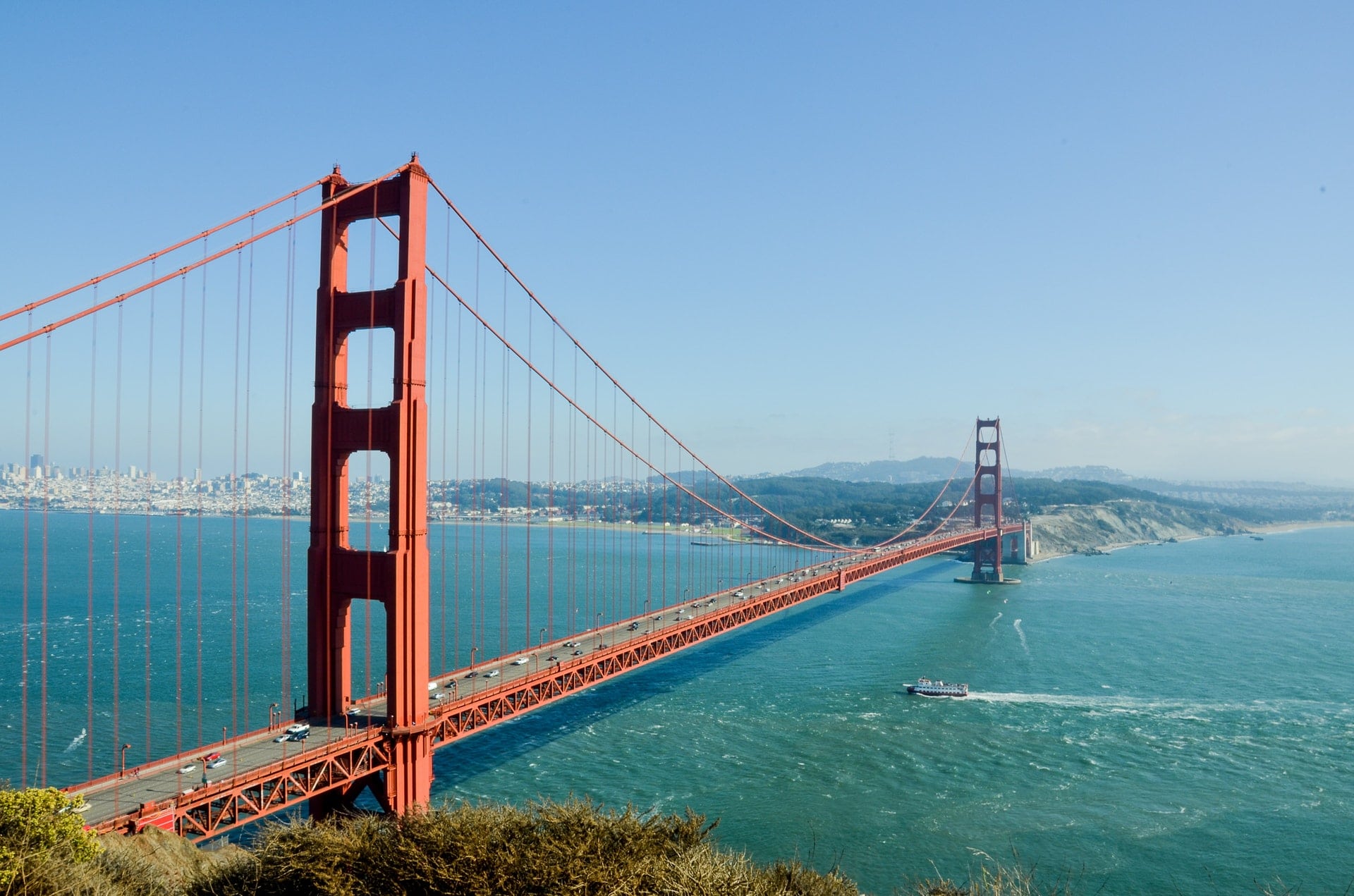 Of course, California has a reputation for being expensive. It is a high-income earning state in America that the cost of living may be higher compared to others.
But let me clarify why this state tends to be expensive.
California is one of the most desirable states to live in America. The climate is top-notch. Nature is amazing. You can experience beaches, large parks, and bright scenic cities like San Francisco.
California offers you it all. People swarm towards this state to experience everything it has. And that made it so expensive.
As expensive as it is, California is the most visited. The tourist can't get enough to see this beautiful state.
California is home to a lot of Hollywood stars.
It is a technology hub where Silicon Valley resides. It connects you to nature with its redwood and sequoia forest, and of course, the beautiful Malibu.
The Golden State of California may be at a higher price tag, but mind you, it will give you an experience of a lifetime. No other state in America can offer.
Why is California so popular?
California is both an awe and a blessing. It is a diverse place that can offer you almost everything.
So, I will not take this long and tell you why California is so popular.
Beauty and Nature
In the northern part of the state, you can enjoy a morning stroll in its misty redwood forests. The peace and tranquility that you can enjoy while strolling is priceless.
While the southern part of it offers you a different experience, beautiful beaches in this part of the state invite you to take a weekend off and enjoy the beach. You can run with the waves and let them catch you, a beautiful thing to do.
And there is so much more California nature can offer.
The beauty of the nature you see is a century-old creation. The Sierra Nevada Mountains has towering cliffs, thundering falls, and tall forests.
There are 21 miles long Lake Tahoe you can bathe in its crystal clear water while enjoying the mountains.
In Mount Shasta, just 60 miles south of Oregon and a five-hour drive of San Francisco, you can climb, cave and fish.
Another, the Big Sur Coast, you can see a rugged rocky coastline with a spectacular view.
The state is full of wonders. You will be overwhelmed by how blessed California is.
Hollywood to Silicon Valley
While California has a lot of natural wonders, the other side of it is the vibrant and bustling city of Los Angeles.
The noise and fun of Los Angeles are ideal ways to distress.
Home to the infamous Hollywood where you can see the world's celebrities. This larger than life symbol of the entertainment industry attracts tourists all year round.
In the southern San Francisco Bay Area, there are lines of start-up and global technology. Apple, Facebook, and Google are exciting as you see them in real life, Silicon Valley.
Food & Drink
American cuisine became famous because of California. It is the producer of fresh food and vegetables. It is highly influential as Californians will take a stand when it comes to food. The concept of vegan, certified organic, spray-free, and farm-to-table jam is a serious matter. The wine industry in this state is also top-notch. 90% of wine-making grapes in the US is California produce.
City Lights
Bright lights in the big city may be in New York.
Yet, California is just as sparkling and dazzling as the NYC.
There are dozens of lamps illuminating San Diego's Gaslamp Quarter. The big Hollywood sign when lighted at night in LA. The stunning Bay Bridge in San Francisco after the sunsets. These are inviting you to join the crowd in all its facets.
The night is as active as the day in California. The star-studded night clubs in LA and LGBT areas in San Francisco show how liberating the state is. Or even the lines of beach bars ad brewpubs in San Diego.
How much does an average trip to California cost?
As stunning as it is, California is not a very cheap state to travel to.
Yet, visiting the place is like a trip of a lifetime. The diversity it presents will both excite and surprise you.
So, it will cost you more than a thousand dollars to be able to see its beauty and wonder for a week.
You have to take into consideration the expenses of traveling, accommodation, transportation, tickets and attraction, food, and other miscellaneous activities.
Accommodation
Of course, a higher percentage of your California trip is accommodation.
Staying in a hostel will be around $80 to $100 per night. It seems to be a little expensive for backpackers and budget travelers.
So, if you want to cut costs, try getting an Airbnb, especially in a less crowded and touristy area. An Airbnb stays will cost $50 per night. Almost half is being saved compared to hostels.
Transportation
Now, let's talk about transportation.
You cannot rely on public transportation in California alone. You will need a car to go to places to save yours from frustration and stress.
There are car rentals available that cost $20 a day. If you want to have transportation and accommodation in one, camper van or RV is your option.
On top of that, fuel and gas should be part of your transportation expenses. It will not cost you a lot as it is $3 to $4 per gallon.
Food
Of course, food is a priority. On average, you can spend $40 per day on food. Restaurants are more expensive than street food. You should also factor in what kind of restaurant you want to try. There are high-end restaurants in California. Fast food is also abundant.
Activities and Attractions
As part of your California trip, the main goal is to visit as many attractions as you can.
As I have mentioned earlier, California offers a diversity of attractions. From world-class entertainment to incredible parks and attractions, California has it.
So, let's break down one by one the cost of activities you can experience in the state.
Unlike in other parts of Europe like the UK, museums are free. In California, you need to shell out $5 to $10 for an adult ticket to get a pass to state-run museums.
I know, this seems to be costly, but if you are the type who cannot miss out on a museum, you need to compromise.
Next, if you love hiking and nature tripping, state parks and hiking trails cost $10. Yet, there are free places that you can choose to save some amount of money.
Entertainment
Last, the entertainment industry. California offers world-class entertainment and trying one of these is truly memorable. Los Angeles is on top of everyone's mind when talking about having fun.
I have saved a part of this article tackling the cost LA for a week.
So, read on.
How much money do I need for a week in LA?
The City of Angels is full of incredible attractions for you to explore. Spending a week in LA will allow flexibility to tick off the must-see sites and still enjoy the extra time.
But of course, you need to be wary of your spending, as this city can be super expensive.
Accommodation in LA does not come cheap. Allow $80-$100 a night in a hotel. It will cost you almost $500 for a week's stay.
Yet, you don't want to blow your budget for accommodation. There are mid-range hotels that you can find. Always do your homework and do a little research. So you can have a cheaper stay in the city.
And food can be manageable. If you don't want to go for food, the convenience store will make you feel full at a very reasonable price.
Yet, of course, my discussion will focus on the splendid attractions LA has to offer.
A lot of people do not want to miss seeing Disneyland, and this corresponds to a high amount of cash. Inside the park are tons of souvenirs and delectable food that you want to try. So, allot a percentage of your budget to this attraction alone.
If you want to go hiking and save some cash, Runyon Canyon Park is a place for you. There are free hiking guides available, but take notice of the parking, because this may not be free.
If this is not enough, and you want to go nature tripping, you can spend time in Griffith Park. It is the city's crowning jewel as this has a lot of activities lined up for visitors. You can see the larger than life Hollywood sign from this point already.
I know these things I mentioned spell money, but don't worry because there are free sites that you can go to in LA.
You can take a stroll along the Hollywood Walk of Fame or see the Getty Center without having to put in some cash.
Having a budget trip friendly in LA is possible. You only need to take notice of your spending and more frugal in your decisions.
What is the cheapest month to fly to California?
One of the significant decisions that you will make when traveling to California is booking a flight.
If you spend some time doing research, you will notice that there are months that cheap flights are open.
Here are some tips to have cheaper flights going to California.
First of all, I recommend booking your tickets in advance. I mean as early as six months, find flight tickets online.
In case this is not possible, a seven-week allowance will do.
Why? Because making a hasty decision in booking your flight a week or three days before, it will cost you a lot of money.
Second, if you want to see California only, consider the main events happening in the area. I mean to have your flight at the same time an Academy Awards is happening will cost travel tickets more.
Last, consider the peak and off-peak seasons. It is the most frugal thing to do when traveling on a budget to California.
The state has pleasant weather all year round, except that most of the flights are at the usual rate. You must avoid booking your flight during the holidays or school breaks as this is the time when flights hike.
Or if you want to save a lot of money, choose the winter season, when people are not interested in a vacation. Sure, it will be colder, and there will be chances of rain, but this is a different way to experience California.
I mean, a winter in Lake Tahoe is an affair to remember. So, why not book your flight in this season.
Among the many states in America, California is something to see and visit.
I mean, what is there to not see? From end to end, north to south, a different kind of experience is in store for you.
California is a diverse place where you can experience almost anything. The subdued and tranquil setting of its lakes and parks and the noise and lights of Los Angeles are superb.
This state will never bore you even if you spend a month. But remember, it will cost you some money.
But I am sure that it will be worthwhile. So, save up, know your budget, start planning, and book a ticket to California.